Product details of Philips 193V5LSB2 V-Line 18.5 Inch LED Monitor
Product details
Calling all desktop PC users! When you're shopping for a PC monitor, there are a few things you need to think about besides how much it costs. Factors to consider include how sharp the image is, pixel density, type of connection options, if there are built in speakers and most importantly what you're going to be using it for. Check out Philip's range of LED monitors that come equipped with intelligent features that are bound to make your user experience comfortable for work or play.

Key featuresThe Philips V-Line 193V5LSB2 18.5'' LED Monitor lets you enjoy the best picture quality in a slim and attractive glossy display. Thanks to the power of LED backlight technology and the fine tuning controls of the SmartControl Lite feature, this LED monitor is a great choice for all your home entertainment media.

LED Backlight TechnologyThanks to the LED backlight technology, the Philips V-Line 193V5LSB2 LED Monitor is given better dimming control of the LCD backlight, which results in super high contrast ratio. Colours are also display brightly and more vividly thanks the consistent brightness across the screen. Besides that, LED's are free from any mercury content which allows for eco-friendly recycling and disposal process.

16:9 display aspect ratioThe Philips V-Line 193V5LSB2 features a TFT-LCD panel, 16: 9 display aspect ratio and has its optimum resolution at 1366 x 768 @ 60 Hz. The 18.5" screen with 409.8 (H) x 230.4 (V) effective viewing area, allows you to watch videos, play games and split screens for work (if needed) comfortably.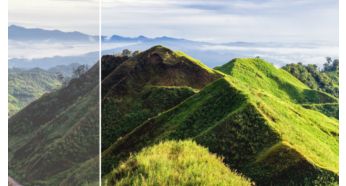 SmartContrast TechnologySmartContrast is an original technology developed by Philips that analyses any contents that you are displaying. It then automatically adjusts the colors and backlight intensity to dynamically enhance contrast for the best digital images and videos or even when you playing games where dark hues are displayed. For those cost savvy users, Economy mode is available for selection where the contrast is adjusted and the backlighting is fine tuned to a low power saving consumption mode.