Hosted @ Lelong Picture Services
Original PHILIPS H7 CrystalVision Bright White 4300K ( with free T10 ) !! Stock Clearance !!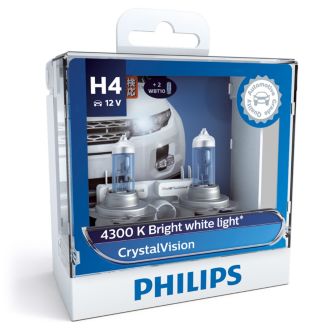 PHILIPS CrystalVision 
BRIGHT WHITE 4300K LIGHT
Wherever you go, stand out from the crowd. Philips CrystalVision produces 4,300K of bold white light that shows the world you've arrived.
- BRIGHT WHITE ( 4300 K ) LIGHT TO STAND OUT
- IDEAL FOR ALL PURPOSE DRIVING
- LONG LASTING THAN OTHER HIGH PERFORMANCE BULBS.
- EASY INSTALLATION, PLUG & PLAY
- SAME POWER CONSUMPTION AS HALOGEN BULBS ; NO WIRING / RELAYS NEEDED
- UV-BLOCKING QUARTZ GLASS
PRICE IS PER SET OF 2 PCS
MADE IN GERMANY

Last Updated @ 2/21/2016 11:11:00 PM