*Ready Stock!!! Online OFFER ONLY
RM 299 Promotion OFFER ! *

Tabulus (netpad w1)
4GB 512 Phone Android Tablet
SUPER AMAZING PRICE JUST FOR
RM 299 ONLINE OFFER ONLY !

FREE !!  FULL SIZE SCREEN PROTECTOR (rm20)

CAN CALL DIRECTLY FROM DEVICE!
ITS A PHONE! ITS A TABLET!
DIRECT SMS AND CALL!
LATEST 1.5.7 FIRMWARE! 
 
100% same Tabulus Tablet
item as all sellers sold here at RM 299+50!
ADD RM 35 ONLY for LEATHER KICKSTAND CASE
ADD RM 50 ONLY for KEYBOARD CASE 

8GB TF 'with paid Apps HD Premium ' Card (8GB =Rm 30 / 16GB=RM45)
> 5V Car Power Charger (Rm 30)
> HDMI Gold Cable (Rm 25)
Brand New!
Android 2.2 Tablet Phone with 7 Inch Touchscreen
(Quad-band GSM, WiFi, Camera
Now, there's no need for 2 devices anymore to make and receive calls, as the TABULUS can do everything directly: Write and read SMS, browse the internet using WiFi, watch videos on the 7 inch screen, read eBooks, send emails, play your favorite games, EVERYTHING.
This tablet supports 3G internet (Maxis/digi/celcom) with a USB dongle!
and also support Rj45 Ethernet Cable Broardband !!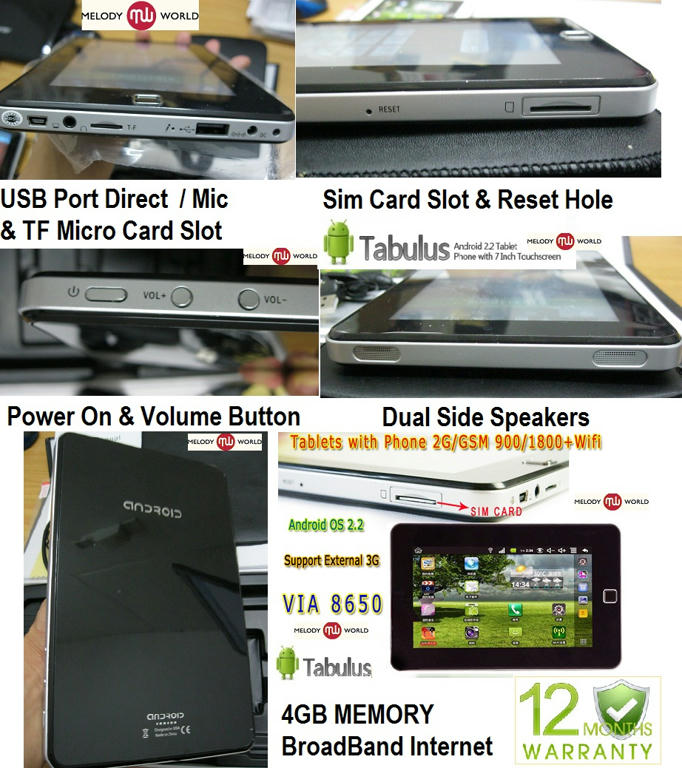 Shining home button

From left to right, there are MINI USB interface, earphone port, TF slot , microphone hole and standard USB interface.


Power button and Volume ļ¼‹ ,Volumeļ¼ buttons.


Two loudspeakers on the top.




* Google Android v2.2
* NEW Tabulus E10 4gb Phone Tablet, Cheapest Phone Tablet you've Ever Seen!!!
* 800MHz CPU + 300MHz DSP / Graphics processing
Nand Fast Flash 4GB
* 7-inch resistive Two-point touchscreen, featuring pinch-to-zoom on websites and images!
* Built-in microSD/TF Card Slot, supports external microSD card up to 32GB
* Built-in SIM Card Slot, supports phone calling GSM900/1800 (Insert an SIM card to turn it into a Cellphone.
* Built-in 3G, supports WCDMA, CDMA2000 and TD-CDMA
* Built-in webcam, WiFi, four-way G-Sensor (3D Games Supported), stereo speakers, Microphone, etc.
* Supports external USB Keyboard & Mouse / simple plug-and-play, no drivers or additional software installation required!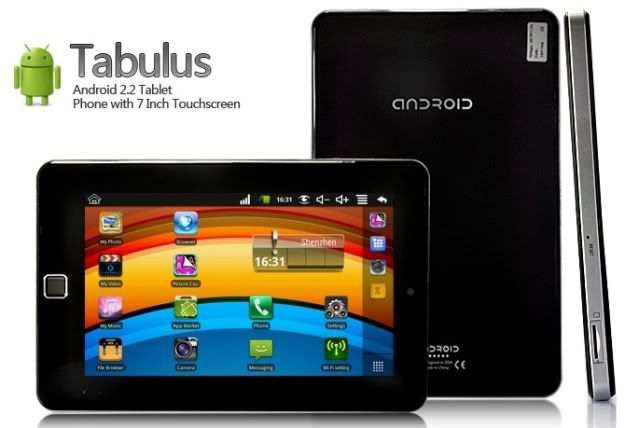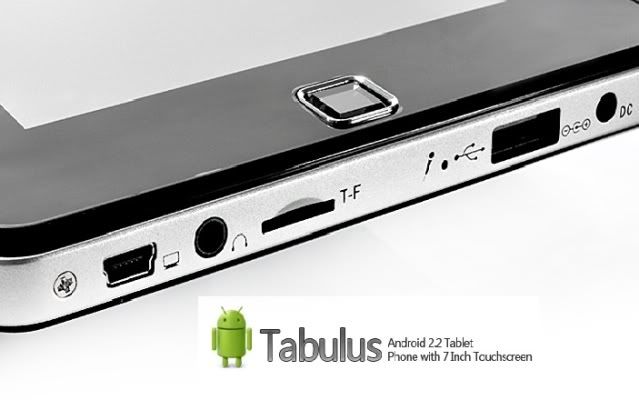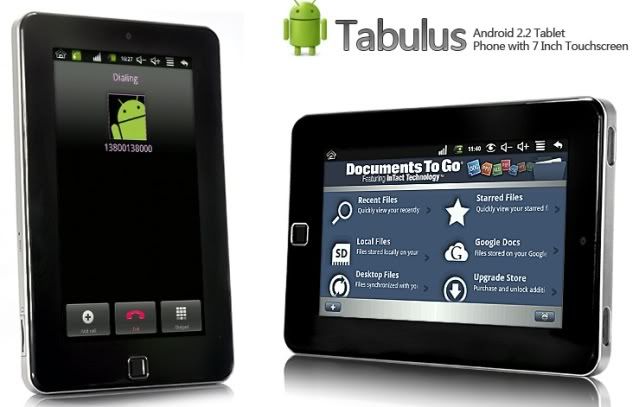 FAST NEW CPU VIA WM8650 @ 800MHZ

Build-In Sim Card Slot for Phone Calling
(GSM Freqency: 900/1800)
Multi-Touch Pinch Zoom like Ipad
(Two Finger Pinch Zoom in Browser & Photo)

Preinstalled Free Games like Angry Bird, Solitaire & More
Build In G-SENSOR
(4 Dimensional Gravity Sensing)

Support Adobe Flash Player 10.1
(Enabling Flash-based animation, games and watch online Movie )

Support External 3G Broadband (Maxis/Digi/Celcom...)
(supported USB 3G modem, HUAWEI E220 / E230 / E160X / E169G / E1750 / E1762)

Support View & Edit ALL MS Office Docs
(word/excel/powerpoint)
Support All Video Format: RMVB, MKV, AVI, MPEG1/2/4...
NEW Design Tabulus E10

with Real Android 2.2 froyo

GSM Phone Voice Call + SMS Function

4GB

WonderMedia WM8650, Dual Core 800 Mhz

Come with latest and

stable Officail

WonderMedia

firmware 1.5.7

Support

Flash 10.3

Support Real Google Android Market




Working RJ45 Ethernet ADSL and OTG

(You can Link/Connect your Tab to your PC)

Camera

Different Type of TouchScreen


Most sensitive

Resistive screen with

2 finger Multi touch pinch zoom

Using

INNOLUX Branded

LCD


Direct USB PORT

, NO need addtional usb adapter

.


Support 3G Broadband Modem

Support RMVB Movie/Video

Grade A Quality Battery

Support Wifi / Wireless a/b/g/N

G-sensor -

Gravity 4-Dimensional
:The android 2.2 tablet pc only support HUAWEI E220, E230, E770,E169G,E160X,E1750 3G modem



Configuration: E10 android tablet uses VIA8650 processor,, 4G memory, 800MHz clock speed,
7 inch 800*480 resistance screen, android 2.2 system,.
From the top status bar, you can see the mobile wireless networks has been identified and enabled.
How to plug and take out SIM card?
1.Before you plug SIM card into the tablet or take out the card from the tablet, you must make sure the tablet is power off, otherwise it will damage your SIM card.
2.Make the SIM card face up(the chip side face down), plug the SIM card into the SIM card slot lightly.
3.Turn off the tablet before you want to take out the SIM card, push the SIM card in lightly, and the spring mechanism will pop out so that you can pull it out easily .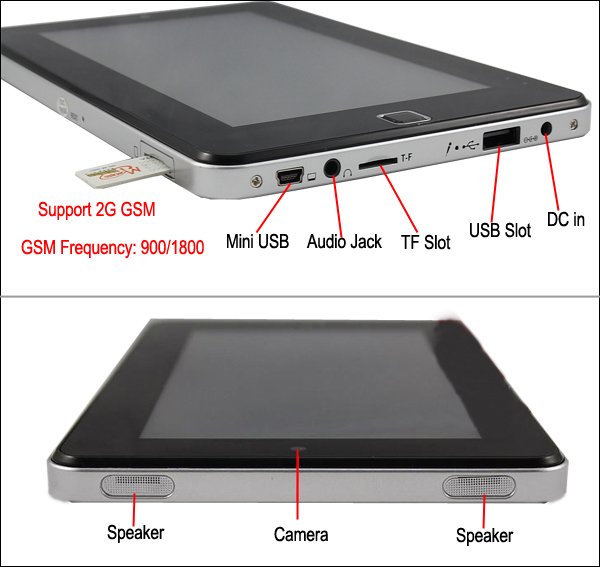 Take Note:
*** 2G SIM card is for calls only. Please Switch OFF the tablet before inserting any SIM card otherwise the device might not detect or recognize it ** .
** This tablet supports 3G internet with a 2.0 USB dongle. (part of compatible list: HUAWEI E220, E230, E770, E169G, E160X, E1750 **

 

Operating System:

Google android 2.2 Froyo

Model:

TABULUS VIA 8650 E10

Product Type:

Tablet PC pHONE

Keyboard:

Touch Screen

Display Technology:

Resistive touch screen

Screen Size:

7 inch

Max Resolution:

800*480

CPU Type:

VIA

CPU Manufacturer:

VIA

CPU Model:

8650

CPU Speed:

800MHZ

Hard Drive Type:

NAND FAST FLASH

Hard Drive Capacity:

4GB

PCMCIA Expansion:

T-FLASH(Support 32G MAX)

Camera:

1.3MP

HDMI:

NO

3G:

YES

G-Sensor:
Four way

Audio:

Built in stereo speakers/Built in Microphone

Software:

Youtube/Facebook/Twitter/MSN/Skype/Calculator/Google Mail/Google maps/iReader/Quick Office

Language:

Multi-language support

Battery Type:

Li-4200mAh

Battery / Run Time(up to):

wifi on about 2hours

Power Device Type:

AC Adapter

Voltage required:

100/240V

Color:
Black

Dimensions / W*D*H:

206*117*17mm

Net Weight:

0.35

Input/Output Connectors

Ports:

1 x Mini USB
1 x USB 2.0
1 x Micro Sd Card slot
1 x DC jack
1 x Earphone jack


1 x SIM card slot

Communications

Networking / Data Link Protocol:

Fast Ethernet

Wireless Connection:
WIFI

Wireless Protocol:

802.11 b/g

Support Format

Video:

AVI/RM/RMVB/MKV/WMV/MOV/MP4/DAT(VCD format)/VOB(DVD format)/PMP/MPEG/MPG/FLV/ASF/TS/TP/3GP/MPG

Audio:

FLAC/APE/WAV

Picture:

JPG/BMP/PNG/GIF

Ebook:

WORD/EXCEL/PPT/PDF/TXT/CHM/HTML
ADD RM 35 ONLY for LEATHER( ADJ Angle) KICKSTAND CASE
ADD RM50 ONLY for KEYBOARD CASE 

8GB TF 'with paid Apps HD Premium ' Card (8GB =Rm 30 / 16GB=RM45)
> 5V Car Power Charger (Rm 30)
> HDMI Gold Cable (Rm 25)
What is inside the package box?
1. Tabulus 4GB Tablet SMS Phone
2. Earphone handsfree to answer phone calls
3. Standard Malaysian power charger (3pin)
4. User Manual
5.Full Size  Screen Protector
6. USB cable
* 1 YEAR  local warranty *

FREE ACCESS to OUR iCLOUD ANDROID APPS STOARGE SERVER
LOADED 10GB+ WITH 5000 PAID APP & 2D GAMES INCLUDING 3D GAMES (pls request)

 We are looking for resellers nationwide! . Interested?
please sent an email to melodyworld8@gmail.com
for inquiries and price list !!

SUPER AMAZING MAY PROMOTION
RM 299

NOW ! RM 299 ONLY !
order now online !
while stock last..
promotion still HOT ! ..
COD Petaling jaya 17/38
Limited stock Promo only:RM 299

Contact: 016-3110962

Last Updated @ 6/27/2012 12:34:56 AM