Feature available to Store Members
SPECIAL PROMOTION... LIMITED UNITS ONLY !!!
Fuji Xerox DocuPrint CM205f Multifunction Colour S-LED Printer
(PRINT, COPY, SCAN, FAX, NETWORK)

~ just replace toner, no need to replace DRUM, low operational cost

~ the best colour printout quality at 1200 x 2400 dpi

~ cheapest colour multifunction laser printer in town !!!

comes in Original Seal Packaging with Genuine Toner (NEW) !!!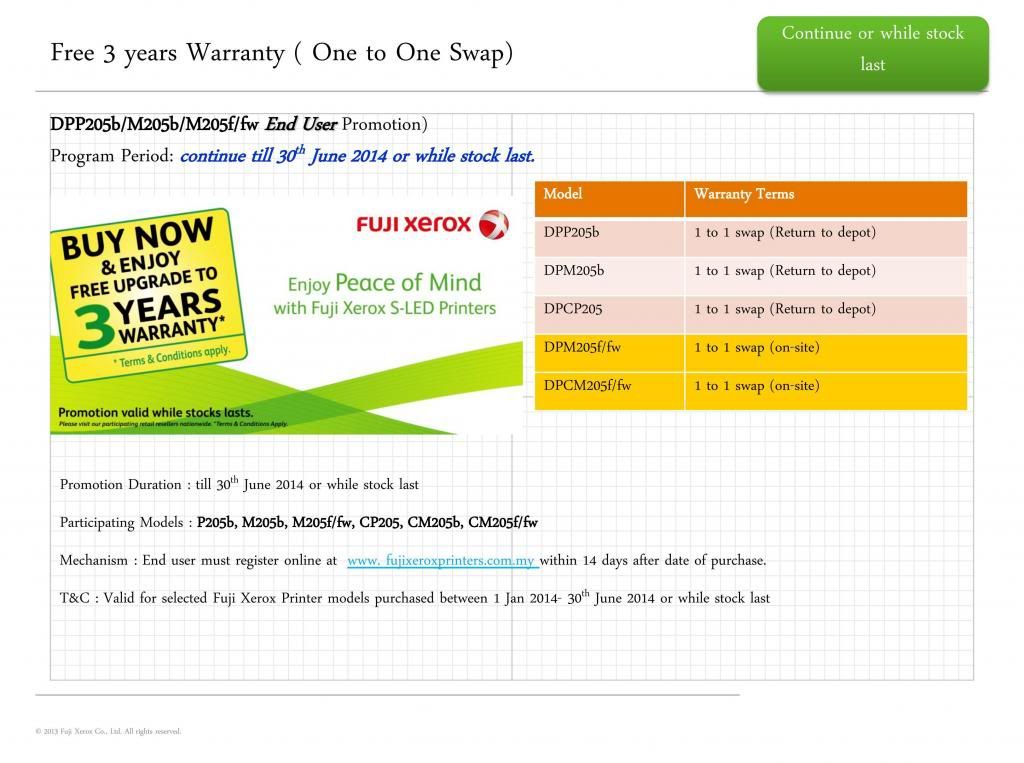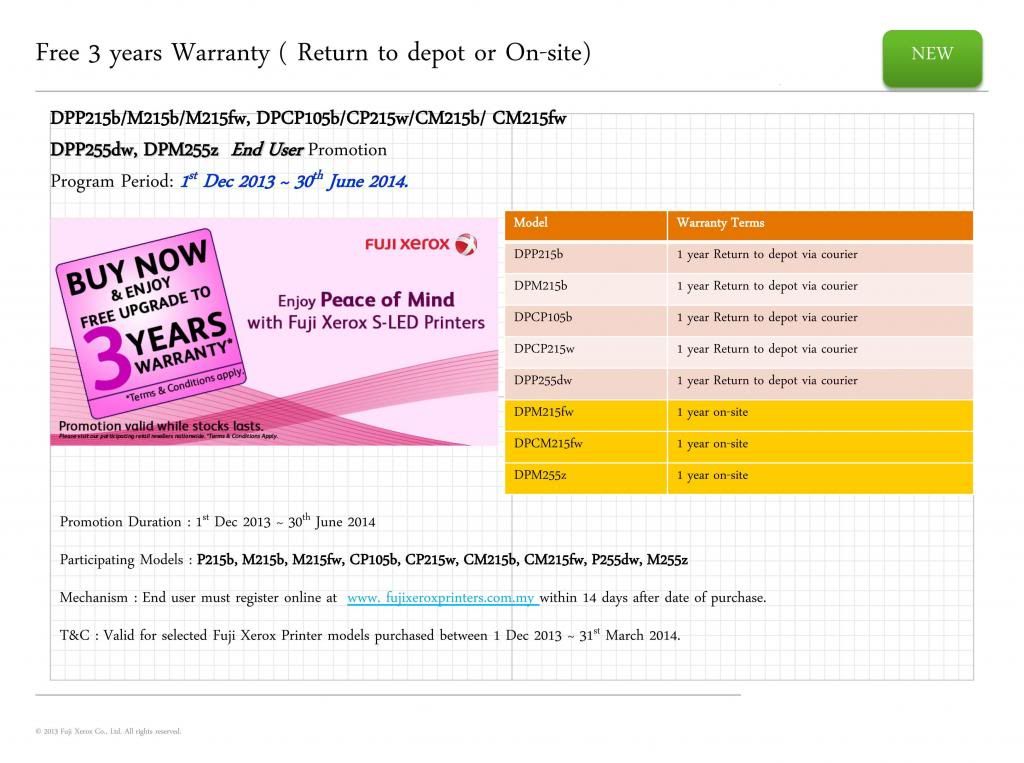 Specifications
DocuPrint CM205 f/ CM205 fw
Print Speed:

Up to 12ppm colour/ 15ppm black & white

Internal Hard Disk:
NA
First Page Out:

27 sec colour/ 22 sec monochrome

Print Resolution (dpi):

1.200 2,400 dpi (Fuji Xerox Imaging Technology)

Memory:

128 MB

First Copy Out:

40 sec colour/ 24 sec monochrome

Copy Resolution:

Up to 600 x 600 dpi

Scan destinations:

Scan to USB Memory Drive, Scan to Application (PDF/JPEG/TIFF)

CM205 fw: Scan to Email, Scan to FTP/SMB (PDF/JPEG/TIFF)

Scan resolution:

1,200 x 1,200 dpi (optical); Up to 4,800 x 4,800 dpi (enhanced)*

*TWAIN driver only

Processor:

295 MHz

Standard Warranty:

1 to 1 swap on-site warranty (1 year)

Connectivity:

10/100 BaseT Ethernet, High-speed USB 2.0, Wireless*

*CM205 fw only
Hi-res S-LED technology produces brilliant images
AWARD-WINNING TECHNOLOGY
Fuji Xerox has raised the benchmark for high-quality, colour printing with a range of award-winning breakthroughs in printer technology that not only deliver eye-catching results, but are fast and simple to use, easy to maintain and save you money with every print out.
QUIETLY BRILLIANT
Fuji Xerox's award winning S-LED (Self-Scanning Light Emitting Diode) and DELCIS (Digitally-Enhanced Lighting Control Imaging System) control technology ensure you get accurate, high-imaging quality at 1200 x 2400 dpi. Small and intelligent S-LED chips with fewer moving parts give you ultra-quiet operation, reduced energy usage, a high level of operational reliability and a sleek compact design.
HIGH-SPEED COLOUR CORRECTION
IReCT is a newly developed digital image registration control technology giving the ultra high precision of 1200 x 2400 dpi colour print out, by which image misalignments will be accurately corrected through digital process.
BRILLIANT HIGHLIGHT
MACS (Micro Accurate Control Screen) optimises the shape of screen elements in accordance with the image density of the area. This technology offers reproduction of smooth gradations and beautiful highlight.
RAZOR-SHARP IMAGES
IE (Image Enhancement) technology improves flexibility in the number of screen lines, shapes and angles by scanning in two directions on a finer matrix to give you razor-sharp images, text and graphics. (DP CP105 b, DP CP205 and DP CP205 w Only)
REDUCED ENERGY CONSUMPTION
EA (Emulsion Aggregation)-Eco toner is a newly developed special toner that allows fusing to paper at a much lower temperature so you can save up to 20% power consumption and reduce CO2 emissions by up to 35% compared to conventional Fuji Xerox toners. EA-Eco toner is completely oil free with the sharp-melting characteristics which provide the right gloss even on different types of paper. Overall EA-Eco toner offers you this energy saving performance.
For more enquiries... kindly click on the link below to find out :-)
Wednesday, 20 Jul 2011 - Cheryl Bates
Fuji Xerox Delivers New MFP Wireless Printers
PETALING JAYA, 20 July 2011— Fuji Xerox Asia Pacific Pte. Ltd. has announced the launch of its DocuPrint CM205 f/fw and DocuPrint M205 f/fw range of compact A4 multifunction (MFP) printers with network-ready and wireless capabilities. Available in four configurations, the new DocuPrint CM205 / M205 f/fw printers are especially designed for small businesses and home users that require an affordable 4-in-1 multifunction printer with networking or wireless connectivity. The new models include:

Fuji Xerox DocuPrint CM205 f (network-ready colour)
Fuji Xerox DocuPrint CM205 fw (wireless colour)
Fuji Xerox DocuPrint M205 f (network-ready monochrome)
Fuji Xerox DocuPrint M205 fw (wireless monochrome)

Ken Lee, Fuji Xerox Country Manager for Printer Channel Malaysia said: "Small businesses and home users want to stay at the forefront of technology with a printer that is jam-packed with the latest features, with affordable running costs. The DocuPrint CM205 / M205 f/fw printers are an ideal solution, offering easy to use multifunction capabilities, efficient print speeds and best in class print quality."

Environmentally Sound

The use of environmentally sustainable devices has become increasingly important for many small businesses and home users looking to operate in an eco friendly manner as well as saving running costs. Fuji Xerox has incorporated EA-Eco toner into the DocuPrint CM205 / M205 f/fw to reduce power consumption by up to 20 percent and reduce carbon dioxide emissions by up to 35 percent compared to conventional toners.

The DocuPrint CM205 / M205 f/fw also meet stringent Energy Star® requirements for reduced power consumption and energy usage, which helps users cut their carbon footprint and drive cost savings. The new models feature innovative S-LED printhead technology which enables more compact devices to be built and uses less energy to power the printer.

Other environmentally friendly features include a 'toner save mode' which enables users to save up to 30 percent of toner per cartridge, extending its life and reducing unnecessary waste. The DocuPrint CM205 / M205 f/fw also utilises only one toner cartridge, which reduces ongoing running costs.

Other traditional consumables usually required on laser printers, such as drums, are not necessary, keeping costs at a minimum.



Convenience

Wireless devices such as laptops, iPhones, iPads and the iPod Touch are now an everyday part of business and personal life as the two increasingly merge together. The take up of these devices has seen wireless printing gain momentum with small businesses and home users who require flexibility.



Designed exclusively for use with colour printing, Fuji Xerox has developed Print and Scan Utility for iOS - a complimentary printing and scanning application which is compatible with the iPad, iPhone and iPod Touch. When used with the new colour models (DocuPrint CM205 f / fw), Print Utility for iOS provides a complete solution for scanning documents and printing web pages, contact addresses and photos saved on these devices.



Enhanced Productivity

Multifunction devices are becoming a popular choice for cost-conscious businesses and home users that require a precise and efficient printer with additional functionality, yet without expensive ongoing running costs. The DocuPrint CM205 / M205 f/fw printers offer integrated 4-in-1 capabilities including print, copy, scan and fax functions, producing high quality documents fast. Small businesses and home users will also benefit from saving valuable office or desk space by consolidating these functions into a compact device.

The new printers are packed with features that improve efficiency, including PC Direct Fax and Direct Scan to USB capabilities to save users valuable time and reduce paper consumption. Also included is Fuji Xerox's innovative DocuWorks 7 document handling software. This streamlines productivity by enabling seamless management and archiving of electronic documents using a 'digital desk'. Users can search, edit, share and secure digital documents in a variety of formats from a single desktop platform. DocuWorks 7's powerful built-in Optical Character Recognition (OCR) transforms paper documents into electronic files to search, share and retrieve information efficiently.

Outstanding Print Quality

The DocuPrint CM205 / M205 f/fw feature Fuji Xerox's revolutionary self-scanning LED (S-LED) and DELCIS technology1, producing outstanding printouts with ultra-high precision and accuracy.

With fast print speeds of up to 24 pages per minute in monochrome (DocuPrint M205 f/ fw), and up to 12 colour pages per minute (DocuPrint CM205f/ fw), the new printers help small businesses and home users get every job done efficiently.

The Fuji Xerox DocuPrint CM205 f/fw and DocuPrint M205 f/fw are available from July.

Fuji Xerox DocuPrint CM205 f (network-ready colour), RM1499
Fuji Xerox DocuPrint CM205 fw (wireless colour), RM1699
Fuji Xerox DocuPrint M205 f (network-ready monochrome, RM799
Fuji Xerox DocuPrint M205 fw (wireless monochrome), RM999
Fuji Xerox Print & Scan Utility (Small Office) for iOS
By Fuji Xerox Co., Ltd.
Description
...More