PHYOFIT (BERRY) - FREE Shipping
30 packages/box (18g/package)
Powdered beverage
***We are also provide FREE Shipping to USA, Canada, Brunei, Hong Kong, Korea, Malaysia, Singapore and Taiwan. Kindly PM us for further details. Thanks
Product Details:-
【PHYTOFIT (BERRY) ~ Ingredients
【Soy】

Soy is said to be a complete food because it has all the nutrients essential for good health. According to SELFNutritionData (
nutritiondata.self.com
), the highly nutritious soy has twice as much protein as meat, three times that of chicken eggs and 12 times that of cow's milk. Besides that, it contains calcium, folic acid, fiber, vitamins and phytochemicals. Soy is also low in fat, cholesterol-free and high in fiber. Isoflavones in soy can lower cholesterol and in turn, prevent heart disease. In addition, soy phytoestrogens help relieve menopausal symptoms and help the body to retain calcium. Genistein, a soy isoflavone, has been shown to inhibit cancer.

【Raspberry】
Rich in vitamins, antioxidants and fiber, raspberries are a delicious fruit with many health benefits. Raspberries are excellent sources of vitamin C, manganese and dietary fiber. They are also rich in B vitamins, folic acid, copper and iron. They have a high concentration of ellagic acid, a phenolic compound that prevents cancer, thereby stopping the growth of cancer cells and eliminating the progress of some cancers.
While the raspberry's high manganese levels help to support healthy bones, skin, and blood sugar levels.


【Strawberry】
Vitamin C content of strawberries is quite rich (about ten times Apple's), as well as rich in organic acids, not only to enhance the child's resistance, but also can prevent colds, prevent bleeding gums, prevent urinary tract infections.
Strawberry nutritious, containing fructose, sucrose, citric acid, malic acid, salicylic acid, amino acids and calcium, phosphorus, iron and other minerals. In addition, there are a variety of vitamins (especially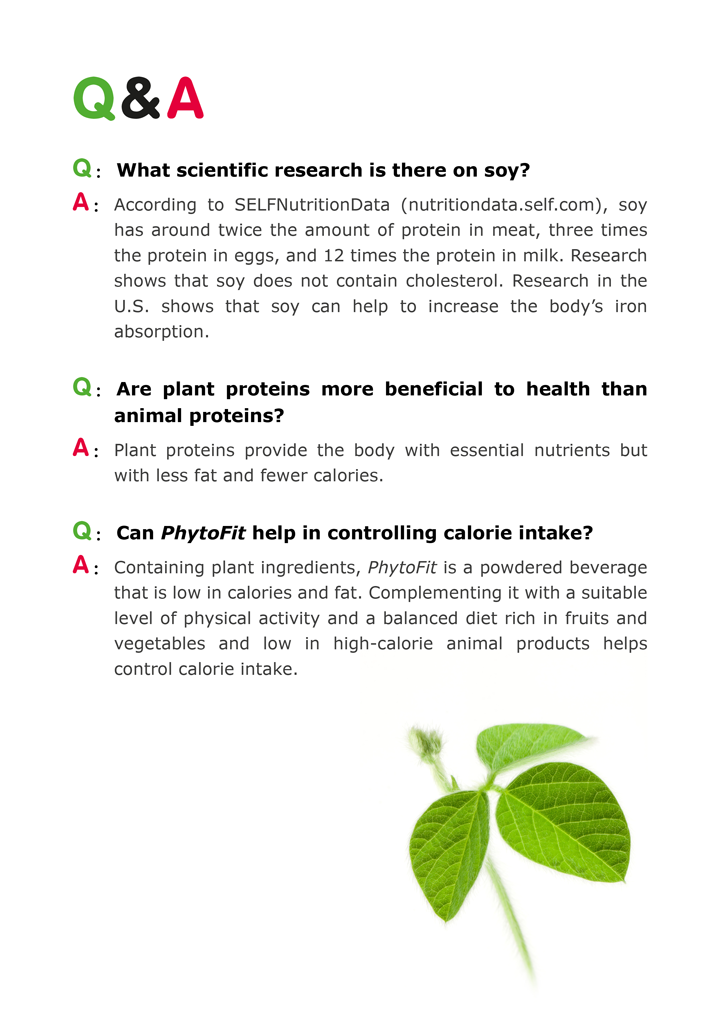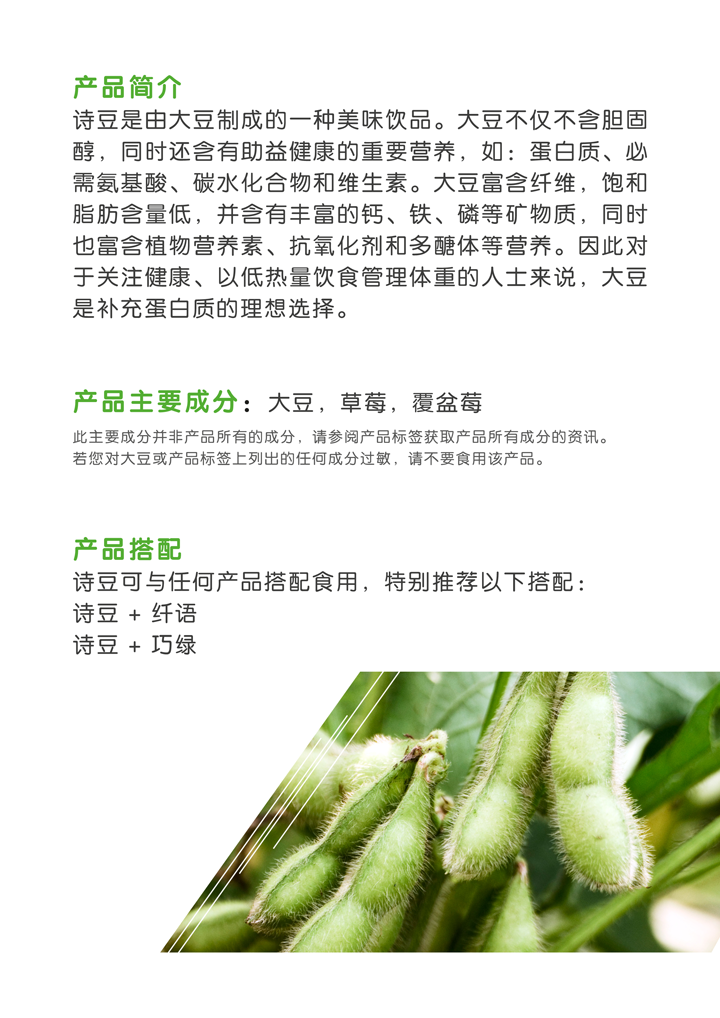 【诗豆~巧莓~成份解说】

【大豆】
大豆可说是一种完美的食物,因为它含有维持健康所需的一切重要营养。根据美国"营养数据库网"(nutritiondata.self.com)的数据,大豆极具营养,含有丰富的蛋白质,为肉类的两倍、鸡蛋的三倍、牛奶的十二倍。除此之外, 它还含有钙质、叶酸、纤维、维生素和植物营养素等,还具有低脂肪、无胆固醇、高纤维的优点。大豆中含有一种称为异黄酮的植物营养素,能够降低人体中的胆固醇含量,进而预防心脏病。不仅如此,研究发现大豆的植物雌激素能够缓和更年期症状,还能帮助身体锁住钙质。而且,大豆异黄酮中所含的染料木黄酮已被证实能 够帮助抑制癌细胞的生长。
【覆盆莓】

为了让身体各器官随着年龄的老化依然保持运作灵活,您需
要像覆盆莓一样富含营养的植物性食物。100克覆盆莓可
以满足人体每日维生素C需求量的44%、锰(一种矿物质
)需求量的34%、膳食纤维需求量的26%,及维生素K
(促进骨骼健康,帮助预防骨质疏松症)需求最的1 0%。研究发现覆盆莓萃取物能够抑制子宫颈癌细胞的生成
。
【草莓】
草莓的维生素C含量相当丰富(约是苹果的十倍),还有丰富的有机酸,不但能够增强孩子的抵抗力,还可以预防感冒、防止牙龈出血、预防泌尿道感染。
草莓营养丰富,含有果糖、蔗糖、柠檬酸、苹果酸、水杨酸、氨基酸以及钙、磷、铁等矿物质。此外,还有多种维生素(尤其是维生素C)。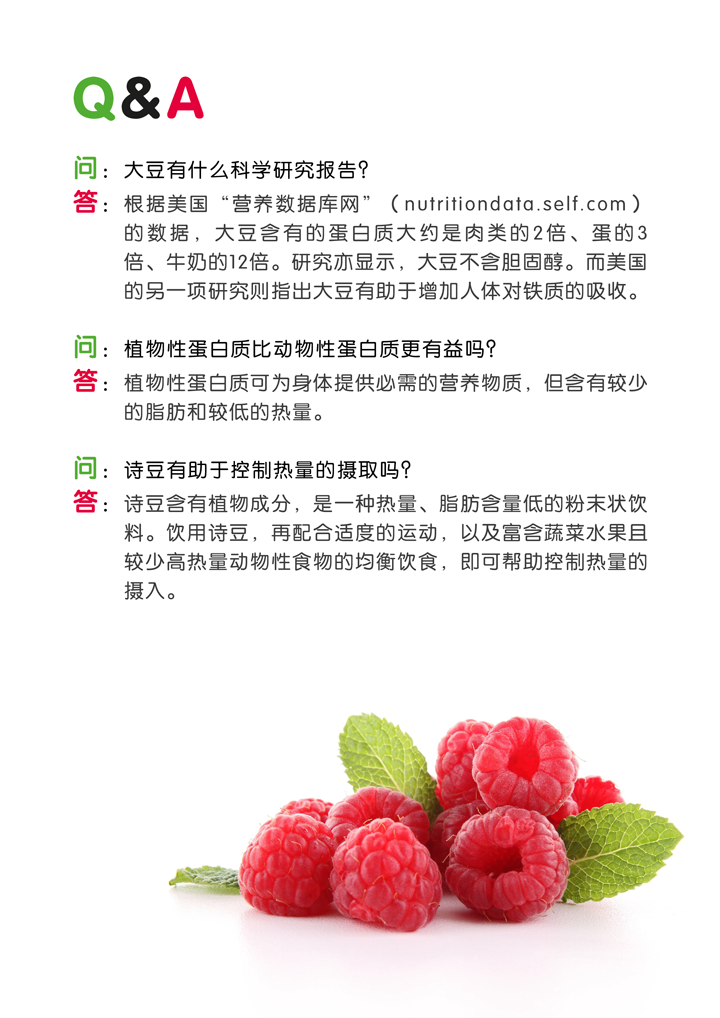 Last Updated @ 10/17/2016 10:15:55 PM