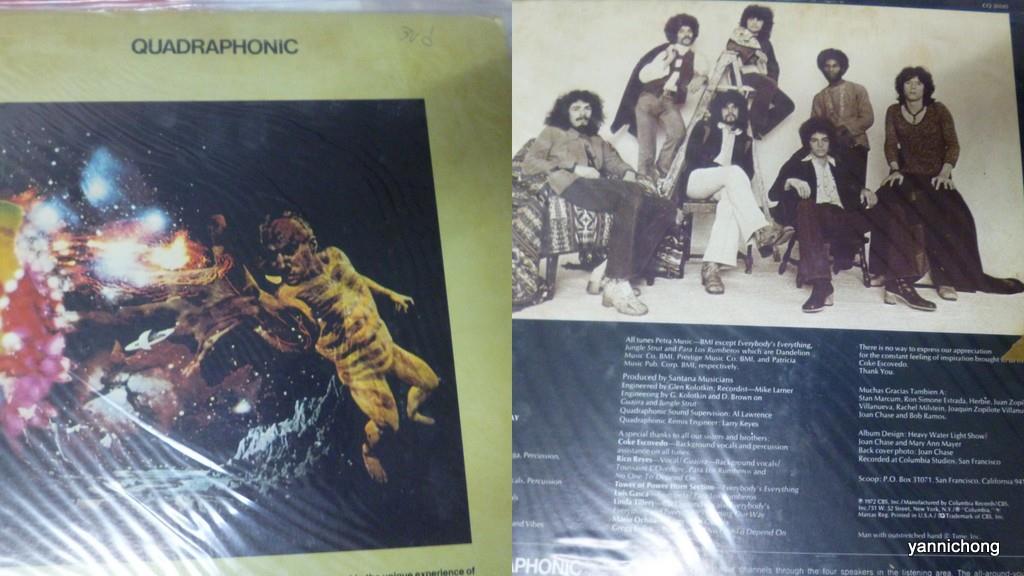 SANTANA VINYL RECORD ORIGINAL MEMBERS
PLENTY OF HITS FROM THIS ALBUM
PLAYS EXCELLENT , US PRESSING
Santana is the third studio album by Santana. The band's second self-titled album, it is often referred to as III or Santana III to distinguish it from the band's 1969 debut album. The album was also known as Man with an Outstretched Hand. It was the third and last album by the Woodstock-era lineup, and it was also considered by many to be the band's peak commercially and musically, as subsequent releases aimed towards more experimental jazz fusion and Latin music. The album featured two singles, "Everybody's Everything", which hit #12 in October 1971,[1] and "No One to Depend On", a staple in FM radio. The album also marked the addition of 17-year-old guitarist Neal Schon (who performed notable solos on both singles) to the group.
The original album was recorded at Columbia Studios, San Francisco, and released in both stereo and quadraphonic.
Santana III was also the last Santana album to hit #1 on the charts until Supernatural in 1999. According to Guinness Book of World Records 2005, this is the longest delay between #1 albums ever occurring. The original album was re-released in 1998 with live versions of "Batuka", "Jungle Strut" and a previously unreleased song, "Gumbo", recorded at Fillmore West in 1971 which features lead guitar solos by both Santana and Schon.
As was done with the band's debut album, released two years earlier, in 2006 Sony released the "Legacy Edition" of the album, featuring the original album in re-mastered sound, and bonus material:
"Batuka" (instrumental) (José Areas, David Brown, Michael Carabello, Gregg Rolie, Michael Shrieve) – 3:35
"No One to Depend On" (Carabello, Coke Escovedo, Rolie) – 5:31
"Taboo" (Areas, Rolie) – 5:34
"Toussaint L'Overture" (Areas, D. Brown, Carabello, Rolie, Carlos Santana, Shrieve) – 5:56
"Everybody's Everything" (Milton Brown, Tyrone Moss, Santana)[6] – 3:31
"Guajira" (Areas, Brown, Rico Reyes) – 5:43
"Jungle Strut" (instrumental) (Gene Ammons) – 5:20
"Everything's Coming Our Way" (Santana) – 3:15
"Para los Rumberos" (Tito Puente) – 2:47