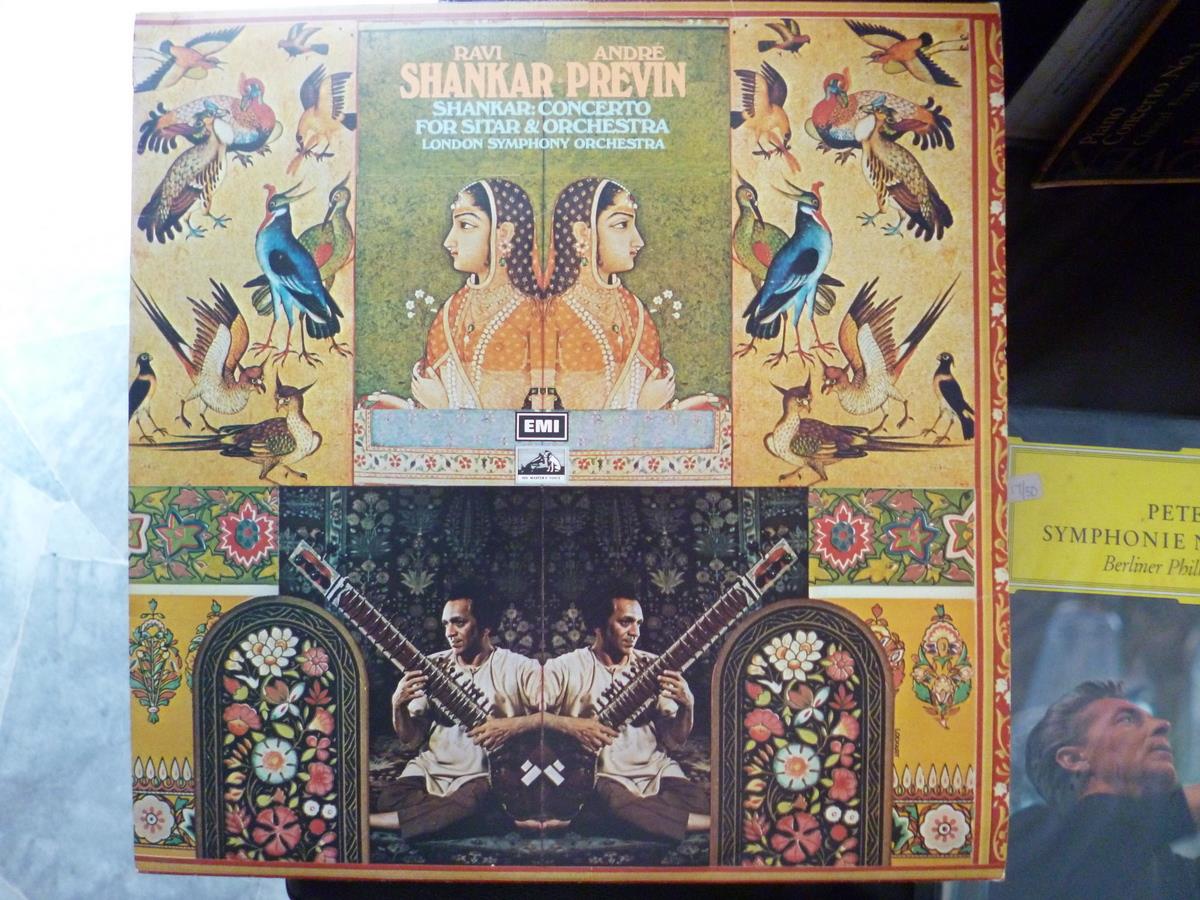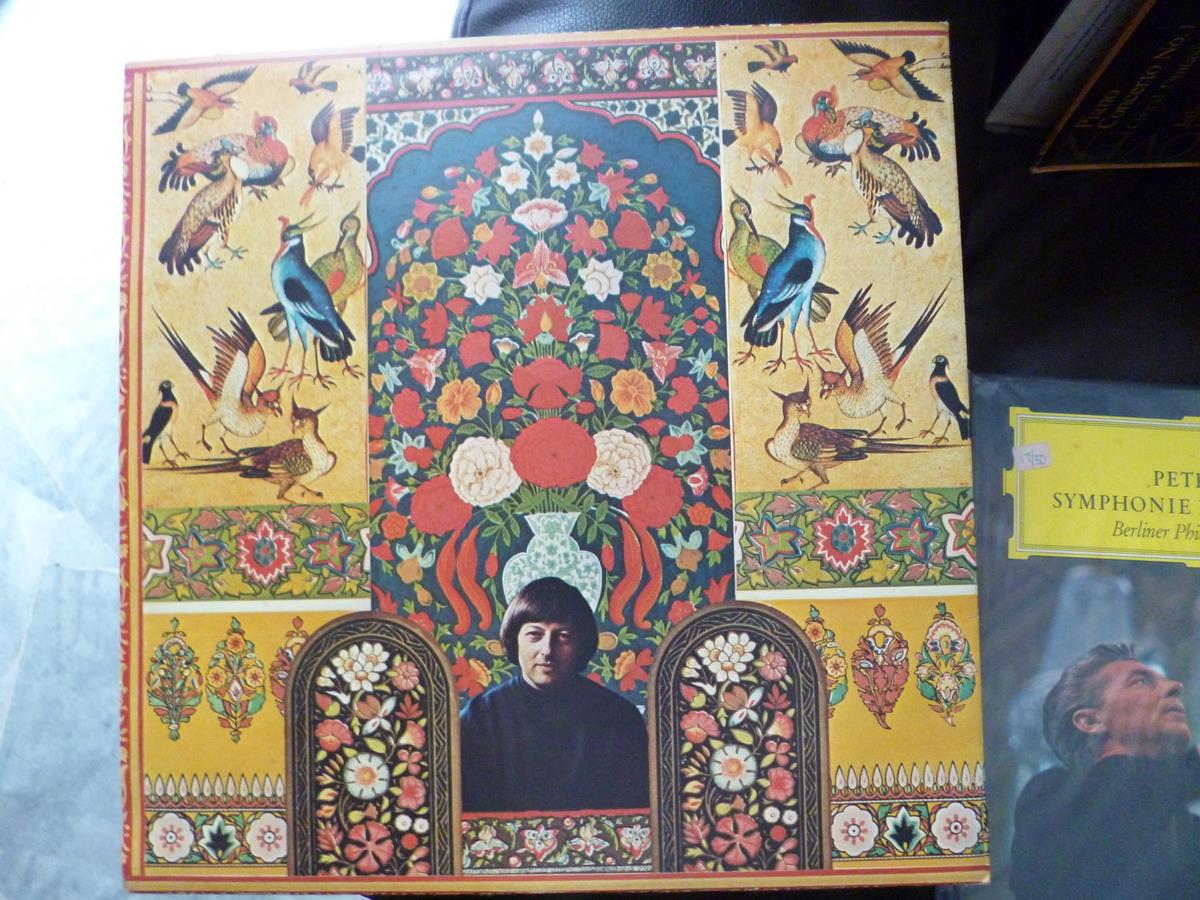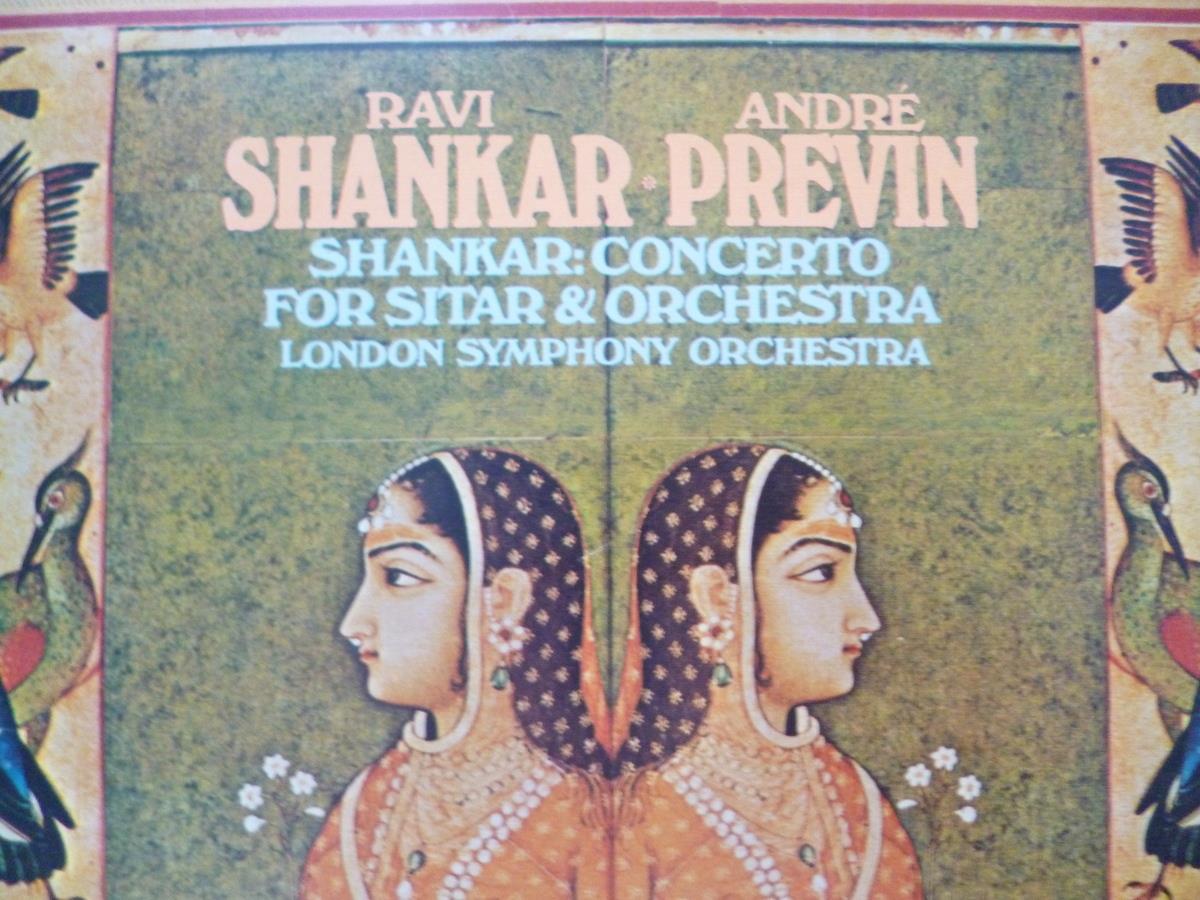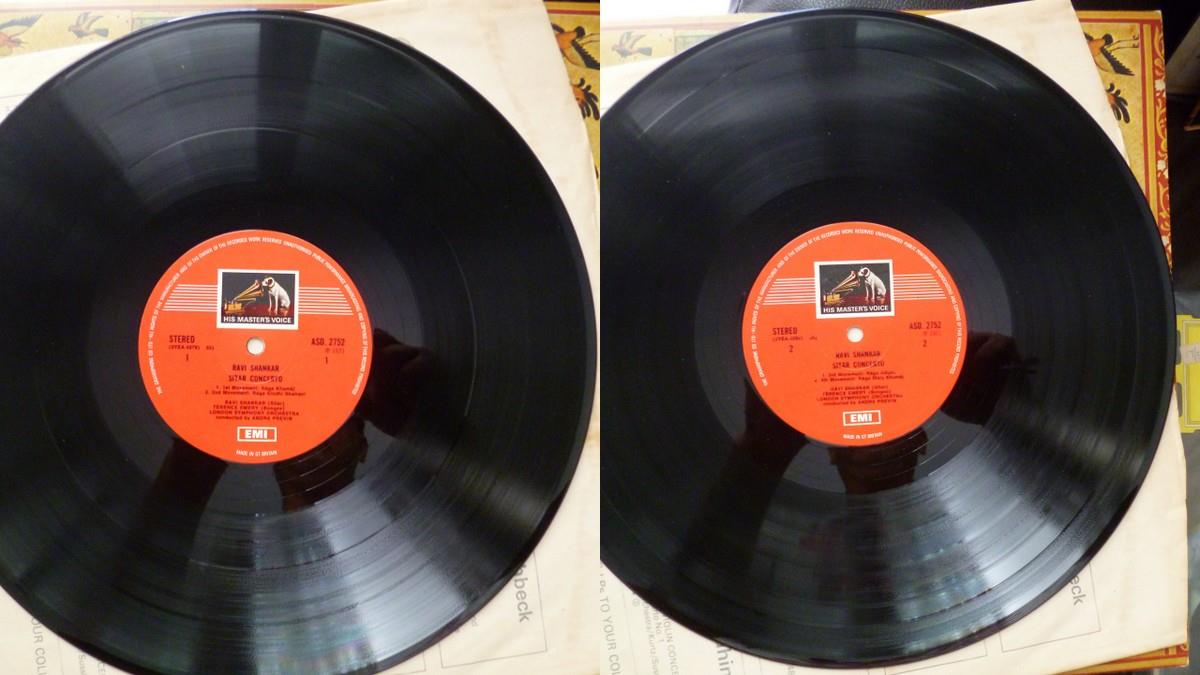 RARE LP RECORD VINYL SITAR MASTER WITH PIANIST ANDRE PREVIN WITH ORCHESTRA
EXCELLENT PLAYS WITH SLIGHT STATIC NOISE
ORIGINAL PRESSING LP
Ravi Shankar, KBE (IPA: [ˈrɔbi ˈʃɔŋkɔr]; 7 April 1920 – 11 December 2012), born Rabindra Shankar Chowdhury,[2] his name often preceded by the title Pandit('Master'), was a world-famous Indian musician and a composer of Hindustani classical music. He was one of the best-known exponents of the sitar in the second half of the 20th century and influenced many other musicians throughout the world.
Shankar was born to a Bengali family in India,[3] and spent his youth touring India and Europe with the dance group of his brother Uday Shankar. He gave up dancing in 1938 to study sitar playing under court musician Allauddin Khan. After finishing his studies in 1944, Shankar worked as a composer, creating the music for the Apu Trilogy by Satyajit Ray, and was music director of All India Radio, New Delhi, from 1949 to 1956.
In 1956 he began to tour Europe and the Americas playing Indian classical music and increased its popularity there in the 1960s through teaching, performance, and his association with violinist Yehudi Menuhin and Beatles guitarist George Harrison. His influence on the latter helped popularize the use of Indian instruments in pop music throughout the 1960s. Shankar engaged Western music by writing compositions for sitar and orchestra, and toured the world in the 1970s and 1980s. From 1986 to 1992, he served as a nominated member of Rajya Sabha, the upper chamber of the Parliament of India. He continued to perform until the end of his life. In 1999, Shankar was awarded India's highest civilian honour, the Bharat Ratna.
V. K. Narayana Menon, director of AIR Delhi, introduced the Western violinist Yehudi Menuhin to Shankar during Menuhin's first visit to India in 1952.[20] Shankar had performed as part of a cultural delegation in the Soviet Union in 1954 and Menuhin invited Shankar in 1955 to perform in New York City for a demonstration of Indian classical music, sponsored by the Ford Foundation.[21][22] Shankar declined to attend because of problems in his marriage, but recommended Ali Akbar Khan to play instead.[22] Khan reluctantly accepted and performed with tabla (percussion) player Chatur Lal in the Museum of Modern Art, and he later became the first Indian classical musician to perform on American television and record a full raga performance, for Angel Records.[23]
Shankar heard about the positive response Khan received and resigned from AIR in 1956 to tour the United Kingdom, Germany, and the United States.[24] He played for smaller audiences and educated them about Indian music, incorporatingragas from the South Indian Carnatic music in his performances, and recorded his first LP album Three Ragas in London, released in 1956.[24] In 1958, Shankar participated in the celebrations of the tenth anniversary of the United Nations andUNESCO music festival in Paris.[14] From 1961, he toured Europe, the United States, and Australia, and became the first Indian to compose music for non-Indian films.[14] Chatur Lal accompanied Shankar on tabla until 1962, when Alla Rakha assumed the role.[24] Shankar founded the Kinnara School of Music in Mumbai in 1962.[25]
Shankar befriended Richard Bock, founder of World Pacific Records, on his first American tour and recorded most of his albums in the 1950s and 1960s for Bock's label.[24] The Byrds recorded at the same studio and heard Shankar's music, which led them to incorporate some of its elements in theirs, introducing the genre to their friend George Harrison of the Beatles.[26]Harrison became interested in Indian classical music, bought a sitar and used it to record the song "Norwegian Wood (This Bird Has Flown)".[27] This led to Indian music being used by other musicians and created the raga rock trend.[27]
Harrison met Shankar in London in June 1966 and visited India later that year for six weeks to study sitar under Shankar inSrinagar.[16][28][29] During the visit, a documentary film about Shankar named Raga was shot by Howard Worth, and released in 1971.[30] Shankar's association with Harrison greatly increased Shankar's popularity and Ken Hunt of AllMusic would state that Shankar had become "the most famous Indian musician on the planet" by 1966.[4][28] In 1967, he performed at theMonterey Pop Festival[31] and won a Grammy Award for Best Chamber Music Performance for West Meets East, a collaboration with Yehudi Menuhin.[28][32] The same year, the Beatles won the Grammy Award for Album of the Year for Sgt. Pepper's Lonely Hearts Club Band, which included "Within You Without You" by Harrison, a song that was influenced by Indian classical music.[29][32] Shankar opened a Western branch of the Kinnara School of Music in Los Angeles, in May 1967, and published an autobiography, My Music, My Life, in 1968.[14][25] In 1968, he scored for the movie Charly. He performed at theWoodstock Festival in August 1969, and found he disliked the venue.[28] In the 1970s Shankar distanced himself from thehippie movement.[33][34]
In October 1970 Shankar became chair of the department of Indian music of theCalifornia Institute of the Arts after previously teaching at the City College of New York, the University of California, Los Angeles, and being guest lecturer at other colleges and universities, including the Ali Akbar College of Music.[14][35][36] In late 1970, theLondon Symphony Orchestra invited Shankar to compose a concerto with sitar.Concerto for Sitar & Orchestra was performed with André Previn as conductor and Shankar playing the sitar.[5][37] Hans Neuhoff of Musik in Geschichte und Gegenwarthas criticized the usage of the orchestra in this concert as "amateurish".[38] George Harrison organized the charity Concert for Bangladesh in August 1971, in which Shankar participated.[28] After the musicians had tuned up on stage for over a minute, the crowd broke into applause, to which the amused Shankar responded: "If you like our tuning so much, I hope you will enjoy the playing more."[39] Although interest in Indian music had decreased in the early 1970s, the concert album became one of the best-selling recordings to feature the genre and won Shankar a second Grammy Award.[32][36]
During the 1970s, Shankar and Harrison worked together again, recording Shankar Family & Friends in 1973 and touring North America the following year to a mixed response after Shankar had toured Europe with the Harrison-sponsored Music Festival from India.[40] The demanding schedule weakened Shankar, and he suffered a heart attack in Chicago in November 1974, causing him to miss a portion of the tour.[41] In his absence, Shankar's sister-in-law, singer Lakshmi Shankar, conducted the touring orchestra.[41] The touring band visited the White House on invitation of John Gardner Ford, son of US PresidentGerald Ford.[41] Shankar toured and taught for the remainder of the 1970s and the 1980s and released his second concerto,Raga Mala, conducted by Zubin Mehta, in 1981.[42][43] Shankar was nominated for an Academy Award for Best Original Music Score for his work on the 1982 movie Gandhi, but lost to John Williams' ET[44]
He served as a member of the Rajya Sabha, the upper chamber of the Parliament of India, from 12 May 1986 to 11 May 1992, after being nominated by Indian Prime Minister Rajiv Gandhi.[16][45] Shankar composed the dance drama Ghanashyamin 1989.[25] His liberal views on musical co-operation led him to contemporary composer Philip Glass, with whom he released an album, Passages, in 1990.[8] Shankar underwent an angioplasty in 1992 due to heart problems, after which George Harrison participated in a number of Shankar's projects.[46] Because of the positive response to Shankar's 1996 career compilation In Celebration, Shankar wrote a second autobiography, Raga Mala, with Harrison as editor.[46] He performed in between 25 and 40 concerts every year during the late 1990s.[8] Shankar taught his daughter Anoushka Shankar to play sitarand in 1997 became a Regents' Professor at University of California, San Diego.[47][48] In the 2000s, he won a Grammy Award for Best World Music Album for Full Circle: Carnegie Hall 2000 and toured with Anoushka, who released a book about her father, Bapi: Love of My Life, in 2002.[32][49] Anoushka performed a composition by Shankar for the 2002 Harrison memorialConcert for George and Shankar wrote a third concerto for sitar and orchestra for Anoushka and the Orpheus Chamber Orchestra.[50][51] In June 2008, Shankar played what was billed as his last European concert,[33] but his 2011 tour included dates in the United Kingdom.[52]
On 1 July 2010, at the Southbank Centre's Royal Festival Hall, London, England, Anoushka Shankar, on sitar, performed with the London Philharmonic Orchestra, conducted by David Murphy what was billed the first Symphony by Ravi Shankar. This performance was recorded and is available on CD. It is 40:52 minutes long and is composed of 4 movements (in the tempiallegro (fast), slow, scherzo (fast), finale (fast)) like a classical Western symphony but uses an Indian raga as the mode for each movement: I. Allegro (Kafi Zila) 9:21 minutes, II. Lento (Ahir Bhairav) 7:52 minutes, III. Scherzo (DoGa Kalyan) 8:49 minutes IV. Finale (Banjara) 14:50 minutes.[53] The website of the Ravi Shankar Foundation provides the information that "The symphony was written in Indian notation in 2010, and has been interpreted by his student and conductor, David Murphy."[54]The information available on the website does not explain this process of "interpretation" of Ravi Shankar's notation by David Murphy, nor how Ravi Shankar's Indian notation could accommodate Western orchestral writing.
Shankar developed a style distinct from that of his contemporaries and incorporated influences from rhythm practices of Carnatic music.[8] His performances begin with solo alap, jor, and jhala (introduction and performances with pulse and rapid pulse) influenced by the slow and serious dhrupad genre, followed by a section with tablaaccompaniment featuring compositions associated with the prevalent khyal style.[8]Shankar often closed his performances with a piece inspired by the light-classicalthumri genre.[8]
Shankar has been considered one of the top sitar players of the second half of the 20th century.[38] He popularised performing on the bass octave of the sitar for the alapsection and became known for a distinctive playing style in the middle and high registers that used quick and short deviations of the playing string and his sound creation through stops and strikes on the main playing string.[8][38] Narayana Menon ofThe New Grove Dictionary noted Shankar's liking for rhythmic novelties, among them the use of unconventional rhythmic cycles.[55] Hans Neuhoff of Musik in Geschichte und Gegenwart has argued that Shankar's playing style was not widely adopted and that he was surpassed by other sitar players in the performance of melodic passages.[38] Shankar's interplay with Alla Rakha improved appreciation for tabla playing in Hindustani classical music.[38] Shankar promoted the jugalbandiduet concert style and claims to have introduced new ragas Tilak Shyam, Nat Bhairav and Bairagi.[8]
André George Previn, KBE (/ˈprɛvɪn/; born Andreas Ludwig Priwin; April 6, 1929)[1] is a German-American pianist, conductor, and composer. He is considered one of the most versatile musicians in the world and is the winner of four Academy Awards for his film work and ten Grammy Awards for his recordings (and one more for his Lifetime Achievement).
Previn was born in Berlin, Germany, the son of Charlotte (née Epstein) and Jack Previn (Jakob Priwin), who was a lawyer, judge, and music teacher.[2] He is said to be "a distant relative of" the composer Gustav Mahler.[3] However, in a pre-concert public interview at the Lincoln Center, in May 2012, Previn laughed at the suggestion that he is related to Mahler. The year of his birth is uncertain. Whilst most published reports give 1929,[1] Previn himself has stated that 1930 is his birth year.[4]
In 1939, his family, being Jewish, left Nazi Germany and moved to Los Angeles, where his great-uncle, Charles Previn, was music director of Universal Studios. André grew up in Los Angeles and became a naturalized citizen of the United States in 1943. At Previn's 1946 graduation from Beverly Hills High School he played a musical duet with Richard M. Sherman; Previn played the piano, accompanying Sherman (who played flute). He first came to prominence by arranging and composing Hollywood film scores in 1948. Coincidentally, in 1964, both composers won Oscars for different films, both winning in musical categories.
In 1951 and 1952, while stationed at the Presidio of San Francisco during his military service, Previn took private conducting lessons from Pierre Monteux, which he valued highly.[5]
In the mid-to-late 1950s, and more recently, Previn toured and recorded as a jazz pianist. In the 1950s, mainly recording forContemporary Records, he worked with J.J. Johnson, Shelly Manne, Leroy Vinnegar, Benny Carter, and others. An album he recorded with Manne and Vinnegar of songs from My Fair Lady was a best-seller (see My Fair Lady (Shelly Manne album)). As a solo jazz pianist, Previn largely devoted himself to interpreting the works of major songwriters such as Jerome Kern(recorded in 1959), Frederick Loewe, Vernon Duke (recorded in 1958), and Harold Arlen (recorded in 1960). Previn made two albums with Dinah Shore as arranger, conductor, and accompanist in 1960, and another, "Duet", with Doris Day in 1961. He made appearances on The Ford Show, Starring Tennessee Ernie Ford as well as The Dinah Shore Chevy Show. He collaborated with Julie Andrews on a collection of Christmas carols in 1966, focusing on rarely heard carols. This popular album, reissued many times over the years, is now available on CD. His main influences as a jazz pianist include Art Tatum,Hank Jones, Oscar Peterson, and Horace Silver. Previn's more recent work also shows the influence of Bill Evans. Previn has recorded solo classical piano compositions by Mozart, Gershwin, Poulenc, Shostakovich, an album for RCA Victor with violinist Erick Friedman of the Franck and Debussy violin sonatas, and many chamber works for piano.
In 1967, Previn succeeded Sir John Barbirolli as music director of the Houston Symphony Orchestra. In 1968, he began his tenure as principal conductor of the London Symphony Orchestra (LSO),[6] serving in that post until 1979. During his LSO tenure, he and the LSO appeared on the BBC Television programme André Previn's Music Night. From 1976 to 1984, he was music director of the Pittsburgh Symphony Orchestra (PSO) and, in turn, had another television series with the PSO entitledPrevin and the Pittsburgh. He was also principal conductor of the Royal Philharmonic Orchestra from 1985 to 1988.
In 1985, he became music director of the Los Angeles Philharmonic. Although Previn's tenure with the orchestra was deemed satisfactory from a professional perspective, other conductors including Kurt Sanderling, Simon Rattle, and Esa-Pekka Salonen, did a better job at selling out concerts. Previn clashed frequently with Ernest Fleischmann (the orchestra's Executive VP and General Manager), most notably when Fleischmann failed to consult him before naming Salonen as Principal Guest Conductor of the orchestra, complete with a tour of Japan. Because of Previn's objections, Salonen's title and Japanese tour were withdrawn; however, shortly thereafter, in April 1989, Previn resigned. Four months later, Salonen was named Music Director Designate of the Los Angeles Philharmonic, officially taking the post of Music Director in October 1992.[7]
Previn's discography contains hundreds of recordings in film, jazz, classical music and contemporary classical music. Because of the huge number of recordings, the following lists are necessarily highly selective. A full discography (including LP/CD record codes) is available in Frédéric Döhl: André Previn. Musikalische Vielseitigkeit und ästhetische Erfahrung, Stuttgart 2012, p. 295-319.
Most films are still available as Videos/DVDs or/and as soundtrack records, at least antiquarian. Some soundtracks have been reissued in recent years like the ones from Elmer Gantry, Four Horsemen of the Apocalypse or Inside Daisy Clover Dead Ringer.
Previn made dozens of jazz recordings as leader and sideman, primarily during two periods of his career: from 1945 to 1967, and then again from 1989 to 2001, with just a handful of recordings in between and afterward (while he focused his career on conducting/recording classical music, and later on composing contemporary art music). Previn also did several crossover recordings with classical singers like Eileen Farrell, Leontyne Price or Kiri Te Kanawa, too, as well as several Easy-Listeningrecords with piano and orchestra in the 1960s (beginning with Like Young. Secret Songs for Young Lovers, 1959. with David Rose and His Orchestra).
Like Oscar Peterson, whom Previn admires a lot,[8] and Bill Evans – or more recently Keith Jarrett, Brad Mehldau or Esbjörn Svensson – Previn has worked a lot as a trio pianist (usually with bass and drums). Following his performance on Shelly Manne's huge hit record Modern Jazz Performances of Songs from My Fair Lady in 1956, Previn released several albums of jazz interpretations of songs from broadway musicals as well as several solo piano recordings focussed on the songbooks of popular composers (André Previn Plays Songs by Vernon Duke, 1958; André Previn Plays Songs by Harold Arlen, 1960;Ballads. Solo Jazz Standards, 1996; Alone: Ballads for Solo Piano, 2007), the late recording of songs by Harold Arlen with singer Sylvia McNair and bass player David Finck (Come Rain or Shine. The Harold Arlen Songbook, 1996), and his TV shows with Oscar Peterson (1974)[9] – which Marlon Brando simply called "one of the greatest hours I ever saw on television"[10] – and Ella Fitzgerald (1979)[11] respectively.
Jazz critic and historian Ted Gioia wrote in his book about West Coast Jazz, the scene to which Previn belonged:
And Dizzy Gillespie has stated,
Collaboration (RCA Victor, 1955) - with Shorty Rogers
Double Play! (Contemporary, 1957) with Russ Freeman
Pal Joey (Contemporary, 1957)
Gigi (Contemporary, 1958)
André Previn Plays Songs by Vernon Duke (Contemporary, 1958)
King Size! (Contemporary, 1959)
West Side Story (Contemporary, 1959)
The Subterraneans (Soundtrack) (MGM, 1960)
Like Previn! (Contemporary, 1960)
André Previn Plays Songs by Harold Arlen (Contemporary, 1960)
André Previn and J. J. Johnson (Columbia, 1961) with J.J. Johnson
Duet (1962, with Doris Day, Red Mitchell and Frank Capp)
4 To Go! (Columbia, 1963) with Herb Ellis, Ray Brown and Shelly Manne
A Different Kind of Blues (1980, with Itzhak Perlman, Jim Hall, Red Mitchell and Shelly Manne)
Nice Work if You Can Get It (1983, with Ella Fitzgerald and Niels-Henning Ørsted Pedersen)
After Hours (1989, with Joe Pass and Ray Brown)
Uptown (1990, with Mundell Lowe and Ray Brown)
Old Friends (1992, with Mundell Lowe and Ray Brown)
Kiri Sidetracks: The Jazz Album (1992, with Kiri Te Kanawa, Mundell Lowe and Ray Brown)
André Previn and Friends Play Show Boat (1995, with Mundell Lowe, Ray Brown and Grady Tate)
Sure Thing. The Jerome Kern Songbook (1996, with Sylvia McNair and David Finck)
Ballads. Solo Jazz Standards (1996)
Come Rain or Shine. The Harold Arlen Songbook (1996, with Sylvia McNair and David Finck)
Jazz at the Musikverein (1997, with Mundell Lowe and Ray Brown)
We Got Rhythm. A Gershwin Songbook (1998, with David Finck)
We Got It Good and That Ain't Bad. An Ellington Songbook (1999, with David Finck)
Live at the Jazz Standard (2001, with David Finck)
With Benny Carter
With Helen Humes
Tain't Nobody's Biz-ness if I Do (Contemporary, 1959)
Songs I Like to Sing! (Contemporary, 1960)
With Barney Kessel
With Shelly Manne
With Lyle Murphy
As in Jazz, Previn, the classical pianist, worked most of the time as a trio pianist (with violin and cello) in classical chamber music. Accordingly, most of his recordings as pianist are in this genre.
Samuel Barber: Four Excursions, Paul Hindemith: Piano Sonata No. 3, Frank Martin: Prelude No. 7 (1961)
Gabriel Fauré: Piano Trio D-minor op. 120, Felix Mendelssohn: Piano Trio D-minor op. 120 (1964, with Nathan Roth and Joseph Schuster)
Serge Rachmaninoff: Music for Two Pianos. Suite Nr. 1 op. 5, Suite Nr. 2 op. 17, Symphonic Dances op. 45 (1974, withVladimir Ashkenazy)
Maurice Ravel: Piano Trio A-minor, Dmitri Shostakovich: Piano Trio No. 2 E-minor op. 67 (1974, with Kim Young Uck and Ralph Kirshbaum)
Claude Debussy: Piano Trio G-major, Maurice Ravel: Piano Trio A-minor (1995, with Julie Rosenfeld and Gary Hoffmann)
Ludwig van Beethoven: Piano Trio No. 7 B flat-major op. 97, Johannes Brahms: Piano Trio B-major op. 8 (1995, withViktoria Mullova and Heinrich Schiff)
American Scenes. André Previn: Sonata for Violin and Piano "Vineyard", George Gershwin: Three Preludes, Aaron Copland: Sonata for Violin and Piano, Nocturne, Samuel Barber: Canzone (Elegy) op. 38a (1998, with Gil Shaham)
Previn's recording repertoire as a conductor is focused on the standards of classical and romantic music, with notable exceptions like Anton Bruckner, most of Gustav Mahler and opera in general, instead favoring the symphonic music of contemporaries like Hector Berlioz, Johannes Brahms and Richard Strauss and with a special emphasis on violin and piano concertos and ballets. Just very few recordings deal with music before Joseph Haydn and Wolfgang Amadeus Mozart (both favourites of Previn's programmes) or contemporary avant-garde art music based on atonality, minimalism, serialism,stochastic music etc. Instead, in 20th-century music Previn's repertoire highlights specific composers of late romanticism and modernism like Samuel Barber, Benjamin Britten, George Gershwin, Erich Wolfgang Korngold, Serge Prokofiev, Serge Rachmaninoff, Maurice Ravel, Dmitri Shostakovich, Richard Strauss, Ralph Vaughan Williams, Harold Shapero and William Walton.
His recordings of works by Gershwin, Korngold (especially the Violin Concerto in D major op. 35, which he recorded three times with Itzhak Perlman, Gil Shaham and Anne-Sophie Mutter), Prokofiev (esp. the 5 piano concertos with Vladimir Ashkenazy and the LSO, Romeo and Juliet op. 64 with the LSO, and the Symphonies 1 and 5, the score to Alexander Nevsky, and the Symphony-Concerto for Cello & Orchestra with Heinrich Schiff as soloist with the Los Angeles Philharmonic), Rachmaninoff (esp. the Symphony No. 2 E minor op. 27 and The Bells op. 35), Shostakovich, Richard Strauss (esp. the recordings of all tone poems with the Vienna Philharmonic) Tchaikowsky (esp. the three ballets Swan Lake, The Sleeping Beauty, and The Nutcracker), Vaughan Williams (a complete cycle of the nine symphonies for RCA), and Walton (esp. theSymphony No. 1 B-flat minor and Belshazzar's Feast) have been particularly prized.
Previn recorded mostly for EMI, Telarc and Deutsche Grammophon.
Guitar Concerto (1972, with John Williams and the London Symphony Orchestra)
Every Good Boy Deserves Favour (1978, with the London Symphony Orchestra)
Piano Concerto and Guitar Concerto (1990, with Vladimir Ashkenazy, Eduardo Fernandez and the Royal Philharmonic Orchestra)
Honey and Rue (1995, with Kathleen Battle and the Orchestra of St. Luke's)
"From Ordinary Things": Sonata for Cello and Piano; Four Songs for Soprano, Cello and Piano; Two Remembrances for Soprano, Alto Flute and Piano; Vocalise for Soprano, Cello and Piano (1997, with Sylvia McNair, Yo-Yo Ma and Sandra Church)
Trio for Piano, Oboe and Bassoon (1997, with Cynthia Koledo de Almeida and Nancy Goeres)
"Music of André Previn": Trio for Piano, Oboe and Bassoon, Peaches for Flute and Piano, Triolet for Brass, Variations on a Theme by Haydn for Piano, A Wedding Waltz for Two Oboes and Piano (1998, with the St. Luke's Chamber Ensemble)
"American Scenes": Sonata for Violin and Piano "Vineyard" (1998, with Gil Shaham)
A Streetcar Named Desire (1998; with Renée Fleming, Elizabeth Futral, Rodney Gilfry, Anthony Dean Griffey, San Francisco Opera Orchestra)
"Diversions – Songs": Diversions; Sallie Chisum Remembers Billy the Kid; Vocalise; The Giraffes Go to Hamburg; Three Dickinson Songs (2001, with Renée Fleming, Barbara Bonney, Moray Welsh, Vienna Philharmonic, London Symphony Orchestra)
Tango Song and Dance (2003, Anne-Sophie Mutter)
Violin Concerto "Anne-Sophie" (2003, with Anne-Sophie Mutter and the Boston Symphony Orchestra)
Double Concerto for Violin, Contrabass and Orchestra; Piano Concerto; Violin Concerto "Anne-Sophie"; Three Dickinson Songs; Diversions; "I Can Smell The Sea Air" from A Streetcar Named Desire (2009, with Renée Fleming, Anne-Sophie Mutter, Vladimir Ashkenazy, Roman Patkolo, Boston Symphony Orchestra, London Symphony Orchestra, Vienna Philharmonic, San Francisco Opera Orchestra)
Brief Encounter (2011, with Elizabeth Futral, Nathan Gunn, Kim Josephson, Houston Grand Opera Orchestra, Patrick Summers)
Previn became known to a broad public through his television work. In the United Kingdom he worked on TV with the London Symphony Orchestra. In the United States the TV show "Previn and the Pittsburgh" (1977) featured him in collaboration with the Pittsburgh Symphony Orchestra.
Previn is particularly remembered in Britain for his performance as "Mr. Andrew Preview" (or "Privet") on the Morecambe and Wise Christmas Show in 1971, which involved his conducting a performance of Edvard Grieg's Piano Concerto with Eric Morecambe as the comically inept soloist (being swindled into it by being told that Yehudi Menuhin would be his solo violinist). At one point during the sketch "Mr Preview" accuses Eric Morecambe of playing all the wrong notes; Eric retorts that he has been playing "all the right notes, but not necessarily in the right order".[14] Preview then remarks that "I'll go fetch my baton. It's in Chicago." This comic ad-lib made Morecambe immediately realise the sketch would be a success. Because of other commitments the only time available for Previn to learn his part in the show was during a transatlantic flight but the talent he showed for comedy won high praise from his co-performers. He made a second appearance in their eighth series. In the sketch, he is tricked into visiting the pair again, and they suggest that if he works with them again, he could receive a knighthood. He joined them at the end of the episode in singing ''Bring Me Sunshine''. He is also seen as a London bus conductor and ting ting and at least he hit the right note that time with a comptometer.
At a concert with the Grieg Concerto in Britain afterwards, Previn had to pause the playing to allow the audience time to stop giggling as they remembered the sketch. Previn himself notes that people in Britain still recall the sketch years later: "Taxi drivers still call me Mr Preview".[1]
Previn has been married five times. His first marriage, in 1952, was to jazz singer Betty Bennett, with whom he had two daughters, Claudia Previn[15] Stasny and Alicia Previn[16] (a violinist for the Irish band In Tua Nua and a founding member of the Young Dubliners). Previn divorced Bennett in 1957, a few months before she gave birth to their second daughter.[17]
In 1959, he married Dory Langan, better known as Dory Previn.[18] A singer-songwriter,[19] Dory became widely known as a lyricist with whom André Previn collaborated on several Academy Award-nominated film scores during their marriage.[18] After Previn divorced her in 1969 during her hospitalization for a mental breakdown, Dory Previn resumed her career as a singer-songwriter with On My Way to Where (1970), an "influential" and "critically acclaimed" album whose "searingly honest" confessional lyrics famously chronicled both her mental health struggles and the infidelity that she alleged had at once precipitated the end of her marriage to Previn and exacerbated her intermittent mental illness.[18][20][21][22] In 2013, jazz singer Kate Dimbleby and pianist Naadia Sheriff revisited Dory Previn's musical reflections on her marriage to André Previn in the London cabaret show, Beware Of Young Girls: The Dory Previn Story.[23][24]
Previn's third marriage, in 1970, was to Mia Farrow. Prior to their divorce in 1979, Previn and Farrow had three biological children together—twins Matthew and Sascha, born in 1970, and Fletcher, born in 1974. They then adopted Vietnamese infants Lark Song and Summer "Daisy" Song (born October 6, 1974), followed by Soon-Yi Previn, a Korean child whose age a physician's bone scan placed between 6 and 8 years old and whose unknown birth date her adoptive parents estimated as October 8, 1970.[25] Lark died on Christmas Day 2008.[26] In the aftermath of the scandal involving Soon-Yi and Mia Farrow's partner Woody Allen,[25] Previn has been quoted as saying about Soon-Yi, "She does not exist."[27]
Previn's longest marriage was his fourth. In January 1982 he married Heather Sneddon. With Heather he had two children, Li-An Mary, adopted 1982 and Lukas Alexander, born 1983. Previn wrote a brief memoir of his early years in Hollywood, No Minor Chords, which was published in 1991, edited by Jacqueline Kennedy Onassis and dedicated to Heather. This marriage ended after 20 years in 2002.
His fifth marriage, in 2002, was to the German violinist Anne-Sophie Mutter, for whom he later wrote a violin concerto. They announced their divorce in August 2006,[28] but continue to work together in concerts.[29][30]
Previn has received a total of thirteen Academy Award nominations, winning in 1958, 1959, 1963 and 1964. He is one of few composers to accomplish the feat of winning back-to-back Oscars, and one of only two to do so on two occasions (the other being Alfred Newman). In 1970 he was nominated for a Tony Award as part of Coco's nomination for Best Musical. In 1977 he became an Honorary Member of the Royal Academy of Music.[31] The 1977 television show Previn and the Pittsburgh was nominated for three Emmy awards. Previn was appointed an honorary Knight Commander of the Order of the British Empirein 1996.[32] (Not being a citizen of a Commonwealth realm, he may use the post-nominal letters KBE but is not called "Sir André".) Previn received the Kennedy Center Honors in 1998 in recognition of his contributions to classical music and opera in the United States. In 2005 he was awarded the international Glenn Gould Prize and in 2008 won Gramophone magazine's Lifetime Achievement Award for his work in classical, film, and jazz music.[33] In 2010, the Recording Academy honored Previn with a Lifetime Achievement Grammy.
Best Music – Scoring of a Musical Picture
Best Score – Adaptation or Treatment