Item Specification
Product Description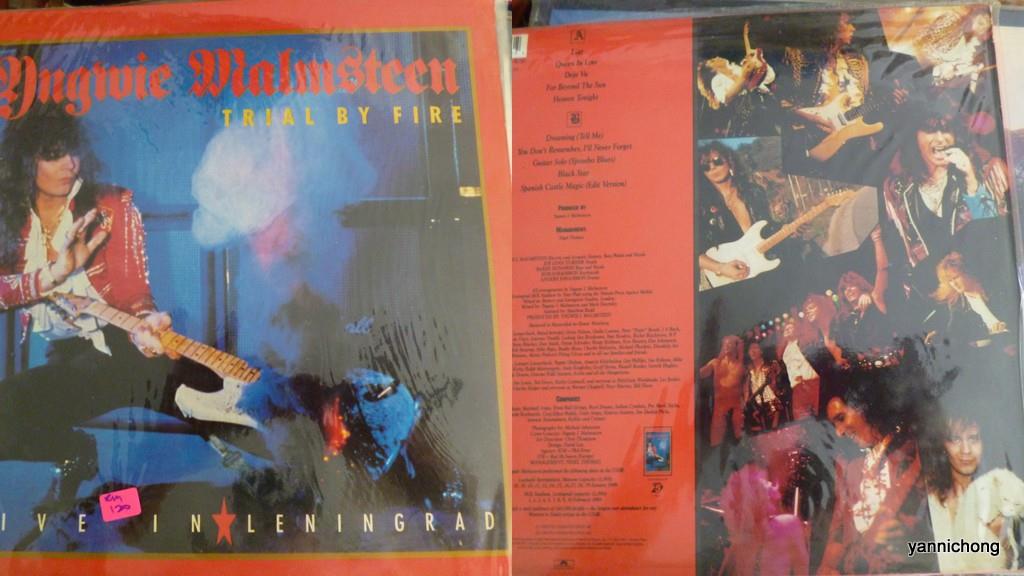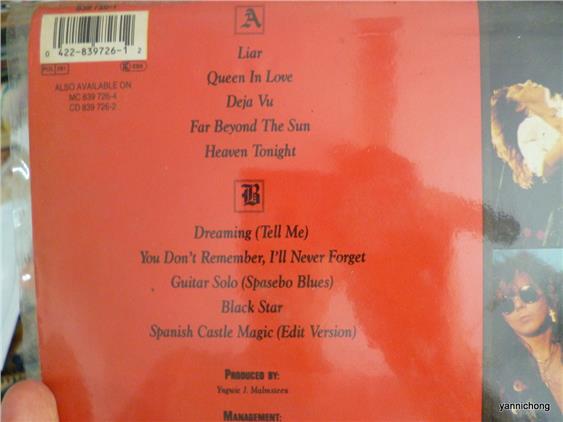 SPEED DEMON YNGWIE MALMSTEEN VINYL RECORD LIVE IN LENINGRAD TRIAL BY FIRE
POLYDOR  RECORD ORIGINAL 1989 ENGLAND PRESSING
MALMSTEEN IS  THE  FASTEST GUITARIST IN THE  WORLD , THE KING OF  SPEED DEMON
WITH KILLER  VOICE OF JOE LYNN TURNER ON VOCALS
PLAYS  EXCELLENT
Yngwie Johan Malmsteen (/ˈɪŋveɪ ˈmɑːlmstiːn/ ing-vay mahlm-steen; born Lars Johan Yngve Lannerbäck on 30 June 1963) is a Swedish guitarist and bandleader. Malmsteen first became known in the 1980s for his neoclassical metal playing style in heavy metal. In 2009, Time magazine rated Malmsteen as among the 10 greatest electric guitar players of all time.[1]
Malmsteen was born Lars Johan Yngve Lannerbäck in Stockholm, Sweden, the third child of a musical family.[2] At the age of ten Malmsteen created his first band, "Track on Earth", consisting of himself and a friend from school playing the drums. At the age of twelve he took his mother's maiden name Malmsten as his surname, then slightly changed it to Malmsteen and altered his third given name Yngve to "Yngwie." As a teenager he was heavily influenced by classical music, particularly 19th century violinist composer Niccolò Paganini,[3] and also discovered his most important guitar influence, Ritchie Blackmore. He also cites Uli Jon Roth and Brian May as significant influences. Malmsteen has stated that Jimi Hendrix had no musical impact on him and did not contribute to his style, but watching the 18 September 1970 TV special, where Hendrix smashed and burned his guitar, made Malmsteen think "this is really cool".[4]
In early 1982 (at the age of 18), Mike Varney of Shrapnel Records, who had heard a demo tape of Malmsteen's playing from the 1978 titled Demo Powerhouse, brought Malmsteen to the United States. He played briefly with Steeler on part of their 1983 self-titled album, then appeared on Graham Bonnet's album Alcatrazz, their 1983 debut No Parole from Rock 'n' Roll, and the 1984 live album Live Sentence. In 1984, Malmsteen released his first solo album Rising Force, which featured Barrie Barlow of Jethro Tull on drums and keyboard player Jens Johansson. His album was meant to be an instrumental side-project of Alcatrazz, but it ended up featuring vocals and Malmsteen left Alcatrazz soon after the release of Rising Force.
Rising Force won the Guitar Player Magazine's award for Best Rock Album and was nominated for a Grammy for 'Best Rock Instrumental', reaching no. 60 on the Billboard album chart. Yngwie J. Malmsteen's Rising Force (as his band was thereafter known) next released Marching Out (1985). Jeff Scott Soto filled vocal duties on these initial albums. They recruited drummer Anders Johansson and bassist Marcel Jacob to record and tour with the band. Marcel left in the middle of a tour and was replaced by Wally Voss. Malmsteen's third album, Trilogy, featuring the vocals of Mark Boals, was released in 1986. Yngwie played the bass on this album. In 1987, another singer, former Rainbow vocalist Joe Lynn Turner joined his band as well as bassist Bob Daisley. That year, Malmsteen was in a serious car accident, smashing his V12 Jaguar E-Type into a tree, which put him in a coma for a week. Nerve damage to his right hand was reported. During this time, Malmsteen's mother died from cancer. In April 1988, he released his fourth album Odyssey. Odyssey was his biggest album so far, in part due to the success of its first single "Heaven Tonight". Shows in Russia, Soviet Union, during the Odyssey tour were recorded, and released in 1989 as a fifth album Trial by Fire: Live in Leningrad. The classic Rising Force lineup with Yngwie, Jens and Anders was dissolved in 1989 when Jens joined Dio and Anders Blue Murder.
Malmsteen's Neo-classical style of metal became popular among some guitarists during the mid-1980s, with contemporaries, such as Jason Becker, Paul Gilbert, Marty Friedman, Tony MacAlpine and Vinnie Moore becoming prominent. In late 1988, Malmsteen's signature Fender Stratocaster guitar was released, making him and Eric Clapton the first artists to be honored by Fender.
In the early 1990s, Malmsteen released the albums Eclipse (1990), The Yngwie Malmsteen Collection (1991), Fire & Ice (1992) and The Seventh Sign (1994). Despite his early and continuous success in Europe and Asia, by the early 1990s heavy metal styles, such as neoclassical metal and shredding had gone out of fashion in the US.
In 1993, Malmsteen's future mother-in-law – who opposed his engagement to her daughter – had him arrested for allegedly holding her daughter hostage with a gun. The charges were later dropped.[5] Malmsteen continued to record and release albums under the Japanese record label Pony Canyon and maintained a devoted following with fans in Europe and Japan and to a lesser extent in the US. In 2000, he signed a contract with the US record label Spitfire and released his 1990s catalog on the US market for the first time, including what he regards as his masterpiece, Concerto Suite for Electric Guitar and Orchestra, recorded with the Czech Philharmonic Orchestra in Prague.
In the mid 90s, Malmsteen released the albums Magnum Opus (1995), Inspiration (1996), Facing the Animal (1997), Double LIVE! (1998) and Alchemy (1999). In 1996, Malmsteen joined forces with former band members Jeff Scott Soto and Marcel Jacob on the Human Clay album where he played lead guitar on the track "Jealousy". He guested with Saxon on the song Denim And Leather on their live album The Eagle Has Landed – Part II. Yngwie recorded a few tracks with his former band members Jens Johansson and Anders Johansson on their album "Johansson/Sonic Winter", called "Enigma suite" and "All opposable thumbs".
After the release of War to End All Wars in 2000, singer Mark Boals left the band. He was replaced by former Rainbow vocalist Doogie White, whose vocals were well received by fans. In 2003, Malmsteen joined Joe Satriani and Steve Vai as part of the G3 supergroup, a tour showcasing guitar performances. Malmsteen made two guest appearances on keyboardist Derek Sherinian's albums Black Utopia (2003), and Blood of the Snake (2006) where Malmsteen plays on the same tracks as Al Di Meola and Zakk Wylde. In 2004, Malmsteen made two cameo appearances on Harvey Birdman, Attorney at Law. In 2005 Unleash the Fury was released through Spitfire Records. As stated in an issue of "Guitar World" magazine, he titled this album after an infamous 'airline incident', which occurred on a flight to Japan during a 1988 tour. He was drunk and behaving obnoxiously, until he fell asleep and was roused by a woman pouring a jug of iced water on him. Enraged, he shouted, "You've released the fucking fury!" The audio from this incident was caught on tape by a fellow band member.[6] Malmsteen says that the name of the album refers to both the energy of the album and the incident. The release of Unleash the Fury was followed by a DVD release of Concerto Suite For Electric Guitar And Orchestra in E Flat Minor, Op. 1 – With The New Japan Philharmonic Live. The DVD chronicles Malmsteen's first time playing in front of a live audience with an orchestra, an experience that he describes as "fun but also extremely scary".
In 2007, Malmsteen was honored in the Xbox 360 version of Guitar Hero II. Players can receive the "Yngwie Malmsteen" award by hitting 1000 or more notes in succession.[7] February 2008 saw the replacement of singer Doogie White with former Iced Earth and Judas Priest and current Beyond Fear singer Tim "Ripper" Owens, with whom Malmsteen had once recorded a cover of Ozzy Osbourne's song "Mr. Crowley", for the 2000 Osbourne tribute album Bat Head Soup: A Tribute to Ozzy. The first Malmsteen album to feature Owens is titled Perpetual Flame and was released on 4 October. On 25 November 2008, Malmsteen had three of his songs ("Caprici Di Diablo", "Damnation Game", and "Red Devil") released as downloadable content for the video games Rock Band Rock Band 2 and later Rock Band 3.
In 2008, Malmsteen was a special guest on the VH1 Classic show "That Metal Show". On 10 March 2009, Malmsteen's label Rising Force had launched his new release Angels of Love, an instrumental album, which features acoustic arrangements of some of his best-known ballads. In August 2009, Time magazine named Malmsteen No. 9 on its list of the 10 best electric guitar players of all-time.[8] Malmsteen recently released another album compilation entitled High Impact on 8 December 2009.
On 23 November 2010 Relentless was released, the second album to feature Tim "Ripper" Owens on vocals. The US version featured a remake of "Arpeggios From Hell" as a bonus track. Yngwie appeared on Late Night with Jimmy Fallon on 3 February 2011 to promote his album. On August 6, 2011, Malmsteen made another appearance in the United States, playing a rendition of Star Spangled Banner before a game between the St. Louis Cardinals and Florida Marlins at Sun Life Stadium.[9] Although rarely seen in his native country of Sweden, Malmsteen played one gig there in 2012. On 7 July, he ended the Getaway Rock Festival in Gävle, which he was headlining with Nightwish and Manowar. On 5 December 2012, Malmsteen released the album Spellbound.
On 12 June 2014, Malmsteen kicked off his "Guitar Gods 2014 Tour" at the F. M. Kirby Center in Wilkes Barre, Pennsylvania alongside ex-Guns N' Roses guitarist Bumblefoot and guitarist Gary Hoey.[10] In February 2015, it was announced that Malmsteen was in the studio working on a new album.[11] In April and May 2016, Malmsteen was one of five guitarists featured on the Generation Axe tour.
Questions & Comments

---
PAYMENTS THRU MAYBANK TRANSFERS, OVERSEAS BUYER , PAYPAL OR WESTERN UNION.FOR OVERSEAS BUYER PLEASE CONFIRM WHICH TYPE OF PAYMENT.
DELIVERY THRU POSLAJU , FOR LOCAL TOWN , P. MALAYSIA CHARGES ARE RM7 .00 AND EAST MALAYSIA IS RM11.00 FOR NORMAL BELOW 500 GRAMS MAILING. ABOVE 501 GRAMS , POS LAJU CHARGES ARE AS ACCORDING TO POS LAJU RATES.
FOR OUT SIDE MALAYSIA , SHIPPING CHARGES AS ACCORDING TO POST OFFICE .
PLEASE DO INQUIRE , COMMUNICATE WITH ME , IF YOU ARE NOT SURE ABOUT THE ITEMS, OR ANY MATTER BEFORE BIDDING.I WILL REPLY YOU ASAP.
FOR EXPENSIVE OLD AMULETS , PLEASE MAKE VERY SURE YOU KNOW THE ITEM AND YOU UNDERSTAND THOROUGHLY WHAT YOU ARE BIDDING FOR.
ANY QUESTIONS PLEASE ASK .
Questions & Answers
Do you have any questions to ask merchant about this product
Ask Seller