Item Specification
Product Description
New Shop Opening - Limited Period Offer!!!!
Please Visit My Online Shop www.meetoophoto.com

Stylus Touch Screen Metal Pen for Apple Iphone 3G 3GS 4S 4 4G Ipad 2 with Writing Pen
Stylus and Writing Pen (2 In 1)
Description

This stylus pen with special design will help you avoid pressing the wrong keys whenever you write an email, browse the internet or text messages. The soft touch tip provides precise touch and control, while protecting your touch screen

• This is crafted of special material specifically designed for the iPad, iPhone and iPod touch
• 2 in 1 touch screen stylus with gel ink pen, you can use it to write
• Clip design, can be clipped in your pocket, book, diary, etc
• Safe and comfortable
• Round-head design, durable and flexible
• Keeps your screen free from fingerprints
• Soft rubber tipped end prevents from scratching your handheld screen
• It's sensitive to type or tap as so to work quickly and accurately
• Built-in shirt clip and easily clip on your pocket, book, backpack and etc
• Compact design and feel for maximum comfort and accuracy We do

Color: Red, White, Silver, Black

Attention: Please leave notes in Email After Payment about color
OR
We will randomly dispatch if you don't notify the color you prefer in the order.
Compatible with
All Capacitive Touch Screens Including Tablets (Such as Galaxy Tab, HTC.....)

All iPad series (iPad / iPad 2)

All iPhone serious (2G/3G/3GS/4G/4S)

All iPod Touch serious

This Package:
1 x Soft Medal Touch Stylus Pen (2 In 1)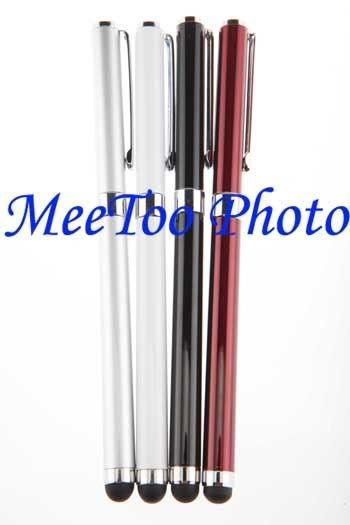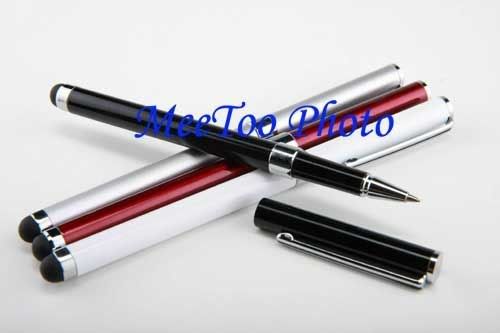 We do have Mini Capacitive Retractable Stylus Touch Pen (Just click for the picture)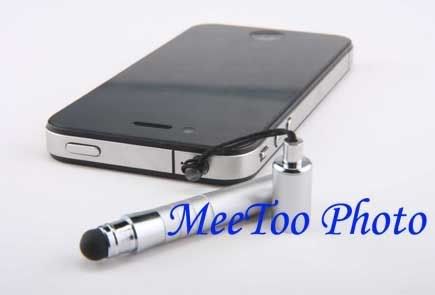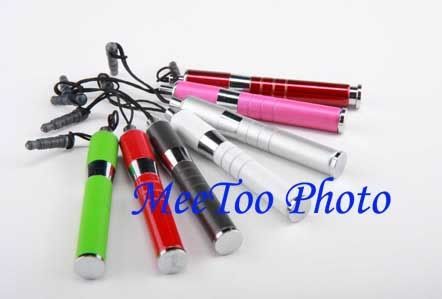 Why PURCHASE from us?
We are registered company and with retail shops

FREE Shipping within Peninsula Malaysia, Sarawak & Sabah

Item with Real Price with NO Hidden Cost

Many Ready Stock available NOT Pre-order Stock

All item comes with warranty

We are Lelong verified member

We are authorized dealers of most popular digital camera and accessories brand in the market such as Nikon, Canon, Sony, Hoya, Kodak, Olympus, Panasonic, Samsung and many more

We will inspect every item before we ship
We reserve the rights to refuse the order for the bidders having zero, negative or hidden feedback and all non-registered bidders which is reported
Payment
We accept PAYPAL, bank transfer or cash deposit via Maybank only.
Please remember use your user ID as the payment reference otherwise we would not be able to find your payment and send the item out to you.
Payment should be made within 2 day after auction end
Shipment will be sent out within 48 hours AFTER payment received
Non paying bidders will be reported to Lelong IMMEDIATELY
After payment please provide the following details via email:
Recipient's full name

Your Lelong ID

The item ID

Shipping address and latest contact phone number

Payment amount

Date and time of Payment

Details of payment (Please Scan receipts or Bank transfer details)

Payment Mode: maybank2u / Cash Deposit Via Maybank / Pay Pal

Shipping Methods
We Ship Worldwide
Please make sure your shipping Address is Correct
We offer FREE shipping within Peninsula Malaysia, Sarawak & Sabah
It takes 48 hours to process and delivery.
All shipment will be carefully packed to avoid damage during the transit.
Shipment is traceable during delivery
Terms and Conditions
If you have any question or something is unsatisfactory, please contact us to solve the problem.

Goods sold are not refundable nor exchangeable

All costs incurred for returning the goods is the Buyer Responsible

We reserve the rights to refuse the order for the bidders having zero, negative or hidden feedback and all non-registered bidders which is reported

Returned goods MUST be FULLY insured and traceable during delivery. Otherwise, NO refund or replacement for any item that is lost or damaged during the return transit.

A claim could only be proceeded after the proof of documents (for confirming the postal loss or damage) received from the post office.

Upon receiving the goods, if there is ANY damage/problem with the goods, Buyer SHALL inform the seller in writing or SMS within 24 hours upon receiving the shipment. Otherwise NO damage/Problem claim will be allowed

Goods Returned must be in the EXACT original condition. It MUST NOT have any signs of damage or misuse. Seller will check the returned goods upon arrival. Otherwise NO damage/Problem claim will be allowed
Please allow 24 hours to reply your email or SMS during normal working day
PLEASE DO NOT bid if you do not agree ALL our auction terms and conditions
Happy Bidding

Last Updated @ 4/9/2012 12:56:51 AM
Recently Viewed Items
<!^^ new="" p.msonormal="" times="">!^^><!^^ new="" p.msonormal="" times="">

Payment

We accept PAYPAL, bank transfer or cash deposit via Maybank only.

Please remember use your user ID as the payment reference otherwise we would not be able to find your payment and send the item out to you.
Payment should be made within 2 day after auction end

Shipment will be sent out within 48 hours AFTER payment received

Non paying bidders will be reported to Lelong IMMEDIATELY

After payment please provide the following details via email:

-Recipients full name

-Your Lelong ID

-The item ID

-Shipping address and latest contact phone number

-Payment amount

-Date and time of Payment

-Details of payment (MOST IMPORTANT -Please Scan receipts or Bank transfer details)

****MOST IMPORTANT Scan or Save screenshot of Proof of payment otherwise shipment will not be send****

-Payment Mode: maybank2u / Cash Deposit Via Maybank / Pay Pal

Normally it takes 48 hours to process and delivery (excluded public holiday and weekend) AFTER received your scan receipts or proof of payment

****MOST IMPORTANT Please email Scan or Save screenshot of Proof of payment otherwise shipment will not be send****

!^^>
<!^^ new="" p.msonormal="" times="">
!^^>
<!^^ new="" p.msonormal="" times="">!^^><!^^ new="" p.msonormal="" times="">

Shipping Methods

We Ship Worldwide

Please make sure your shipping Address is Correct

We offer FREE shipping within Peninsula Malaysia, Sarawak Sabah
It takes 48 hours to process and delivery.

All shipment will be carefully packed to avoid damage during the transit.

Shipment is traceable during delivery

!^^>
<!^^ new="" p.msonormal="" times="">!^^><!^^ new="" p.msonormal="" times="">

Terms and Conditions
If you have any question or something is unsatisfactory, please contact us to solve the problem.

Goods sold are not refundable nor exchangeable

All costs incurred for returning the goods is the Buyer Responsible

We reserve the rights to refuse the order for the bidders having zero, negative or hidden feedback and all non-registered bidders which is reported

Returned goods MUST be FULLY insured and traceable during delivery. Otherwise, NO refund or replacement for any item that is lost or damaged during the return transit.

A claim could only be proceeded after the proof of documents (for confirming the postal loss or damage) received from the post office.

Upon receiving the goods, if there is ANY damage/problem with the goods, Buyer SHALL inform the seller in writing or SMS within 24 hours upon receiving the shipment. Otherwise NO damage/Problem claim will be allowed

Goods Returned must be in the EXACT original condition. It MUST NOT have any signs of damage or misuse. Seller will check the returned goods upon arrival. Otherwise NO damage/Problem claim will be allowed
!^^>
<!^^ new="" p.msonormal="" times="">!^^><!^^ new="" p.msonormal="" times="">

Warranty and Return Policy

All costs incurred for returning the goods is the Buyer Responsible
We reserve the rights to refuse the order for the bidders having zero, negative or hidden feedback and all non-registered bidders which is reported

Returned goods MUST be FULLY insured and traceable during delivery. Otherwise, NO refund or replacement for any item that is lost or damaged during the return transit.

A claim could only be proceeded after the proof of documents (for confirming the postal loss or damage) received from the post office.

Upon receiving the goods, if there is ANY damage/problem with the goods, Buyer SHALL inform the seller in writing or SMS within 24 hours upon receiving the shipment. Otherwise NO damage/Problem claim will be allowed

Goods Returned must be in the EXACT original condition. It MUST NOT have any signs of damage or misuse. Seller will check the returned goods upon arrival. Otherwise NO damage/Problem claim will be allowed
!^^>
Questions & Answers
Do you have any questions to ask merchant about this product
Ask Seller