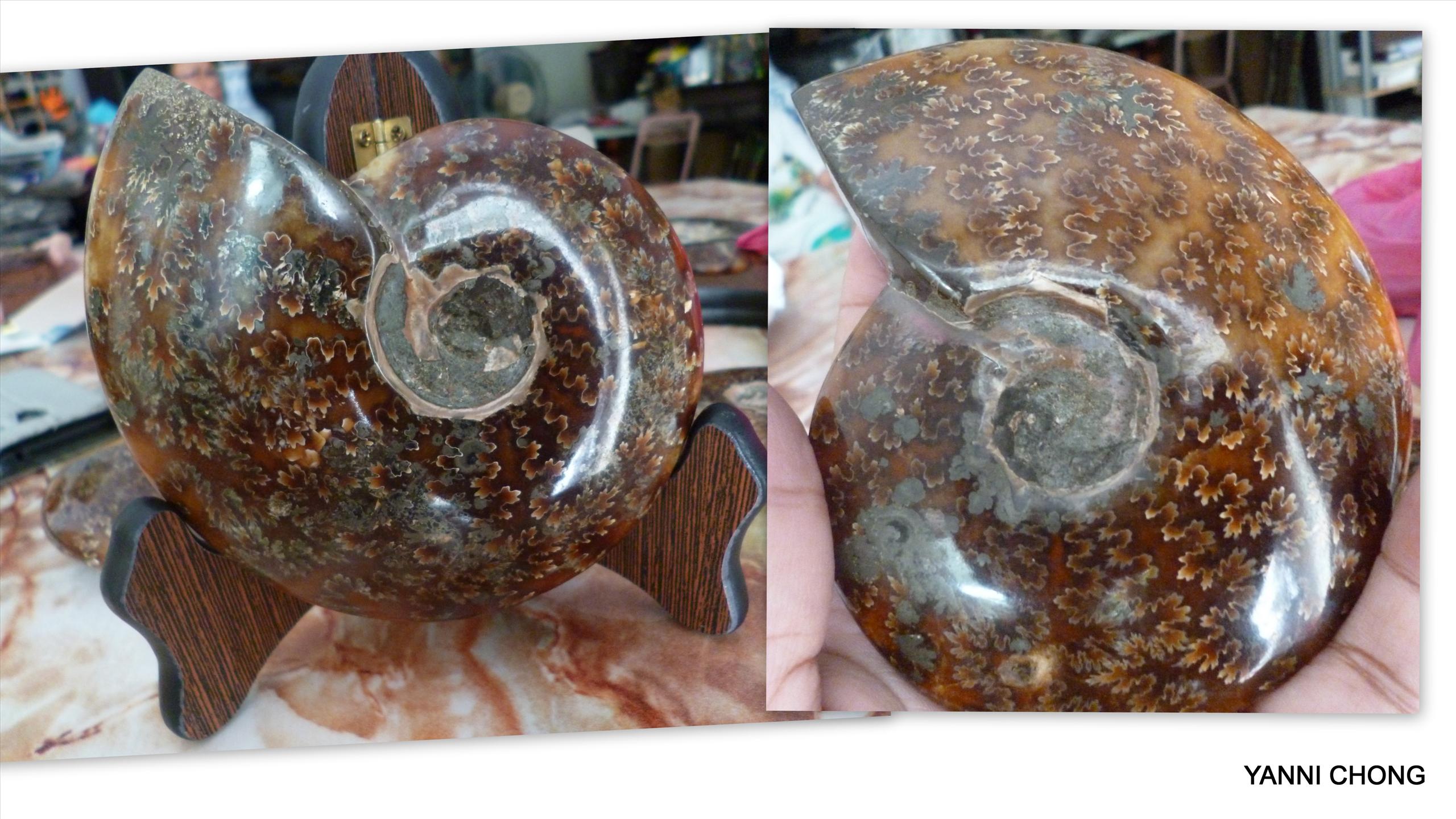 SUPERB FENG  SHUI ENHANCERS 
MILLONS OF YEARS OLD  SUPERB BEAUTIFULL AMMONITE CRYSTALINE 
BEAUTIFULL FLOWER LIIKE  PATTERNS
WHOLE PIECE , NO BROKEN OR SPLIT  
BEAUTIFULL GOLDEN  BROWN  COLOURS.
FULL  120 MM SIZE 
GREAT FENG SHUI ENHANCERS , FOR  THIS YEAR 'S 2014  WEALTH  CORNER , SOUTH WEST , CENTER  AND  WEST .
 Ammonite may enhance the flow of Qi or life force energy throughout the body and  may reduce the body's toxicity.  A continuous harmonious balance of natures five elements (fire, earth, metal, water, and wood) is evident within the naturally occurring vibrating colours embodied by  the ammonite.
This rainbow of energy may benefit people who place or locate the stone within a home or office environment, especially when they are placed upon the heart of the home or business.  Strength and power radiate from the shell.  It is believed by some that the shell has the ability to transpose negative energy into positive.
high quality ammonites on display in certain areas of the house will enhance the vitality, harmony, prosperity, and overall well-being of all the occupants and visitors to the house.  Everybody can benefit from owning or being in physical proximity to high quality ammonites.
Ammonites are perhaps the most widely known fossil, possessing the typically ribbed spiral-form shell as pictured above. These creatures lived in the seas between 240 - 65 million years ago, when they became extinct along with the dinosaurs. The name 'ammonite' (usually lower-case) originates from the Greek Ram-horned god called Ammon. Ammonites belong to a group of predators known as cephalopods, which includes their living relatives the octopus, squid, cuttlefish and nautilus