2 YRS WARRANTY
roducts
Good times always fly by in a blink. Here, seize every precious moment and make it everlasting with the PF830 digital photo frame. With its 8-inch high-resolution screen, you can show off your treasured photos with the same crisp detail and rich color as high-quality prints! The PF830 has 4GB of internal memory and is fully compatible with compatible with SD, SDHC, MMC, CF, microSD, M2, MS, MS PRO, MS Duo, MS PRO Duo and MS PRO-HG Duo memory cards. Just plug in your memory card from digital camera before you hit the play button for an instant display. With a bright photo-friendly 4:3 screen,multiple color modes, plus an automatic rotation sensor with adaptive on-screen interface, the PF830 is the must-have companion to keep all those important moments alive!
Features
8" 4:3 high-resolution color TFT LCD panel - 4GB of internal memory – works even without a memory card - Supports USB flash drives and SD/SDHC/MMC/CF/microSD/M2/MS/MS PRO/MS Duo/MS PRO Duo/MS PRO-HG Duo memory cards - NaturaTone user- selectable Color Modes to enhance the look of your photos - AOS automatic rotation sensor with adaptive on-screen interface - Attractive frame themes and animations to accent your pictures - Full motion video playback (Motion-JPEG only) - Built-in speaker for listening to MP3 background music - Direct USB connection to your PC for easy file transfers - Select multiple photos for convenient one-step transfer to internal memory - Clock, alarm and calendar functions - Custom alarm clock settings - wake up to your favorite MP3 song - Important date/event reminders - Automatic Power-ON/OFF and Sleep timers - Device: two year limited warranty, panel: one year limited warranty (maximum 4 defective pixels)*
*Please access www.transcendusa.com/warranty for more information about Transcend Warranty Policy.
Specifications
Color:
Onyx Black
Ivory

Dimensions:
212mm × 172mm × 39mm

Weight:
510g

Display Type and Size:
8" 4:3 TFT LCD

Display Resolution:
800x600 pixels

Audio out:
Single, 0.5W

USB Interface:
1x standard A-Type, 1x mini B-Type

Internal Storage:
4GB NAND Flash

Navigation:
8 rear-mounted buttons and remote control

Remote control:
Infrared, NEC protocol

Power Supply:
Input: 100V~ 240V 0.3A
Output: 5V DC 2.0A

Music Formats:
MP3, WMA (Non-DRM), WAV

Video Formats:
Motion JPEG (AVI & MOV; up to 720x480 @ 30FPS)

Photo Formats:
DSC JPEG (up to 9000 x 6750)

Supported Devices (direct insertion):
SD/SDHC/MMC/CF/microSD/M2/MS/MS PRO/MS Duo/MS PRO Duo/MS PRO-HG Duo

NaturaTone (intelligent skin color processing):
Yes

AOS (Automatic Orientation Sensor):
Yes

Compression Rates:
32Kbps–320Kbps (MP3)
32Kbps–192Kbps (WMA)

Certificates:
CE, FCC, BSMI
System requirement
Requirements for connecting Photo Frame to computer:
100-240V power supply for the DC power adaptor
Desktop or notebook computer with USB Port with any of the following OS:
Microsoft Windows 2000
Microsoft Windows XP
Microsoft Windows Vista
Microsoft Windows 7
Mac OS 10 or later
Linux Kernel 2.4.2 or later
Warning: Please do not remove the memory card, USB cable or switch off the power during data transfer to avoid data lost or corruption!
About Transcend
Transcend Information. Inc., was founded in 1988 by Mr. Peter Shu and has its headquarters in Taipei, Taiwan. Our extensive product portfolio has grown to include over 2,000 memory modules of every type, flash memory cards, USB flash drives, MP3 players, digital photo frames, portable hard drives, multimedia products and accessories. Transcend products are available for proprietary equipment, as well as for mass marketed PCs.
Transcend is a global company with offices around the world, thus we are able to serve all the major markets and provide superior quality of service to our customers. Our overseas offices were opened in California, USA (1990), Germany (1992), The Netherlands (1996), Japan (1997), Hong Kong (2000), China (2000), UK (2005), Maryland USA (2005), Osaka Japan (2007) and Seoul Korea (2008). Transcend is a strategically integrated Hi-Tech company, not only do we design, develop, and manufacture our branded products, but we also market and sell our own devices. Transcend has a very successful retail store chain in Taiwan and after we launched our initial foray into e-commerce in May 2000 our on-line sales have grown exponentially.
Transcend has always been a customer driven company, we focus our efforts on providing the highest quality products with attentive after sales service and support, that ensures total customer satisfaction. The corporate culture that exists within Transcend is one of professionalism and teamwork. As a declaration of our commitment to quality we implemented the Total Quality Control concept throughout the company, and became the first memory module manufacturer in Taiwan and the second in the world to receive ISO 9001 Certification. Transcend's Advanced R&D Teams have over 19 years of experience in developing quality state-of-the-art Hi-Tech products that are at the very cutting edge of technology. Our commitment to R&D ensures that we will continue to produce superior quality innovative products keeping us at the forefront of our industry and leaving the competition far behind.
As a company Transcend can best be described as, a World-Class leader in the field of memory and consumer electronics, which brings you Tomorrow's World, Today.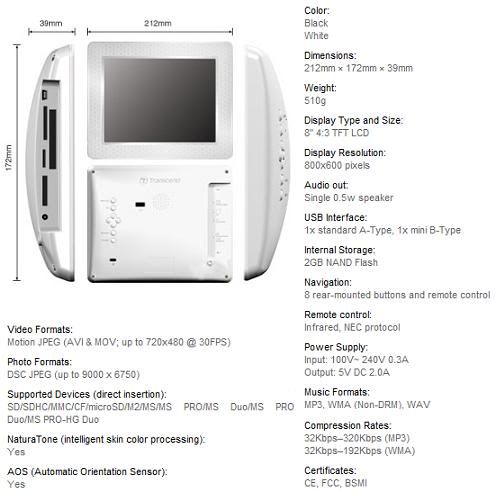 Last Updated @ 7/3/2012 1:02:46 PM