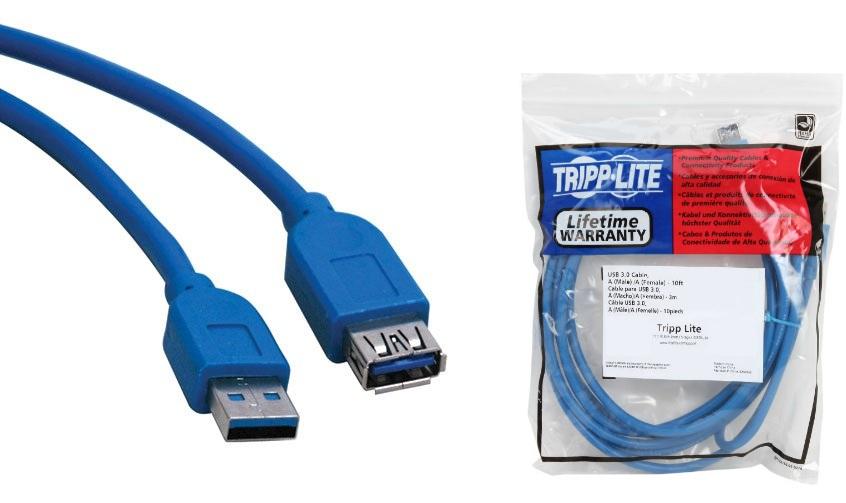 Tripp Lite 3 meter USB 3.0 Super Speed 5Gbps (A Male to A Female) cable
PRODUCT DESCRIPTION

Don't settle for inferior workmanship or performance! This Tripp Lite USB 3.0 SuperSpeed Extension Cable assures that you get maximum performance from USB devices over long distances. Unlike cut-price cables, the U324-010 is manufactured to exacting specifications, using superior materials, to deliver full USB 3.0 performance for multimedia and other high-end applications. And we back our pledge of quality with a lifetime product warranty.

The Gold Standard for USB 3.0 Connectivity

This genuine Tripp Lite USB 3.0 A/A SuperSpeed Extension Cable is the choice for superior performance, providing full USB 3.0 performance for multimedia and other high-end applications. Use it to extend a USB 3.0 connection for high-speed USB 3.0 devices such as printers, scanners, external hard drives and external DVD players to a USB computer up to 10 feet away. The U324-010 is 10 ft. in length and provides USB 3.0 A (male) and USB 3.0 A (female) connectors. It meets or exceeds USB 3.0 specifications and is backward compatible with older USB 2.0 devices.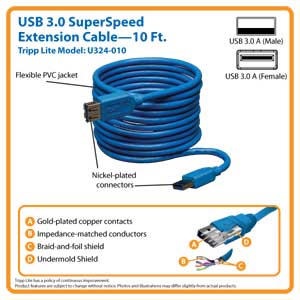 Ultra High-Speed Data Transfer
With its superior design and construction, the U324-010 is ideal for multimedia and other high-end applications that require fast, clear transmission, free of line noise and other interference, over long distances. It supports faster data transfer rates (5 Gbps), and is backwards compatible with USB 2.0 for both low-speed and high-speed devices.
Optimized Power Efficiency
USB 3.0 SuperSpeed uses 1/3 of the power of USB 2.0 to transfer the same amount of data. Conversely, during charging applications, the U324-010 delivers twice the power of USB 2.0 for faster device charging. The U324-010 has lower active and idle power requirements, and does not require device polling.
Backward Compatible with USB 2.0
Harness all of the strength of USB 3.0 technology without sacrificing compatibility. USB 3.0 is backwards compatible with USB 2.0, making it an ideal and versatile solution for any USB application, as well as allowing for growth.
Gold-Plated Copper Contacts and Premium Shielding
The U324-010 is manufactured using top-quality materials to assure maximum performance. Nickel-plated connectors with gold-plated copper contacts assure superior connectivity. Premium double-shielding cables with tinned copper braid and aluminum Mylar foil minimize signal interference. Molded connectors and integral strain relief assure durability and long cable life. A flexible PVC jacket makes the U324-010 easy to install, even in tight corners and other areas where space is restricted.
Model: U324-010
Warranty terms: 1 week.
Courier add RM10 for Peninsular Malaysia and RM15 for Sabah and Sarawak.

No COD, No Joy Bidder, No Safe Trade, No fussy buyer, No discount on winning price.

Payment need to be done within 48 hours after auction closed.



MyITStore - Everyday's PC Fair price!
Grab your great deals HERE
Orders/ Queries: myitmall3@gmail.com
10 years membership with more than 500 GOOD ratings!