2 in 1 FM Auto Scan RADIO IN A PEN
set
Model #SPOT0501
 
Description:

This is one of the coolest things I've ever seen. Music on the go that fits in your pocket.

Set Includes

FM Auto Scan Radio Pen

4 Button AG13 LR44 Button Cell Batteries (2 Free Replacements)

Includes Black Ink Cartridge and 1 Blue ink Refill

Stereo high fidelity earphones

Boxed
Actual Item is identical to the Image above  
Characteristics:

  With Auto scanning function, mean it can search the radio channel automatically.

  It comes with volume adjustable earphone.

  This pen supports radio frequency 88Mhz to 108Mhz.

  Simply plug the earphone into the earphone jack on the top of the pen. The radio will be ON and enjoy
    music immediately. It memorizes the last channel that you've listened. Press the "Reset" Key if you want
      to start the channel selection from 88Mhz. Press the "Scan" button to search for next channel.

To adjust the volume, simply use the small adjustment wheel on the earphone.

Take out the earphone from the jack and it is OFF automatically.

This FM pen radio comes with batteries included. Listen to news, sports, music or anything you want.

They also come with stereo ear buds that fit right into your ear. No more fooling around with big bulky
     portable radios an on/off switch that is cabled from the pen and can be kept in a pocket.

Comes with black ink cartridge, red fm indicator light and batteries. Writing pen with built in FM radio.

Just click the scan button to go to the next station. Listen to the music you like while working or studying!
   It is a good writing pen. A great gift at a low price.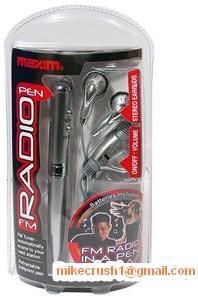 Colour :  Silver
How's this for handy? A retractable pen that doubles as a stereo FM radio, thanks to the compact earbuds. Auto-scan tuner. Batteries included.
RETAIL PRICE RM 35 !
GET YOURS Now!