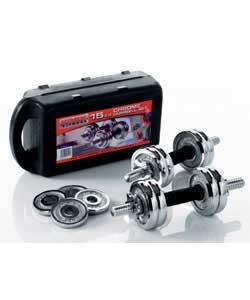 York Chrome Dumbell Set 15kg Gym Fitness Dumbbell
York 15Kg Chrome Dumbbell Set In A Carry Case
Comes in a plastic carry case with handle for easy storage and portability, and contains full colour exercise wall chart
This chrome dumbbell weight set is ideal for those new to weight training. With a combination of weights allowing the user to increase the intensity over time and a handy carry case, this is a great way to begin bodybuilding and toning the upper body.
In a plastic storage/carry case
Ideal for upper body work out and toning
Please call 0182309626
Or WhatsApp 0182309626
atau email 
hdgadget@gmail.com
NO SMS please!
HDGadget Store~Gadgets That Make Your Life Better!
Feeling pain in your wallet everytime you change your gadget? Your solution is here!!! Gadget is an affordable game again.