Item Specification
Product Description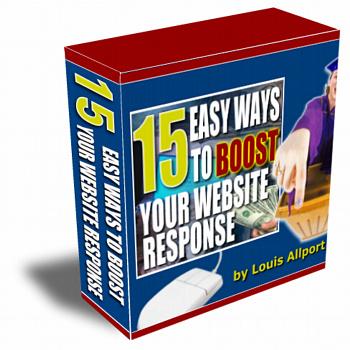 15 Ways To Boost Website Response
<![if !supportEmptyParas]> <![endif]>
You are bidding on a ebook that contains links to the video that teaches you the above topic.
<![if !supportEmptyParas]> <![endif]>
"Announcing -- Discover The 15 Quick & Easy Tactics That Will Help You Make Considerably More Profit From Every Website Visitor You Receive"
PLUS - A Special Bonus For You: If You Order Today You Also Get Full Resale Rights To This Product And Website So You Can Sell It Yourself And Keep Every Single Dollar You Make!
Whether you're creating sales pages, affiliate landing pages, even content pages ... there's many ways you're losing potential profits from every visitor you receive.
Now - whatever some people may tell you, you do NOT need to be a world class copywriter to make your website convert. If you've got a website online, you're more than halfway there. And here's the thing:
Even if your website does have profit leaks right now, they're very easy to fix - if - you know what to look for...
How To Permanently Banish "Profit Leaks" From
Your Website And Grow Income Easily
From my years of selling and promoting online, I've now got an automatic checklist that helps boost the sales of any site I put together.
And what I've done is broken down many of these automatic checks into a series of coaching videos you can follow and easily apply to your own sites to great benefit.
These are fundamental tactics and strategies for creating and writing your websites to help put as many things in your favor as possible, so that as many visitors as possible turn into customers, clicks, affiliate commissions ... however it is you're looking to profit.
This product is designed to help turn your new and existing websites into even more profitable ventures quickly and easily, without getting you bogged down in complicated marketing and technical strategies, and without you having to spend a dime more on marketing or design.
These website conversion tactics come in the form of fifteen videos you view directly at your computer. I've bundled these powerful videos into a product called 15 Easy Ways To Boost Your Website Response:
These fifteen videos come to a total playing time of one-hundred and eight (108) minutes. Here's a quick run down of exactly what you get:
Video One (4 Minutes)
In this video I'll reveal a very easy to apply yet underused tactic that can get a lot more of your visitors hooked into reading your text instead of leaving your site.
Video Two (7 Minutes)
Here I'll show you a dead simple yet vital tactic to make sure you're maximizing your website audience.
Video Three (7 Minutes)
In this video I'll show you a great tip for making your web pages load faster for all your visitors.
Video Four (7 Minutes)
Here I'll talk you through an incredibly simple yet often overlooked way to help maximize the number of sales your website makes.
Video Five (7 Minutes)
In this video I'll talk you through a fundamental and powerful way to make your visitors feel great about ordering with you right now.
Video Six (10 Minutes)
Here I'll talk you through case-studies of sites making great use of graphics to increase their sales, and how you can use these tactics as well.
Video Seven (6 Minutes)
In this video I'll talk you through a stupid-simple tactic that instantly makes everything you write a lot more inviting for your visitor to read.
Video Eight (6 Minutes)
Here I'll talk you through an "open secret" that if you're not using right now, you literally are losing money with every website visitor you receive.
Video Nine (10 Minutes)
In this video I'll reveal a very quick and easy way to add instant credibility to your message. Very important for any type of promotions online.
Video Ten (4 Minutes)
Here I'll talk you through how one silly web design mistake lost me a number of potential customers, and how you can easily avoid this pitfall.
Video Eleven (7 Minutes)
In this video I'll talk you through one of the most basic, most fundamental, but most important and underused tactics for getting and keeping the attention and interest of your visitors as soon as they hit your page.
Video Twelve (7 Minutes)
Here I'll talk you through the dangers of a common web design tactic that can lose you a surprising amount of sales. I've even seen this rookie mistake on the websites of established businesses. By knowing this you'll avoid their expensive mistake.
Video Thirteen (10 Minutes)
In this video I'll talk you through ways you can profit from your visitors weeks, even months after they come to your site. This alone can be one of the single-handed most profitable changes you implement to your site.
Video Fourteen (8 Minutes)
Here I'll reveal a dead easy way you can create and design a web page that's professional, very usable, and very readable - in five minutes or less! Even sites that make six figures a year are using this tactic, so why aren't you?
Video Fifteen (8 Minutes)
In this video I'll talk you through one of the most overlooked and least talked about tactics, that can practically make the difference between your site being a runaway success, or not.
For PC's Only - Not For Mac
I must tell you that this eBook only works (to my knowledge) on PC's. If your computer is running Microsoft Windows, you won't have any trouble at all viewing this eBook successfully.
However, if you're on a Mac you'll more than likely have trouble viewing it.
A Great Product + Resale Rights = BIG Profits For YOU
I'm sure you know there's a ton of eBook resale rights around these days. BUT - if you really want to make money selling an eBook you have rights to, you need:
A very high quality product.

An effective sales letter.

A professionally designed website with great looking graphics.
Now - this eBook is brand new. Get a copy now, start promoting it immediately and you'll make the most profits. Wait a day or a week or a month, and literally more and more profits will pass you by.
Now, I'm certainly not saying this to brag, but I wrote this sales copy, and my copy has sold hundreds of thousands of dollars worth of products online, if not millions of dollars worth. AND - from very affordable eBooks like this one.
Don't believe me?
Then search Google for "Louis Allport" and see what you find.
Now, the Google index does fluctuate for many reasons. But right now (as I'm writing this), I see several thousand websites selling my products.
Even if each one of those sites is selling just one copy of a $20 eBook a week that I wrote the copy for, that adds up real quick. My copy and products have made many people a LOT of money over the past two years. They can make YOU money too - all you need to do to get started is grab a copy of this product.
And just by having a copy of this product, you can sell it or present it pretty much any way you choose. You can even turn it into a physical product by putting it onto a data CD or a DVD. This would make it a good way to sell on eBay. It's totally up to you!
If you're interested in the resale rights and selling this product yourself, I'm sure you realize that the sooner you get a copy, the more you will profit. The longer you wait, the more your competition will pick off your customers.
This video eBook is only $5.
<![if !supportEmptyParas]> <![endif]>
P.S. Interested in selling this product yourself? If you snooze, you will lose.
This product is brand new. The sooner you get a copy and start marketing it yourself, the more money you can make. The longer you leave it, the more your competition will sell to YOUR customers.
Even just one or two sales and you've made your tiny investment of $5 back. After that - it's all profit for you.
<![if !supportEmptyParas]> <![endif]>
<![if !supportEmptyParas]> <![endif]>
<![if !supportEmptyParas]> <![endif]>
Don't wait! Bid Now!
 Love Co
 Quickly view my other auction. Many goodies to be grab. Click Here.
Just click "Shop for Seller`s other Items" below or search for chewhoung.
Shipping Term:
Ebook will be sent via yahoo email only. If you don't have yahoo email, just create one and let me the email address.
International customers ask for quote before you bid.
You may pay by bank in the total (Final bid price) to our bank account according to your location after auction close and email or fax the bank in slip to 03-26912346 (Attention to Low Chew Houng). If you are using Maybank2u, please key in chewhoung@yahoo.com in the 3rd email address field for us to receive the payment notification from Maybank2u. We will email the item to you after payment confirmation.
Account name: Low Chew Sang/LLH
Account number: 114049100043
Banker: Maybank Berhad (Pudu Branch)
Terms and Conditions
You must agree to this shipping term before placing your bid.

Please understand what you are bidding on.

A bid on our auction states that you have read and agreed to all Terms and Conditions. Please do not bid if you do not intend to complete your winning bid.

Failure to pay will result in negative feedback.

We reserve the right to refuse high bidders having negative or hidden feedback and all non-registered bidders.

Fraud or Joy Bidders are not welcome. We will be definitely blacklist anyone tries to joy bid and BAD RATING will be given. You have to pay for the bid won, no excuses.


---
Refer to Item Description
Refer to Item Description. Can combine shipping for all except RM1 item.
If non RM1 item, Free combine shipping if total weight and lt; 500gram.
Every 100 gram increase, just add RM1. Save your shipping cost.
Shipping is through Poslaju/Skynet/Citilink. After we receive payment, please allow about 2 working days (exclude weekend or holiday) for your goods to arrive if through shipping. If any delay, you have to contact the courier service immediately with the given tracking number.
Single ebook is send to your email directly. No shipping cost involve.
Refer to Item Description
Refer to Item Description