Product ID : 218575267
Dimension (WxLxH) : 13.46cm x 9.4cm x 9.4cm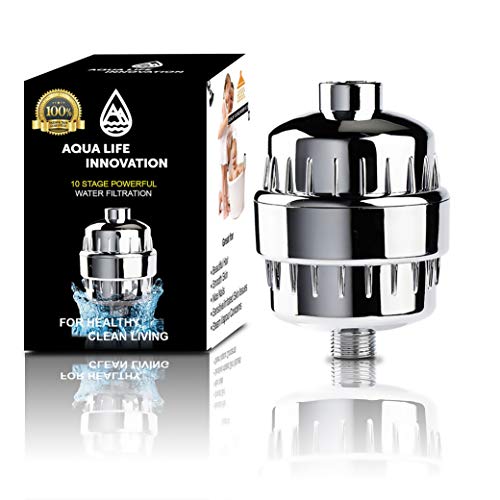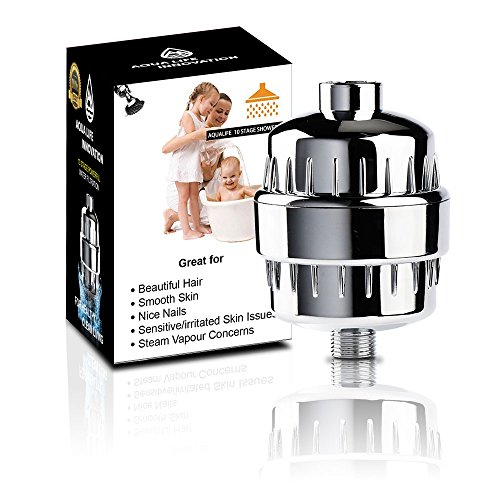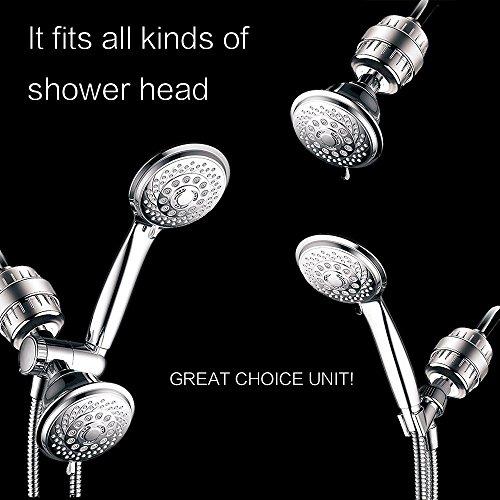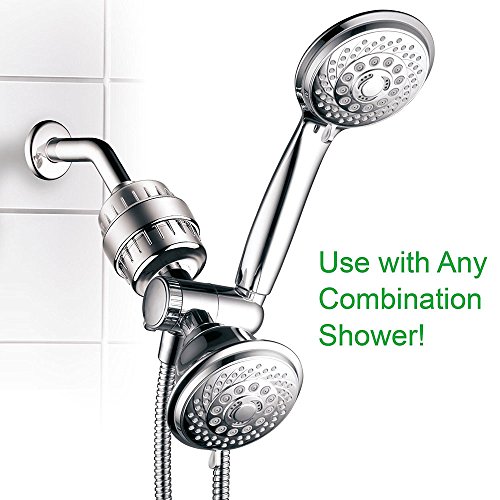 ~ 10 Stage High Output Revitalizing Shower Filter - Improves The Condition of Your Skin, Hair and Nails | Bath Purifiers and Filtered System | Universal Shower Head Hard Water Softener
NJOY HEALTHY HAIR, REVITALIZED SKIN, STRONG NAILS AND SAFE WATER FROM OUR SHOWER HEAD FILTER Experiencing skin, nail and hair issues in adults and kids? Tired of bad odor and contaminated bathwater? This might be because you are not using the ultimate 10 stage shower filter Imagine of impurity-free bathwater that is friendly to your skin and helps you feel revitalized. Imagine of kids'/Adults' friendly shower. Well, our 10 stage shower water filter is all you need to enjoy a luxurious shower. 10 Stage Filtration - Our shower filter is 100% effective, with high-pressure filtration system, your water will be odor-free, and you'll see improvements in skin or hair conditions caused by hard water! DIY Installation, Wide compatibility - Standard 1/2" thread type. Installation takes only a few minutes. No special knowledge or tools are required. Anti-Leak construction, forget about dripping from pure shower filters. Rich in body benefits - Healthy hair, revitalized skin, strong nails and safe water all guaranteed for your body. Best for Baby Health Care - Filter for shower head perfect for young children and baby's sensitive skin. Enhance water quality at home by installing our hard water filter! While other shower filters have cheap filler material with little benefits, we only use proven ingredients. Don't be fooled by extra stages of cheap filler in other showers filters. Here Are More Benefits  Prevent dryness and improve your skin  Rejuvenates damaged hair  Removes unpleasant odors  Perfect for children and baby's sensitive skin We offer excellent after-sales service. If you have any question, contact us. We will give you the best solution to your satisfaction. Limited supply, order while stock lasts Get an Efficient, Cost-Effective 10 Stage Shower Water Filter, Click Add to Cart to Grab One Now!
𝐑𝐄𝐕𝐈𝐓𝐀𝐋𝐈𝐙𝐄𝐒 𝐘𝐎𝐔𝐑 𝐁𝐎𝐃𝐘 - This shower filter water softener acts as a moisturizer, purifier, softens and provides the best feeling for sensitive skin. Positively impact your health, skin, nails and hair condition. Helps prevent skin aging.
𝐔𝐋𝐓𝐈𝐌𝐀𝐓𝐄 𝐂𝐎𝐌𝐏𝐀𝐓𝐈𝐁𝐈𝐋𝐈𝐓𝐘 𝐀𝐍𝐃 𝐅𝐈𝐋𝐓𝐑𝐀𝐓𝐈𝐎𝐍 - Universal filter compatible with all types of showerhead including standard faucet, handheld shower systems, rain showerheads and inline faucet. Filters up to 24,000 gallons, that is 5-6 months of use.
𝐇𝐀𝐒𝐒𝐋𝐄-𝐅𝐑𝐄𝐄 𝐈𝐍𝐒𝐓𝐀𝐋𝐋𝐀𝐓𝐈𝐎𝐍 - Our shower filter is an excellent model that's easy to install. This model has a no-tool installation, and you can set it up and have it running in a matter of minutes. Complete kit with anything you need for installation.
𝐂𝐎𝐍𝐒𝐈𝐒𝐓𝐄𝐍𝐓 𝐖𝐀𝐓𝐄𝐑 𝐏𝐑𝐄𝐒𝐒𝐔𝐑𝐄 - This high-performance universal bath water filter won't reduce existing water pressure for an improved rinse. Gives you a luxurious shower experience with constant pressure as usual. Order with confidence and enjoy!
𝟏𝟎𝟎% 𝐂𝐔𝐒𝐓𝐎𝐌𝐄𝐑 𝐒𝐀𝐓𝐈𝐒𝐅𝐀𝐂𝐓𝐈𝐎𝐍 - Any problem with the filter, please feel free to contact us, we will try our best to make your shopping experience better. We craft our filters with care, backed by a replacement or refund guarantee. Empower your health.
B077QLJBFX





















---
▶Direct shipment from the United States via local air transport.
▶The delivery time is 12 to 18 days.
▶ All products are new, and we guarantee they are genuine.
▶ If there is any problem for products and error for delivery, please get in touch with Lelong chat.
▶ You cannot return it when you simply change your mind.
▶ If there is a problem with the product, you can return it 100% and the shipping fee will be charged by the seller.
▶You can exchange and return the product within 3 days of arrival.
Average Product Rating
0.0 stars out of 5
| | | |
| --- | --- | --- |
| 5 star | | 0 |
| 4 star | | 0 |
| 3 star | | 0 |
| 2 star | | 0 |
| 1 star | | 0 |
Share your thoughts with others
Write a review
Only buyers who purchased the product may leave a review