Item Specification
Product Description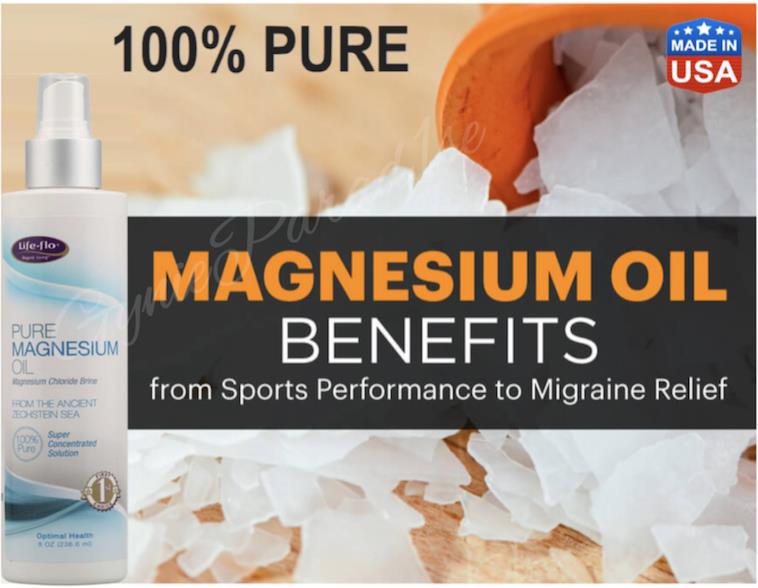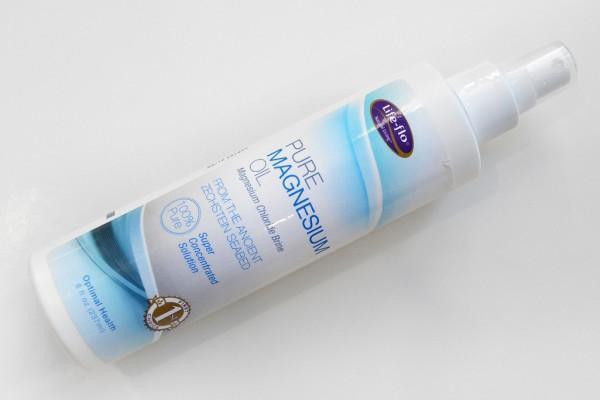 Life-Flo Health Care

Pure Magnesium Oil
- Mined from the Zechstein Sea
- Easily tolerated, convenient & non-greasy
- 4 sprays contains approximately 66 mg of elemental magnesium
- Can be used daily and leaves no unpleasant odor
Pure Magnesium Oil is a highly concentrated spray of pure magnesium chloride-nothing
added and nothing removed. Mined deep under the earth's surface from the Zechstein
Seabed in the Netherlands, it can be used daily, is non-greasy, and leaves no unpleasant
odor. Provides approximately 66mg of elemental magnesium for every 4 sprays or 560mg
Spray 4-5 times onto skin and massage the area. After a while you may see a slight
white residue forming on the areas where you applied the spray. It is just the salt that
has stayed behind on the skin and can be wiped or washed off. Add 2 ounces to your bath
or foot soak and immerse for 20-30 minutes. It can also be usde as a deodorant.
Benefits of Magnesium Oil

100% pure magnesium chloride brine from the Ancient Zechstein Seabed in the Netherlands.
For external use only. Avoid contact with eyes. Keep out of reach of children. If irritation,
redness, or discomfort occurs, discontinue use and consult a licensed health care practitioner.
No animals were used to test this product.
I bought this to help me with my leg cramps and it did more than that. I love this mineral,
it helps with my mild depression, Anxiety and relaxes me along with taking care of the
cramps in my legs. The only negative about it is that it stings when you put it on, it take a
couple of minutes for the sting to go away. I find that it does not sting under my feet or on
my stomach area. It says you can use it as a deodorant and I have, bear and grin the sting
but it goes away and it does it's job. It's a better way to apply an all natural form of
Magnesium without nthe additive and preservative junk they put on the supplements
that due more harm than good. I have not tried any other brand than this, this works for
me and its very affordable.
I purchased this product hoping it would help with my skin problems; I had what I belived
was some kind of bacteria in my ear that caused reoccurring ear infections & wouldn't go
away. My doctors would give me oral medications that would fix the problem for a few
weeks, but essentially would fail to prevent another infection. I used this oil diluted in
warm water and used an ear syrringe to flush out my ear. in less than days, I saw total
recovery. I am now a month without any infection and very happy.
I also used this oil
(which has a wonderful coverage area via the spray nozzle) to moisturize a few dry areas
on my skin on my arm and feet... it worked wonders, and lasts longer than any lotion.
One specific detail about this product, or the concentration of the minerals therein, is
that it has a very hot/stinging sensation when applied, but lingers only for a few seconds.
This is particularly noticable if applied near or onto broken skin. So be careful.
Just started using magnesium oil, and my boyfriend and I are instant fans. It stings a lot
the first time you use it, especially where you have a problem area, such as very dry skin,
but the more often you use it, the less intense and lengthy is the burning sting time. But
worth a little pain at first, because this stuff really works! My boyfriend's problem
eczema which causes intense itch in the winter and looks really nasty, has stopped itching
after just 1 time use. When I didn't spray for a couple of days, he could feel his back
starting to itch him more, so we sprayed, and it's so much improved. We're experimenting
using on joints and other areas of the body that cause us discomfort/pain. The only
negative to this product is the packaging. The plastic cap was so tight I needed a strong
man to remove for me. And the spray bottle is very, very hard to press. You almost need
two hands to push it down. Maybe I have a defective container, but the product is so
good, it really doesn't matter that much about that. Highly recommend. My boyfriend
was extremelyskeptical, and angry when I sprayed that stuff on his back the first time,
but now he asks me to rub it on his back and sore muscles.
I don't know what else to call this product - except a "MIRACLE" for me. I must have been
very low on magnesium because I honestly cannot believe what this did for me in one
night. I have suffered from Fibromyalgia and debilitating lower back pain for several
years. Last year I suffered a broken leg, ankle and foot. My leg was broken just under
my knee and all of the tendons/ligaments had to be repaired....I now have a plate in
my leg, beneath the kneecap. I sprayed the Magnesium oil almost from head to toe
(LOL) because I have been in so much pain...I also have a bad neck from a car accident,
a torn rotator cuff and had microscopic surgery on the other knee.....I am a 57 year
old female that was very active all my life, until about 5 years ago and honestly pain
had taken over my life. I took Cymbalta for years, but decided to get off of it about
a month ago because I felt it was only masking the pain and not helping the problem.
I think we have to become advocates for our own health and do what we feel is
best....I will try anything if it will help my pain, help restore my body and should not
harm me. This has really done so much for me in a few days...I am very gratefull.....
I have also read that children can suffer from this magnesium deficiency and it can
cause their muscles to ache and hurt. Apparantly, it will not show up in a blood test
because of the way magnesuim is stored in our cells.......as with anything, don't
overdo it either!.....Thank you to all the other reviewers that took time to write
reviews and guided me in this direction! So grateful!!! Thanks to Amazon for posting
reviews...I rely on them often!
Works very well for body pains and anxiety. It also helped to greatly reduce pain
and appearance of varicose veins on my calves from pregnancies. I also put it on
my girls to help relax them. Initially it can burn bad or itch. But when I regularly
put it on I don't usually feel that. We use it daily and have bought many bottles.
This is the best way to supplement magnesium. Compared to the pills, side effects
are minimal and the benefits occur faster. For the past year, I struggled with vitamin D
deficiency since I experienced side effects from taking vitamin D. I later found out that
the effects were magnesium deficiency symptoms that the vitamin D brought out. I also
had weekly migraines. After only two weeks of using this spray as directed (4 sprays a day
which is about 66 mg), I am now able to slowly tolerate more vitamin D and the
migraines are slowly going away. Of course, if you take too much, you may experience
side effects but just cut back on the dose. Also, the spray can clog so just put the sprayer
in a cup of water once a week and spray about 5 times to clean it out. Buy the book,
"Transdermal Magnesium Therapy" to learn more about the benefits of getting Magnesium
through the skin instead of supplements. Update 5/15/14: After 5 months of taking
180 mg, my magnesium RBC test came out at 5.8. Spraying magnesium onto your skin is a
great way to get your levels up.
For more Healthcare products, Kindly visit us @
or
SMS/ WeChat/ Whatsapp/ Viber to
GynieParadise (TAN)  
014-5856888  
*****************************************************************************************************************************************
Item will send out on within 24hours once payment is received.
We engage PosLaju as our courier service provider, the trusted courier service !
Tracking # will be provided once item is shipped out the next working day after payment is made.

Last Updated @ 12/20/2016 2:29:48 PM
Buy with confidence
| | | | |
| --- | --- | --- | --- |
| Buyer | Item ID | Date | Ratings |
| fa**** | 198984724 | 12/12/2017 7:12:00 PM | - |
| Ro**** | 198000472 | 11/20/2017 10:15:00 AM | - |
| me**** | 197494566 | 11/14/2017 12:00:00 AM | Very good, all five stars. Will buy again |
| On**** | 197494553 | 11/13/2017 12:17:00 PM | - |
| jt**** | 197301093 | 10/20/2017 12:46:00 PM | - |
| nk**** | 194610325 | 10/9/2017 3:07:00 PM | - |
| nk**** | 194267598 | 10/9/2017 3:07:00 PM | - |
| wa**** | 196316318 | 10/1/2017 12:53:00 PM | Good Seller, item shipped/received as advertised. |
Questions & Answers
Do you have any questions to ask merchant about this product
Ask Seller
| | | |
| --- | --- | --- |
| 5 star | | 0 |
| 4 star | | 0 |
| 3 star | | 0 |
| 2 star | | 0 |
| 1 star | | 0 |
Share your thoughts with others
Write a review
Only buyers who purchased the product may leave a review