Product ID : 209507821
Brand : LEMA
Model / SKU : 200616
Conditions :

New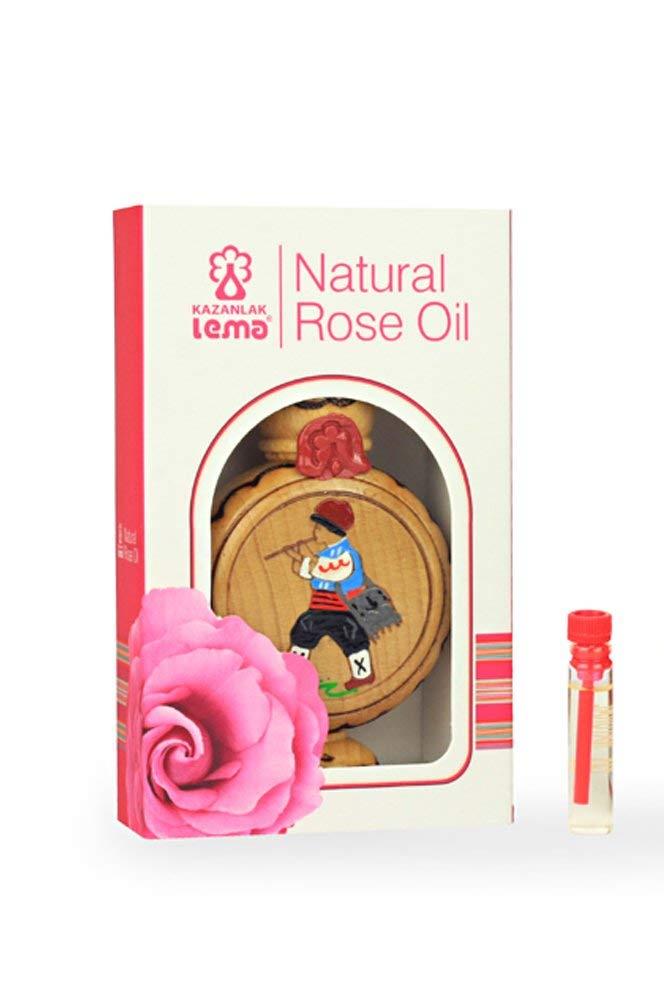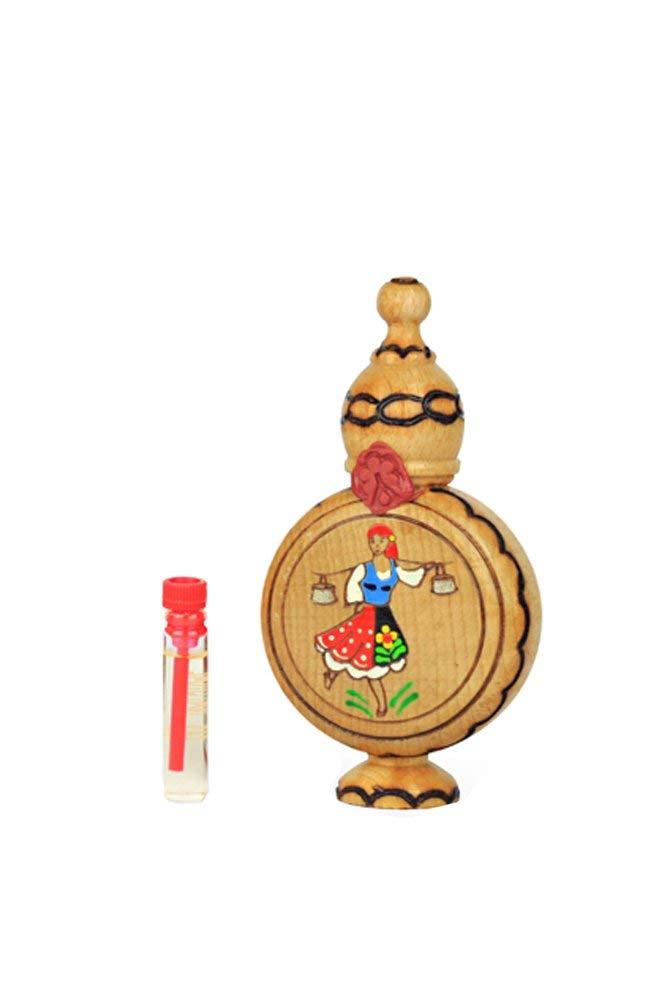 100% Pure and Natural Essential Rose Oil 1.0 ml (Rosa Damascena Mill) undiluted - LEMA in wooden bottle "baklitsa". Obtained thorugh steam disttillation from the petals of roses. The rose oil is a clear liquid with a hint of yellow. It form crystals at temperatures between 23 C and 16 C and contains more than 280 compunds. By methods of aromatherapy the rose oil helps keeping the nervous system in good condition, sharpen the senses, strengthens the mind and removes headache.
Bulgarian rose oil is the most expensive and most demanded perfume essential oil on the international market.
SHIPPING WITHIN 15 DAYS TO MALAYSIA, CHINA, TAIWAN, SINGAPORE, THAILAND, BRUNEI, AUSTRALIA, NEW-ZEALAND, SOUTH-KOREA.

---
Paypal costs: RM 2 + 3,9 %
ENGLISH
Shipping costs
Shipping costs are RM 5 up to 1 KG and RM 86 per extra Kilogramm, calculated on weight. Combined shipping can be used.
Shipping responsibilities
Shipping responsibilities are in accordance with the term and conditions as set by Lelong.
Shipping time
Shipping time will be 10 - 21 days, after the handling time.
Shipping handling
The shipping handling time is four work days (not including the weekend), starting the day after the order has been made by the buyer. Handling time means processing the order and preparing the order for shipment. If possible this time will be shortened.
Shipping courier
The shipping courier is Asendia, which is a joint venture between La Poste France and Suisse Post. (www.asendia.com)
Shipping delivery place
All shipments are delivered at the home address of the buyer. It is not possible to use P.O. Boxes. In case the home address is an address where an office or hotel is located, buyer agrees that the office or hotel can accept the shipment on behalf of the buyer, at which the shipment is stated to be received.
At this moment shipments can only be delivered in Malaysia, Thailand, Taiwan, China, Singapore and Brunei.
Shipping notifications
In case of delays in shipment or any other relevant information, the buyer will be notified by email.
Shipping dates
We will provide you with an estimated date for delivery of all parcels. While we will make every effort to deliver on time, all dates specified are estimates only. We have aligned ourselves with courier partners who we believe will always do their best to deliver products by the estimated delivery date.
Shipping weight
All orders will be shipped in parcels of maximum 2 Kilogramms. For example, if products are ordered for 3.6 KG, the buyer will receive two parcels including two track and trace numbers.
BAHASA
General conditions
PLEASE READ AND UNDERSTAND OUR TERMS AND CONDITIONS PRIOR TO YOUR PURCHASE:
1. All items are quoted in Malaysia Ringgit, SHIPPING COSTS ARE EXCLUDED.
2. All price items are non-negotiable.
3. All items sold are not exchangeable or refundable.
4. Full refunds guarantee in case of out of stock.
5. There might be some color difference compare with actual items due to lighting and monitor setting.
6. Due to human measurement there might be 0,5 - 1 cm variation. This will be considered as normal.
7. We only accept payment through "Buy now" and payment to Netpay.
8. It is buyer obligation to enter the correct delivery address details at the time of ordering. If the address has been entered incorrectly, the buyer will have to bear the shipping cost of re-sending.
9. All items are thoroughly inspected and packed before delivery.
10. Orders will be shipped after payment is confirmed by Netpay.
11. All statements as mentioned under "Delivery" are part of the term and conditions.
11. We reserve the right to amend our terms and conditions without prior notice.
12. By placing an order with us, you agree to be bound by the Terms and Conditions.
BAHASA
Syarat am
SILA BACA DAN MEMAHAMI SYARAT-SYARAT DAN SYARAT-SYARAT KAMI BAGI PEMBELIAN ANDA:



1. Semua item disebut harga di Malaysia Ringgit, CUKAI PENGHANTARAN YANG DISEDIAKAN.




2. Semua item harga tidak boleh dirunding.




3. Semua item yang dijual tidak boleh ditukar atau dikembalikan.




4. Jaminan balik bayaran balik sekiranya terdapat stok.




5. Mungkin ada perbezaan warna berbanding dengan barang-barang yang sebenarnya disebabkan oleh pencahayaan dan tetapan monitor.




6. Oleh kerana pengukuran manusia mungkin terdapat variasi 0,5 - 1 cm.

Ini akan dianggap seperti biasa.




7. Kami hanya menerima bayaran melalui "Beli sekarang" dan pembayaran kepada Netpay.




8. Ia adalah kewajipan pembeli untuk memasuki butiran alamat penghantaran yang betul pada masa pesanan.

Jika alamat telah dimasukkan dengan betul, pembeli perlu menanggung kos pengiriman penghantaran semula.




9. Semua item diperiksa dan dibungkus sebelum penghantaran.




10. Pesanan akan dihantar selepas pembayaran disahkan oleh Netpay.




11. Semua kenyataan seperti yang disebutkan di bawah "Penghantaran" adalah sebahagian daripada terma dan syarat.




11. Kami berhak untuk meminda terma dan syarat kami tanpa notis terlebih dahulu.




12. Dengan membuat pesanan dengan kami, anda bersetuju untuk terikat dengan Terma dan Syarat.
Privacy
We are aware that you have confidence in us. We see it as our responsibility to protect your privacy. Here we let you know what information we collect when you use our website, why we collect it and how we help improve your user experience. So you understand exactly how we work.
This privacy policy applies to orders for products by consumers through Cosmeticalstore. You should be aware that Cosmeticalstore is not responsible for the privacy practices of other sites and resources. By using this website you accept the privacy policy.
Cosmeticalstore respects the privacy of all users of its site and ensures that the personal information you give us will be treated confidentially.
Our use of information gathered

Use our services
When you place an order, we ask you to provide information. These data are used to be able to carry out the order. The data is stored on secure servers at Lelong or that of a third party. We will not combine this data with other personal data we have.
Communications
When sending an e-mail or other messages, we may retain those communications. Sometimes we ask for your personal information relevant to the particular situation. This makes it possible to process your inquiries and respond to your requests.
Cookies
In case Lelong website uses "cookies" (small text files placed on your computer), it is to help the website analyze how users use the site. The information about your use of the website generated by the cookie can be transmitted to secure servers at Lelong or that of a third party. Cosmetical store does not use this information to track how you use the website, compiling reports on website activity and providing other services relating to website activity and internet usage.
Purposes
Cosmeticalstore collects or uses information, for purposes other than the purposes described in this Privacy Policy, only if in advance your approval have been obtained.
Third parties
The information is not shared with third parties with the exception of web applications which we use for the benefit of our shop. This data will only be used for the purpose of the particular application and will not be further spread.
Changes
This privacy statement is tailored to the use and capabilities of this webstore. Any adjustments and / or changes to this site may lead to changes in this privacy statement. It is therefore advisable to regularly check this privacy policy.
Choices for personal information
We offer all buyers the opportunity to view, change, or delete all personal information provided to us at the moment.
Edit / unsubscribe communication
If you want to change your data please contact us by email.
Turn off cookies
Most browsers are initially set to accept cookies, but you can reset your browser to refuse all cookies or to indicate when a cookie is being sent. However, it is possible that some features and services on our and other websites may not function properly if cookies are disabled in your browser.
Warranty
1. All products will be delivered as new with an expiration date longer than 3 months.
Return policy
1. All items sold are not exchangeable or refundable.
2. Upon receiving the items, if there is any defect/damage, please email to us within 7 days upon receiving the shipment. Otherwise NO defect/damage claim will be allowed.
BAHASA
Waranti
1. Semua produk akan dihantar sebagai baru dengan tarikh tamat tempoh lebih dari 3 bulan.

Syarat pengembalian
1. Semua barang yang dijual tidak boleh ditukar atau dikembalikan.

2. Apabila menerima barang-barang, jika terdapat apa-apa kecacatan / kerosakan, sila e-mel kepada kami dalam masa 7 hari selepas menerima penghantaran. Jika tidak, tuntutan kecacatan / kerosakan akan dibenarkan.
Average Product Rating
0.0 stars out of 5
| | | |
| --- | --- | --- |
| 5 star | | 0 |
| 4 star | | 0 |
| 3 star | | 0 |
| 2 star | | 0 |
| 1 star | | 0 |
Share your thoughts with others
Write a review
Only buyers who purchased the product may leave a review