1000m BT Interphone Bluetooth Motorbike Helmet Intercom Headset
Model No: BH-04
The multifunctional V6 bone conduction Bluetooth interphone is ideal for all kinds of users conducting various different situations such as motorcycle riding, skating, firefighting, in public places of entertainment, in dining rooms, by traffic police, in building construction and underground mining. The novel voice control function thoroughly liberates the hands of the user. The newest bone conduction technology breaks through the effect of high decibel environment noise to provide clearer communication quality.
Interphone:
1) up to 6 riders Motorcycle Helmet Bluetooth interphone
2) long distance bluetooth 1000 meters
3) mp3/GPS/mobiles
This high end multi interphone system allows upto 6 riders to connect to each other at a time(of course you will have to buy more systems to get to 6).
Features:
Up to 7 hours talk time when connected to your cell phone
Up to 7 hours time when listening to music
500 mAh Li Polymer battery
Standby time: 120hrs
Charging time: ~3hrs
Chip brand: CSR
Specification:
1. Long range-1000 meters intercom, Bluetooth interphone kits for helmet motorcycle, Snowmobile, ski, ATV etc
2. Communication system 6 Riders
3.1000m maximum intercom range
4. Up to 120km/h speed
5. Up to 7hours talking time
6. Auto-receiving mobile call
7. Mobile/mp3/stereo music
8. Audio navigation from GPS
9. Line-in audio interface via Bluetooth
10. Wind noise DSP cancellation
11. Full weather protected
12. It can pair "rider to rider" or "rider to pillion". Can pair 6 interphones at a time, and easily switch to any 2 of them
13. Works with any Bluetooth equipped mobile phone, GPS or MP3 Stereo music
14. Headphone can work with external media play devices, like MP3/portable CD player/IPOD and etc. by connecting the headphone wires directly (without main unit)
15. Plastic + Rubber button, more stable structure, better waterproof performance. This system is fully weather protected
16. Wireless hands free communication for motorcyclist
17. Safe driving while talking with friends
18. Play stereo music from your mobile phone
19. Can be used as a Bluetooth headset and a wireless music headset while you're not riding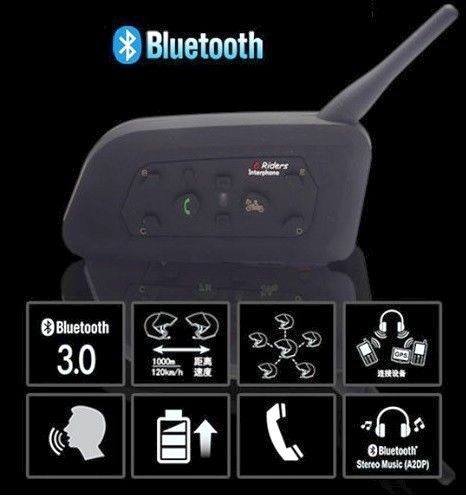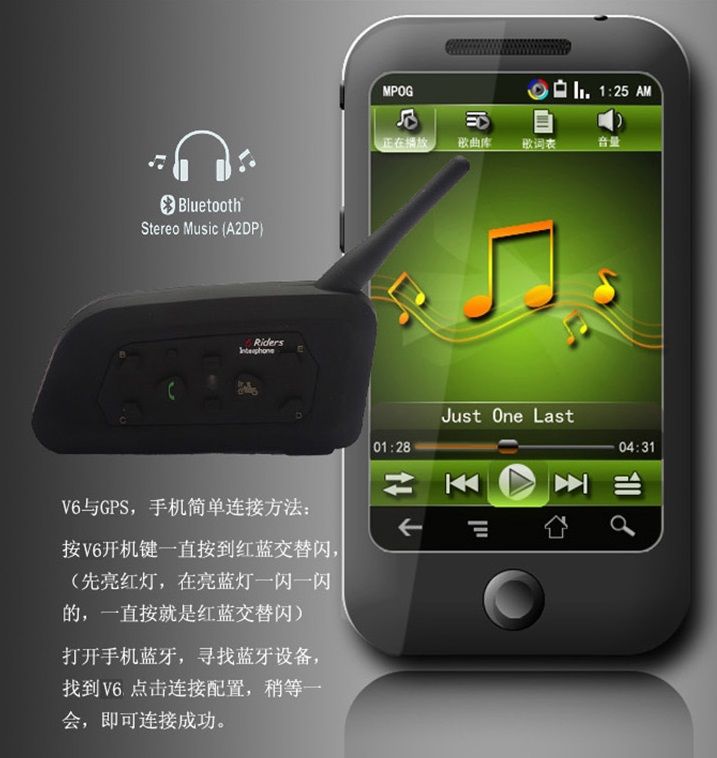 Package Content:
2 x Bluetooth headset receiver
2 x Stereo Headphone
2 x Rubber Clip
2 x Metal Clip
2 x Charger
2 x USB Cable
2 x Screw Driver
4 x Clip Spacer
2 x Manual