【COB INTEGRATION & CHIP UPGRADES】: Our grow light adopted the latest integrated COB technologies which is more powerful and improves the color uniformity and luminous effectively. The new upgraded Dual-Chips 10W LEDs is brighter than the traditional 3W and 5W LEDs, and scientifically designed to keep the balance of the PAR Output and Coverage.

【ADJUSTABLE LIGHT INTENSITY AND COLOR RANGE】Our led grow lights VEG and BLOOM knobs are independently adjustable from 10% to 100% to change the light intensity and color range, which makes it mimic the sunlight more closely; accommodate different growing stages and no need to frequently raise or lower the light height.

【ENERGY SAVING 70% THAN HPS/MH】1200W LED plant grow light is more scientifically designed to be more energetic, only consumes 110 watt, energy/cost saving.

【POWERFUL COOLING SYSMTE 】The high speed quiet fan and upgraded aluminum heat sinks keep the lights cool and quiet and working longer in every LED grow lamp.
Specifications:
Material: Iron, Plastic
Light Source: LED
Power: 1200W (dual chips)
Voltage: 85-265V
Blue beads: 420-460nm, 8 grains
Red beads: 620-660nm, 40 grains
COB: 380-800 nm, full spectrum contains (red, blue, white, infrared, ultraviolet, etc.)
Number of LEDs: 48 + 1 COB
Plug Standards: UK Plug
Use Tips: Suitable for indoor plants
How to Use:
Lighting time: seedling: 14-18 hours, growth: 12-14 hours, flowering: 9-12 hours, fruit stage: 7-8 hours.
Suggested Distance from Plants: 16 inches
Size: 27.5x15x5mm
1:Why is red light important for plants?Why is blue light important for plants?
Red light is very important to plant reproduction. Phytochrome pigments absorb the red and far red
portions of the light spectrum and regulate seed germination, root development, tuber and bulb formation,
dormancy, flowering and fruit productio
Blue light stimulates Chlorophyll production more than any other color, encouraging thick leaves, strong
stems and compact vegetative growth.
2:What kind of plant you can grow with our LED Grow Lights?
All kinds of flower plants:Special indoor plants,tomatoes,chillis,eggplant.rose etc.
All kinds of greens:herbs and leafy vegetables,lettuces,bok choy,etc.
Also suitable for indoor garden or indoor potted landscape
3:Which stage this led grow light can be used on plants?
It can provide all the light that Plants needs to grow and flower,to help plant grow quicker an better, increase yield.
4:Why the light is 1200Watts in the listing,but the actual power consumption have deviation?
First,this is led grow light,not regular led light.Regular led light just have Warm chips and Cold Chips.
But Led grow light have Red Blue UV,IR..all used true chips,true power supply, but less power consumption is normal.
Second,As you know that the big advantage of led light is power saving,so it needs less power to run the light.
There are White,Blue and Red LEDs in the led grow light and the voltage of white and blue led is 3.2-3.4v and voltage of red led is 2.2-2.4v.
And consuming less power will not affect function of the light to plants.
Then Now you have known,the power will have deviation,

Package Included:
1 x Plant Grows Lamp
1 x UK Plug
1 x Rope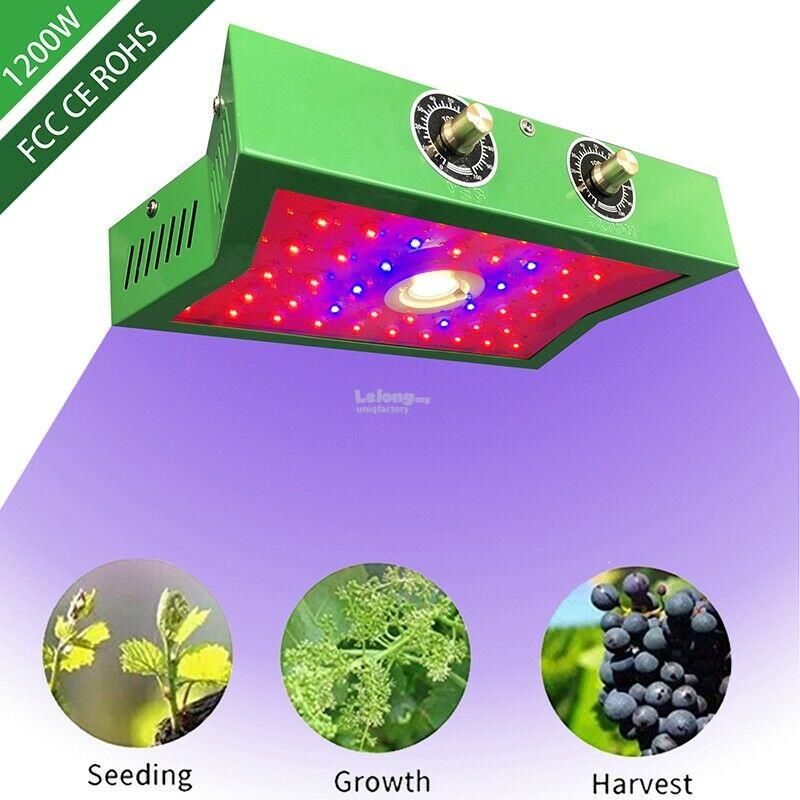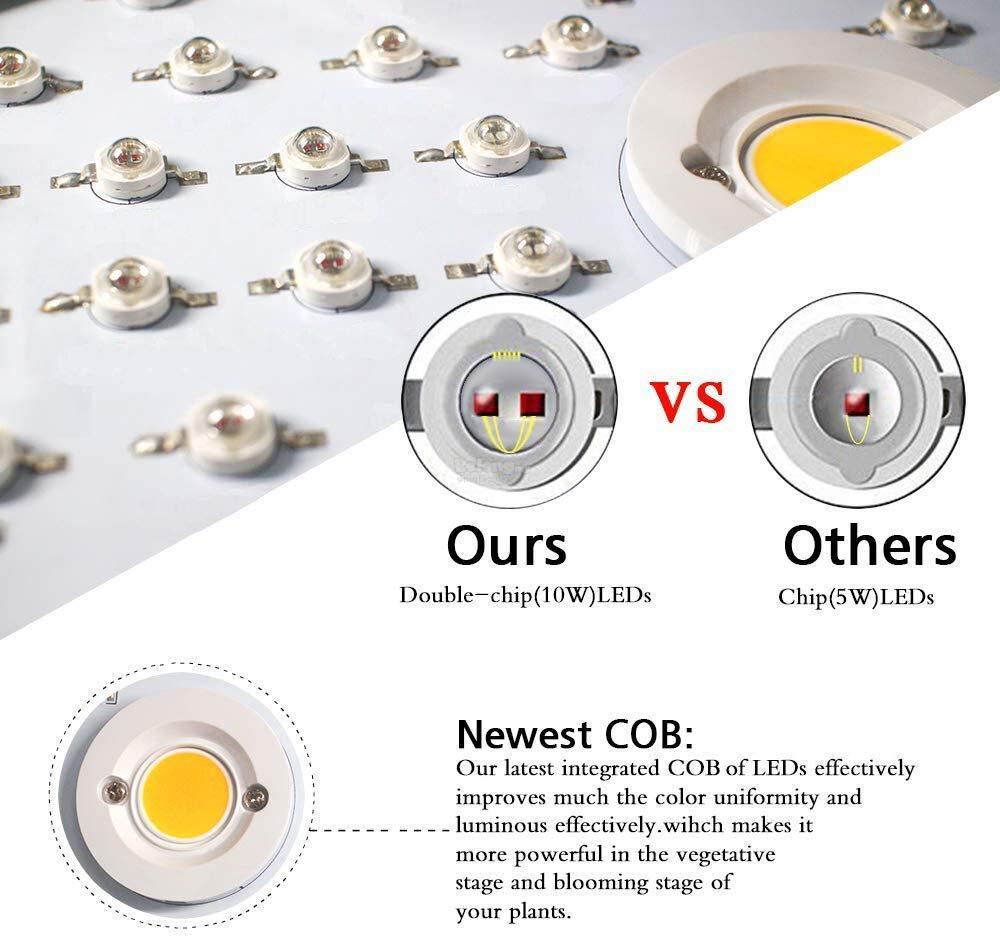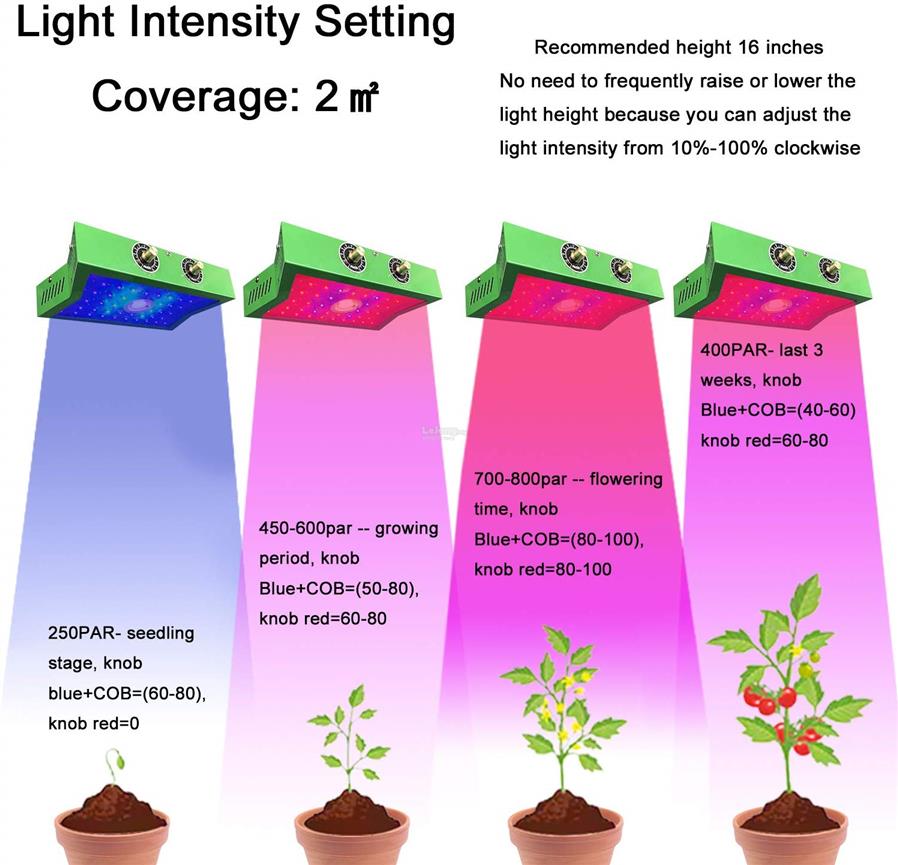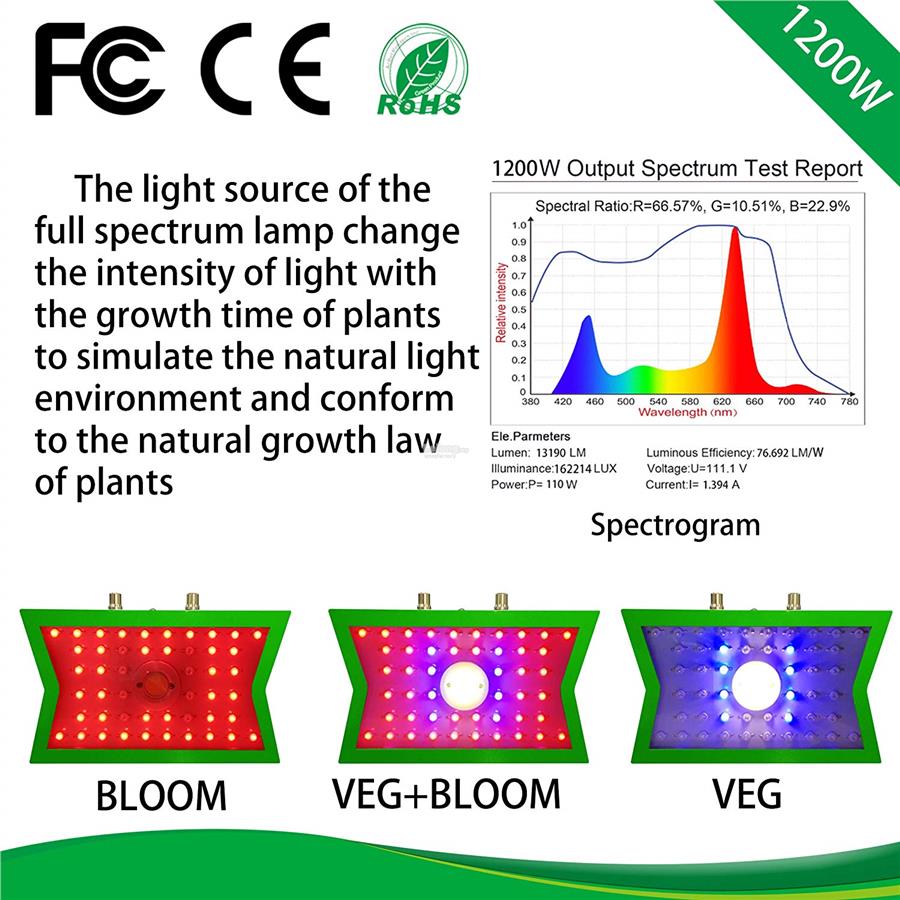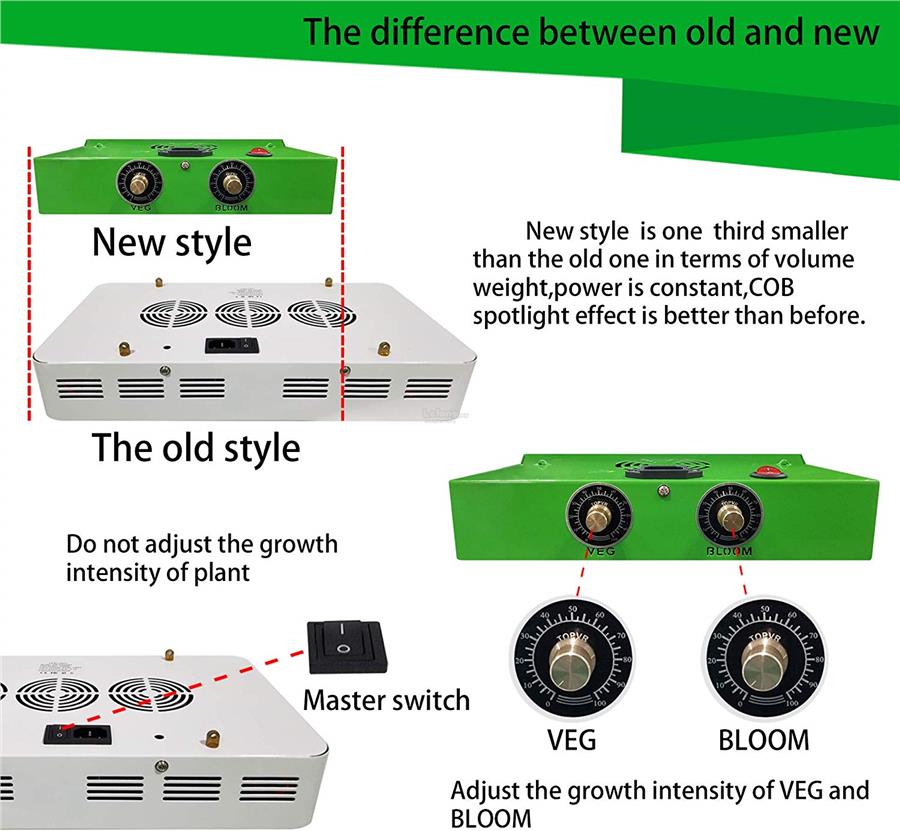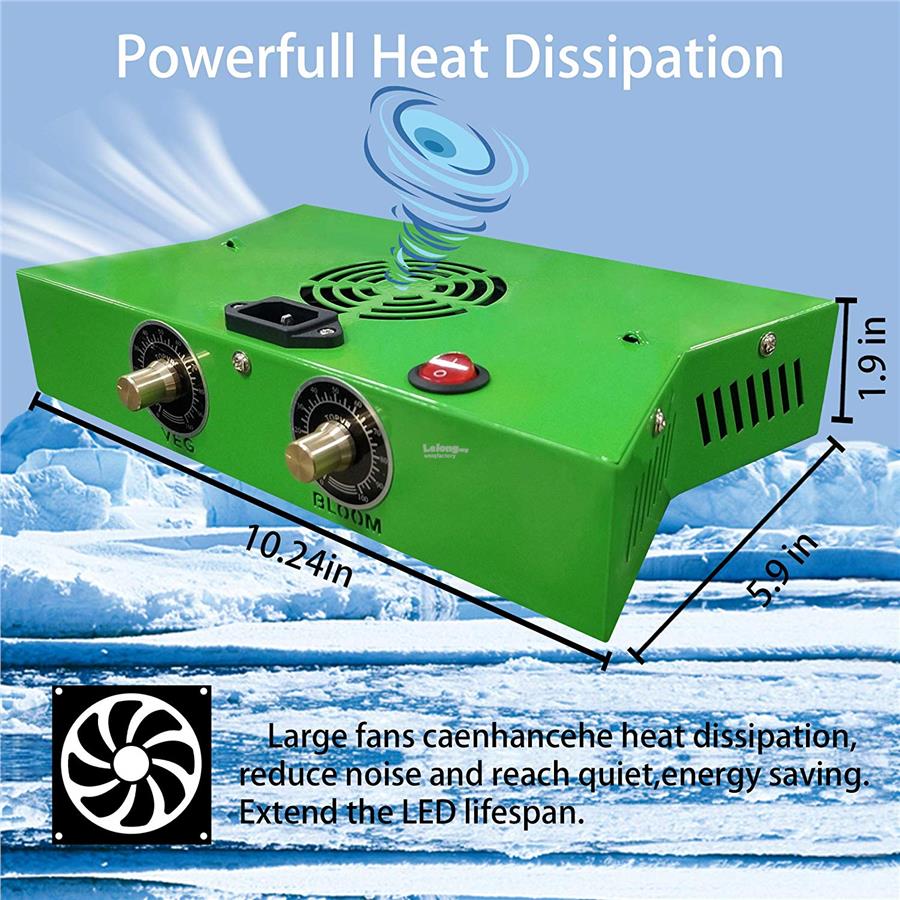 Why Choose Our LED Grow Lights?
Powerful Cooling System

Each LED light has a cooling fan ,which can keep light cool and quiet ,make working time much longer .Each LED has a resistor to keep it working on its own .

Quality Control

We do durability test for each light. To ensure each product to customers is prefect working. Please feel free to get in touch with us if you have any issues or suggestions.

Widely Apply

Its widely applied to plant factory,basement,greenhouse planting,flower farming,medicine plant,indoor gardens,water soluble breeding,pipeline cultivation, vegetable growth, family growing /seeding etc.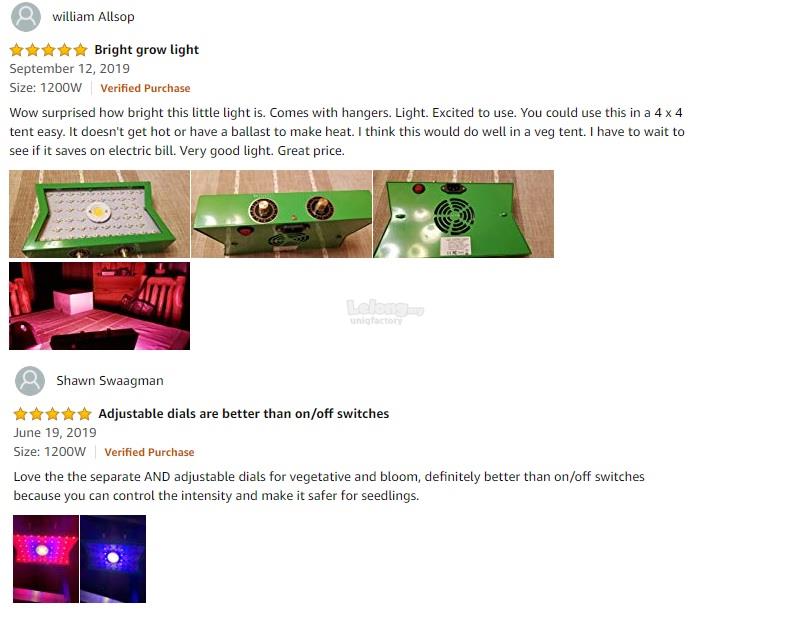 Last Updated @ 11/3/2019 11:41:05 AM