Conveniently extends your vehicle cigarette power source into Triple Power Source (1 to 3 sockets)
For use with cell phones, CD players, computers, MP3 players, handheld lights etc..
USB Charging port included along with Triple Cigarette Lighter Sockets let you charge 4 devices.
Red indicator lights up while charging.
Simply plug into cars cigarette lighter socket.
Run multiple accessories at one time.
Very convenient and easy to use.
Triple socket with 12V /24V output
Output current : Max. DC 5A(except USB)
USB charger output to 5V / 500mA, suitable for cell phone, GPS, iPod, and PDA
A fuse is included with the product to prevent over current. Protects your electronic devices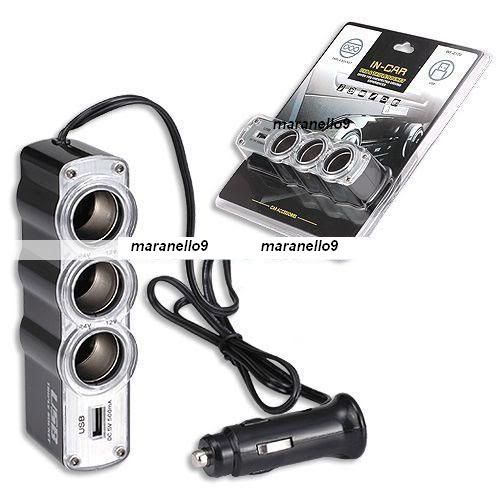 Note:
When using in 24V vehicle, please use with 24V products only.

Maximum output power 60W (except USB)

No function as cigar lighter.

Do not install in the place where air bag may operate.
A True Three-Way Car Cigarette Lighter Socket Splitter w/ USB Port
Working conditions:
Relative humidity: 5%~70%