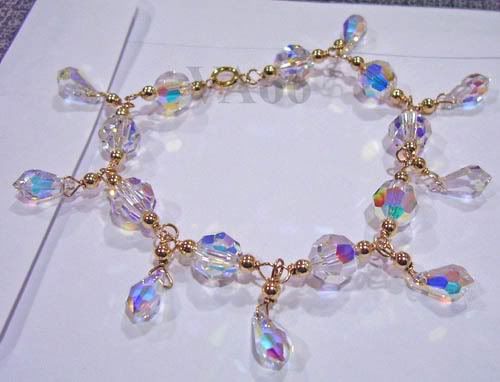 Free Gift Box will be given with this item!!
This excellent Bracelet of Grade 14K gold filled Wire Bracelet Handmade with Swarovski Crystals is brought to you minus the high price.
This 14K gold wire is BETTER than Suasa (Suasa is 9K Gold, this is 14K gold filled wire)

Excellently beautiful with Swarovski 8mm 5000 Facetted Round Crystals and 11mm 6000 Crystal AB Teardrop Crystals colours hanging as Charms
to make this beautiful Charm Bracelet

Normally retails at hundreds of Ringgit,

Quality: 14k Gold Filled with Swarovski Crystals and Gold filled Balls

Size Length :18.5 cm: Additional length can be made ask for prices / if your wrist is smaller you can close the clasp on
any of the parts of the bracelet where the charms are, but if your wrist is LONGER, you need to add on legth, ask for add-on
crystals cost.
Brand : Genuine Austrian Swarovski Crystal Beads
Article : #6000
Teardrop Size of teardrop crystal : 11mm
Color Choices Left to Right as shown from photo
1st row: Crystal AB, Lt Siam, Jet
2nd row: Aquamarine, Siam, Sapphire
3rd row: Fuchsia, Emerald, Amethyst
4th row: Rose, Topaz, Tanzanite
Same colors available in 6mm round or you can request any other color in the 6mm many colors available
look at the picture/, if you wish to know anything more abt the parts call 016-2206590 for jewellery classes or contact me
you can combine shipping for multiple items, save on SHIPPING by buying MORE, no extra charge
No self collect . thank you