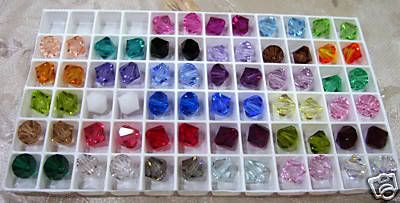 This earrings are handmade by me with CRYSTALLIZED™ - Swarovski Elements.

This item is shown in 14K gold parts, same thing can be made in STERLING SILVER as it is handmade and can be made to colour, length of choice and can be made in SILVER or gold, you can request matching bracelets and necklaces to be custom made to your orders

Brides: if you want more of these let me know i can do a reserved listing for you
if you would like the same thing in another color of crystals or pearls, i can do that too, just convo me for information

quality: all parts used are 14k gold filled (you can choose to get this in Sterling silver same price)

Size Length : full length from end of hook is approximately 2.4 cm (24mm) BELOW the earring hook

Brand : Genuine Austrian Swarovski Crystal Beads

Article : #5301 bicones

Size : 8mm bicones and 5mm bicones

Colour: shown in 8mm bicone Light Siam and 5mm Amethyst

Color choices in both 8mm and 4mm bicones as shown in photo
Colour Choices listed below Photo LEFT to RIGHT, top to bottom,
Let me know your COLOUR CHOICE From the below
1st Row: Rose, Fuchsia, Aquamarine, Peridot
2nd Row: Lt Peach, Blue Zircon, Jet, Violet, Smoked Topaz, Fire Opal
3rd Row: Topaz, Tanzanite, Lt Sapphire, Amethyst, Lt Amethyst, Lt Emerald
4th Row: Lt Olivine, White Alabaster, Capri Blue, Sapphire, Jonquil, Lt Rose
5th Row: Lt Col Topaz, Papadradscha, Lt Siam, Ruby, Olivine, Siam
6th Row: Emerald, Crystal Clear, Black Diamond, Lt Azore, Rosaline, Crystal AB

Let me know your Colour choice for your pair of EARRINGS

All crystal used is
100% Brand New Genuine Swarovski Crystal Made in Austria
Made with 14K gold filled parts, Same thing can be made with Pure 925 Silver parts, Same price, let me know if you want this item in Pure Silver or 14K Gold filled AFTER you order, Handmade!!
you can combine shipping for multiple items, save on SHIPPING by buying MORE, no extra charge
No self collect . thank you