2 x 500M Motorcycle BT Bluetooth Multi Stereo Interphone Headsets headset Helmet Intercom Handfree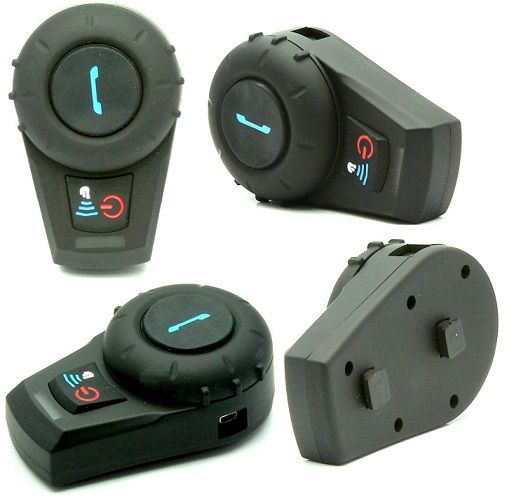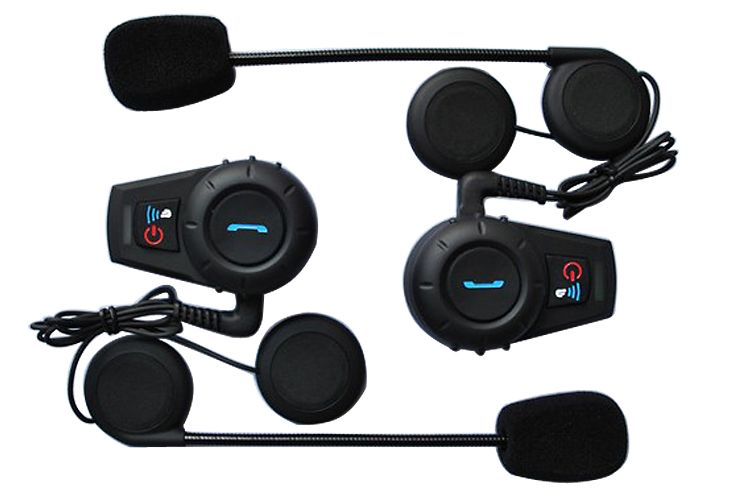 1) Wireless headset for bluetooth enable cell phone at a range of up to 10 meters.
Bike-to-bike intercom for rider& passenger or two separate bikes up to 500 Meters in open Space
Up to 10 hours talk time when connected to cell phone.
Up to 6 hours talk time when using the intercom feature.
2) Call out, call answer, call reject, call hang up.
3) Receive a cell phone call automatically
5) Support audio transfer.
6) Enjoy the cell phone music through A2DP or connect GPS
7) Control cell phone music through AVRCP: forward, backward, play, pause
8) Automatic switching among bluetooth cell phone, intercom, stereo music.
9) With DSP echo cancellation and noise suppression technology, crystal clear voice quality is guaranteed in a high speed.
10) Button panel is water-proof and sun-proof, while the design is durable.
The Inter Phone is a Bluetooth Headset designed for the motorcycle rider and passenger
who wish to have clear and reliable wireless communications while riding.
This headset is compatible with Bluetooth cellular phones and can be suited to any sort of helmet for motorcyclists.
This device allows bikers to receive GPS voice instructions, communicate with the passenger on the back seat,
to conduct calls on their mobile phone and listen to the music or their MP3 player.
Last but not least, the device offers biker-to biker intercom communication.
This headset works with any Bluetooth equipped mobile phone. Designed and Engineered for Heavy-Duty Performance.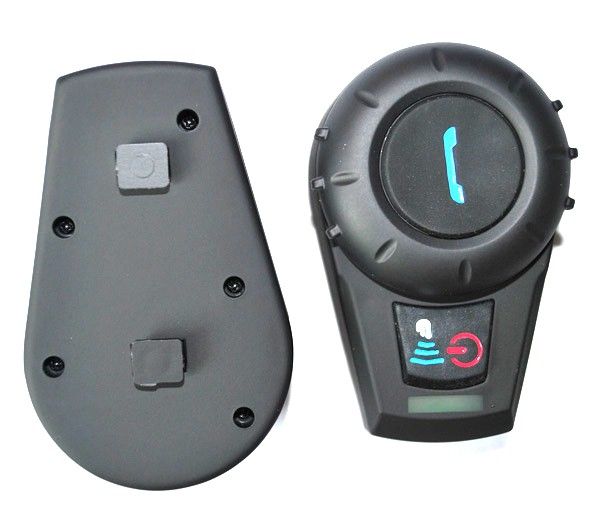 1.Take your Inter Phone Headset and slide it down into the slots in the Headset Clip Mount.
Make sure that it's perfectly fitted and locked into place by trying to extract it, pulling upwards.
2.Now you need to attach the speaker and microphone arm to the inside of the helmet.
Take the Velcro pad which the speaker will attach to, and test for the best position to fix it.
The Velcro Pad should be fixed at the height of your ear in the helmets ear pocket.
You will need to put the helmet on a few times to find the optimum position to apply the pad.
When the correct positioning is found, remove the protective strip and apply the Velcro Pad.
3.Next, take the Ear Speaker and attach it to the Velcro Pad.
Run the Microphone Arm down along down to where your mouth will be.
As the Microphone Arm is flexible, you can adjust it so it sits in the optimum position in front of your mouth.
Some helmets have removable padding; if yours does, it is recommended to run the speaker and microphone under the padding.
4.Taking care to match the pins up, connect the Headset Plug to the Headset Socket.
The plug can only be inserted in one position.
5.Secure the cord of the Headset Plug inside the helmet.
Tuck any extra wire into the helmet. Ensure that only few centimeters of the cord comes out.
You have successfully mounted the Inter Phone.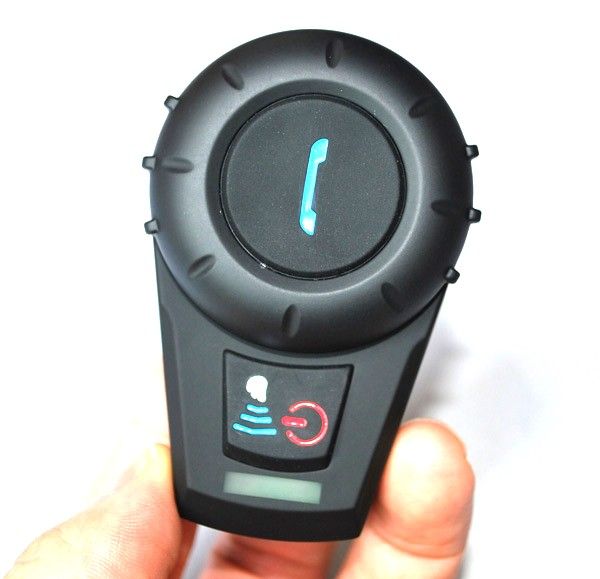 Turning the unit on into standby mode:
Press and hold the small black power button at the end of the unit.
After 3 sec you will hear a "Di" and the blue LED will begin to flash.
Let go of the button and the unit is now in standby mode.
Press the small black power button for 5 seconds or until you hear 2 "Di" tones and the lights extinguish.
To pair to your Bluetooth enabled mobile phone:
When the unit is off, press and hold the small black power button at the end of the unit.
Hold the button until you see a RED AND BLUE light flashing.
It normally takes around 5 to 8 seconds from off.
Do not let go when you see the blue light.
You will also hear a "DuDu" tone when the unit enters pairing mode.
On your phone, search and attempt to pair to the device, when the device is flashing red and blue.
If requested the pairing code will be 0000 and you should set the phone to auto pair to the device.
To Pair 2 devices in intercom mode
When both devices are turned off, press and hold the small black power button on both devices until both units flash red/blue repeatedly.
You need to hold the button for more than 6 seconds and dont let go when you see the blue light.
Short press the black power button on ONE of the two devices and this device will search and auto-pair to the other in intercom mode.
A live call will be initiated.
If this fails retry it ensuring both red/blue light sequences are initiated simultaneously and are close together.
Also ensure any other Bluetooth devices are turned off.
When paired, you do not need to go into pairing mode again.
In future you only need to go into standby mode (blue light flashing) on both units and press the button on one of the devices.
To Pair 3 devices in intercom mode
Follow the above procedure for each combination of the three units. (A-B, B-C, A-C).
Ensure the third unit is switched off when pairing the other two devices.
Only 1 connection can be live at a time. When successfully paired the connections can be switched by ending any live call and returning to standby.
From Standby press the power/intercom button 1 time for one of the pairings to be called, or 2 times for the other pairing to be called.
The pairing for 1 or 2 presses will depend on the sequence in which you paired the 3 helmets, but once paired the relevant pairings will maintain the number.
i.e. A will press the power/intercom button 1 time to call B and 2 times to call C.
B will press the button 1 time to call C and 2 times to call A. C will press the button 1 time to call A and 2 times to call C.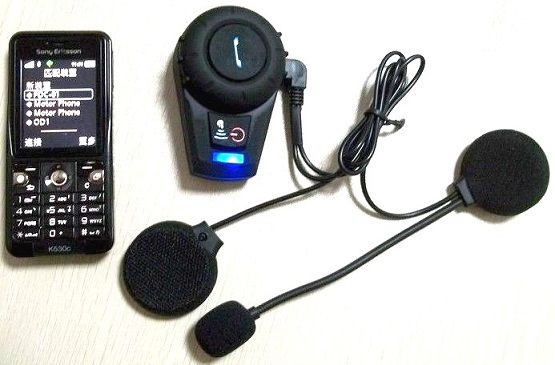 To Reset the pairing memory
If you have problems pairing, then it is best to reset the pairing memory
Turn on the relevant unit into standby mode.
Press the power/intercom button for 3-5 seconds till a "dudu" can be heard.
This should be before the unit switches off.
Let go of the button when the tone is heard.
Turn off the unit and restart, the memory will be erased.
2 x Headset clip w/Fastening Screws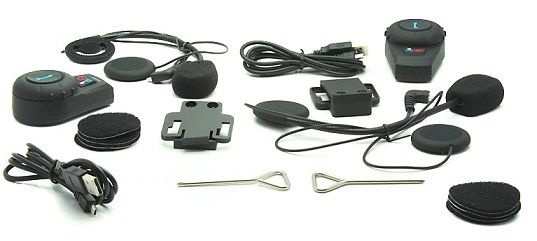 Buy at wholesale price with no minimum order!
We provide surveillance equipment to dealers, installers and retail outlets.
Have a question?
Please send email to: 1click2buy@gmail.com
Or call / sms / whatsapp: 019-2241838
Many satisfied customers, buy with confidence.
Click here to check out our other products
WHOLESALE INQUIRIES WELCOME
For more details, contact: 1click2buy@gmail.com
PH: 019-2241838
Thank you





---
Bank transfer: maybank2u, RHB, CIMB
All of our products are new and packaged in good condition.
7 days one to one exchange warranty.
Customer pays shipping fee.
Manufacturer warranty: 3, 6 or 12 month depending on product.
Customer pays shipping fee to factory in China. Factory pays shipping fee to send the item back.
There is no repair or exchange warranty for accessories such as: bracket, battery, power adapter....etc.
Please call 019-2241838 or email 1click2buy@gmail.com if you have any questions.
Average Product Rating
0.0 stars out of 5
| | | |
| --- | --- | --- |
| 5 star | | 0 |
| 4 star | | 0 |
| 3 star | | 0 |
| 2 star | | 0 |
| 1 star | | 0 |
Share your thoughts with others
Write a review
Only buyers who purchased the product may leave a review
Frequently Bought Together
Customers Who Bought This Item Also Bought
Related Products
Recently Viewed Items
ruazad' Best Seller
ruazad' Items

Seller & Buyer Communication
We provide a transparency communication between buyer & seller in a secure platform.
Save Money & Time
We give an access to everything buyer need at competitive prices.
Secured & Protected
All the information & transaction are secure with our Netpay system.
WE ACCEPT THE FOLLOWING PAYMENT METHODS





Copyright © 2018 Interbase Resources Sdn. Bhd. (465435-U).
All product names are trademarks of their respective companies.
Lelong.my is not affiliated with or endorsed by any company listed on this site.