BLAZING CHARGE TIME: At 50000mah, you can charge your devices to full capacity quickly and efficiently. Not only that, but each fully-charged Crave PowerPack power bank can charge your smartphone from 0-100% battery power up to 15 times!
LAPTOP COMPATIBILITY: Acer, Asus, Compaq, Dell, Fujitsu, HP, IBM, Lenovo, NEC, Samsung, Sony, Toshiba (Apple Laptops draw > 5 Amps, not supported) we will provide 10 pcs Computer conversion head for different conmputer.
PORT COMPATIBILITY: 1 19V 3.5 Amp Port for Laptops, 1 12V 4A、13.05v, 17.5V 4A、19V 3.5 Amp Port for Camera , drones and lights, 2 5V 2A、9V 2A 、12V 1.5Amp USB Ports for SmartPhones and misc.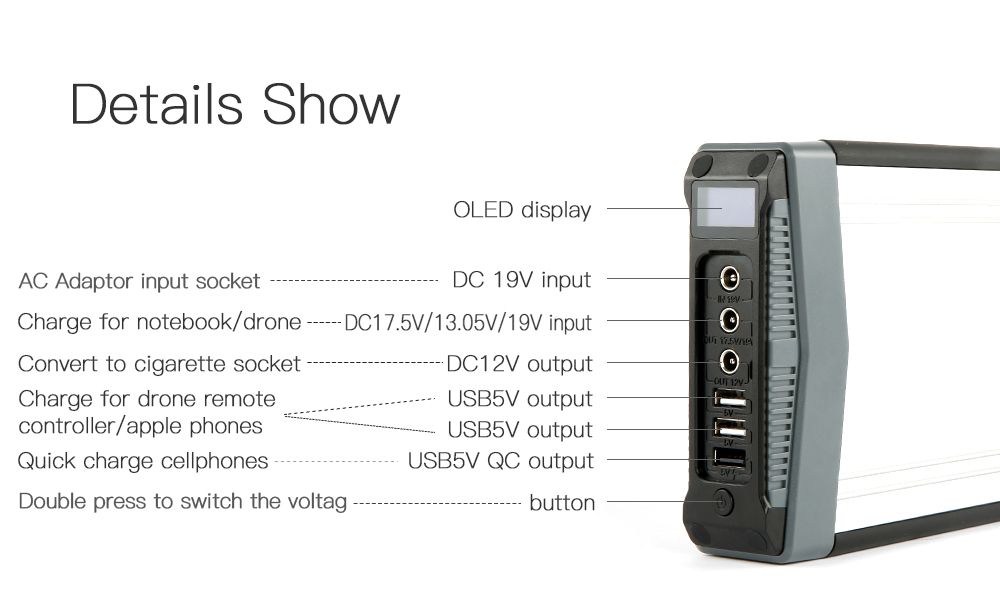 Battery tape: 18650 battery
Input voltage: 12V~25V
Input current: 3.5A
USB1 output: 5V 2.1A
USB2 output: 5V 2A、9V 2A 、12V 1.5A
DC output: 12V 4A、17.5V 4A、13.05V4A、19V 3.5A
Capacity: 50000mAh
Charging period: 4.5H
Quiescent dissipation: less than 200uA
Battery life: more than 800 times
Operating temperature: -10℃~60℃
Volume: 215*125*38mm
Weight: 1.55KG
WHAT DOES IT WORK WITH?: Compatible with most Laptops & Notebooks (Make sure your laptop charger draws under 5 Amps, Auto Shutoff above 5 amps) Please check your adapter size and compatibility PRIOR to purchase if unsure.
COMPACT & PORTABLE: Our external battery charger is not only powerful, it fits conveniently in your bag, suitcase or purse. Tightly packaged under 3 KG, you can take it wherever you go and never run out of power. You never have to stop for an outlet again! When your smartphone, tablet or laptop start losing charge, just pull your Crave PowerPack battery charger out of your bag and recharge it in no time.