Do you encounter problem when using a cheap DVI to VGA adapter (no chipset) but can not get the signal through. This DVI-D to VGA Cable is with built in chipset and it is able to to be used to to connect a computer or video graphics card with DVI-D to a monitor or projector with VGA input. This ADAPTER CABLE with IC is able to convert a digital DVI signal to an analog VGA signal.
Features :
Brand by Akiba-Accessories.com

Convert video signal DVI-D (digital) to VGA (analogue)

VGA has no audio support, a

udio signal must be transmitted separately

Use to connect to external display or projector

Input Connector : DVI (25 pin) Male

Output Connector : VGA (15 pin D-Sub) Female

Color : Black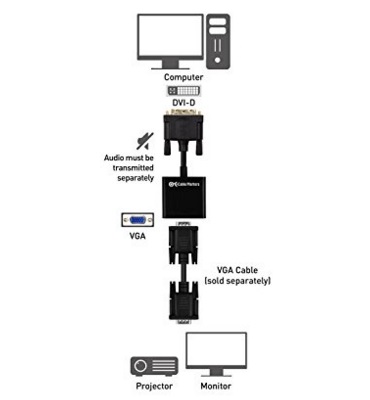 Package Content :
(Note 1: Photo attached is for reference only, it may be slightly varied in items of colour, shape from the actual item delivered from time to time
Note 2 : DVI-D (digital) to VGA (analogue) only. NOT BIDIRECTIONAL, this cable operates from DVI-D to VGA, not VGA to DVI-D
Note 3 : DVI-D (digital) to VGA (analogue) only. NOT DVI-A or DVI-I .COMPATIBLE – Operates only with DVI-D ports)
If your DVI output is not DVI-D, but DVI-A, you may use other lower cost converter cable will do, please PM us PM us for more product information.

Last Updated @ 6/19/2017 10:20:52 AM

Last Updated @ 7/21/2017 10:35:59 AM

Last Updated @ 4/13/2018 2:53:35 PM

Last Updated @ 11/23/2018 2:32:37 PM