Item Specification
Product Description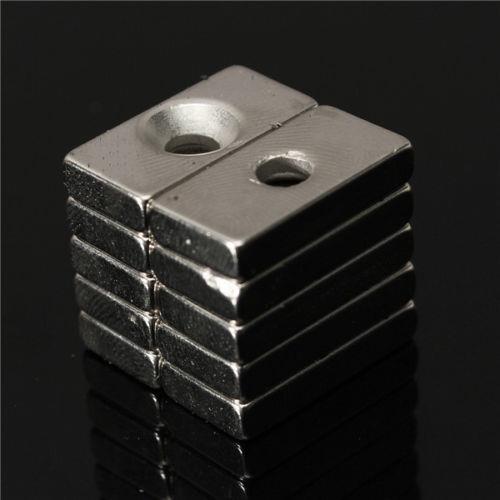 10pcs 20x10x3mm Countersunk Magnets Block Neodymium N35 Rare Earth 4mm Hole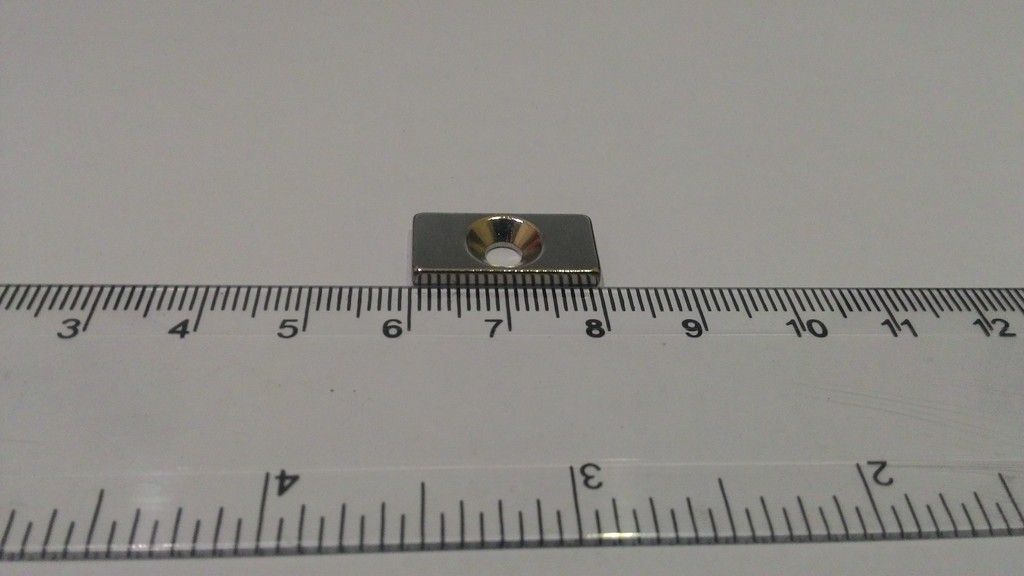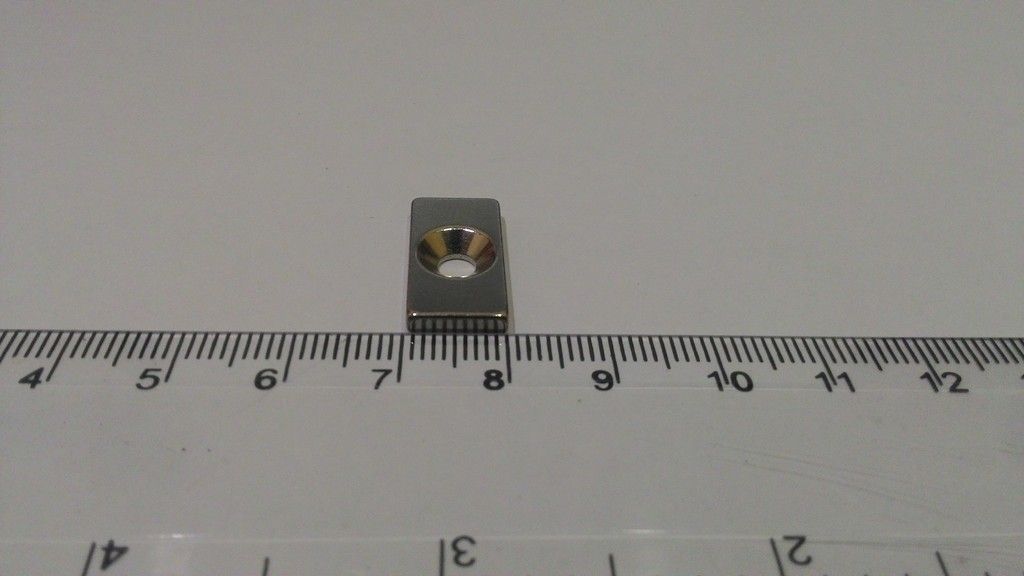 Neodymium Magnets Introduction: 
Neodymium Magnets are a member of the Rare Earth magnet family and are the most powerful permanent magnets in the world. They are also referred to as NdFeB magnets, or NIB, because they are composed mainly of Neodymium (Nd), Iron (Fe) and Boron (B). They are a relatively new invention and have only recently become affordable for everyday use.
If you've never handled neodymium magnets before, you will be amazed at their strength. Neodymium magnets are over 10x stronger than the strongest ceramic magnets. If you are currently using ceramic magnets in your project, you could probably use a much smaller neodymium magnet and have greater holding force.
Product Specification:
Material: Neodymium Magnet
Size: 20 mm x 10 mm x 3 mm
Hole: Dia. 4 mm
Shape: Square
Grade: N35
Magnetization Direction: Axial (Poles on Flat Ends)
Quantities: 2 Pcs
Attentions:
 1) The neodymium magnets we sell are extremely strong, and must be handled with care to avoid personal injury and damage to the magnets. Fingers and other body parts can get severely pinched between two attracting magnets. 
2) Never place neodymium magnets near electronic appliances, such us floppy disks, credit cards, magnetic I.D. cards, cassette tapes, video tapes, televisions, VCRs, computer monitors and other CRT displays. 
3) Neodymium magnets are brittle, and can peel, crack or shatter if allowed to slam together. Eye protection should be worn when handling these magnets, because shattering magnets can launch pieces at great speeds. 
4) They also do not take kindly to machining. Neodymium magnets will lose their magnetic properties if heated above 175F (80 C). Neodymium magnets should never be burned, as burning them will create toxic fumes. 
About Neodymium magnets Wide Usages:

-Brochure Closures Toys, Welding Clamps, Stud Finders,
-Locating Nails Under Flooring, Magnetic Therapy, Magic Tricks
-Remagnetizing Old Magnets, Mag a Fishing Reel, Geocaching
-Oil Filters, Holding Banners on Cars and Floats in a Parade
-Attaching Tracking Devices to Vehicles and Equipment
-Holding Spice Cans to the Side of Your Fridge
-Trailer Hitch Rods, Removing Dents from Brass Musical Instruments
-Warehouse Organization, Levitation Experiments
-Tool / Knife Holders, Securing a Tarp to Machinery or Cars
-Erasing Video and Audio Tapes or other Magnetic Storage Media
-Garage Organizers, Metal Detectors, Holding Wings on Model Airplanes
-Cabinet Latches, Attaching Name Tags to Clothing without Pins
-Miniature Wargaming, Traction Magnets for Slot Cars
-Magnetic Couplers on Model Railroad Cars
-Christmas Light and Decoration Hangers
-Magnetic Stirrers, Homemade Compass
-Building Generators, Science Experiments
-Finding MicroMeteorites, Education, Magnetic Jewelry
-Pierce-free Body Jewelry, Cleaning Fish Tanks from the Outside
-Holding Spare Keys in Place - Car and Home
-Water Conditioning, Making your own Fuel Mileage Extender
-Refrigerator Magnets, Stupid Bar Tricks, Attaching Bags to Motorcycles
-Magnetic Jewelry Clasps, Picking up Stray Nails and Screws
-Replacement Magnets for Bicycle

Last Updated @ 1/15/2017 7:44:02 PM
Questions & Answers
Do you have any questions to ask merchant about this product
Ask Seller
| | | |
| --- | --- | --- |
| 5 star | | 0 |
| 4 star | | 0 |
| 3 star | | 0 |
| 2 star | | 0 |
| 1 star | | 0 |
Share your thoughts with others
Write a review
Only buyers who purchased the product may leave a review