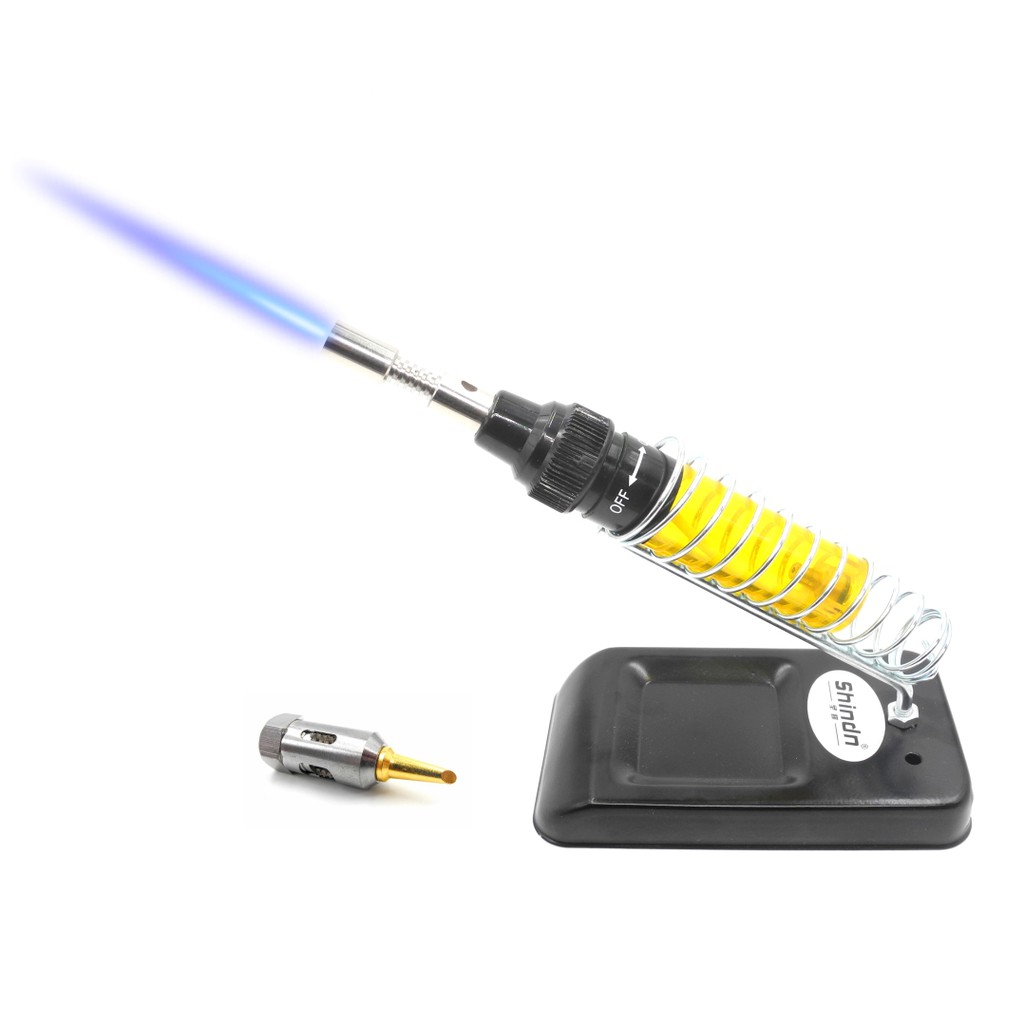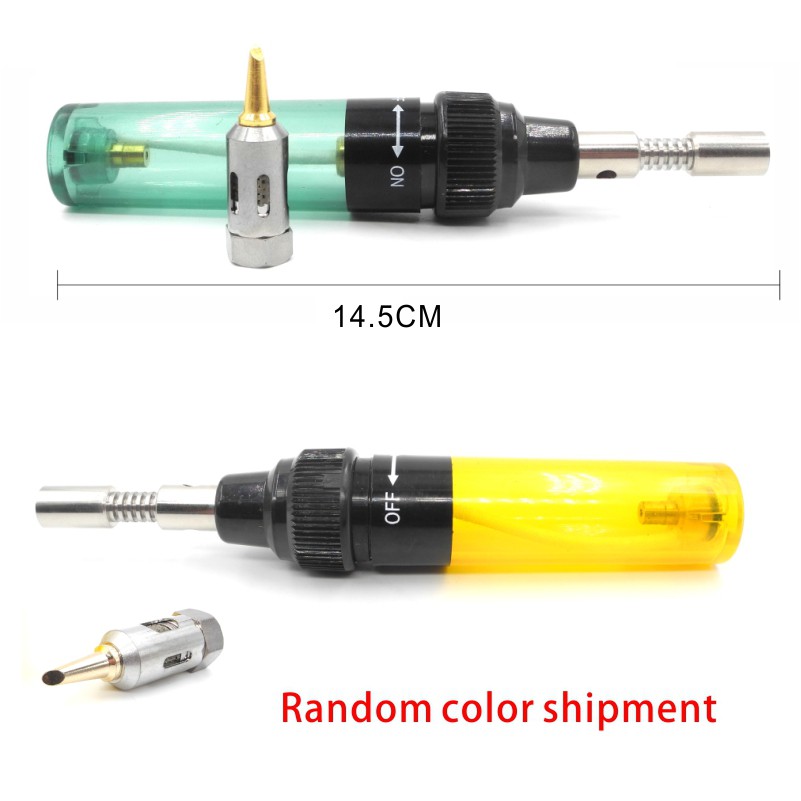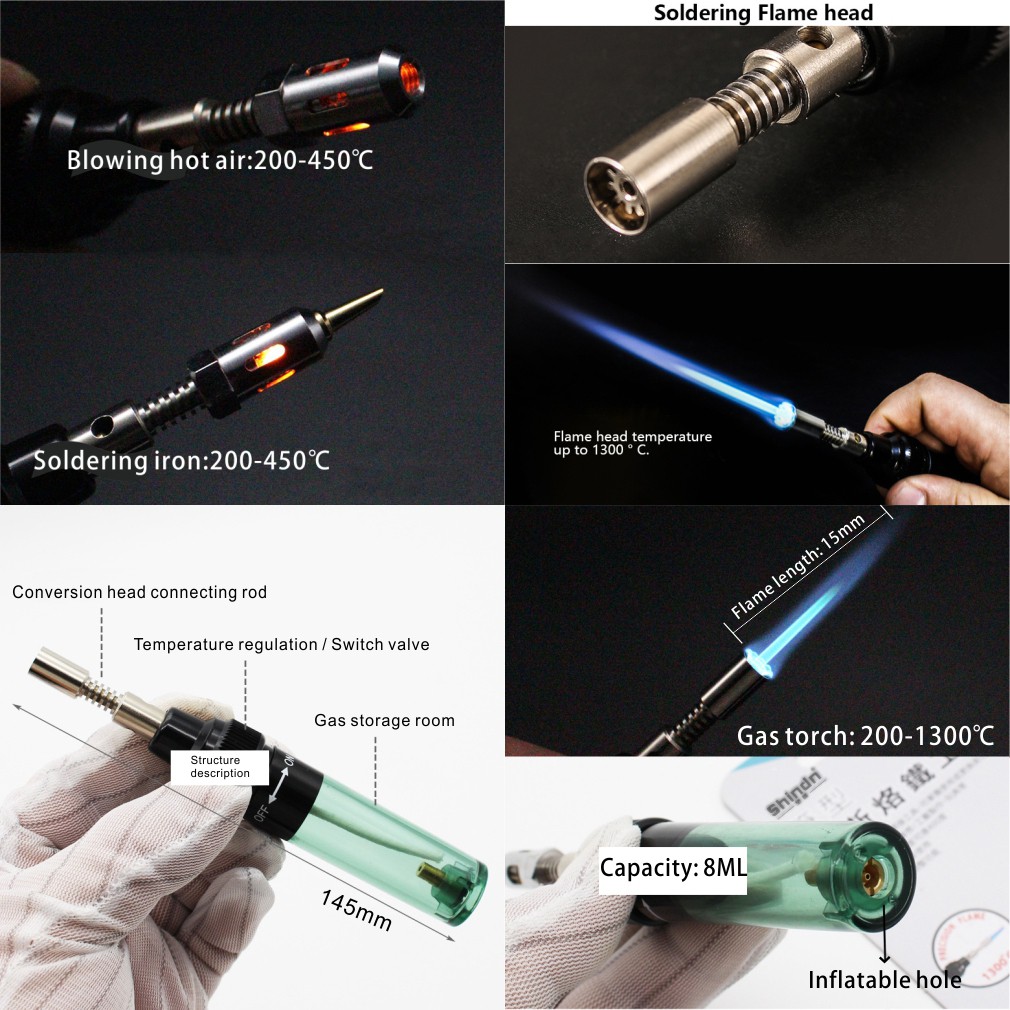 PRODUCT NAME: 3 in 1 gas soldering iron Gas soldering tool Kit, MINI Cordless Refillable Butane Torch Gas Solder Pen and Soldering iron bracket,multifunctional WIRELESS Gas Soldering Iron




The is a gas-powered soldering iron ideal for working in areas with difficult access or no live power sources. Will hold just enough gas in its chamber to make sure you get the job done safely and fully finished.
Taking just 30 seconds to full refill the iron via the port on the base of the iron, the has an approximate usage time of 1 hour when used as a soldering iron. Supplied with a 2.4mm soldering tip as standard, other tips, as well as conversion tips for using the iron, are available making the into a hot air tool, gas torch, and even a hot knife.
The unit is shipped without fuel, this item is not auto-ignite, so you need to use your fire source to start it. Do not saturate the fill when filling the gas. To avoid excessive pressure.


Product Name / Name Produk: Pen type gas soldering iron
Filling capacity: 8ML
Tank Material / Dibuat Daripada: ABS plastic
Colour Yellow, Blue (random colors)
Temperature: flame temperature 1300 C soldering iron temperature 450 C
Use fuel: pure butane, gas
Usage time: about 35-45 minutes,
Product weight: about 80g
Packing list: 1* gas soldering iron 1* Soldering iron bracket

Product Usage:
1, loose rusted metal screws, laboratory heating research, kitchen baking, equipment maintenance.
2, car repair welding, aviation equipment repair, hydropower engineering equipment maintenance.
3, electrical appliances, motor control box repair welding, etc.
4, circuit board repair welding, IC board welding repair, indoor and outdoor line welding.
5, electronic components on the tin, welding, etc.

product instructions

A, filling gas
1, Fill in the high-quality gas and confirm that the switch is OFF.
2, Introduce the gas canister into the inflation hole and press the inflation.
3, about 10 seconds to complete the filling, let stand for a few minutes to stabilize the gas before it can be used.
4, If the gas has a (inches)si si(inches) venting sound at the end of the gas filling, press the inlet port with the tip of the pen to eliminate it.

B, ignition
1, The switch is in the ON position and you hear the sound of si si .
2, Push the flameout ring forward.
3, Use an igniter or lighter to ignite near the joint.
4, after burning for 3 seconds, the flameout ring will be returned to the original place, after the fire is extinguished, the soldering iron will continue to heat.
5, adjust the size of the flame, + equal to large, - equal to small.
6, this product temperature up to 1300 C (ironing iron temperature 450 C) should pay attention to safety when using, be sure to turn off the switch after use.
7, When using a gas soldering iron, please pay special attention to wait until the flame is completely extinguished. When the object inside the soldering iron turns red, operate again. Use a small fire to extend the life of the soldering iron.
8, The flame length of the combustion jet is about 11mm-15mm.

Product Delivery Guarantee
All products are guaranteed to deliver to you.
If for some reasons your order item is missing or we have failed to deliver to you we shall issue you full refund or redeliver new item to you again using different courier, after proper verification from our side.
Warranty / Refund
For warranty, depending on products, we can offer you 1-6 month period. Any problem with the items, you can report to us with video as proof sent to us via email / youtube link. Once verified we can offer you full refund or replacement with our other products of the same or lower value.
We shall refund to you if your product is lost in transit or never reaches you within 21 days from date of ordered
Product QC
All our products will to through some QC checks before delivery to ensure it's free from any defects. We understand we are not perfect, that's why we'll be glad to offer you refund as stated previously .
COD
No COD offered
Processing Time
We'll ship out typically within 24 hours so you'll receive your item as soon as possible
Delivery Time
Our standard delivery time is 7-10 days. However most of our customers received within 7 days, some received within 5 days etc. Our standard time is such as this allows us some time to do backorders from our oversea warehouses in case of insufficient stock in our local warehouse in Selangor & Labuan.
Shipment Provider
We use J&T Express, Citilink Express (PRIORITY), ABXexpress, LWE and sometimes POS LAJU for all our deliveries that come with online tracking number. We'll choose the best shipment provider based on locations you order. We cannot entertain any request for custom shipment provider. We ship hundreds of orders everyday and we just don't have the time for this request.
Urgent Order
All urgent order cannot be entertained at this point of time. Kindly refer to our delivery time.
Payment
You can make payment via Lelong own payment processor, NETPAY. It's very secured, fast and convenient.
International courier with tracking code ie CityLinkExpress, Kerry Priority, Logistics Worldwide Express, EMS, SF Express, POS Laju, etc
International courier with tracking code ie CityLinkExpress, Kerry Priority, Logistics Worldwide Express, EMS, SF Express etc
TO THE MAXIMUM EXTENT PERMITTED BY LAW, THE SERVICES PROVIDED BY WOOSHOP ON OR THROUGH THE SITES ARE PROVIDED "AS IS", "AS AVAILABLE" AND "WITH ALL FAULTS", AND WOOSHOP HEREBY EXPRESSLY DISCLAIMS ANY AND ALL WARRANTIES, EXPRESS OR IMPLIED, INCLUDING BUT NOT LIMITED TO, ANY WARRANTIES OF CONDITION, QUALITY, DURABILITY, PERFORMANCE, ACCURACY, RELIABILITY, MERCHANTABILITY OR FITNESS FOR A PARTICULAR PURPOSE. ALL SUCH WARRANTIES, REPRESENTATIONS, CONDITIONS, AND UNDERTAKINGS ARE HEREBY EXCLUDED.
TO THE MAXIMUM EXTENT PERMITTED BY LAW, WOOSHOP MAKES NO REPRESENTATIONS OR WARRANTIES ABOUT THE VALIDITY, ACCURACY, CORRECTNESS, RELIABILITY, QUALITY, STABILITY, COMPLETENESS OR CURRENTNESS OF ANY INFORMATION PROVIDED ON OR THROUGH THE SITES; WOOSHOP DOES NOT REPRESENT OR WARRANT THAT THE MANUFACTURE, IMPORTATION, EXPORT, DISTRIBUTION, OFFER, DISPLAY, PURCHASE, SALE AND/OR USE OF PRODUCTS OR SERVICES OFFERED OR DISPLAYED ON THE SITES DOES NOT VIOLATE ANY THIRD PARTY RIGHTS; AND WOOSHOP MAKES NO REPRESENTATIONS OR WARRANTIES OF ANY KIND CONCERNING ANY PRODUCT OR SERVICE OFFERED OR DISPLAYED ON THE SITES.
Any material downloaded or otherwise obtained through the Site is done at each User's sole discretion and risk and each User is solely responsible for any damage to WOOSHOP's computer system or loss of data that may result from the download of any such material. No advice or information, whether oral or written, obtained by any User from WOOSHOP or through or from the Site shall create any warranty not expressly stated herein.
Each User hereby further agrees to indemnify and save WOOSHOP, our affiliates, directors, officers and employees harmless, from any and all losses, damages, claims, liabilities (including legal costs on a full indemnity basis) which may arise, directly or indirectly, as a result of any claims asserted by Third Party Rights claimants or other third parties relating to products offered or displayed on the Site. Each User hereby further agrees that WOOSHOP is not responsible and shall have no liability to you, for any material posted by others; including defamatory, offensive or illicit material and that the risk of damages from such material rests entirely with each User. WOOSHOP reserves the right, at our own expense, to assume the exclusive defense and control of any matter otherwise subject to indemnification by you, in which event you shall cooperate with WOOSHOP in asserting any available defenses.
WOOSHOP shall not be liable for any special, direct, indirect, punitive, incidental or consequential damages or any damages whatsoever (including but not limited to damages for loss of profits or savings, business interruption, loss of information), whether in contract, negligence, tort, equity or otherwise or any other damages resulting from any of the following.
the use or the inability to use the Site or Products or Services; any defect in goods, samples, data, information or services purchased or obtained from a User or any other third party through the Site; unauthorised access by third parties to data or private information of any User; statements or conduct of any User of the Site; or; any matters relating to Services however arising, including negligence.
The limitations and exclusions of liability to you under the Terms shall apply to the maximum extent permitted by law and shall apply whether or not WOOSHOP has been advised of or should have been aware of the possibility of any such losses arising.?
For warranty, we can offer you 1 month period. Any problem with the items, you can report to us with video as proof sent to us via email / youtube link. Once verified we can offer you full refund or replacement with our other products of the same or lower value.
Average Product Rating
0.0 stars out of 5
| | | |
| --- | --- | --- |
| 5 star | | 0 |
| 4 star | | 0 |
| 3 star | | 0 |
| 2 star | | 0 |
| 1 star | | 0 |
Share your thoughts with others
Write a review
Only buyers who purchased the product may leave a review