Item Specification
Product Description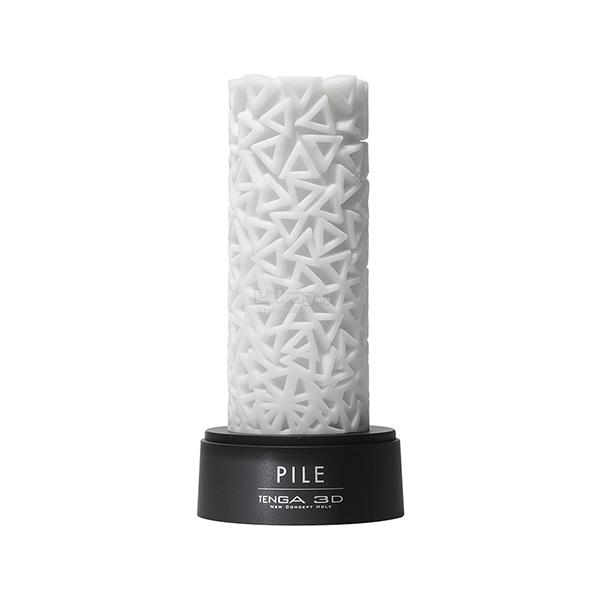 DESCRIPTION
Sculpted Ecstasy
Reversal of Convention Creates Sculpted Ecstasy
Considering the process of Reversing, Washing and Drying, the exposed internal details are also the External Design. Once this perspective is realized, fusing stimulation and structural beauty becomes the ideal for the pinnacle of masturbation.
An Escalating Form of Elation
Gently stacked triangular protrusions form its structure. With tightly packed triangles bearing a soft sensation at the base and a distinct rippling stimulus as they space out at the tip. The varying sensations brought around by this gradient of stimulation harmonizes both soft and hard sensations.
The TENGA 3D Series is the Winner of a Red Dot for Product Design 2012! The first Male Masturbation Aid to win such a prestigious Design Award!
SPECIFICATIONS
Product Code: TNH-005
Size: 48×48×116mm / (D)×(W)×(H)
Packaged Size: 72.6×72.6×156.5mm / (D)×(W)×(H)
Packaged Weight: 277g
Other Info: Reusable, Sample Lubricant Included
FAQS
Q: Is the TENGA 3D Series reusable?
A: Yes, the TENGA 3D Series is reusable!
Reusability may vary according to methods and strength of use, cleaning, storage and maintenance.
※ Please ensure to wash with cold/tepid water and store in a cool, dry, dark place.
Q: Is the TENGA 3D Series electronic?
A: No. Please use the products manually.
Q: Does the product come with any lubricant?
A: There is a one-use amount of HOLE LOTION [REAL] enclosed with the product.
※ We recommend this lubricant for use with the TENGA 3D.
※ You may also use any other TENGA lubricant to lubricate the product.
※ Please note while the TENGA 3D is water-based lubricant compatible, TENGA Co., Ltd. can not be held liable for the integrity of third party lubricants.
Q: Where should I apply the lubricant?
A: Please lubricate the insertion hole and the inside of the product. The "inside" refers to the internal details once the product has been inverted from its original position.
Q: There was a black plastic disk when I opened the product, what is this?
A: The disk is a Transport Anchor, please dispose of it. Please also dispose of the polystyrene wrapped around the Stand as it is also a Transport Anchor.
Q: How should I was this product?
A:
How to Wash
While inverting the TENGA 3D under running water, please wash off all remaining liquid. You may use body soap but please refrain from using any soap with high acid or alkaline content as they may cause degradation of the material (TPE.)
How to Dry
Please wipe off any excess water from both sides of the product and stand the TENGA 3D – details facing out – half-way along the Stand to dry.
How to Store
Once dry, place the TENGA 3D all the way down the Stand and place the Cover. Store in a cool, dry place away from direct sunlight.
Q: Can I use the reverse side?
A:
Please do not use the reverse side as it is not designed for this purpose.
Q: Can I cool the product in a refrigerator before use?
A:
Both refrigeration and freezing of the product are causes of degradation of the product, please do not cool the product. Store at room temperature.
Q: When I opened the product, there was white powder around the product, is it defective?
A: This is just powder finish of the product exterior. This has no effect on the quality of the product.
Q: There are different designs – what are the differences between them?
A: As the TENGA 3D is inverted upon use, each different design creates a different sensation. Please choose the one which most suits you.
Q: How do I use the Tray?
A: You can use the Tray to temporarily hold a used TENGA 3D to free your hands to wipe off any remaining lubricant from your body directly after use.
Q: Please tell me the insertion size and properties of the TENGA 3D Series.
A:
Stretchable Material – below sizes are minimum sizes.
Insertion Depth: Approx. 13cm*
Insertion Width: Approx. 4cm*
Sample Lubricant Included
※ Product stretches to accommodate almost any size.
Q: What are the TENGA 3D Series products made from?
A:
Tray & Stand: ABS
Internal Sleeve: Ag Antibacterial Elastomer


---
All Products include shipping with POS LAJU!
We use Pos Laju as our courier, which is fast and reliable. We promise you to get the items within 1-3 working days.

Tracking number will be provided after shipment.
Delivery-FAQs
Q: Will anyone know what I buy?
A: All products are shipped discreetly in a non- script plain parcel bag, with zero indication on its contents. There is absolutely no way of telling what's inside the parcel or who the sender is. Your purchase is kept with 100% confidentiality from nosy neighbors and prying postmen.
Q: What shipping company is your company using?
A: Citylink for most areas and Poslaju for some areas.
Q: Am I guaranteed to receive the package?
A: Yes! We give you 100% guarantees to receive the package safely, as it is shipped with our appointed quality courier service and cash on delivery company. Hence, you can shop with us with a total peace of mind.
Q: How long and how to track and trace my ordered product?
A: Your ordered products will ship to you as soon as possible once payment fully received .
Q: What will happen to the parcel if i was not around to acknowledge?
A: If there are nobody around to acknowledge the parcel at your given address, the courier agent normally will leave a notice letter in your mail box and contact you for further arrangement. They will then inform you to visit their nearest branch to collect the parcel on your own.
If the parcel is not collected within the deadline, then they will then return the parcel back to us. We will then issue you an immediate notice to make further arrangement.
Questions & Answers
Do you have any questions to ask merchant about this product
Ask Seller
| | | |
| --- | --- | --- |
| 5 star | | 0 |
| 4 star | | 0 |
| 3 star | | 0 |
| 2 star | | 0 |
| 1 star | | 0 |
Share your thoughts with others
Write a review
Only buyers who purchased the product may leave a review