Item Specification
Product Description
********
Selling
********
4G LTE ANTENNA for LTE usb modem, MIFI, desktop Gateway CPE, Repeater/Booster ~

> Boosting 4G LTE broadband signal,
> Stabilising 4G LTE broadband connection,
> Improving data transfer volume,
> Enchancing 4G LTE broadband surfing experience!


***********
Foreword:
***********
Attention! Fake LTE antenna products has landed into Malaysia market!
Fake how?
Fake (1): fake dbi marking.
E.g. a small size antenna with actual 5dbi only but labelled as 25dbi by unethical dealer/manufacturer to dupe buyers (cheat tricks)!


Fake (2): no actual support LTE frequencies
E.g. an antenna which originally NO support LTE frequency 2600MHz but product label say got support!

Fake (3): is a mixing of fake dbi + fake frequency support, the most serious case!

In recent years, the integrity of wifi antenna market is being destroyed by fake dbi + poor quality cn made wifi antenna dumping to the market. Today you can even see so called got 48dbi but a toy size wifi antenna asking you only few ten ringgit... the wifi antenna market is breaking down. Now they are targeting 3G and 4G LTE antenna market...
Same tragedy is happening in power bank market, so many so-called 20000mAh / 30000mAh / 40000mAh power bank flying around...

*********************************************************************
NEW: Metteor-Link 4G LTE 2.6GHz Yagi Directional Antenna 18dbi
*********************************************************************

It is a Dedicated LTE directional antenna, boosting high gain 18dbi for LTE 2.6GHz high speed band!
NOT generic wide band antenna with low dbi (< 10dbi) and no focus on specific frequency band.
True high gain 18dbi ~ King of LTE 2.6GHz antenna now! Ashame fake 35dbi panel from other factory!
Solving 2.6GHz LTE high frequency band poor indoor signal and smaller coverage problem!
Enjoy now the fastest LTE band 2.6GHz instead of lower capacity band 1.8GHz!
Support Maxis, Celcom, Digi, U-mobile, P1 TM , Yes, Redtone, Puncak Semangat LTE service!

Premium Grade antenna quality.
Outdoor type antenna that offering superb durability. Put outdoor or indoor also can.
Solid aluminium body.
2.1 meter special fine tune cable length to meet 2.6GHz signal attentuation matter.
With rp-sma connector that compatible with modem connector converter (crc9/ts9/sma converter cable)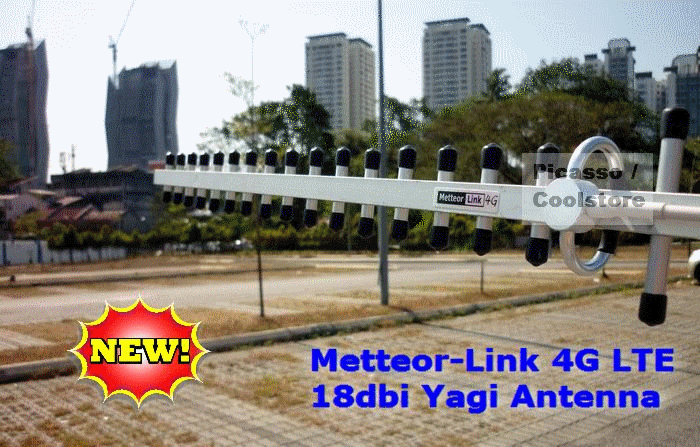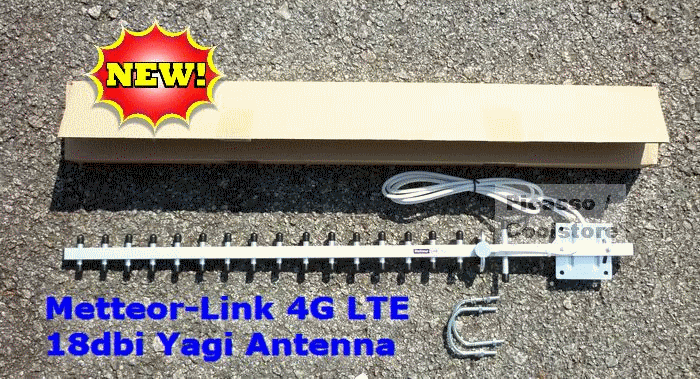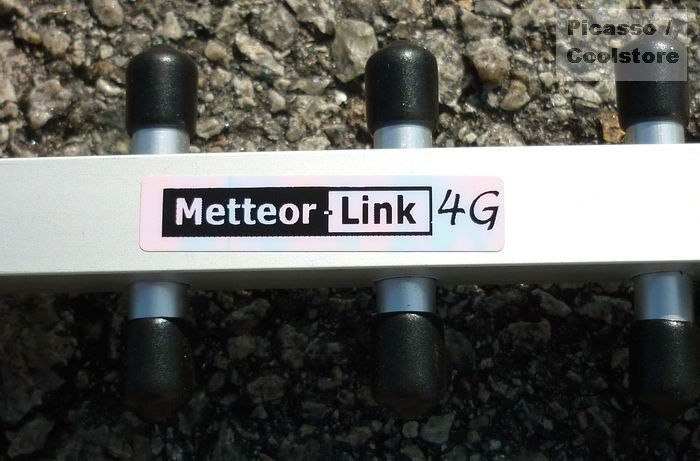 =======================================
LTE 2.6GHz (2600MHz) VS LTE 1.8GHz (1800MHz)
=======================================
Last year MCMC (SKMM) issued stern warning against telcos running 3G service at low band 900MHz instead of high speed 3G band 2100MHz. MCMC clearly indicated high frequency band brings about high capacity, speed and quality, whereas low frequency band meant for low capacity and quality. Running 3G at low band already jeorpardised Malaysia overall 3G service quality although coverage area has been improved. Telcos need to rectify this wrong-doing.

In 4G era now, there is also dual operating band locally: the common 2600MHz by all telcos and supplementary 1800MHz used by 2 telcos only. To avoid repeating the same tragedy of poor service running at low frequency band, MCMC has mandated 4G telcos to add in 1 new 2600MHz LTE base station for every 2 units of 1800MHz station in use. The 2600MHz high frequency band will deliver true lightning LTE speed and quality to end users justifying what users paying to telcos for 4G. 1800MHz is intended for handset low volume usage.

However high frequency band 2600MHz having weakness of much smaller coverage area and weaker indoor signal level compared to low frequency band such as 1800MHz. Therefore using external high gain 2600MHz LTE directional antenna to enjoy the benefits of 2600MHz LTE!

Full details about that MCMC news available at this download link:
http://ul.to/lilzq8bv or http://rg.to/file/f0d2e6d7a5009309cd6dff41...r_mcmc.rar.html


==========================
Why pick Metteor-Link antenna?
==========================
Premium grade antenna made by tier 1 antenna pro factory. Not made by 2nd or 3rd class small factory in china.
Most local dealers sourcing overseas antenna stock by online purchasing without really been to the exact factory to do site survey:
a) quality of factory: small factory or large factory?
b) do they really have wireless engineers? how many workers there?
c) do they really equipped with advanced antenna making and testing pro machinery?
d) what are their standard Quality Control process?
d) do they ever manage to get western countries orders which require stringent antenna quality?


============================================================================
Why mention Metteor-Link 4G LTE yagi antenna 43dbi at title?
Reason: To combat with fake dbi antenna!
Comparison (1): Metteor-Link LTE 2.6GHz 18dbi yagi VS Fake 16dbi to 35dbi wide band antenna
============================================================================
5 aspects analysis:

1st analysis: Relationship between antenna's size and dbi effect.
--------------------------------------------------------------------------------------------
Rule of thumb: antenna physical size always commensurate with actual dbi effect.
Means: smaller size antenna = lower dbi, larger size antenna = higher dbi.
Therefore, no such thing small size (toy style/mini size/palm size) antenna can provide 20dbi or 30dbi or more, that are shameless fake dbi marking! (please download and read common Q&A pdf for details about this)

Now comparing physical size of 18dbi LTE yagi with some fake high gain dbi 4G antenna in market.

Metteor-Link 4G LTE 2.6GHz yagi 18dbi
VS brand W so-called 35dbi antenna (model: W435) (seems big in advertising photo ya...)
VS brand W so-called 25dbi antenna (model: W425) (seems big in advertising photo ya...)
VS brand W so-called 22dbi antenna (model: W422) (seems big in advertising photo ya...)
VS brand W so-called 16dbi antenna (model: W416) (seems big in advertising photo ya...)

Now, see the clear size gap!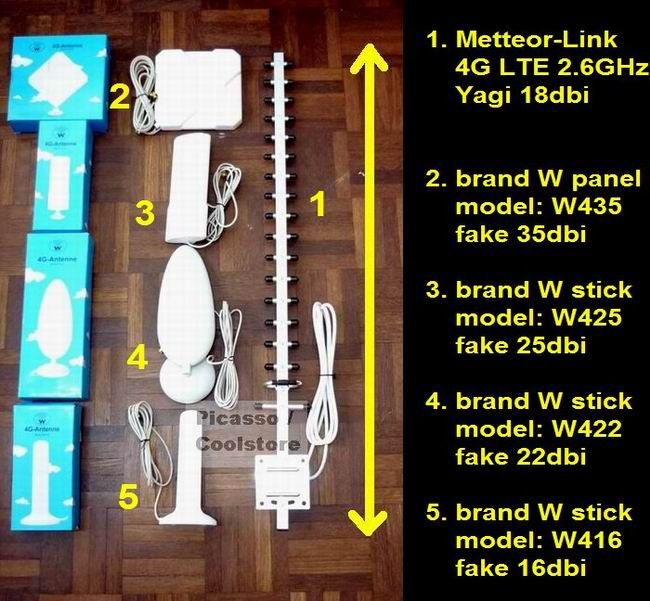 Results:
At this preliminary stage, based on the size of external plastic casing, that so-called 35dbi panel antenna should be around 10dbi only. Those so-called 16dbi, 22dbi, 25dbi stick antenna are around 5dbi to 8dbi. The size tells.

To be right, this physical test actually should be judged on the size of internal antenna core components, which means should open up the plastic casing and seeing the size of internal antenna components because the real antenna core may even much smaller than plastic casing. The plastic casing do nothing but protecting internal core only. It is the internal actual antenna core that responsible for signal transmission/receiving thing. You may get shocked if u find out the internal actual antenna components are like these size/shape only...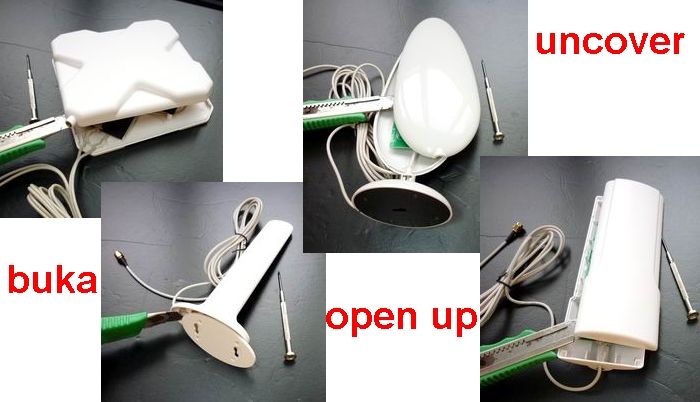 IN SHORT:
THAT SO-CALLED 35DBI PANEL = no more than 10DBI, METTEOR-LINK 4G YAGI = 18DBI, 8DBI HIGHER.
SO, IF YOU STILL BELIEVE IN THAT BRAND W ANTENNA GOT 35dbi, THEN JUST ADD 8DBI TO METTEOR-LINK YAGI TO 'MAKE IT' BECOME 43dbi ANTENNA!

2nd analysis: Relationship between wide frequencies band (MHz) and dbi.
-----------------------------------------------------------------------------------------------------
A wide band antenna supports from low xxx MHz up to high xxxx MHz would provide different dbi level at different frequency stage. E.g. 5dbi at low 800MHz and 7dbi at upper 2100MHz. It can not keep provide a same dbi level throughout all low frequency to high frequency.
So it is IMPOSSIBLE AND RIDICULOUS that claim a wide band antenna got fixed/same XX dbi for all frequencies from 700MHz to 2600MHz (fake information).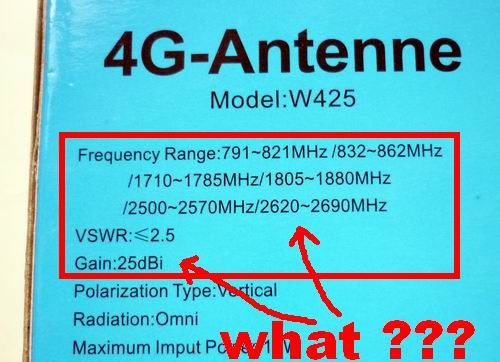 The above 2 comparisons indicates that fake dbi label and inacurrate dbi with frequency bands information are clearly dishonest antenna product/manufacturer.

3rd analysis: VSWR value.
------------------------------------
Apart from dbi analysis, VSWR value is important specification as well. Do u notice brand W antennas with VSWR value <2.5?
VSWR value: the lower the better. The ideal value is 1, but never possible in making antenna. Better antenna are always in range of <1.5, some other antenna may come with <2.0. This <2.5 is really considered under par.





4th analysis: thick and thin cables.
----------------------------------------------
Brand W antennas use thin cable RG174 (cost cutting) which causes higher signal loss per meter, whereby yagi antenna comes in RG58 thicker cable with less signal loss.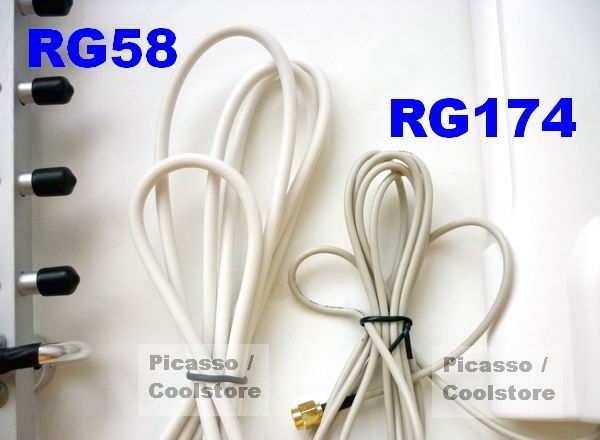 5th analysis: the mounting accessories.
-----------------------------------------------------
Brand W antenna bundled with a low quality rubber suction cap, whereby pro-antenna manufacturer would only use standard alloy/steel mounting kit. Using this kind cheap suction cap more likely an insult to their antenna industry.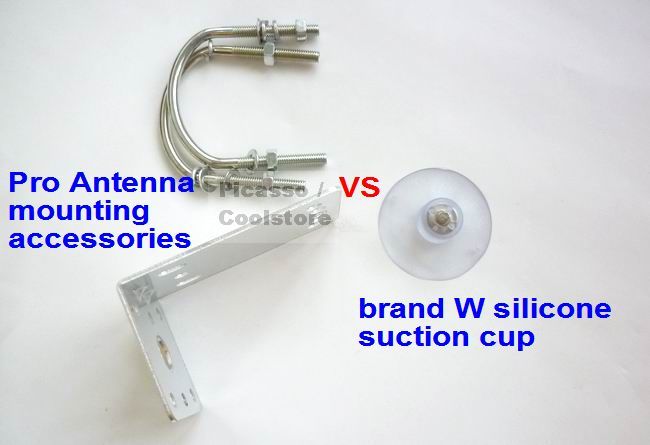 ======================================================
Comparison (2): Dedicated Antenna VS Generic Wide Band Antenna
======================================================
What are them?
Dedicated antenna are made specifically for a wireless frequency band to meet a wireless standard, say for ~2100MHz 3G, ~2400MHz WIFI, ~2600MHz LTE. They are capable of providing high gain dbi over 10dbi and more!(but antenna size will be much bigger). Also they are having better VSWR level.

Generic wide band antenna are not specific to meet any wireless standard, they support wide range from low frequency xxx MHz up to xxxx MHz, e.g. from 800-2500MHz, from 700MHz to 2700MHz. Because of covering these wide distances frequencies, they cannot offer high dbi, generally up to 10dbi limit only. And lack of strict control of VSWR level.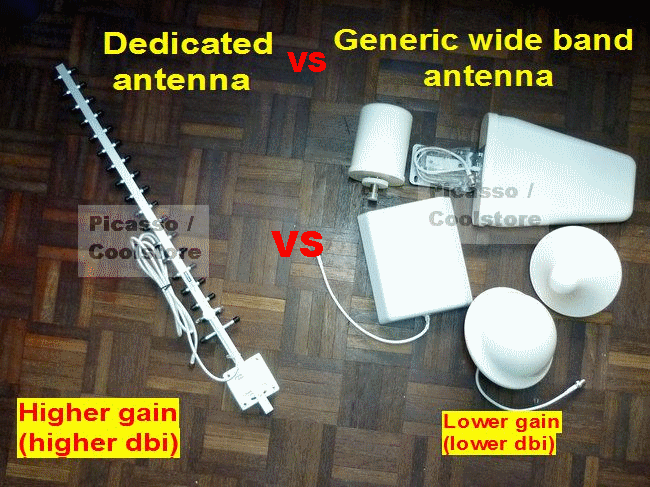 =========================================================================
Comparison (3): Metteor-Link LTE 2.6GHz yagi VS 3G 2.1GHz yagi, WiFi 2.4GHz yagi antenna
=========================================================================
Physically, different frequency yagi would have different elements design structure: the length and the gap.

So, you can see LTE 2.6GHz (2600MHz) yagi, WiFi 2.4GHz (2400MHz) yagi, 3G 2.1GHz (2100MHz) yagi are all different product because of different frequency wave pattern.

To achieve high gain effect like 18dbi, use correct frequency antenna for specific wireless standard respectively. Using wrong frequency antenna for different wireless standard will see minimal or even no gain results.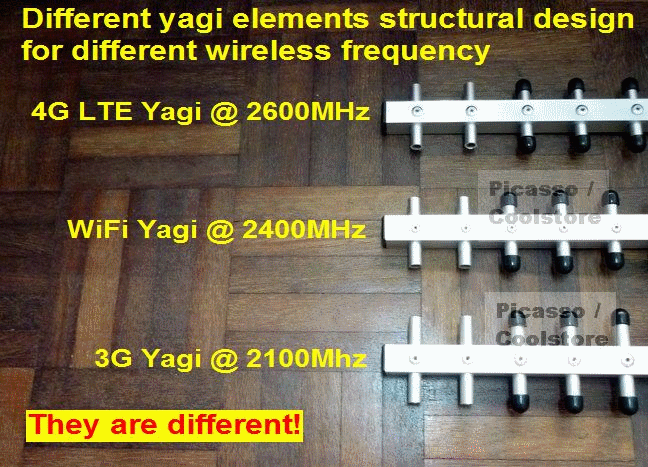 =============================================
4G LTE gadgets that work with Metteor-Link 4G antenna:
=============================================
a) Connect to USB 4G LTE modem that with ready made external antenna connector, connect via a converter cable.
E.g. Huawei E3272, E3276, E398, E392, Vodafone K5005, Sierra 320U, 330U, etc.

b) Connect to USB 4G modem that without ready made external antenna connector, connect by either soldering a pigtail cable into the internal board or using a specific converter cable.
E.g. ZTE MF820, etc.

c) Connect to portable battery powered 4G LTE MIFI with ready made external antenna connector, connect via a converter cable.
E.g. Huawei 5776, Huawei E5372, ZTE MF91D, ZTE MF93Detc.

d) Connect to portable battery powered 4G LTE MIFI without ready made external antenna connector, connect by either soldering a pigtail cable into the internal board or using a specific converter cable.

e) Connect to 4G desktop CPE gateway (all in one 4g modem + router + wifi) with ready made external antenna connector, connect via a converter.
E.g. Huawei B593.

f) Connect to 4G Repeater/Booster.


=========================================
Antenna setup : Single or Dual (MIMO) LTE antenna
=========================================
Nowadays LTE modem mostly come with dual external antenna support because adopting MIMO technology, the same advanced feature in modern wifi.

You may use only 1 4G external antenna, like this:




Or the best equip 2 4G external MIMO antenna, like this: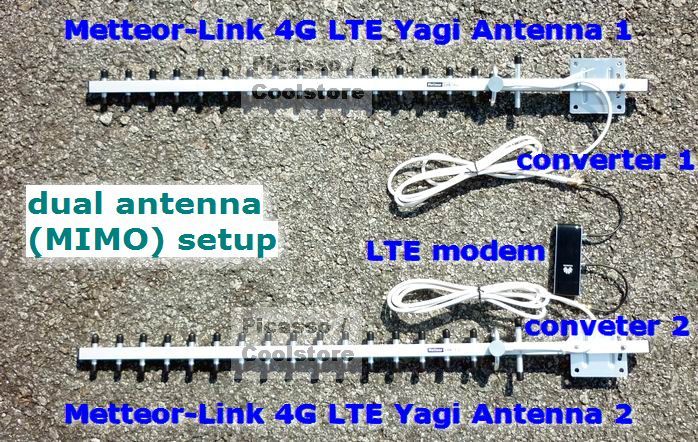 ===========================
Metteor-Link Antenna Testimonial
===========================
Purpose: To ascertain the effectiveness of external 4G antenna Metteor-Link

1) Location: KTM Commuter Station.
Time: Daytime afternnon.
Weather: shinny, no rain.
Density of Concurrent users on same base station: unknown.
Distance from base station: unknown.



2) LTE operator: Maxis 4G.
Modem: Huawei usb modem E392u-12
Antenna: Metteor-Link LTE 2.6GHz yagi antenna 18dbi



3) By using usb modem alone, it cannot even register to maxis 4G network.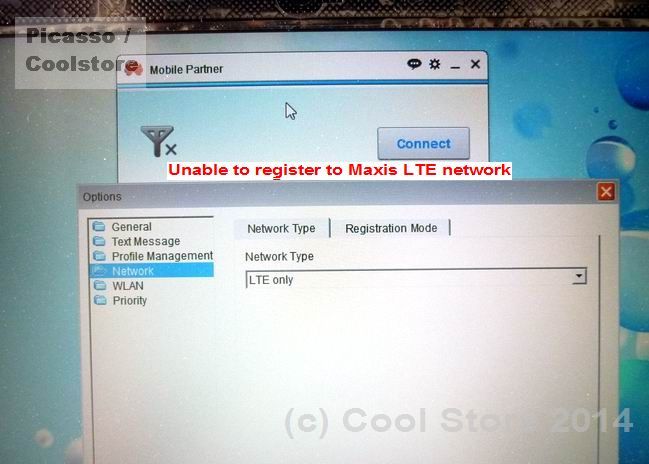 4) Unplug the modem, put in 1 Metteor-Link LTE antenna. Retry. Now it can register to Maxis 4G network! And with very good signal level.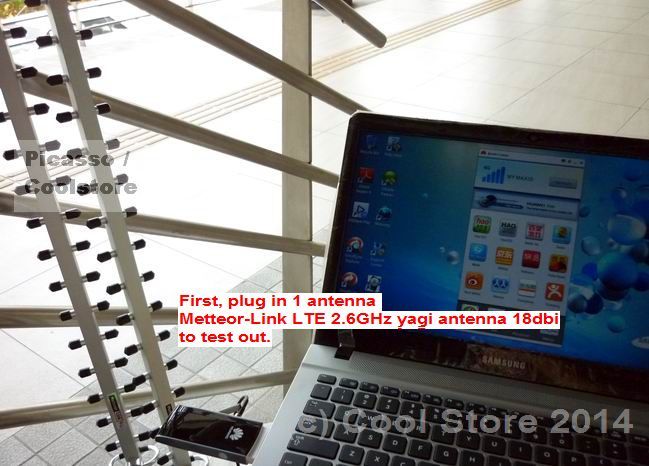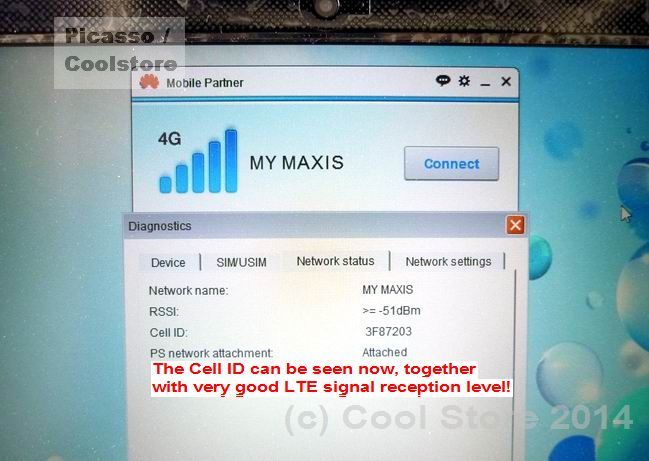 5) Next, it also can connect (dial up) to Maxis 4G network now!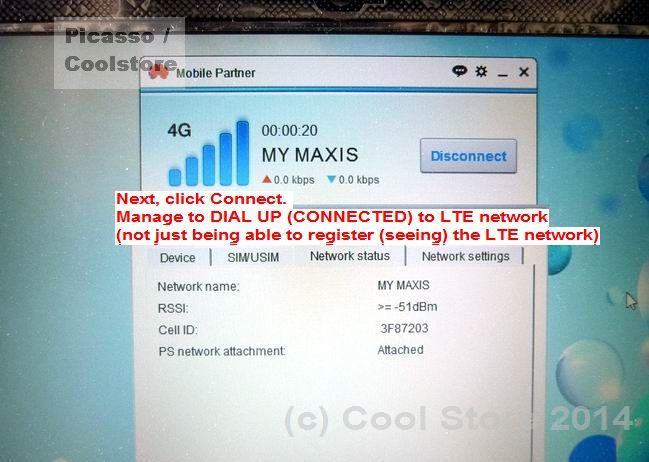 6) Did one time speed test, connection stable!



7) Now try with 2 Metteor-Link LTE antenna and did another speed test.
The results is pleasing with increased download speed and lower ping value! Thus dual antenna setup is ideal for LTE optimum performance! (MIMO mode)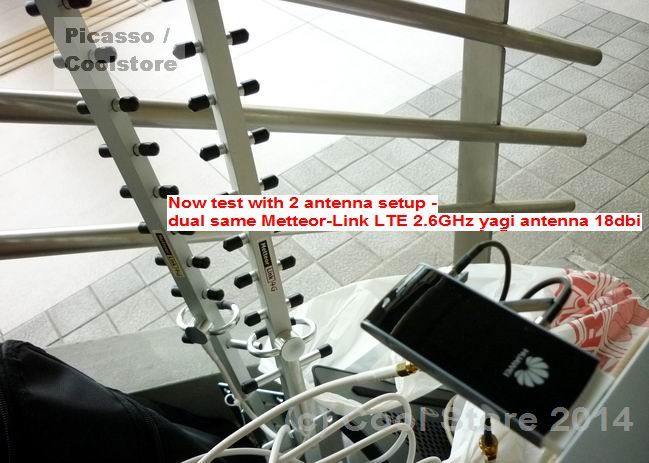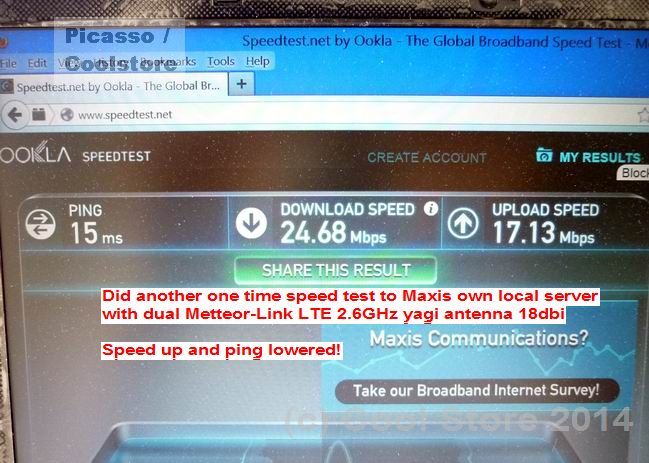 ==============================
Metteor-Link LTE Yagi Specifications:
==============================
Brand: Metteor-Link
Model No.: ML4G-DY-18
Frequency: 2500MHz~2700MHz
Gain: 18dbi
Horizontal Beamwidth: 26 degree
Vertical Beamwidth: 26 degree
Connector: RP-SMA
Cable: RG58/U 2.1 meter
Accessories: Adjustable up/down mounting kit! *** (adjustable tilt direction, so that you can point upwards/downwards easily)

cable 2.1 meter? so weird?
~~~~~~~~~~~~~~~~~~~~~~
LTE 2.6GHz is a higher frequency band which means any type of cables will render higher signal loss per meter compared to wifi 2.4GHz or 3G 2.1GHz..

So, Metteor-Link aleady fine tune and balancing between the needs for cable length and performance affect matter. Thus 2.1 meter RG58/u cable is economic and ideal length, no more hassle!
You can learn more about this in 'Common Q&A' pdf file below - section 'I want to extend cable, please advise.'
*****************
Common Q&A:
*****************
Q1) Why need external 4G LTE antenna? How does 4G LTE external antenna help?
Q2) 4G Directional antenna VS Omni-directional antenna, what are their characteristics and ideal applications respectively?
Q3) How to tell fake dbi antenna at first eye?
Q4) Why LTE 2.6GHz (2600MHz) instead of LTE 1.8GHz (1800MHz)?
Q5) 4G dedicated 2600MHz high gain antenna VS generic wide band antenna (range within xxxMHz to xxxxMHz).
Q6) How does external 4G antenna connect to 4G modem?
Q7) Why using additional converter with pigtail cable/converter, why not straight making the suitable connector to the antenna cable first?
Q8) Choosing between converter with pigtail cable or standalone 1 piece converter?
Q9) Why cannot use TV or Wifi or 3G antenna for 4G LTE or vice-versa?
Q10) I want to extend cable, please advise.
Q11) Can I use TV or Astro cable?
Q12) What alternate way I can do apart from extending cable?

The above common Q&A has been compiled into this single pdf file. Please download and read: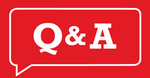 http://ul.to/6sj88rjg or
http://rg.to/file/79691510ab29e2857316b087...on_QnA.pdf.html

=============
Price & Dealing:
=============
2 SETS PACKAGE PRICE: 2 antenna + 2 converter cable = RM75 x2 + RM9 x2 . (Cheaper Price & Ideal Setup bcoz 4G LTE use 2 antenna system MIMO mode now)
1 SET PACKAGE PRICE: 1 antenna + 1 converter cable = RM80 + RM9.

Poslaju: 2 sets package: RM15 Peninsular / RM20 Sarawak / RM25 Sabah (based on poslaju volumetric weight)
1 sets pacakge: RM9 peninsular / RM13 Sarawak / RM15 Sabah.
COD available in KL at my preferred location only (free of charge).

SMS/Whatsapp: zero one six-9963861

Last Updated @ 7/7/2016 12:31:50 PM
Questions & Answers
Do you have any questions to ask merchant about this product
| | | |
| --- | --- | --- |
| 5 star | | 0 |
| 4 star | | 0 |
| 3 star | | 0 |
| 2 star | | 0 |
| 1 star | | 0 |
Share your thoughts with others
Write a review
Only buyers who purchased the product may leave a review