Item Specification
Product Description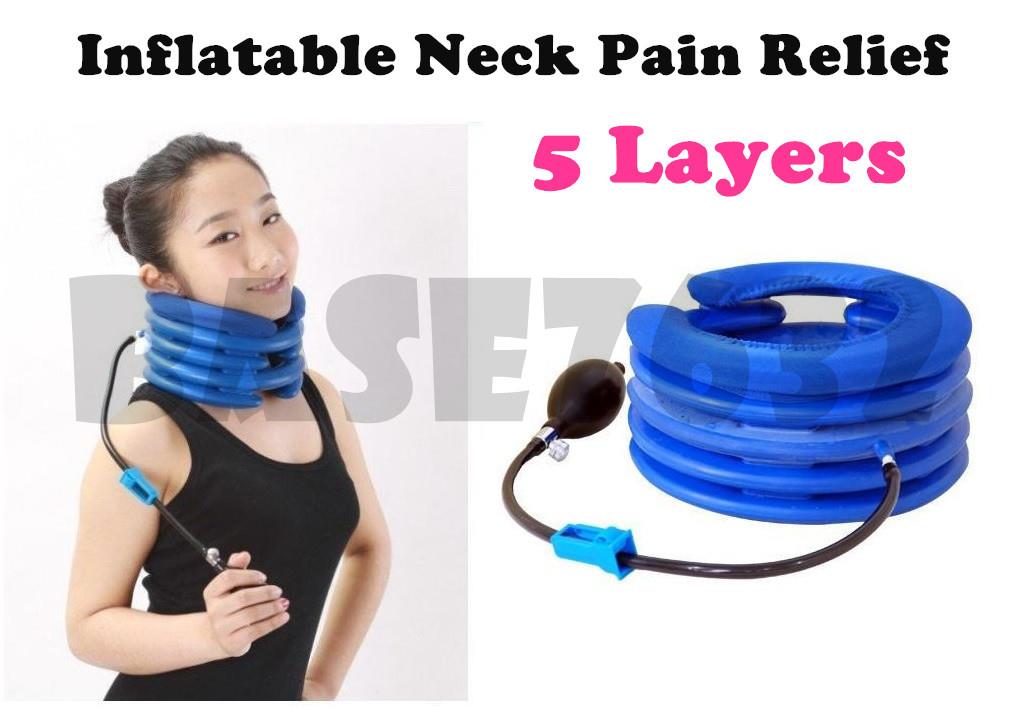 The traditional home methods of traction have been widely used for neck pain relief, muscle spasms and nerve compression by stretching soft tissues and separating joint surfaces. In order to achieve separation of joint surfaces, forces up to 50 pounds or more are commonly used in the clinical or outpatient setting. Unfortunately, traditional methods of home neck traction cannot duplicate the force necessary to achieve separation as they commonly use forces of 20 pounds or less.
The Traction devices give you new ways to apply traction to those painful neck muscles, bringing relief that you can administer yourself, and on the spot. These devices are 100% portable, which means that you can use them at home or at work, even while travelling!
Neck traction devices may improve the blood supply to neck muscles, tendons, and ligaments and promote relaxation by relieving pressure, stiffness and stress in the neck, head, and shoulders. Tight muscles can restrict blood flow causing a release of inflammatory chemicals which create further irritation, tension and pain.
Neck traction helps alleviate tension in your neck and shoulders that can restrict blood circulation and nerve flow. When nerves become pinched or irritated, you can experience headaches, neck pain and numbness or tingling down one or both arms. Nerves can be irritated by tight muscles along the neck, shoulders and upper back, herniated discs and arthritis.
Enjoy this safe relief from various neck conditions, such as tight muscles, neck pain, pinched nerves, tension headaches, osteoarthritis and degenerative conditions. Users should consult a medical professional if you have a pre-existing condition. Simply place the Traction Device comfortably around your neck. For the Air Traction Devices, use the inflation pump to slowly raise the pressure to a comfortable stretch. The traction allows the tight neck muscles to relax and relieve the pressure in the joints and nerves.
Three layers Prevent, control and diminish painful neck and shoulder aches and pains with this comfortable, inflatable neck traction therapy. This Cervical Traction is designed to maintain the natural curve and alignment of the neck. During traction therapy it gently elongates neck muscles and separates cervical vertebrae, often resulting in rapid and prolonged relief from the soreness and irritation that accompanies cervical problems. Easy to use, comfortable and non-threatening. Unit is light weight for carrying away from home, making it ideal for travel. The traction unit comes equipped with a hand-held inflator air bulb pump, for easy inflation and deflation.
Air Neck Traction surrounds the neck and cradles the head and shoulders on soft inflatable cushions made of cotton flannel. An easy to use air pump is attached to the device which allows up to 180 pounds of continuously adjustable neck traction. As the device expands, it lifts the head upward while supporting the neck and maintains an even distraction of the cervical discs.
You have total control over the amount of neck traction applied. Squeezing an inflator bulb increases the pressure, while a quick release knob gently reduces it.
How to use
1)  Put Air Neck Traction around neck, valve to the left, adjust the inflatable layers for correct shape/position and close with strap. First-time users should put it on in front of a mirror.
2)  Make sure the position of the rubber cushion is correct. Fasten the inflation inflation/deflation valve before hand-pumping.
3)  Hand-pump until you achieve the right traction angle and right amount of stretch/relief, as dictated by comfort or as prescribed by your doctor. Adjust right and left sides separately if needed. Adjustment is complete when comfort and relief of symptoms are attained. When optimal pressure is reached, close the ball valve.
4)  The device can be used 2-3 times a day for a maximum of 20-30 minutes each time (but only 1-3 minutes for major traction).
5)  After use, open the ball valve and loosen the deflation valve gradually, letting air out slowly. Do not squeeze the device.
6)  Begin gently with minor and medium traction, and only 1-2 times a day, then move on to major traction if comfortable. Generally, one cycle of treatments is 10-20 days. Use at your own convenience while watching TV, working on computers, reading, traveling, reclining or relaxing, etc.
7)  Caution: Do not: Sleep with it on, Use as a neck brace, Use with recent acute, or sprain/strain injuries. Do: Use only as prescribed by your doctor if applying to serious injury.
Package Includes
1 x 5-Layer Inflatable Neck Pain Relief Tool
Stock No: 1320.1

Last Updated @ 8/19/2016 10:38:33 AM




---
Public Holiday Notice: Sultan of Johor's Birthday (23/3/2018, Friday)
Announcement:
We will be temporarily away from 14/2 to 25/2 due to Chinese New Year Holiday, payment received within this period will be shipped on Monday 26/2, TQ.
Business days:
Monday-Friday (Excluding Public Holidays)
Shipping Method
Courier Shipping: Usually it takes 1-3 business days for delivery after shipping.
All orders come with a tracking number. As soon as the tracking number is updated on lelong, the shipping information will be sent to your lelong registered email. Please let us know if it was not received.
*Usually courier will collect the shipment anytime before 6pm and scan all parcels at night or the next morning*
***Please be noted that remote area are not subjected to the above-mentioned delivery standard***
***We will not be responsible for parcel lost in transit***
Processing Time
All orders will be shipped within 2 business days upon receiving cleared payment.
***Please be noted that days quoted on lelong listing are business days***
***Please do not purchase if you require this urgently***
***Please do not purchase if you require the order to be delivered in a specific day or at a specific time***
***Please do not purchase if you require us to modify the sender's detail***
***Please do not purchase if you require specific instruction for postman or shipping company to follow during delivery***
***Please do not purchase if you require specific courier to deliver the order, no shipping company selection is allowed***
***Buyers are responsible for checking and tracking the parcel whereabouts and in case of failed delivery because courier didn't leave notice, please inform us within 3 days of failed delivery as indicated from the web to reschedule delivery or will be deemed notice received***
***Please do not purchase unless you agree to our shipping method and processing time***
Thank you!
All Sales Final !!!!! No return, no exchange. Thank you.
Dear customer, please do not ask whether the item is available again. All item listed are available in ready stock.
Dear customer, please do not ask what is the total price again. Combine shipping is RM 2 per extra item ordered. The total will be calculated automatically and the order will be confirmed automatically too unless stated otherwise or not available. Please kindly purchase from other sources if our total price is not the best. Thank you.
FAQ:
1. Is item available ?
Answer: All item listed are available in ready stock. TQ.
2. How long does it take to deliver ?
Answer: For shipping method and processing time. Kindly refer to the "Delivery" tab in the listing for further information.TQ.
3. Where is your location?
Answer: We are online based business. Unfortunately we do not have a physical retail location for meet-up or collection. TQ.
4. Is the price negotiable?
Answer: Price is not negotiable. TQ.
5. Do you provide COD service ?
Answer: Unfortunately we do not offer COD service currently. TQ.
6. Can we order by phone?
Answer: Unfortunately we do not take phone order currently as we can't do much unless we are in front of the computer. TQ.
7. How long does it take you to respond my emails or PM?
Answer: Usually we will respond to all emails or PM within 2 business day. If you did not receive response from us within this time frame. Kindly resend another email or check spam folder/junk folder as it might go in there. TQ.
8. How is combine shipping calculated?
Answer: System will pick up the listing with the most expensive shipping fee and add additional RM2 for extra item ordered unless stated otherwise or not available.
9. Why is the shipping cost so high?
Answer: The combine shipping cost is preset at RM2 and automatically calculated by the system unless not available. Our prices have been reduced accordingly to make up from the shipping fee calculated. Please look at the total price instead of the shipping fee alone. Kindly purchase from other sources if our total price is not the best. Thank you.
All Sales Final !!!!! No return, no exchange. Thank you.
Dear Customers, please be noted that all items does not come with warranty unless stated otherwise in each specific listing. However, we do guarantee all items will work on arrival.
All items will be checked before packing to ensure its in perfect working condition.
In case the item(s) is damaged, becomes faulty or any other issue found on arrival. Please kindly report to us within 1-2 days of receiving so we could resolve the issue promptly. We will assume the items received are in good condition without any issues if it was not reported within this period.
We have reduced the price deeply from the retail price and passed the warranty risk to the buyer.
Buyers will bear all risk and cost after 1-2 days of receiving.
Please do not purchase if you do not agree to this.
Thank you.
Questions & Answers
Do you have any questions to ask merchant about this product
Ask Seller
| | | |
| --- | --- | --- |
| 5 star | | 0 |
| 4 star | | 0 |
| 3 star | | 0 |
| 2 star | | 0 |
| 1 star | | 0 |
Share your thoughts with others
Write a review
Only buyers who purchased the product may leave a review