Item Specification
Product Description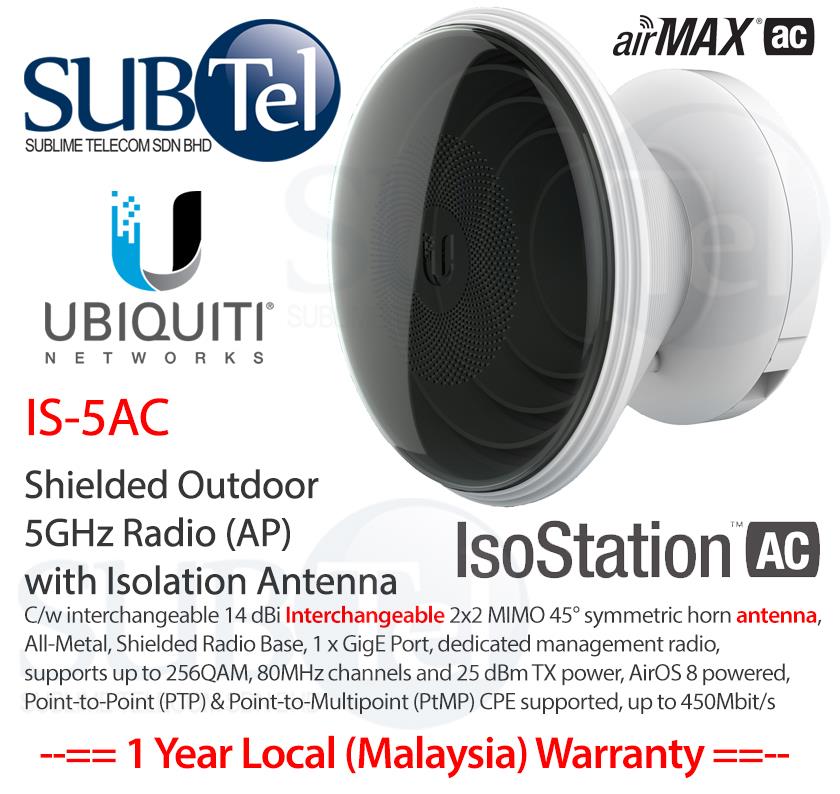 Indoor/Outdoor IsoStation AC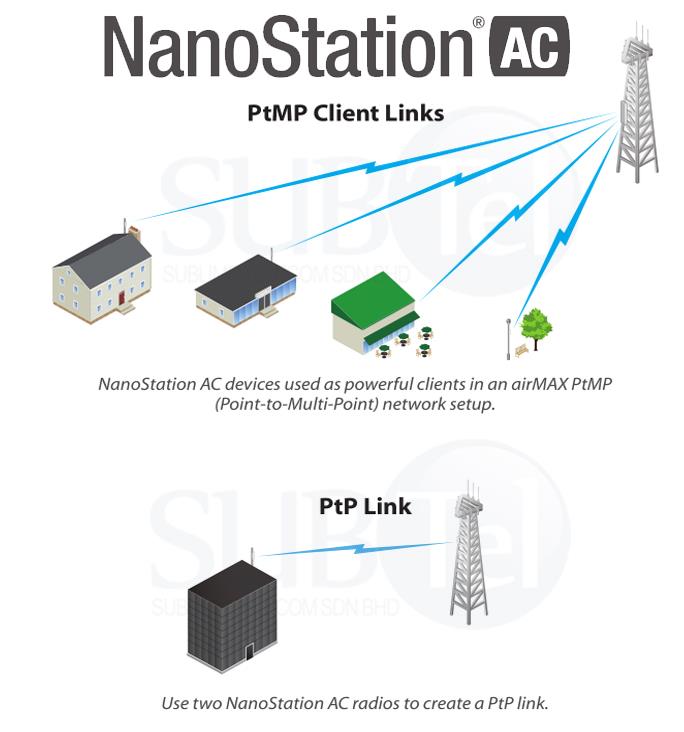 Sample Deployment Example

UBiQUiTi IsoStation AC - Shielded Outdoor Airmax AC Radio with Isolation Antenna
Update
We have this product in stock!


Main Features
 • Operates in Unlicensed 5 GHz Frequency range
 • All metal Shielded Radio base
 • Innovative Modular Design - Interchangeable High Isolation MIMO Horn Antenna
 • Built to Last Indoor and Outdoors - Weather-resistant Radio
 • 802.11ac Chipset allows operation with up-to 256 QAM modulation
 • Plug and Play Installation - Easy Mounting with included pole mount accessories
 • Ubiquiti airMax AC product - up to 3 times more performance than airMax M5
 • Medium Range Links - 6 km and above
 • High Throughput - up to 450 Mbps
 • Power over Ethernet (PoE) support - 24V Passive
 • Built in Dedicated Management Radio
 • Fully Functional Radio - no additional fees for licenses, capacity upgrades, etc.

Local Information
 • Malaysia Local Product and Warranty support by Sublime Telecom Sdn. Bhd.
 • Ubiquiti airMax Radios have been used in Malaysia since 2005 and many of them are still in service.
 • Malaysian companies using Ubiquiti solutions include TM, Maxis, Celcom, KLIA/KLIA2, RedTone, YTL and many many others.
 • Upgrade your airMax M5 units to Ubiquiti's next generation models.
 • Use it as Point-to-Point link or Point-to-Multipoint CPE.
 • This is currently one of the best products for Noisy and Crowded rooftops with Co-Location Interference Issues
 • Easily swap included 45° horn antenna to optional Ubiquiti 30° horn or 60° and90° sectors - respectively Horn-5-30, Horn-5-60 and Horn-5-90.

Product Description
Ubiquiti Networks launches the latest generation of airMAX ac CPE (Customer Premises Equipment) with dedicated Wi-Fi management, the IsoStation 5AC.The IsoStation 5AC provides high isolation solutions in fixed beamwidth increments throughinterchangeable horn antennas that have been optimized for an urban environment. The tailored antenna radiation patterns spatially filters both in-band and out-of-band spurious RF emissions to increase the noise immunity of the IsoStation 5AC. This feature is especially important in an increasingly congested RF environment.

The interchangeable antenna improves beam-shaping for specific deployment needs. By default,the IsoStation 5AC includes the symmetrical horn antenna with 45° beamwidth.

Horn antennas increase co-location performance without sacrificing gain.

Symmetrical horn antennas (30° and 45° versions) offer breakthrough scalability options for wireless systems. Unique beam performance and great co-location characteristics allow for a higher density of sectors than traditional sector technology.

Asymmetrical horn antennas (60° and 90° versions) are designed to have attenuated side lobes and extremely low back radiation. They offer best front-to-back ratio in the industry and the lowest side lobe radiation. Asymmetrical horn antennas are ideal for cluster sector installations with high co-location requirements.

A robust dish antenna, model U-OMT-Dish, offers excellent beam directivity with 27 dBi of gain. It can be paired with the IsoStation 5AC to extend radio performance for a greater number of WISP customers. Providing high throughput and an innovative form factor, the IsoStation 5AC is versatile and cost-effective to deploy.


Product Specifications
UBiQUiTi IsoStation AC IS-5AC System
Processor Specs
Atheros MIPS 74Kc
Memory
64 MB DDR2
Networking Interface
(1) 10/100/1000 Mbps Ethernet Ports
Wi-Fi for Management
Wireless Approvals
FCC, IC, CE
Physical / Electrical / Environmental
Dimensions
With Horn
Without Horn

174 x 174 x 150 mm
131 x 131 x 65 mm
Weight
With Horn
Without Horn

725.7 g
408.2 g
Power Supply
24V, 0.5A Gigabit PoE Supply (Included)
Power Method
Passive PoE (Pairs 4, 5+; 7, 8 Return)
Max. Power Consumption
8.5W
LEDs
(1) Power
Mounting
Pole-Mount (Kit Included)
Channel Sizes

10/20/30/40/50/60/80 MHz
Wind Loading
36 N @ 200 km/h
Wind Survivability
200 km/h
ESD/EMP Protection
Air: ± 24 kV, Contact: ± 24 kV
Operating Humidity
5 to 95% Noncondensing
Operating Temperature
-40 to 70° C
IS-5AC RF Specifications
TX Power Specifications
RX Power Specifications
Protocol
Modulation
Avg. TX
Tolerance
Protocol
Modulation
Sensitivity
Tolerance
airMax AC
1x BPSK (½)
25 dBm
± 2 dB
airMax AC
1x BPSK (½)
-96 dBm
± 2 dB
 
2x QPSK (½)
25 dBm
± 2 dB
 
2x QPSK (½)
-95 dBm
± 2 dB
 
2x QPSK (¾)
25 dBm
± 2 dB
 
2x QPSK (¾)
-92 dBm
± 2 dB
 
4x 16QAM (½)
25 dBm
± 2 dB
 
4x 16QAM (½)
-90 dBm
± 2 dB
 
4x 16QAM (¾)
25 dBm
± 2 dB
 
4x 16QAM (¾)
-86 dBm
± 2 dB
 
6x 64QAM (2/3)
25 dBm
± 2 dB
 
6x 64QAM (2/3)
-83 dBm
± 2 dB
 
6x 64QAM (¾)
24 dBm
± 2 dB
 
6x 64QAM (¾)
-77 dBm
± 2 dB
 
6x 64QAM (5/6)
23 dBm
± 2 dB
 
6x 64QAM (5/6)
-74 dBm
± 2 dB
 
8x 256QAM (¾)
21 dBm
± 2 dB
 
8x 256QAM (¾)
-69 dBm
± 2 dB
 
8x 256QAM (5/6)
21 dBm
± 2 dB
 
8x 256QAM (5/6)
-65 dBm
± 2 dB
IS-5AC Antenna Information - Horn-5-45
Gain
14 dBi
Beamwidth
45° (Default Horn)
Operating Frequency
5150 - 5875 MHz
Polarization
Dual Linear
Max Output Power
25 dBm
Downloads
Datasheet : Download Product Datasheet
Quick Start Guide : Download User Guide
airMax User Guide : Download PDF

Package Contents
Ubiquiti IS-5AC unit (Note: you need two units to build a link)
45° Modular Symmetric Horn Antenna
Pole Mount Kit (Metal Strap)
24V Gigabit Power over Ethernet Adapter
US or Europe power cord (Malaysia (UK) power cord is availble, please click here to order)
Compatible / Recommended Additional Items
Protect your radio with Ubiquiti Gigabit Surge Protector Gen2
Order a spare POE adapter please click here to order
Contact Us
PM on Lelong
Email: sales@sublimegroup.co
Call during Office Hours (Mon-Fri 10am-7pm, Sat 11am-3pm):
Technical / Support :

+6 010-227 0261


Stock Check / Sales :

+6 016-305 0261



After Office Hours / Bulk Order

+6 012-368 0911

(Whatsapp only, no calls please)
About Us
Sublime Telecom Sdn. Bhd. is the official authorized partner and reseller for Ubiquiti Networks Inc., Mimosa and RF-Elements in Malaysia and Singapore. We are also Master Distributor for Mikrotik Inc. in Asia Pacific.

We carry full range of Ubiquiti and MikroTik products at best prices in Malaysia.

Contact us or click Buy Now.