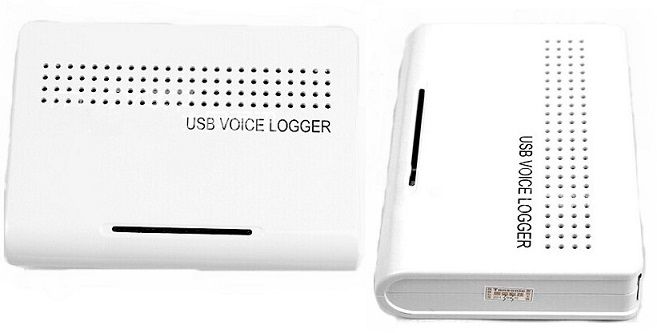 Features:
8CH, USB Telephone Phone Audio Voice Recorder, (support to monitor or record 8/ telephone line):
Auto-run function, as long as any calls received or dialed on telephone machine, this recorder box can automatically record.
IP remote checking or listening function on different computers by internet .
Shall install client monitor programme (provide in disk).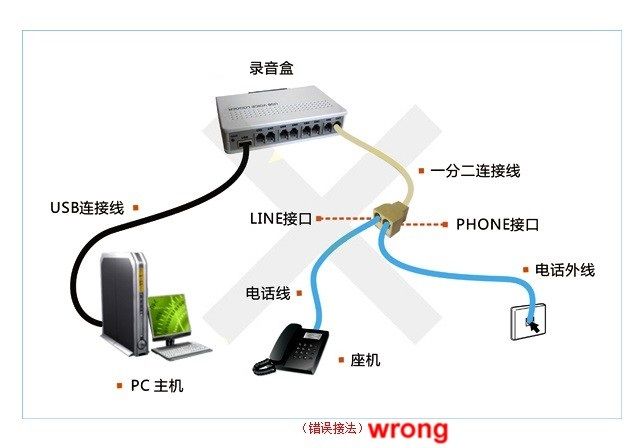 Basic Function:
Telephone Recording System can expand to more channel recording system,each USB box is 4 channel.
it can mostly connect with 4 pcs in one PC,and to be 16channels. It with the function of Caller ID,Out-going call record,Incoming call number pop,Business management, Monitor real time and so on.
It can be widely used in commercial call, electric power dispatch, hotline call, complaint call, financial and stock, traffic and transportation, and so on.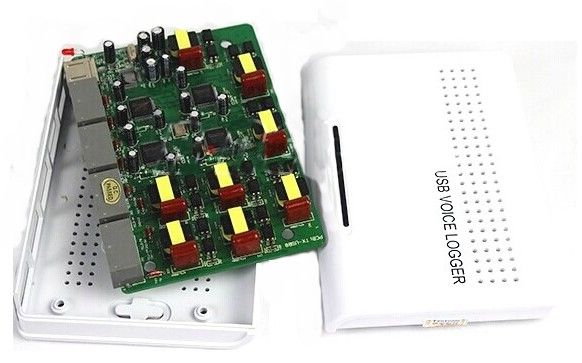 Descriptions:
APP characteristic:
1.Monitoring people service atttitude.technology level:Examining working ability of service person.
Analyzing product problem: Collecting customer's advice in order to provide with product improvement base. 
Remote monitor is ok to achieve by client programme( but need internet ), ok to visit to recorder's programme to check its recordings. 
2.Monitoring enterprise operation and checking utilization rate of call and human resource for high rank people.
Can also find action of benefit damage quickly and do some relevant measure to prevent that.
Further more,phone recording system can make people devote themselves to work and improve working efficiency.
Therefore can search new sales potential and orientation,also can provide with unexpected law proof for high rank people.
3.Helping sales know well about customer's status in time and improving rate of business conclusion so that enterprise can train sales pointedly.
4.Offering evidence directly for some special occasion,also can play these information in the player.
5.Offering effect evidence for other field
6.Connecting with Group Phone, PBX, it can do some call charge and record in the extension.
7.Popup the customer's detailed information.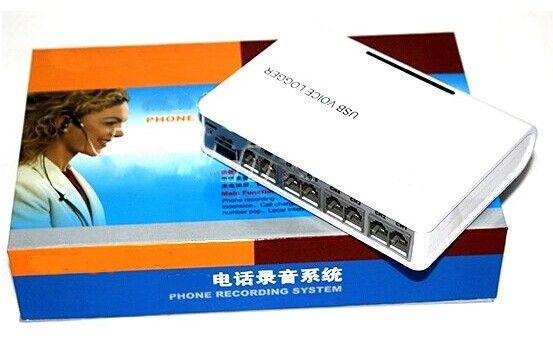 Main Function:
Software Operation system.
Supports Windows2000/NT/XP/2003/Vista/WIN7 Chinese version, English Operation system.
Unanswered Call
If your telephone line is opened the CID function , and an incoming call was unanswered,
the system would detect the CID and record it automatically.
Multi-way of starting record
The system with Voltage Control,Key Control,Sound Control and so on.
Start time of recording can be set freely-can record some duration ,or record whole a day.
Direction confirmation
Incoming call and Out-going call number automatically detected.
(If you need caller id function, your outside line must be openned caller id function.)
Real time monitoring
Can monitor the channel on conversation without any disturbance to the line.
Recording circularly Automatically
Can set 4 disk at most, which is harddisk or subarea . When the system operation disk will be fully,
system will delete the foremost file automatically.So that the system can operate.
Backup Automatically
According to the customer's need, it can back up some important information through this function automatically.
Call Management
Advanced call management function-Can list ,print and statistical all incoming and outgoing call number.
Log Management
The system has the integrity operation log,it can record all of the system operation.
Business Management
It can pop up the client's detail information of incoming call if you add the client information to your information bank..
It also can record your client's address,telephone number, business record and so on contents.
This function becomes your business helper.
Extension Record
After the recording system is connected to PBX, it will record the extension particular information
and can designate which extension in not recording status.
Long- distance Management (FTP)
It can upload the recording file to Server by FTP upload function,
so that you can listen the recording even if you go on errands.
Query and Listen the recording on the network
If you install Tansonic recording system in PC, and it can query and listen the recording file in the other PC on the Internet.
User Management
The system have multilevel user management function, different popedom use different function.
Specifications:
Channel: 4Channle, it can expand 4pcs to be 16 channel.
Compression times: 1/6/8 of compression rate.
Recording start mode: Voltage,Key,Sound control.
Consume power maximai: /<10w
Temperature: 5-40 degree
SNR: 60dB
Humidity: 5%-85%
Requency: 300-3400Hz(±3dB)
Input impedance: AC<8MΩ,DC<100KΩ
Data speed: 16 Kbps,32Kbps,64kbps/1s
Interface mode: RJ11
Distortion degree: <2%
Call number: FSK, DTMF
FSK concoct mode: Logic 0: 2200Hz±1%,Logic 1: 1200Hz±1%
Calling Monitoring: Signal sound,Voice,Polarity reversal.
DTMF code: 0~9,*,#,A,B,C,D
Voice file: WAV
Voltage control mode estimation standard 40-120V (Ringing) 18-48 (Idle) 5-17V (Hook off)
Package Contents: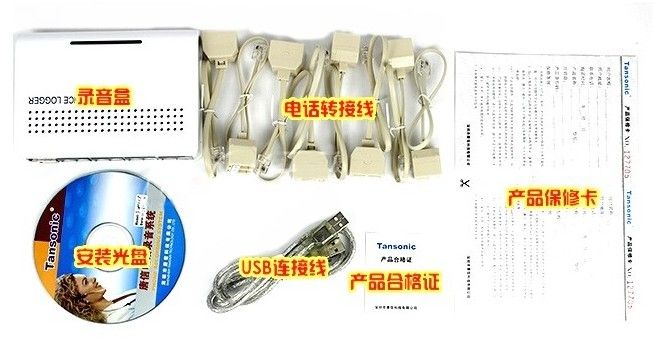 How to use ( below is recorder's programme, if you need remote monitor, a client progmame shalll be installed in different PC ):
1. When call comes, it can show the communicating telephone number as: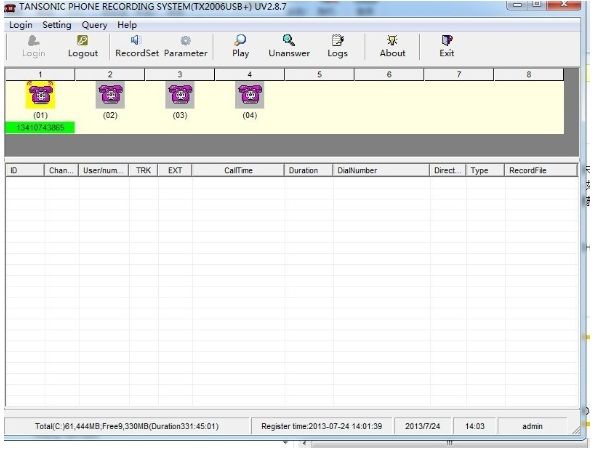 2. After finish call, it can shows too communicating telephone number: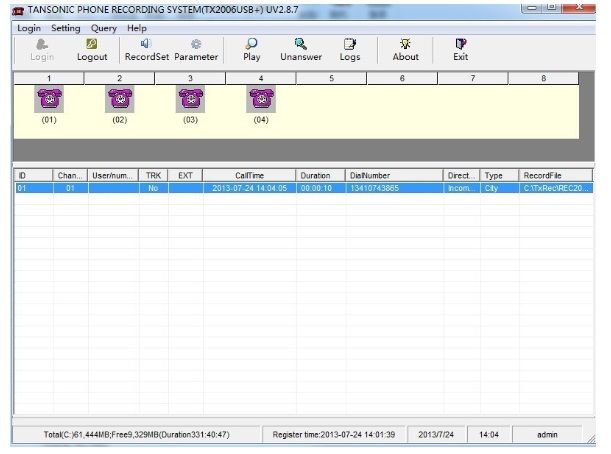 3. When you want to play the recordings, it shows too communication number: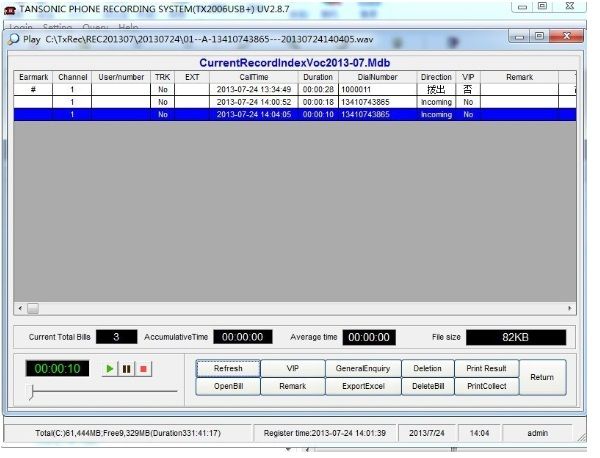 4. It is ok to be saved as WAV file onto computer :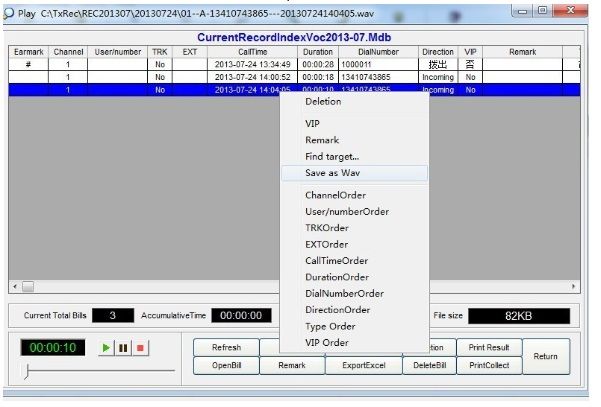 5. If we save the recording as WAV into PC, the file name will be named by channel + communication number + time ( date, hours ):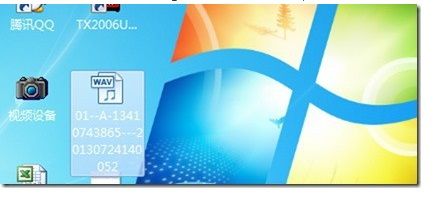 PC Requirement:
In order to make Tansonic digital Phone Recording System operation normally,We recommend PC requirement according the following :
WindowsNT,Windows2000 or Windows XP / WIN7operation system.
CPU Speed > 800MHZ Pentium
Can use PCI slot ,more than one USB connection
Memory:256M
Harddisk 80G above,(Each G channel can record about 140h,40G can record 5600h,and 80G can record 1200h in compression rate 1:4)
Audio box.
Other equipment of PC.
Appropriate Situation:
Appropriate situation normal line or trunk line,extension line, PBX line, ISDN, Group phone system.
And PBX in need of recording occasion and detail customer's information.
Connecting with Group Phone, PBX, it can do some record extension.
If need charge function,it can choose Tansonic SMDR system.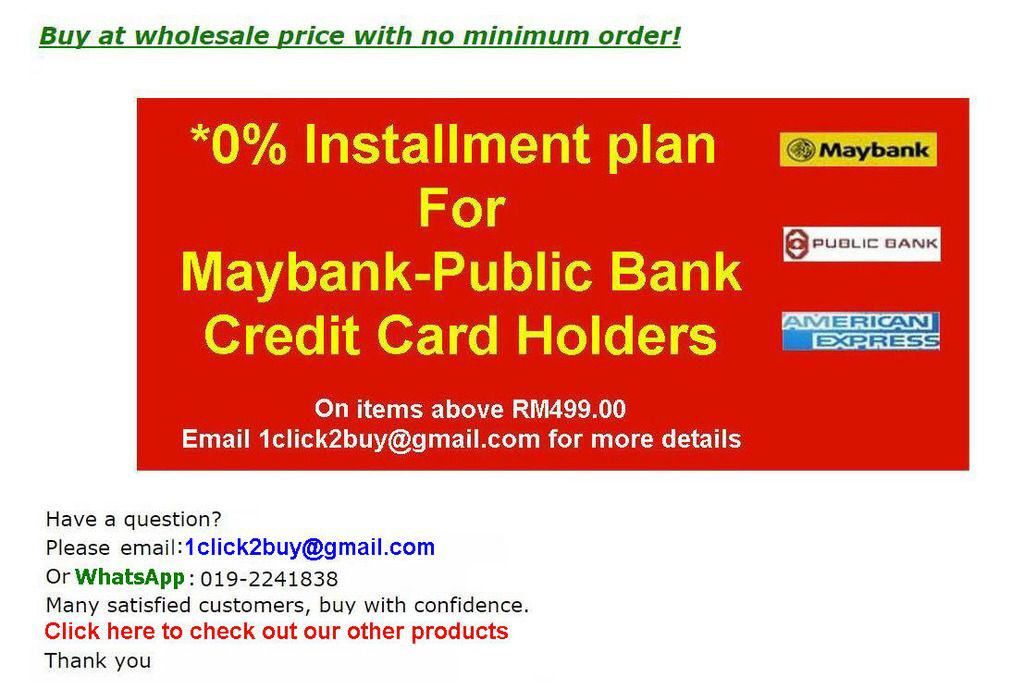 Last Updated @ 8/15/2018 12:27:48 AM