Brand New Original Garmin Nuvi 42LM GPS
(AECO Garmin Malaysia set)

LATEST MODEL REPLACE OLD 40LM



100% Original Garmin Product

25 months warranty by AECO Garmin Malaysia
FREE Black Elegant Protective Case
FREE HD Anti Scatch Japan Screen Protector
FREE Shipping
FREE 25 Months Warranty By AECO Garmin Msia
FREE Life time map update
FREE Worldwide Maps
FREE AES / Speed Camera / Traffic Camera POI over 22 POI

~Buy 1 Free 7 !!

Item offered by Registered Company Navitech Enterprise (1967633-W)


 
---
Garmin Nuvi 42LM


Dependable, Easy-to-use Guidance
With its bright 4.3" display, spoken turn-by-turn directions and many innovative features, the sleek nüvi 42LM offers dependable, easy to use driving guidance.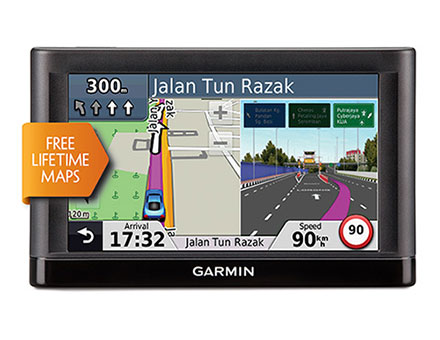 Detailed Maps with Free Lifetime Updates
Maps of Singapore/ Malaysia, plus free lifetime¹ map updates, let you easily find addresses and great numbers of points of interest.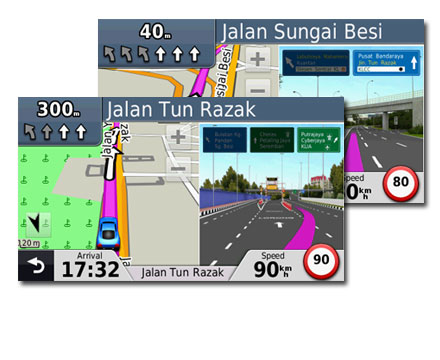 Innovative Features
Lane assist with junction view indicates the proper lane for a turn or exit with brightly colored arrows and detailed pictures. nüvi 52LM also displays speed limit and accurate arrival time.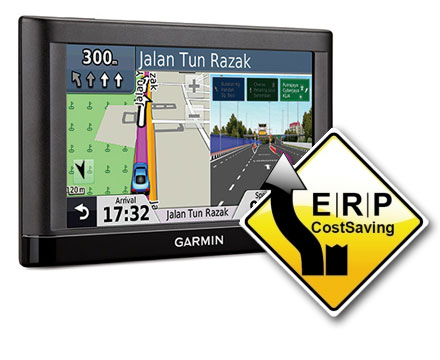 ERP Cost Saving
With the ERP cost saving helper, your nüvi will take ERP charges into routing consideration and plan more economic route for you. (Singapore ONLY)
★ 4.3" widescreen display
★ New User Interface
★ Highway Mode
★ High sensitive GPS antenna & receiver
★ 2 hours battery life
★ Junction View
★ Lane info
★ Route avoidance (avoid highways, tolls etc.):
★ Speaks street names
★ Where Am I? (find closest hospitals, police & gas stations, nearest address & intersection):


More info and spec can visit :
www.garmin.com.sg/products/ontheroad/nuvi42lm/#featureTab
---


Package Included:

1 X GARMIN NUVI GPS 42LM AECO SET
1 X Vehicle Car Charger
1 X Suction Cup
1 X Suction Cup Holder
1 X Quick Start Manual
1 X USB data cable


FREE

Black Elegant Protective Case


FREE

HD Anti Scatch Japan Screen Protector
FREE Shipping




FREE

25 Months Warranty By AECO Garmin Msia


FREE

Life time map update  


FREE

Worldwide Maps


FREE

AES / Speed Camera / Traffic Camera POI over 22 POI.

---
10 Reasons to buy from us:

★ Navitech Enterprise - Certified Premium Garmin Authorized Seller in Malaysia
★ Verified Lelong Power Seller with 100% Positive Feedbacks since 2008

★ Trustworthy seller with annual sales volume over RM500k and over 8000 happy buyers.

★ Life time maps support and updates.

★ Step by step personal guide for beginner.

★ Excellent after sales service, never evade warranty claims

★ POI, Speed camera, red-light camera, speed alert, accident area warning and much more with voice and text notification.

★ 25 months warranty by Garmin AECO Malaysia

★ 200% Genuine Garmin product.


★ FREE Worldwide Maps support (Malaysia, Singapore, Thailand, Vietnam, Indonesia, Brunei, Borneo, taiwan, Australia, New Zealand, Vietnam, Cambodia, Myanmar, Laos and many others).

★ Ready stock & LOWEST PRICE!!

★ Lighting fast turbo delivery speed upon payment clearance. (Read our feedbacks to believe ! )

---


Banking Infomation:




514280811722

NAVITECH ENTERPRISE
 
---
Optional Purchase with Purchase
(PWP RM88 only , Normal RM120):
 
1. Hold your GPS secure & firm without risk of falling down.

2. Protect your window tinted film from risk being peel off by suction cup.

3. Never will have problem of rubber aging (non sticky) like suction cup.

4. Can bend into any shape to fit your dashboard perfectly.

5. More elegant and noble look as a platform of your GPS.

6. Portable and removable anytime without leaving any sticky residues on

    your dashboard.

7. Never move even on sharp cornering. Perfect grip during driving.
---
---

How to purchase?:
1. Click BuyNow,  Poslaju courier to your doorstep. (Reach in 1 working day, Highly  recommended )

2. FREE COD collection spots (Self- Collect) FREE of charge
 
3. COD at any other location within Klang Valley ( charges applied,RM10-20 )


4. Credit card payment by Netpay is accepted too (charges 3.5% will be applied)
 
---

Contact:

navitech.enterprise@gmail.com
014 - 667 6677
**call / sms / pm / whatsapp / email

**weekend / public holiday COD available  too

Last Updated @ 2/20/2014 10:21:06 PM

Last Updated @ 2/26/2014 11:59:45 AM

Last Updated @ 9/9/2014 12:38:26 AM

Last Updated @ 12/2/2014 9:25:59 AM

Last Updated @ 1/4/2015 10:20:46 AM

Last Updated @ 3/21/2015 2:31:13 AM

Last Updated @ 3/31/2015 11:06:38 AM

Last Updated @ 4/7/2015 10:42:14 AM

Last Updated @ 11/3/2015 1:21:06 AM

Last Updated @ 11/24/2015 12:08:43 PM

Last Updated @ 12/16/2015 6:57:48 PM

Last Updated @ 3/1/2016 5:38:44 PM

Last Updated @ 3/1/2016 6:38:32 PM

Last Updated @ 3/4/2016 11:55:27 AM

Last Updated @ 3/10/2016 11:06:01 AM

Last Updated @ 3/10/2016 11:13:31 PM

Last Updated @ 3/11/2016 9:31:16 AM

Last Updated @ 3/11/2016 9:37:38 AM

Last Updated @ 3/11/2016 5:04:36 PM

Last Updated @ 4/20/2016 10:50:04 AM

Last Updated @ 4/20/2016 10:50:53 AM

Last Updated @ 4/20/2016 6:09:19 PM

Last Updated @ 10/20/2016 12:20:08 PM

Last Updated @ 11/15/2016 1:50:00 PM

Last Updated @ 11/15/2016 1:51:44 PM

Last Updated @ 11/15/2016 1:53:05 PM

Last Updated @ 6/17/2018 11:53:50 PM