Nebula Capsule II Smart Mini Projector, Palm-Size 200 ANSI Lumen 720p HD Portable Projector Pocket Cinema
With Wi-Fi, DLP, 8W Speaker, 100 Inch Picture, 3600+ Apps, Android Projector
SKU: PJ-AN200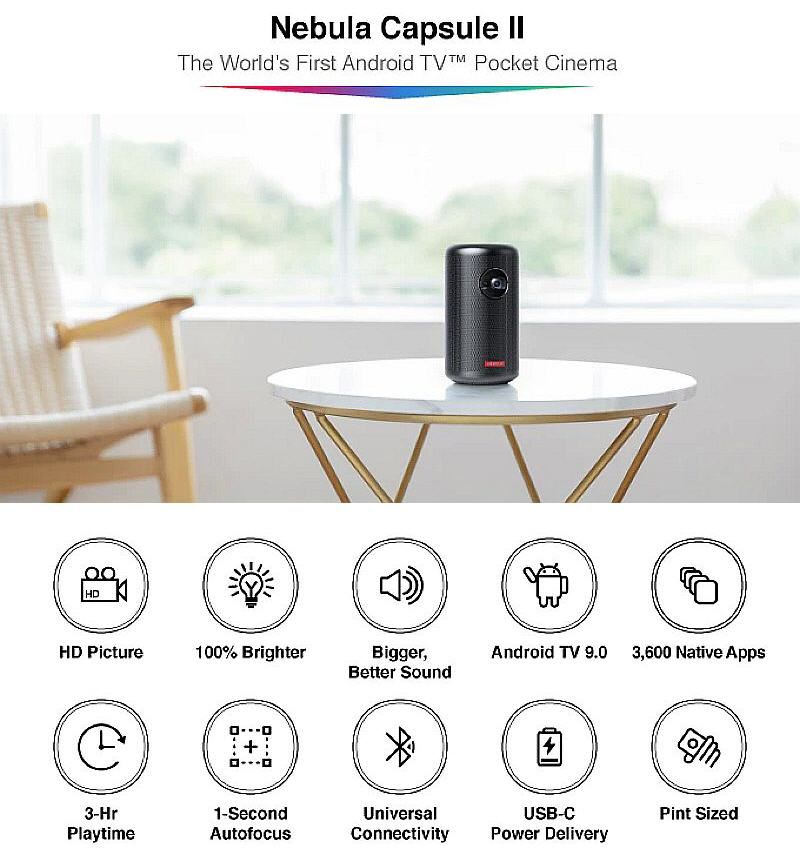 Capsule II is a portable projector that's nearly as easy to use as your smart TV.
Capsule II solves two problems that most other portable projectors have.
First, it has a decently loud 8W built in speaker, which means you have one less thing to worry about when you set up to watch a movie.
The second problem the Capsule II solves is just getting content into the projector so that it can project it.
It runs native version of Android TV. That means you can use TV apps downloaded directly from Google Play Store.
And stream video from any app that's installed in the device.
There's an included remote control, so you can use this projector like you would any smart TV.
In fact, it comes with the Google Assistant built in, so you can speak into the remote for searches.




Features:
Razor-sharp, high-definition image
720p HD Picture
Vibrant 200 ANSI lm Picture
Image up to 100" in size
Hearty 8 W Speaker
Android TV 9.0
3600+ Apps including YouTube, Hulu, Twitch, and more.
2.5-Hour Video Playtime
1-Second Autofocus
Ideal for use in low-light environments.
Radiant Viewing: Cutting-edge DLP technology
Immersive Audio: Premium Scan-Speak transducers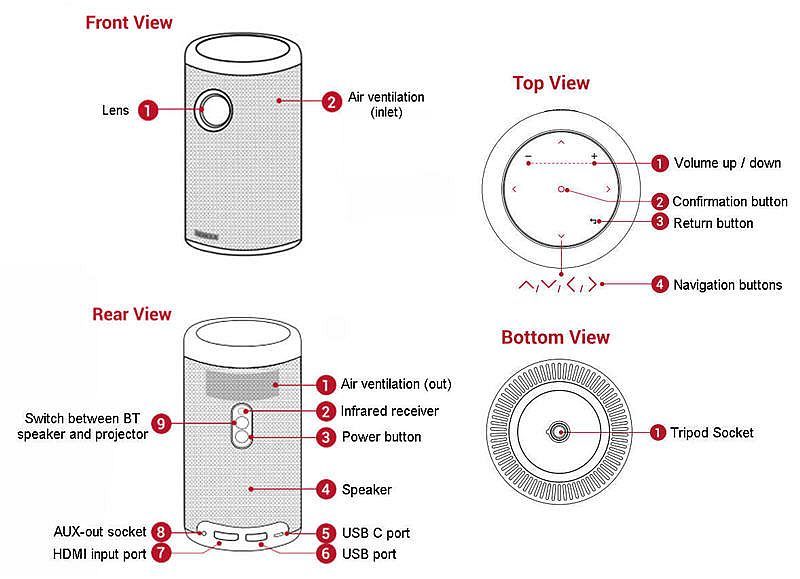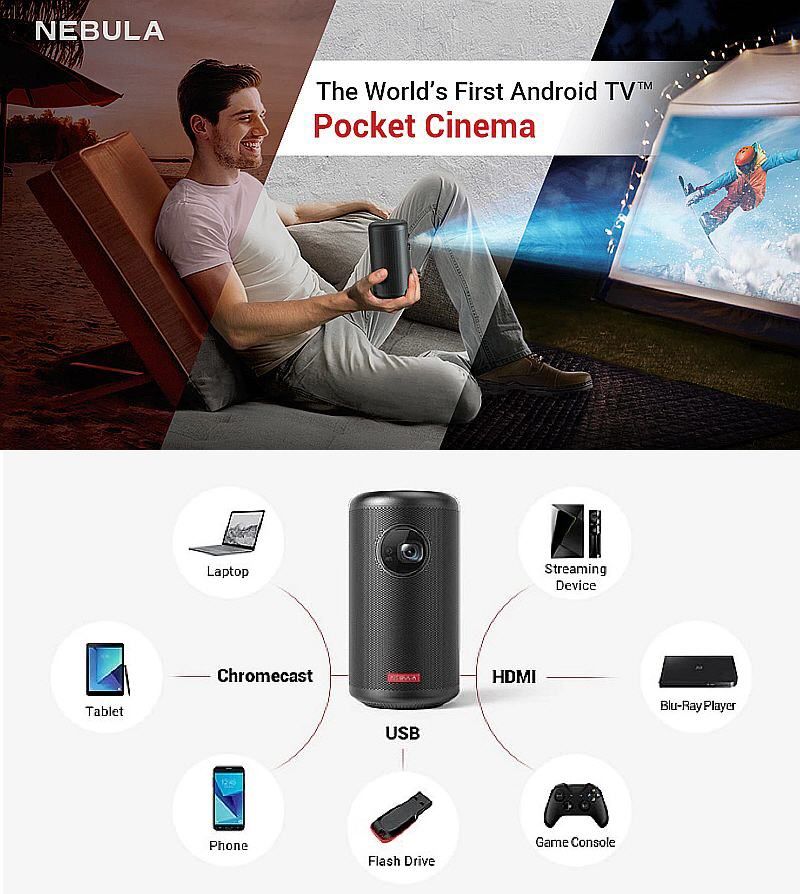 Specifications:
Display
Display Technology: 0.3-in HD DLP
Native Resolution: 1280 x 720
Brightness: 200 ANSI lumens
Lamp Life: 30,000 hours
Aspect Ratio: 16: 9
Focus Adjustment: 1-second autofocus
Projection Mode: Front / Rear / Front Ceiling / Rear Ceiling
Interface
HDMI: HDMI 1.4 up to 1080p input
Type C: PD charging
AUX: Out
USB Type A: For USB Flash Drive
Control
Physical Buttons: Power / Mode Switch (Bluetooth speaker power)
Touch Buttons: D-pad / Volume ¡À Back
IR Remote: Power / D-pad / Volume ¡À / Source Switch (Focus) / Home / Back / Google Assistant
WiFi Remote App: Nebula Connect for Android & IOS
Hardware
CPU: Quad Core A53 Chipset
GPU: Quad Core Mali 450
RAM: 2GB DDR3
ROM: 8GB eMMC
Battery: 9, 700 mAh / 3.7v
Speaker: 8W
Wi-Fi: 802.11a/b/g/n
Dual Frequency 2.4 / 5GHz
Bluetooth: BT4.0 Dual Mode / A2DP
Software
OS: Android TV 9.0
Google Assistant: Supported
Chromecast: Supported
Working Modes: Projector Mode, Bluetooth Speaker Mode
OTA: Supported
App Store: Google Play
Video Playtime: 2.5 hours
Charging Time: 2.5hrs with Power Delivery 15V-2A
Audio Decode: Dolby support
Audio Formats: Supports MP3, AAC, WMA, RM, FLAC, Ogg
Video decode: HDR10
Video and File Formats Support:
*.mkv, *.wmv, *.mpg, *.mpeg, *.dat, *.avi, *.mov, *.iso, *.mp4, *.rm and *.jpg
Size: 15 cm Height, 8 cm Diameter
Weight: 740 g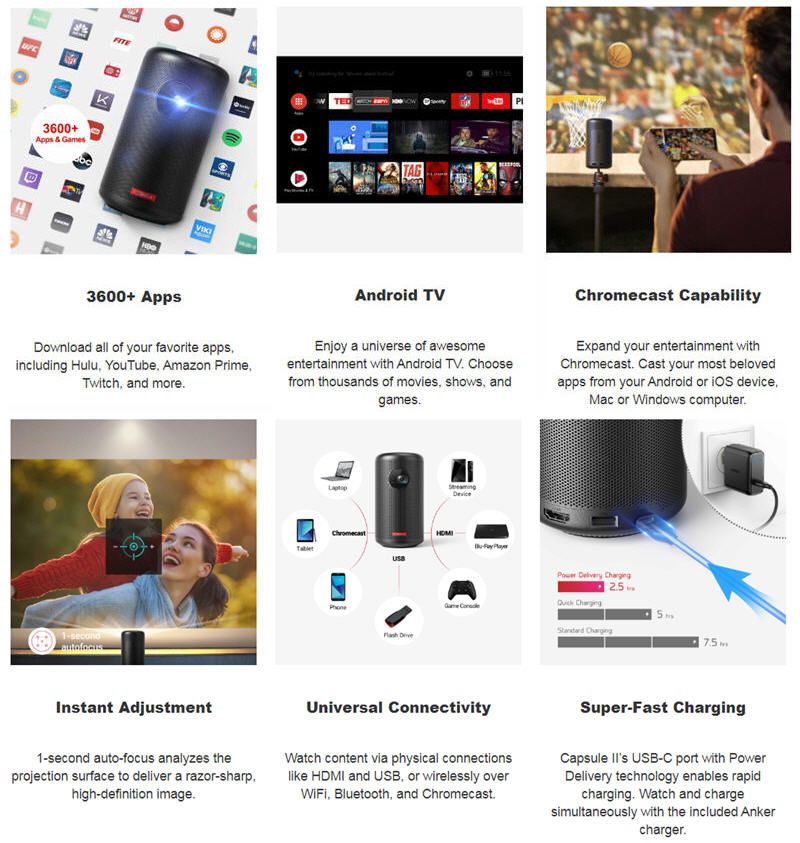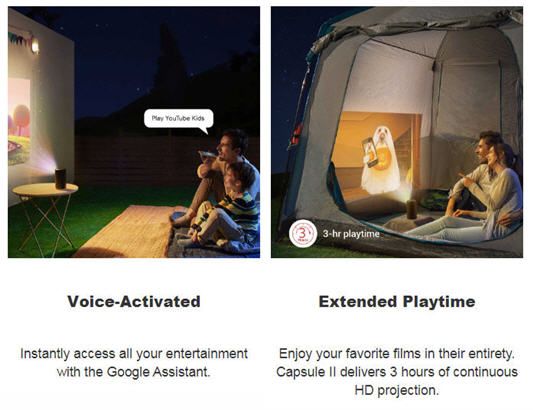 Package Content: 
1 x Nebula Capsule II
1 x PD charger
1 x Type-C cable
1 x Remote
1 x Quick start guide
Note1: Remote required to use the Google Assistant.
Note2: To use Netflix and Prime Video, please download the Nebula Manager app from Google Play.
Use the Nebula Connect app on your phone to control Netflix.
FAQ
Can I use Capsule II without a screen? For example, can I project directly onto a white dry wall?
Yes, Capsule II can project effectively onto a variety of surfaces.
Can I get Netflix on Capsule II?
We're still seeking to attain certification for Netflix TV. You can download the mobile version of Netflix from the Internet and then install it on Capsule II via a USB drive. We'll update you once we get certification for Netflix TV.
Can I sideload Android apps onto Capsule II?
There are more than 3,600 native apps on Google Play that you can download directly to Capsule II. If you want to install apps not available on Google Play, you can download them from the Internet and install them via a USB drive.
What is the size of Capsule II's projected picture?
Capsule II can project a 100cm picture in a bright environment, and a 250cm picture in a relatively dim environment.
Can I use Capsule II while it is charging?
Yes, Capsule II can be powered via 110-220V outlets.
What operating system does Capsule II use?
Capsule II uses the latest version of Android TV (9.0).
Can I also control the projector by a remote control app?
Yes, The Nebula Connect app can control Capsule II if you do not have the physical remote control.
How can I connect and mirror the content on my iOS and/or Android device?
Capsule II features built-in Chromecast. For iOS devices, you can enable the Chromecast function directly from Chromecast-compatible apps or via the Chrome browser.
Can I connect my TV box via an HDMI cable to Capsule II?
Yes, Capsule II is compatible with most TV boxes.
Can Capsule II connect to multiple devices simultaneously if I don't use the HDMI input?
Yes. You can insert a USB flash drive and mirror your phone or tablet to Capsule II.
Can I use Capsule II to project a PowerPoint presentation from my iOS device or PC?
Yes. You can project from an iOS device or PC via an HDMI cable or via Chromecast.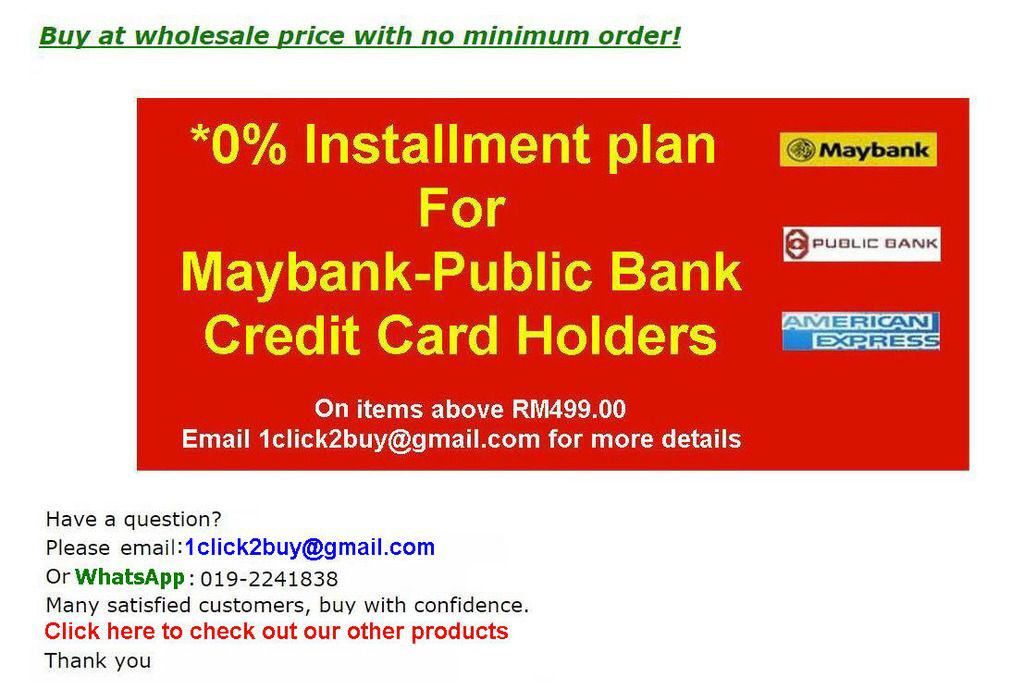 Last Updated @ 8/29/2019 2:00:11 PM