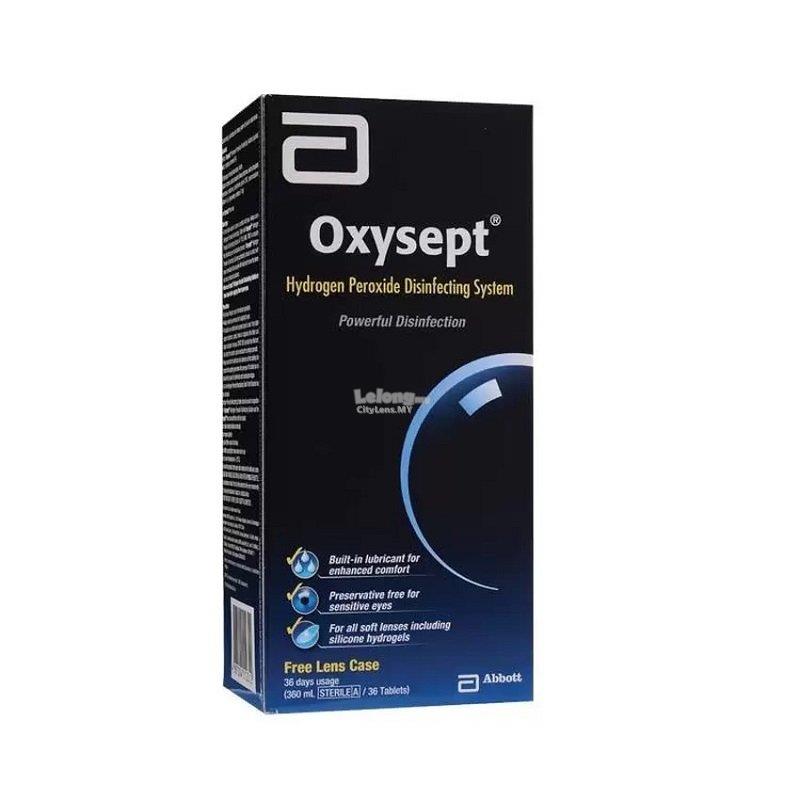 Are you sensitive to chemicals found in contact lens solutions? OXYSEPT Hydrogen Peroxide Disinfecting System contains a unique preservative-free formula that reduces eye irritation and disinfects contact lenses thoroughly. Giving contact lens wearers unsurpassed comfort. In addition, with its built-in tear lubricant, you will feel refresh and comfort all day long.
OXYSEPT Hydrogen Peroxide Disinfecting System is proven safe and reliable plus with its simple one-step peroxide-based system, it is the recommended contact lens solution for soft lens care.
Why is OXYSEPT Hydrogen Peroxide Disinfecting System considered the gold standard in lens disinfection?
OXYSEPT Hydrogen Peroxide Disinfecting System offers prolonged action to the active ingredient peroxide, ensures powerful disinfection and protection against a broad range of bacteria and microorganisms – especially the hardy Acanthamoeba. Yet it is gentle enough for contact lens users with sensitive eyes, with proper neutralization
How do I know OXYSEPT Hydrogen Peroxide Disinfecting System is suitable for me?
OXYSEPT Hydrogen Peroxide Disinfecting System is ideal for users with sensitive eyes or allergic to chemicals found in MPS solutions. For a better assessment of your eye care needs, consult your eye care practitioner.
How does OXYSEPT Hydrogen Peroxide Disinfecting System clean so effectively?
OXYSEPT Hydrogen Peroxide Disinfecting System leverages on oxygen cleaning. The peroxide breaks protein and lipid bonds on the lens surface and during the OXYSEPT Hydrogen Peroxide Disinfecting System neutralizing process, oxygen bubbles are formed allowing debris to be dislodged. OXYSEPT Hydrogen Peroxide Disinfecting System also leverages on its tablet's unique prolonged neutralizing action, which means your lens gets a longer, more thorough clean
Does OXYSEPT Hydrogen Peroxide Disinfecting System contain any harmful preservatives?
No, OXYSEPT Hydrogen Peroxide Disinfecting System is preservative-free which is perfect for sensitive eyes.
Oxysept
®

1-Step is recommended for contact lens wearers with hypersensitivity to chemicals.

• The preservative-free formula reduces irritation to the eyes and delivers reliable and powerful disinfection with the added benefit of a built-in tear lubricant for unsurpassed comfort.

• Superior disinfection efficacy for lens wearers who regularly experience heavy build-up & and deposits on their lenses.

• Contains a unique Vitamin B12 color indicator which turns pink to signal neutralization and safety.

• Patented "no-leak" lens case

• Preservative-free, for sensitive eyes

Always read the label and use only as directed. If irritation occurs consult your Eye Care Professional.

Remove contact lenses prior to showering, swimming, hot tub use and other water sports. If contact lenses must be worn when swimming, wear goggles or disinfect lenses immediately afterward.
| | |
| --- | --- |
| Direction for Use | Daily Lens Care Instructions: Always wash and dry your hands before handling lenses. Step1 a) Remove cap containing lens baskets from the lens case. b) Place the lenses in the appropriate baskets of the lens case. c) Remove one lens at a time. Step 2 a) Fill the lens case to the fill line with Oxysept Hydrogen Peroxide Disinfecting Solution. Step 3 a) Place one Hydrogen Peroxide Neutralizing Tablet into the lens case containing Oxysept Hydrogen Peroxide Disinfecting Solution. b) Immediately, replace the lens holder in the lens case and tighten the cap. Step 4 a) Gently turn the lens case upside down, then upright position 3 consecutive times to wet the upper surfaces of the lens case and the inside of the lens case. Step 5 a) Make sure tablet is in the solution before allowing the lenses to disinfect. b) To disinfect and neutralize the lenses, allow lenses to soak for a minimum of 6 hours to overnight. Hydrogen Peroxide Neutralizing Tablet contains an indicator that will cause the solution to turn pink when the tablet has dissolved. The pink color indicates only that the tablet has been added. c) The lenses may be stored in the unopened lens case for a maximum of 7 days. If they are stored for longer than 7 days, disinfect and neutralize every 7 days and again before applying the lenses to the eyes. Step 6 a) Before removing lenses from the lens case, turn the lens case upside down for 5 seconds to ensure full neutralization of all residual disinfecting solution in the lens case, then return the case to an upright position prior to opening. b) After disinfection, the lenses should be rinsed with saline solution before inserting the lenses into the eyes. c) Rinse the entire lens case assembly thoroughly with saline solution. Do not use soap or detergent. Allow airing dry. |
| Ingredients | Solution: Purified Water, Hydrogen Peroxide 3% Tablet: Sodium Chloride, Sodium Phosphate Dibasic Anhydrous, Sodium Phosphate Monobasic Anhydrous, Polyethylene Glycol 3350, Cynanocobalamin (Vitamin B12), Hypromellose, Catalase 0.1mg |
| Contra Indication | Not Available |
| Caution | Precautions: • Do not use if allergic to any of the prepared ingredients. • Always neutralize your lenses prior to applying to eyes. • The tablets are a mottled pink to grayish purple in color. If any tablet appears discolored, crushed broken or chipped or the blister card appears damaged in any way, do not use any tablet from that card. Use a tablet from another card to neutralize the hydrogen peroxide. • Always ensure that the tablet has fully dissolved and that bubbling has stopped before applying your lenses into your eyes. If the tablet has not dissolved fully, repeat the disinfection and neutralizing stages. • Do not use Hydrogen Peroxide Neutralizing tablet if the foil barrier has been damaged. • Hydrogen Peroxide Neutralizing Tablet should be used in conjunction with Oxysept hydrogen peroxide disinfecting solution and the Oxysept lens case with blue left lens basket. • Do not take tablets/solution internally. • Do not reuse solution. • Keep out of reach of children. • Keep bottle cap tightly closed when not in use. • Store at room temperature (Below 25 degree Celcius) • Do not use this product after expiry date marked on the bottle and carton. • Discard any unused solution 60 days after opening the bottle. • This substance should not be administered to the eyes concurrently with any eye medicament except on medical advice. • Do not mix with other fluid except as directed. |




---
The product/item(s) are delivered directly from CityLens Sdn.Bhd. in Johor Bahru, Malaysia
The estimate shipping time, with stock availability 2-5 business days, if pre-order 4-7 business days, otherwise stated in product prescription. We will inform customers if more time is needed.
We may cancel a Contract if the Product is not available for any reason. We will notify you if this is the case and return any payment that you have made.
You shall receive an email confirmation from us with the tracking number once we have shipped out your order.
If you have issues receiving your parcel, you may drop us an email at citylens@gmail.com or whatsapp us at 0127701660. Our team will get back to you as soon as we can.

These Terms & Conditions shall apply to all Orders and Contracts made or to be made by us for the sale and supply of Products. When you submit an Order to us, give any delivery instruction or accept delivery of the Products, this shall, in any event, constitute your unqualified acceptance of these Terms & Conditions. Any conditions that you submit propose or stipulate in whatever form and at whatever time, whether in writing, by email or orally, are expressly waived and excluded. No other terms or changes to the Terms & Conditions shall be binding unless agreed in writing signed by us.
By placing an order through the Site, you warrant that you are at least 21years old and for prescription glasses and contact lens purchases in possession of a valid eye prescription from an Optometrist or Eye Doctor.
In the event of a complaint it will help us if you can describe the matter of your complaint as accurately as possible and, where applicable, send us copies of the Order or at least the order number that we assign you in the Acknowledgement or Confirmation of Order. Should you not have received any reaction from us within three Business Days, please make further inquiries. In rare cases, your emails may be caught up in our spam filters or not reach us, or correspondence that we send to you may otherwise not have reached you.
We warrant that the Product will be delivered undamaged in the quantities ordered, and the Product will conform with the manufacturer's latest published information as set out on the Site or in our Product material at the time of your Order. Minor differences in material, colour, weight, measurements, design and other features might occur to the extent that they are reasonable. The product is intended to be used strictly in accordance with the manufacturer's latest published instructions as set out on the site or as on the product itself. It is your responsibility to ensure that you use the product strictly in accordance with those instructions. We try very hard to deliver Products in excellent condition.
We shall have no Liability for: loss of revenue; loss of actual or anticipated profits; loss of contracts; loss of the use of money; loss of anticipated savings; loss of business; loss of operation time; loss of opportunity; loss of goodwill; loss of reputation; loss of, damage to or corruption of data; any indirect or consequential loss.
We shall perform our obligations under these Terms & Conditions with reasonable skills and care. We place great value on our customer satisfaction. You may contact us at any time using the contact details given in these Terms & Conditions. We will attempt to address your concerns as soon as reasonably possible and will contact you on receipt of any relevant inquiry or complaint. In guarantee cases, the manufacturer frequently must be involved, and as such, it may take longer to resolve such an inquiry or complaint.
We reserve the right to amend these Terms & Conditions at any time. All amendments to these Terms & Conditions will be posted online. However, continued use of the Site will be deemed to constitute acceptance of the new Terms & Conditions.
It is very important for us to keep our customers happy! If you are not completely satisfied, please contact us within 3 days of receiving your order. We will handle the return/refund request on a case by case basis. Shipping and return shipping is buyer's responsibility.
You may return the product within 7 days of receiving the product if it is in good condition (no trace of use, no damage, and returned in the original package), only if we have agreed that the product is returnable. Please make sure that the item for returning is in a condition that it can be sold again and that the original package is intact.
Whilst every care is taken when sending items, occasionally post does go missing. In most cases, this is usually a case of 'delayed post' rather than missing parcels as most post eventually turns up. If you are concerned, please do not hesitate to contact us at citylens@gmail.com and we will do everything in our power to locate your item.
However, if you tell us that the Product is faulty, you agree to keep the Product in its current condition available for us (or our suppliers) to inspect within a reasonable time. In order to provide you with any remedies for a faulty Product, we may need your assistance and prompt provision of certain information regarding the Product, including, you specifying with reasonable detail the way in which it is alleged that the Product is damaged or defective, and you providing us with the delivery note number and such other information as we reasonably require. If you would like us to repair, replace or provide a refund for the Product where it did conform to the applicable Contract, and we find that the Product has:
*been misused, abused or subjected to neglect, improper or inadequate care, carelessness, damage or abnormal conditions; or,
*been involved in any accident or damage caused by an incorrect attempt at modification or repair; or
*been dealt with or used contrary to our or the manufacturer's instructions for the Product; or
deteriorated through normal wear and tear, after delivery by us, we may at our discretion decide not to repair, replace or refund you for the Product and/or we may require you to pay all reasonable carriage costs and servicing costs at our current standard fees and costs and charge this to your credit or debit card, or the payment details that you provided to us when you made your Order, and, to the extent permitted by law, we shall not be liable to you for any losses, liabilities, costs, damages, charges or expenses as a result
*the faulty lens to be returned in the original packaging including boxes, bottles, and blisters
*exchange charges to be borne by the buyer

Average Product Rating
0.0 stars out of 5
| | | |
| --- | --- | --- |
| 5 star | | 0 |
| 4 star | | 0 |
| 3 star | | 0 |
| 2 star | | 0 |
| 1 star | | 0 |
Share your thoughts with others
Write a review
Only buyers who purchased the product may leave a review