Item Specification
Product Description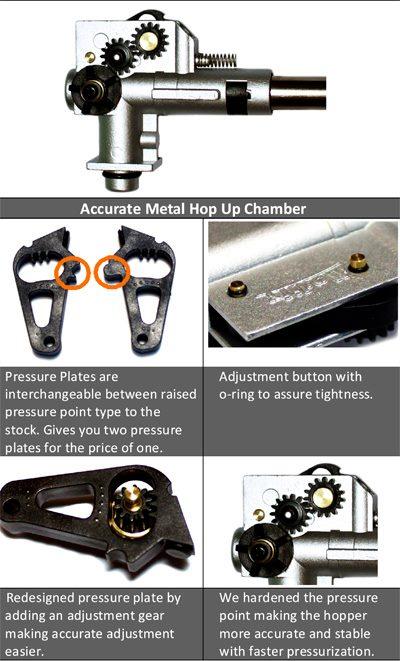 Overview 
 
- Modify recently released this brand new hop up chamber to replace the flawed M4/M16 units out there. Modify decided to take the standard design and implement their knowledge to enhance and improve many areas over the standard out dated hop up units. The hop up unit itself is a one piece casted piece of metal, the finish is EXTREMELY well done, nice, and clean. Their is a seem line down the middle of the hop up unit itself which detracts from the looks but the finish is superb and the unit itself feels very well made. The unit comes with 2, thats right, 2 hop up arms which have been redesigned with cogs and teeth for a new adjustment gearing system. The wheels and gears of the hop up unit for adjustment have embedded metal inserts and are attached to the hop up unit with o-rings which provide smooth but also sturdy adjustments, which make a drastic improvement over previous systems. 
 
Exterior Quality 
 
- Like said in the Overview the casting seems to be done extremely well and precise. The finish on the unit has a very nice texture, as well as a very clean look. It is almost shiny, but at the same time dull. The unit itself is very solid, and seems durable enough and with the little stress the hop up unit it is going to last. The plastic pieces of the unit itself are made of black plastic. Shiny with a little texture, most likely made of abs plastic. The adjustment wheel and gears as well as the adjust arm is made of black plastic as well, the metal insertions are gold and shiny. The giant adjustment WHEEL has a metal insertion in the middle where a screw is placed, this fixes the stripped screw problems found on the common plastic hop up units. Also, o rings are added under the wheel, as well as onto the other gear adjustments to keep them from moving out of place, but at the same time keeping some resistance which isn't to difficult to move. 
 
Function 
 
-The hop up unit itself functions extremely well, adjustments made to the hop up are extremely smooth but sensitive. It doesn't even take a full turn to put the hop up on maximum, so making precise hop up tuning will be difficult. The unit itself paired with a Prometheus 6.03 SS tight bore and modify bucking along with a SCS nub provided 1.5' groupings at 25 feet. FPS went up. Had no problems feed Magpul PTS Pmags, as well as MAG 190rd midcaps. 
 
Modifications 
 
- The hop up unit was placed inside a G&P Vltor MUR upper receiver, the unit itself fitted fine but only when the hop up was set to full. The charging handle spring seemed to hit the top of the adjustment arm, so hop up and to be set to full to move the arm down. The g&p mock bolt has problems with the hop up unit though, the Modify hop up unit was much thicker that previous units and would rub and get stuck against the cover. The portion where the hop up unit fits into the gearbox and allows the air nozzle to come in has a small protrusion to allow it to stabilize and center itself with the gearbox, it is a little to big so it tends to get stuck with the gearbox upon disassembly of the gun. The unit also comes with a metal ring to push the hop up unit forward a little, this is given to help with guns which have issues with feeding with the chamber. The included ring wouldn't allow g&p guns to fully assemble, since g&p uppers slide onto the lower receiver the ring causes it to protrude forward a little and so the front receiver pin can't be aligned correctly. 
 
Final Conclusions 
 
-Definitely one of the best hop up chambers for the money, I haven't held a Prometheus neo chamber yet but this is a pretty good contender. The quality and precision of the unit itself is excellent and screams out excellency. Compared to the madbull ultimate hop up unit the modify unit provided an fps increase, the unit itself also feels much more sturdy and solid and looks much better than the madbull unit. For only RM80 this hop up unit sports one of the lowest prices, but holds its spot as one of the best hop up units you can buy for the M4/M16 series. 
 
Pros 
 
-Cheap 
 
-Superb quality, precision, and finish 
 
-Metal insertions 
 
-FPS increase 
 
-2 adjustment arms 
 
-Metal ring to alleviate feeding issues 
 
-Adjustment wheel is very smooth but provides very nice resistance 
 
-Prevents hop up from adjusting itself
Buy with confidence
| | | | |
| --- | --- | --- | --- |
| Buyer | Item ID | Date | Ratings |
| my**** | 174167283 | 1/10/2018 1:50:00 PM | - |
| fl**** | 172955811 | 12/13/2017 3:40:00 PM | Very kind and friendly seller. Recommended!! |
| fl**** | 174097731 | 12/13/2017 3:39:00 PM | Great seller dealed with! Fast delivered A++ |
| fl**** | 172996004 | 12/13/2017 3:39:00 PM | Great seller dealed with! Fast delivered A++ |
| fl**** | 183032818 | 12/13/2017 3:39:00 PM | Great seller dealed with! Fast delivered A++ |
| s4**** | 194519622 | 12/11/2017 11:20:00 AM | - |
| s4**** | 173079353 | 12/11/2017 11:20:00 AM | - |
| s4**** | 173076341 | 12/11/2017 11:20:00 AM | - |
Questions & Comments


















---
Delivery :
We shall endeavor to deliver your order within 1- 3 working days (excluding weekends and public holidays) upon successful payment confirmation unless otherwise specify. You should be able to receive your order within 1-3 business days (excluding weekends and public holidays) after shipment date.
IDS Airsoft is committed to ensure that your orders are delivered to you safely and on time. Therefore only the authorized receiver shall be permitted to accept the delivery. Please make sure that the authorized receiver is present to make the authorized signature. IDS Airsoft reserve the rights not to release the delivery in the absence of the authorized receiver.
IDS Airsoft is making every effort to deliver your order within the time stated. However, due to certain unforeseen circumstances, slight delay in deliveries might occur, IDS Airsoft will not be liable for any loss caused to you by late or delayed delivery.
In the event if your package is lost by the shipping courier and your package has not been insured, we will only replace the lost products with the amount that is declared on the invoice according to your request.
Delivery Cut Off Time:
Monday to Friday: 3pm
Any payment made and acknowledged before 3pm, we will start processing your order and the same day. Otherwise will be processed on the next upcoming working day.
The following terms and conditions govern your visit, access to, and use of, this website located at https://idsairsoft.com operated by IDS Airsoft, and any of idsairsom.com's services accessible through the website. By using this IDS Airsoft or submitting an order for products or services, you indicate your acceptance of, and agreement to be bounded by, the terms and condition of IDS Airsoft.
Website Contents
The contents of site may be changed by IDS Airsoft in the future without prior notice. It is you, as a user, to occasionally return to our site and receive the latest updates of the terms and condition. Any amendments of terms and conditions will be taken in effect immediately. Your usage of IDS Airsoft following any changes will constitute agreement to such amendments. It is possible for the contents of the site to have typographical errors, inaccuracies data or omissions for the item descriptions, pricing and availability. We reserve the right to correct any errors, inaccuracies or omissions and to change or update information at any time without prior notice. We apologize for any inconvenience caused. If you are not completely satisfied with your purchase please feel free to contact us for more detail.
Order Limitation and Rights of Refusal
Due to the quick turnovers of certain items, IDS Airsoft reserves the right at anytime to amend the number of certain products that you have purchased. If that is the case, we will contact you directly and provide you with different options available at that time. We will try our best to fulfill your order request. However, in all circumstances, IDS Airsoft reserves the final decision to refuse any order.
Changes to this Terms and Conditions
IDS Airsoft reserves the right to change or modify any of the terms and conditions contained in this User Agreement, or any policy of the Site, at any time without prior notice. Any changes or modifications to this User Agreement or policy will take immediate effect upon posting of the revisions. Please review this User Agreement and any other applicable policies periodically in order to understand the terms and conditions that apply.
Return Policy
The return policy applies to any purchase made through IDS Airsoft retail website. We offer a 30 Days Return Policy for factory defective items from the date of arrival at your shipping address. A 15% handling fee of the item price would be charged for any returned item. You are responsible for the return shipping costs.
The returned item from you must meet the requirements stated below:
You are responsible for shipping charges when they are returning any of the merchandises.

Customized products are not refundable in any circumstances.

All returns, for any reason, must be packaged with instruction booklets and all other supplied accessories when it was first delivered to you.

Items are regular price items sales. Return and refund policy are not applied on discounted items.
How to Return
Before you return your items, you must contact us at impactodelsurent@gmail.com and Please include the following information when returning an item:
A copy of your original consignment slips.

A note stating the reason of the return.
Refunds
Once we receive your item(s), a refund will be processed. The way your refund is processed depends on your original payment method. Customized products are not refundable and not exchangeable in any circumstances. We have money back guarantee to make sure you receive your order. For more information about this issue, please contact us.
Changes and cancellations
You can cancel your order by sending email to us. However, order cannot be canceled while it is being prepared or once it is shipped. If you are unable to cancel item(s) and need to make a return, please review the Returns and Refunds. In any cases of cancellation, a 15% handling fee of the total item prices would be charged. Shipping cost will not be refunded if the order is shipped.
Questions & Answers
Do you have any questions to ask merchant about this product
Ask Seller
| | | |
| --- | --- | --- |
| 5 star | | 0 |
| 4 star | | 0 |
| 3 star | | 0 |
| 2 star | | 0 |
| 1 star | | 0 |
Share your thoughts with others
Write a review
Only buyers who purchased the product may leave a review