Item Specification
Product Description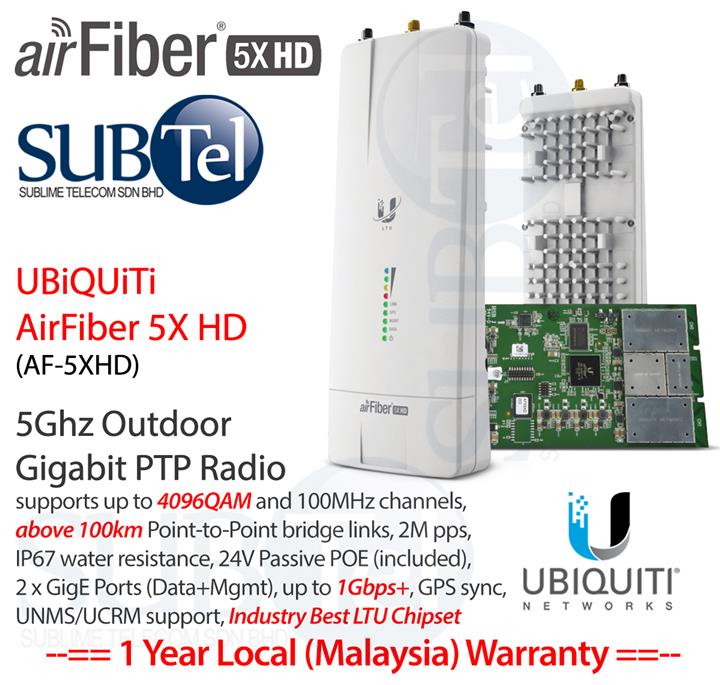 Carrier Class Outdoor PTP Radio
UBiQUiTi airFiber AF-5XHD - Point-to-Point Carrier Class Backhaul Radio
Main Features
• Operates in Unlicensed 5 GHz Frequency range
• Deployment Flexibility - Connect to External Antenna of your choice
• Built to Last Outdoors - Weather-resistant Radio - IP67
• Custom LTU Radio Chipset allows operation with up-to 4096 QAM modulation
• Easy Mounting with included pole mount accessories
• Low Latency - Below 1 ms for FDD mode
• Long Range Links -100 km and above
• Industry Best Throughput - over 1000 Mbps
• Carrier Grade Product
• Power over Ethernet (PoE) support
• Built-in GPS sync technology
• Redundant POE power - use both ports for redundant power to AirFiber
• Bluetooth - wireless configuration support
• Enhanced Surge Protection
• Fully Functional Radio - no additional fees for licenses, capacity upgrades, etc.

Local Information
• Malaysia Local Product and Warranty support by Sublime Telecom Sdn. Bhd.
• Ubiquiti airFiber Radios have a proven track record in the Market and are a great success story in Malaysia.
• Malaysian companies using Ubiquiti solutions include TM, Maxis, Celcom, KLIA/KLIA2, YTL and many others.
• Plug-and-Play upgrade from Rocket M5 / AC backhaul to airFiber 5XHD.
• Perfect solution for noisy Malaysian 5GHz radio waves.
• Upgrade from your Cambium, Infinet and Ligowave backhaul to Ubiquiti airFiber and never look back.
• New airFiber 5XHD is designed for location with existing Co-Location Interference Issues - (ask us)


Product Description
Ten years ago, Ubiquiti sparked a global Wireless ISP revolution with the introduction of NanoStation — a cost-disruptive 802.11 Wi-Fi long range outdoor plug and play radio. The NanoStation broke down technical and financial barriers for WISP's around the world, enabling nearly any operator to deploy scalable networks and grow profitable business models.

As bandwidth demands and scalability challenges increased through the years, Ubiquiti responded with performance-enhancing innovations such as the airMAX TDMA protocol, PRISM active RF filtering, and GPS synchronization — all working to extract every ounce of potential from consumer 802.11 Wi-Fi chipsets. However, we always knew that one day growing subscriber bandwidth demands combined with an increasingly crowded unlicensed RF spectrum would expose the fundamental limitations of 802.11 Wi-Fi silicon and ultimately threaten the survival of our industry.

Years ago, a core group of engineers at Ubiquiti set out to make sure this day would never come. Webegan an ambitious plan that would span millions of man hours of development and tens of millions of dollars of investment. The result was a new technology and ASIC chipset created from the ground floor up specifically for the Wireless ISP industry — a technology we believe positions our Industry to succeed in the new challenging landscape of the future. Welcome to what we call the Long Term Ubiquiti vision, or simply LTU ™ .

Ubiquiti Networks continues to disrupt the wireless broadband market with revolutionary LTU technology that breaks through the limitations of 802.11 Wi-Fi technology. Designed for use in the 5 GHz frequency band, the new airFiber AF-5XHD is Ubiquiti's first LTU radio, offering greater channel bandwidths of up to 100 MHz, and more advanced RF components.

Pair the AF-5XHD with a compatible Ubiquiti airFiber X antenna or RocketDish antenna for acomplete 5 GHz Point-to-Point (PtP) solution.

An IP67 upgrade kit is included to provide enhanced protection from dust and water.


Product Specifications
UBiQUiTi airFiber AF-5XHD
Dimensions
224 x 82 x 48 mm
Weight
0.35 kg
RF Connectors
(2) RP-SMA Weatherproof (CH0, CH1)
(1) SMA Weatherproof (GPS)
GPS Antenna
External, Magnetic Base
Power Supply
24V, 1A PoE Gigabit Adapter (Included)
Power Method
Passive Power over Ethernet
Pins 1, 2, 4, 5 (+) and Pins 7, 8, 3, 6 (-)
Mounting
airFiber X Mount (Rocket Mount Compatible)
GPS Pole Mount (Included)
Max. Power Consumption
6-12W (Varies with firmware load and operational mode)
Supported Voltage Range
+18 to +54VDC
Weatherproofing
IP67
Operating Temperature
-40 to 55° C
Certifications
CE, FCC, IC
Networking Interface
Data Port
(1) 10/100/1000 Ethernet Por
Management Port
(1) 10/100/1000 Ethernet Port
Bluetooth v4.0
System
Processor
airFiber LTU IC
Maximum Throughput
1.34 Gbps (May vary depending on the environmental conditions)
Maximum Range
100+ km (May vary depending on the environmental conditions)
Encryption
AES-256
OS
airOS LTU
Wireless Modes
Master/Slave
Radio
Operating Frequency
4.8 GHz - 6.2 GHz
(Dependent on Regulatory Region)
Max. Conducted TX Power
29 dBm
(Dependent on Regulatory Region)
Frequency Accuracy
< 2.0 ppm
Channel Bandwidth
10/20/30/40/50/60/80/100 MHz Selectable
Programmable Uplink and Downlink Duty Cycles
Downloads
Datasheet : Download Product Datasheet
Quick Start Guide : Download User Guide
airFiber Design Guide: Download PDF

Package Contents
Ubiquiti airFiber AF-5XHD unit (Note: you need two units to build a link)
External GPS antenna
GPS Antenna Mount
Universal Bracket
Metal strap & zip ties
IP67 Upgrade Kit
Gigabit Power over Ethernet Adapter
US or Europe power cord ( Malaysia (UK) power cord is available, please click here to order )
Compatible / Recommended additional items
Protect your radio with Ubiquiti Gigabit Surge Protector
SubTel 25 dBi Panel MIMO Antenna comes with Ubiquiti Bracket and RF jumpers
Choose any other 5Ghz antenna from our selection : Click to View
Contact Us
PM on Lelong
Email: sales@sublimegroup.co
Call during Office Hours (Mon-Fri 10am-7pm, Sat 11am-3pm):
Technical / Support :

+6 010-227 0261


Stock Check / Sales :

+6 016-305 0261



After Office Hours / Bulk Order

+6 012-368 0911

(Whatsapp only, no calls please)
About Us
Sublime Telecom Sdn. Bhd. is the official authorized partner and reseller for Ubiquiti Networks Inc., Mimosa and RF-Elements in Malaysia and Singapore. We are also Master Distributor for Mikrotik Inc. in Asia Pacific.

We carry full range of Ubiquiti and MikroTik products at best prices in Malaysia.

Contact us or click Buy Now.