Item Specification
Product Description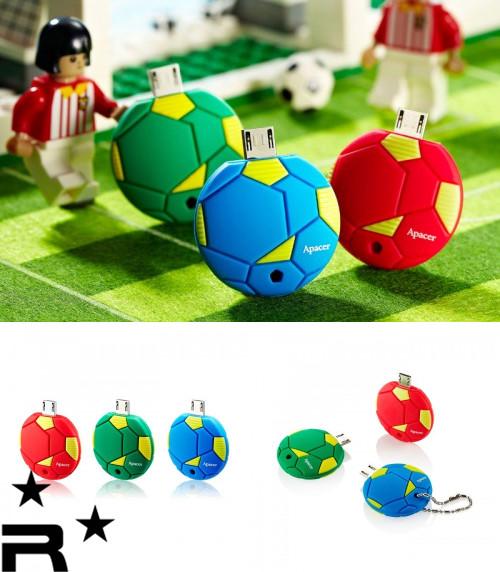 "Football" Gadget for Mobile Storage and Sharing
AH174 "Football" OTG mobile flash drives are compatible with Android mobile devices supporting USB OTG (On-The-Go) function. When hanging out with friends, the only thing you need for the storage of movies or photos from your friends' phones is an Apacer mobile flash drive instead of a laptop to transport files to your mobile devices. It is so quick and easy that AH174 "Football" is your best buying option to share files and add ultra-big storage to your mobile devices as well as fun.
Features:
Memory Expansion - Entertainment On The Go
OTG Function - Enjoy and Share with Ease
Additional USB Adapter - Compatible with USB Devices
Rapid Transmission of Files
Football theme design
Lifetime warranty
Specifications:
Capacity: 16GB
USB 2.0
Backward compatible with USB 1.0 specifications
Comes with USB adaptor
System requirments for smartphone and desktop: Windows 8, Windows 7, Vista , Windows XP, LinuxKernel 2.6.x or later, MAC OS 10.x or later Android
Voltage Requirement: DC5V±10%
Dimension: (L)33.1x(W)27x(H)11.9mm
Weight: 8g
Packages:
Comes with USB Type-A adaptor (USB connector)
Connection:
Plug the Micro USB Type-B plug of the USB OTG flash drive into the Micro USB Type-A connector on your smartphone or tablet. (For smartphones, it is usually the charging port).
Once the USB OTG flash drive is firmly connected to your smartphone or tablet, the device will be initialized. The message "Preparing USB storage, please wait" and "USB storage is ready" will appear, which indicates the USB OTG drive is fully initialized.
To check if the USB OTG flash drive is detected or workable on your device, you may go to "Setting" > "Storage" > "USB Storage"OR "File Manager" > "USB Flash Drive"
Notes:
To safely remove the USB device, please touch/press on "Unmount USB storage" option.
if you unplug the device without using the "Unmount USB storage" option, the message "USB storage unexpectedly removed" will appear and there might be risks of data loss.
For some Android smartphone without built-in file managing software, please go to Play Store and download "APACER FILEBRIDGE"
OTG Support List (Android 4.1.1 Jelly Bean System Above Required):
Brand Name

Model

Acer

Acer Iconia A1-810, Acer Iconia A1-811

Asus

Asus Nexus 7, Asus Nexus 7 2, Asus PadFone, Asus PadFone 2, Asus PadFone Infinity, Asus Fonepad, Asus The New PadFone Infinity

*An adapter (90-XB2UOKEX00010) is required to support OTG function and the device must be in its tablet form: Asus Pad Fone

*App "Nexus Media Importer" required: Asus Nexus 7, Asus Nexus 7 2

Fujitsu

Fujitsu Arrows A 201F, Fujitsu Arrows A 202F, Fujitsu Arrows A 301F, Fujitsu Arrows NX F-01F, Fujitsu Arrows NX F-06E, Fujitsu Arrows V F-04E, Fujitsu Arrows X F-02E, Fujitsu Arrows Z FJL22, Fujitsu Arrows Tab F-05E

Google

Google Nexus 7

*App "Nexus Media Importer" required

HTC

HTC Desire 500 (HTC Z4), HTC Desire 600, HTC Desire X, HTC First, HTC One X, HTC One X+, HTC J, HTC Butterfly, HTC Butterfly S, HTC One, HTC One Dual, HTC One mini, HTC Desire U, HTC One Max

*Only available in the U.S.: HTC First

*Update to Android 4.1.1: HTC One X, HTC J

Huawei

Huawei Ascend D2, Huawei Ascend P1, Huawei Ascend P6, Huawei Stream X GL07S 

InFocus

InFocus IN610, InFocus IN810

InHon

InHon Papilio G1

Lenovo

Lenovo LePhone P770, Lenovo IdeaTab A3000, Lenovo IdeaTab A1000, Lenovo IdeaTab S6000

LG

LG Nexus 5, LG Optimus G Pro, LG Optimus GJ, LG Optimus G2, LG Optimus G Pro Lite (D686), LG Optimus G Pro Lite Dual (D685)

Meizu

Meizu MX M030, Meizu MX M031, Meizu MX M032, Meizu MX II M040, Meizu MX2 M045, Meizu MX3 M055, Meizu MX3 M351, Meizu MX3 M353

Motorola

Motorola RAZR M

MSI 

MSI Enjoy 7 Plus

NEC

NEC Medias U N-02E, NEC Medias X N-04E, NEC Medias X N-06E

Oppo

Oppo Find 5, Oppo N1

Samsung

Samsung Galaxy Ace (S5830i), Samsung Galaxy Ace 2 (i8160), Samsung Galaxy Ace 3 (S7270), Samsung Galaxy S2 (i9100), Samsung Galaxy S2 Plus (i9105), Samsung Galaxy S3 (i9300), Samsung Galaxy S4 (i9500), Samsung Galaxy S4 Active (i9295), Samsung Galaxy S4 Zoom (SM-C101), Samsung Galaxy Mega 6.3 (i9200), Samsung Galaxy Nexus (i9250), Samsung Galaxy Note (N7000), Samsung Galaxy Note 2 (N7100), Samsung Galaxy Note 3 (N9000), Samsung Galaxy Note 8.0 (N5100), Samsung Galaxy R (i9103), Samsung Galaxy Tab3 7.0 (P3200), Samsung Galaxy Tab3 8.0 (T3100), Samsung Galaxy Tab3 10.1 (P5220), Samsung Galaxy Win (i8552), Samsung Galaxy Note 10.1 (N8000), Samsung Galaxy Tab 7.0 Plus (P6200), Samsung Galaxy Tab 7.7 (P6800), Samsung Galaxy Tab 8.9 (P7300), Samsung Galaxy Tab 10.1 (P7500), Samsung Galaxy Tab 2 7.0 (P3100), Samsung Galaxy Tab 2 10.1 (P5100)

*Galaxy Tab 7.7 (P6800)Galaxy Tab USB Connection Kit required: Galaxy Note 10.1 (N8000), Galaxy Tab 7.0 Plus (P6200), Galaxy Tab 7.7 Plus (P6800), Galaxy Tab 8.9 (P7300), Galaxy Tab 10.1 (P7500),  Galaxy Tab2 7.0 (P3100), Galaxy Tab2 10.1 (P5100)

Sharp

Sharp Aquos Phone EX SH-04E, Sharp Aquos Phone Serie SHL21, Sharp Aquos Phone Serie SHL22, Sharp Aquos Phone si SH-07E, Sharp Aquos Phone ss 205SH, Sharp Aquos Phone Xx 203SH, Sharp Aquos Phone Xx 206SH, Sharp Aquos Phone Zeta SH-02E, Sharp Aquos Phone Zeta SH-06E, Sharp Pantone 6 200SH, Sharp Aquos Pad SHT21

Sony

Sony Xperia acro S (LT26w), Sony Xperia A (So-04E), Sony Xperia AX (So-01E), Sony Xperia Go (ST27i), Sony Xperia ion (LT28i), Sony Xperia J (ST26i), Sony Xperia M (C1905), Sony Xperia C (C2305), Sony Xperia S (LT26i), Sony Xperia Sola (MT27i), Sony Xperia SP (C5302), Sony Xperia TX (LT29i), Sony Xperia U (ST25i), Sony Xperia UL (SOL22), Sony Xperia V (LT25i), Sony Xperia VC (LT25c), Sony Xperia VL (SOL21), Sony Xperia Z (C6602), Sony Xperia ZL (C6502), Sony Xperia ZR (C5502), Sony Xperia Z1 (Honami) (C6902), Sony Xperia Z Ultra (C6802), Sony Xperia Tablet Z (SGP312)

 * Only available in Japan: Xperia AX (So-01E), Xperia UL (SOL22),  Xperia VL (SOL21)

TCL

TCL idol X (S950), TCL Y910 (Hero N3)

Vivo

Vivo Xplay, Vivo X3

Xiami

Xiaomi MI1S, Xiaomi MI2, Xiaomi MI2A, Xiaomi MI2S, Xiaomi Hongmi‎, Xiaomi MI3

ZTE

ZTE U950, ZTE U985, ZTE V967S

 






---
Self collect
Pos Laju
Call for arrange
For outstation buyer, we will post the item after bank in
Postage will pay by buyer
RM6.00 within west malaysia, RM10.00 for east malaysia
Contact Information
Welcome to my shop ....... no.86,jln ss15/4b,subang jaya,selangor
Call or sms for more info...............................kb 016- 218 3844
Buyer may pay deposit first if request
All Item self collect at SUBANG JAYA,delivery charge RM10 within KL area
Any damages or losses during postal are bear by buyer
Questions & Answers
Do you have any questions to ask merchant about this product
Ask Seller
| | | |
| --- | --- | --- |
| 5 star | | 0 |
| 4 star | | 0 |
| 3 star | | 0 |
| 2 star | | 0 |
| 1 star | | 0 |
Share your thoughts with others
Write a review
Only buyers who purchased the product may leave a review