Special Limited Time Offer !!
HOT item.. Siapa Cepat Siapa Dapat i Phones !
READY STOCK !!! Pls Ask me COLORS available B4 Make Order
Available : Space Grey / Gold
BUY i Phone GET 10 FREE Gifts
if Gifts Out of Stock Will Replace Other item 
1 x FREE Universal Clip Lens
1 x FREE Tempered Glass HD
1 x FREE Silicon Case
1 x FREE Home Button Ring
1 x FREE Multi Sim Tools
1 x FREE iRing Bracket
1 x FREE Cable Protection
1 x FREE Mobile Bag
1 x FREE Mini MonoPod
1 x FREE Multi Stand
What's in the Sealed box ?
1 x Xs
1 x Lightning USB cable
1 x UK 3pin Adapter plug
1 x Lightning EarPods
1 x Sticker
1 x Documentation 
1 x Sim Eject Tools
Q1 : Why Buy From VBS mobile & Accessories ???
A1 : We Are A Reputation For Business ! Our Promise Selling Genuine Product.
Q2 :  Why Selling Cheaper ???
A2 : We Are The First Hand Directy Telco Oversea Import To Msia.
Q3 : This i Phones is New & Original ???
A3 : Original Product i Phones Come With New Sealed Box 
We Guarantee Original Housing & Original Parts (NO THIRD PARTY)
Product Description:
DISPLAY 5.8inch Super Retina HD OLED With True-tone
Support Upgrade Latest i OS 1 4 version AnyTime
Chipset A12 Bionic
CPU Hexa-core
Internal Memory 64G / 256G / 512G
4GB RAM
CAMERA Dual : 12.0MP
Front 7.0MP
Wi-Fi 802.1 hotspot
Bluetooth 4.2
GPS Yes, with A-GPS 
Support FingerPrint Sensor
BATTERY 2658 mAh battery
1 Year WARRANTY & SERVICE By Local Supplier Claims Send Back to Our Shop
3 Months Warranty For Touch Screen & Back Camera & Face I D 
(Man-made Damage , Broken/Crack No Cover)
3 Months Warranty For SpaceParts 
Example : Battery & Charger & Earphone & Charging Port & Vibrator & Face ID Sensor & Cameras
12 Months Warranty For MotherBoard & Firmware & Hardware 
REMINDER*** i Cloud Forget Password  , Water & Drop Damage (Even Waterproof Model) And Supply Warranty Sticker Inside Phone Void Are Not In Warranty.
 *** The Warranty Will Be REJECT , If The Warranty Sticker inside MotherBoard Damaged or Give Other Technical Repair / Modified , We Will Be Irresponsible. *** Thanks You For Your Cooperation. 
*** WARRANTY REQUEST: 
Kindly Have Any Problem of The Phone Can Just What App 0 11 3999 3214 (Alvin)
#ShopeeGurantee 100% Original Authentic
i Phone Serial Number Can Track By Website For Checking Make Sure Genuine Product  
#ShopeeMoneyBackGuarantee Within 7 days 
if FAKE or CLONE or COPY or Second , 100% Fully Refund , Received Your Full Payment. 
#FreeShipping + #Insurance #FastDelivery
100% SAFE Arrived in your House or Office , Lost Item 100% Fully Refund
We #Guarantee 100% AFTER Sales Service For GOOD Buyer & BEST!!! BEST!!! #BEST SERVICE !!
iPhone XS
Like the iPhone X, iPhone XS and iPhone XS Max feature stainless steel frames and glass bodies that support wireless charging, along with edge-to-edge displays and a TrueDepth Camera System for Face ID.
For the first time, there's a gold color option that joins the silver and space gray finishes of the iPhone X, and water resistance has been improved to IP68 to protect against spills and splashes.
Inside, the iPhone XS and iPhone XS Max are equipped with a 7-nanometer A12 Bionic chip that includes two-performance cores 15 percent faster than the A11 and four efficiency cores up to 50 percent more efficient. The four-core GPU in the A12 is up to 50 percent faster than the A11.
A faster storage controller enables up to 512GB of storage, with iPhone XS and iPhone XS Max models available in 64, 256, or 512GB capacities. A next-generation 8-core Neural Engine completes up to 5 trillion operations per second for major improvements to all apps and features that use AR and machine learning.
iPhone XS and iPhone XS Max feature the same 12-megapixel dual camera system introduced in the iPhone X, but with major upgrades. A bigger wide-angle sensor allows for sharper pictures in low light, while Smart HDR allows for photos with more detail.
A telephoto lens with 2x optical zoom continues to allow for Portrait Mode photos, which feature better bokeh, aka background blurring, and there's a Depth Control option that allows for adjustable depth of field. Larger pixels, extended dynamic range, and a 32% larger sensor also improve stabilization and low-light performance when capturing videos, and the True Tone flash has been improved.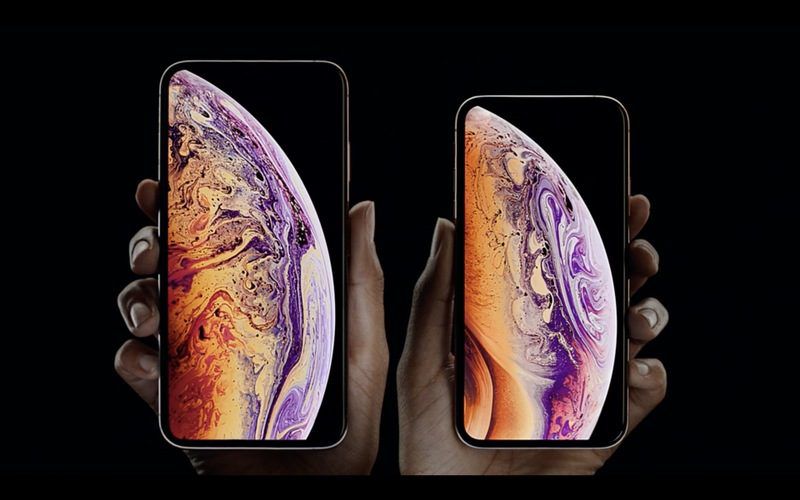 The TrueDepth Camera System continues to include a 7-megapixel lens for front-facing images, but it's been upgraded so that Face ID is faster than before.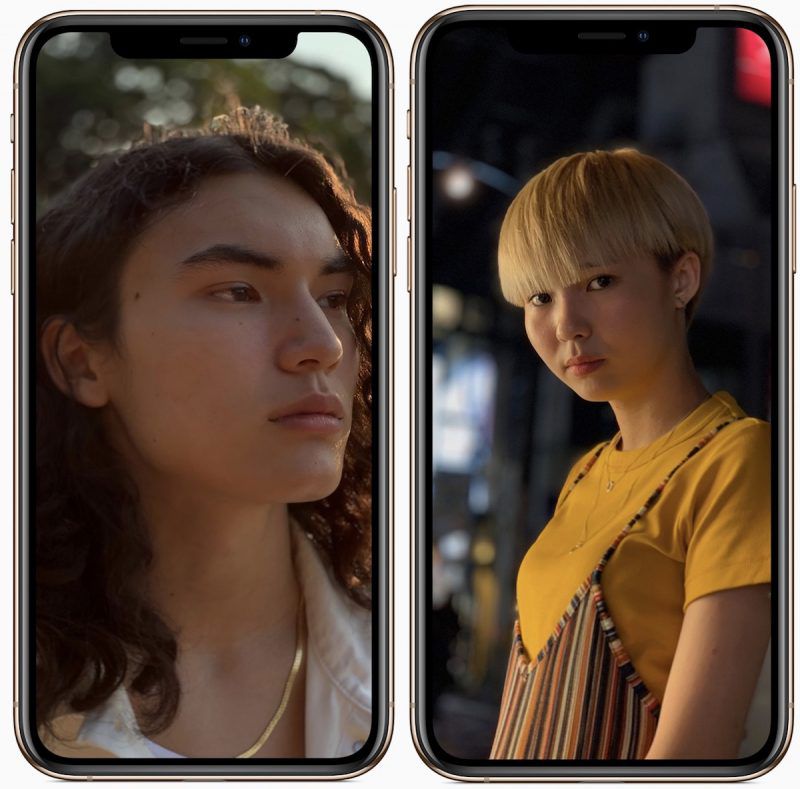 Other features include support for Gigabit-class LTE with 4x4 MIMO, Bluetooth 5.0, and Dual-SIM options with an included nano-SIM and eSIM for using two phone numbers at once. iPhone XS and iPhone XS Max support the most LTE bands ever in an iPhone.
Thanks to the A12 chip, battery life in the iPhone XS and XS Max has been improved compared to the iPhone X. The iPhone XS lasts for 30 minutes longer than iPhone X, while the iPhone XS Max lasts for an hour and a half longer.
Pricing for the iPhone XS starts at $999 for the 64GB model, while pricing for the iPhone XS Max starts at $1,099. iPhone XS and iPhone XS Max became available for pre-order on Friday, September 14 at 12:01 a.m. Pacific Time and launched on September 21.
Pricing and Availability
The iPhone XS was priced starting at $999 for 64GB of storage, with 256 and 512GB of storage available for $1,149 or $1,349, respectively.
The iPhone XS Max was priced starting at $1,099 for 64GB of storage, with 256GB of storage available for $1,249 and 512GB of storage available for $1,449.
Apple stores are selling remaining stock at a $100 discount until supplies run out as the two iPhones have now been discontinued. As of January 2020, iPhone XS and XS Max devices are also available from Apple's refurbished store.
Issues
When Apple launches a new iPhone, there are often issues that users encounter in the first days with the device. The iPhone XS and XS Max are no exception, and there have been complaints about several problems.
SKIN-SMOOTHING SELFIE CAMERA
Selfies and photos captured with the iPhone XS were noticeably different from photos captured with earlier iPhone models, which led some to speculate that Apple has implemented a "beauty mode" that's designed to make skin look better.
Apple addressed the complaints about the aggressive skin-smoothing effect on the iPhone XS and the iPhone XR in the iOS 12.1 update. Following the update, the Smart HDR feature in these devices picks a sharper base frame to work with, preserving more detail when photos are merged together to improve highlights and shadows.
CHARGING PROBLEMS
Some iPhone XS and iPhone XS Max owners have noticed that the two devices can fail to start charging when a Lightning cable is plugged in while the screen is off.
In these situations, the iPhones refuse to charge until the screen is tapped or activated via the side button. This can cause issues if the iPhone is plugged in when it is off. Apple fixed this issue in the iOS 12.0.1 update.
LTE AND WI-FI PROBLEMS
iPhone XS and XS Max owners have noticed issues with LTE connectivity, with many MacRumors readers complaining of connection issues and slower LTE speeds.
It's not clear what's going on with the LTE speeds, but issues could be caused by early firmware and a software update may resolve the problem. Apple in iOS 12.1 introduced unspecified improvements to LTE in the iPhone XS and XS Max to bolster connectivity and address these complaints.
There was also an issue where iPhone XS and iPhone XS models were preferring to connect to 2.4GHz Wi-Fi networks instead of 5GHz Wi-Fi networks. Apple fixed the bug in iOS 12.0.1 and users should see faster, more reliable Wi-Fi connection speeds following the update.
Design
Design wise, the 5.8-inch iPhone XS is essentially identical to the previous-generation iPhone X, and the 6.5-inch iPhone XS Max, Apple's largest display in an iPhone ever, features the same design but in a bigger package. The iPhone XS and XS Max both have OLED displays that stretch from edge to edge and top to bottom with minimal bezels for an all-screen design.
There's a slim bezel that wraps around the side of each device and a notch on the front that houses the TrueDepth camera system, speakers, and sensors, but otherwise, all you see when you look at the iPhone XS and iPhone XS Max is the display.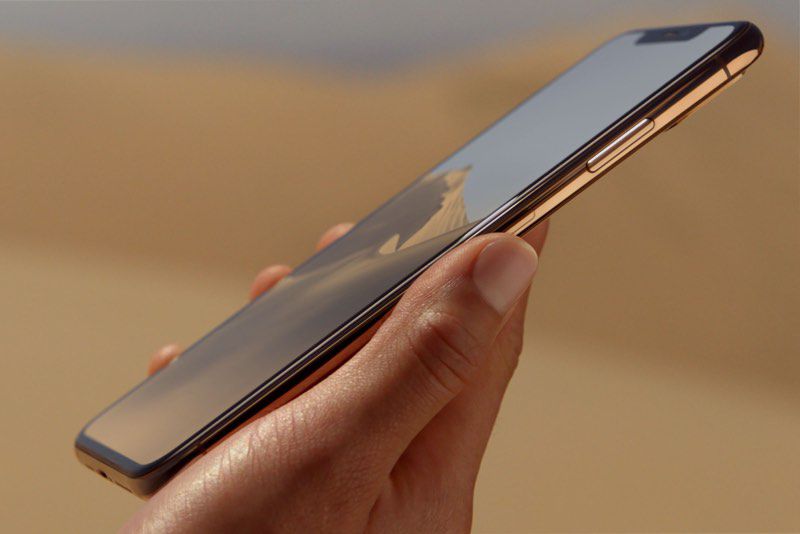 The rounded corners of the iPhone XS's display flow into a body made from glass that's encased with a highly polished steel frame that comes in Silver, Space Gray, or Gold. As with the iPhone X, Apple used a seven-layer ink process for the iPhone XS and XS Max, resulting in an almost pearlescent finish for the devices.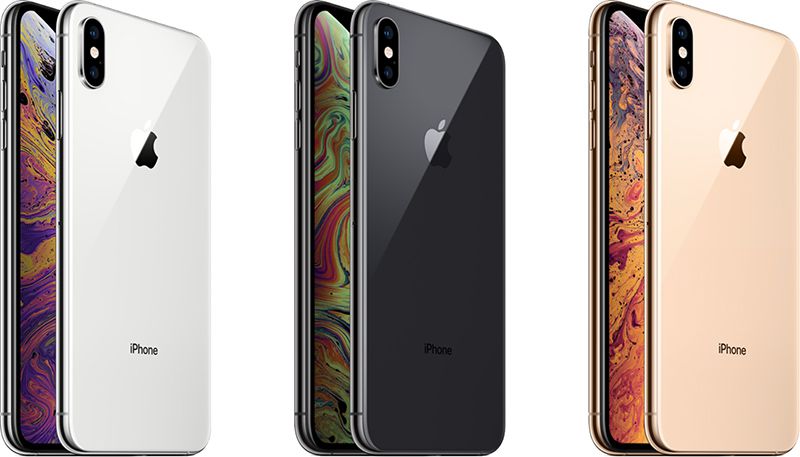 The steel frame of the new iPhones is made from an Apple-designed alloy that matches the body color, with nearly invisible antenna bands on the top and bottom of the device. At the edges of the display where it folds into the rounded corners of the frame, Apple uses folded circuit stacking technology along with subpixel anti-aliasing for super smooth, distortion-free edges.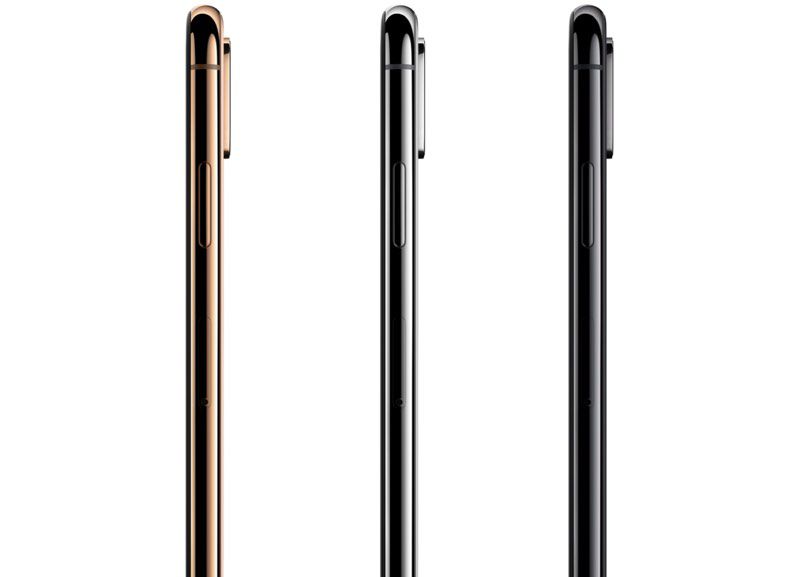 As with the iPhone XS, there is no bottom bezel, no Home button, and no Touch ID fingerprint sensor. The iPhone XS is the same exact size as the iPhone X, while the iPhone XS Max is a bit smaller than the iPhone 8 Plus but with a much larger display.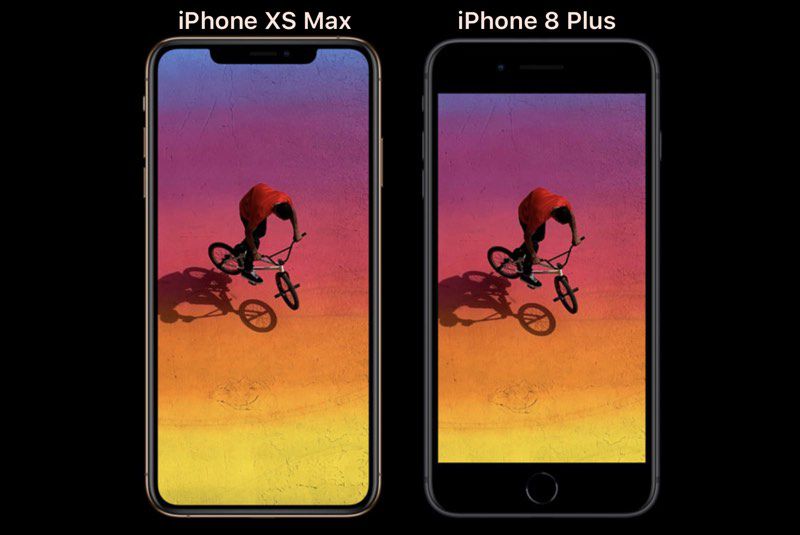 On the left side of the new iPhone XS models, there's a mute switch and two volume buttons, while the right side features an elongated side button. At the back, there's a dual-lens rear camera arranged in a vertical orientation.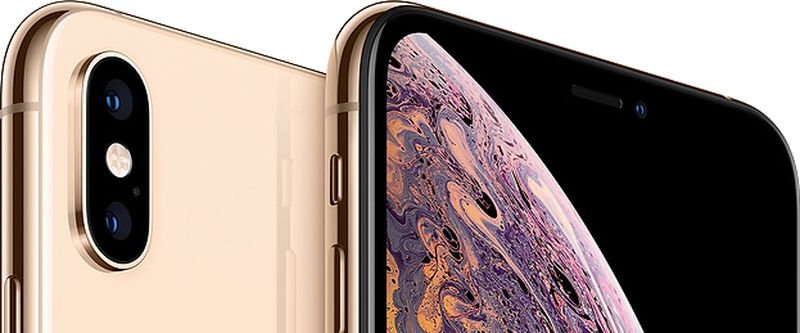 The camera protrudes slightly from the body of the smartphones, and between the two lenses, there's a quad-LED flash and a microphone. At the bottom of each device, there's a traditional Lightning port for charging purposes along with speaker holes located on either side of it. Apple has introduced stereo recording and wider stereo playback in the iPhone XS and XS Max for improved video playback and better sound in the videos you capture.
The iPhone XS measures in at 143.6mm tall by 70.9mm wide, and it is 7.7mm thick. It is slightly heavier than the iPhone X at 177 grams.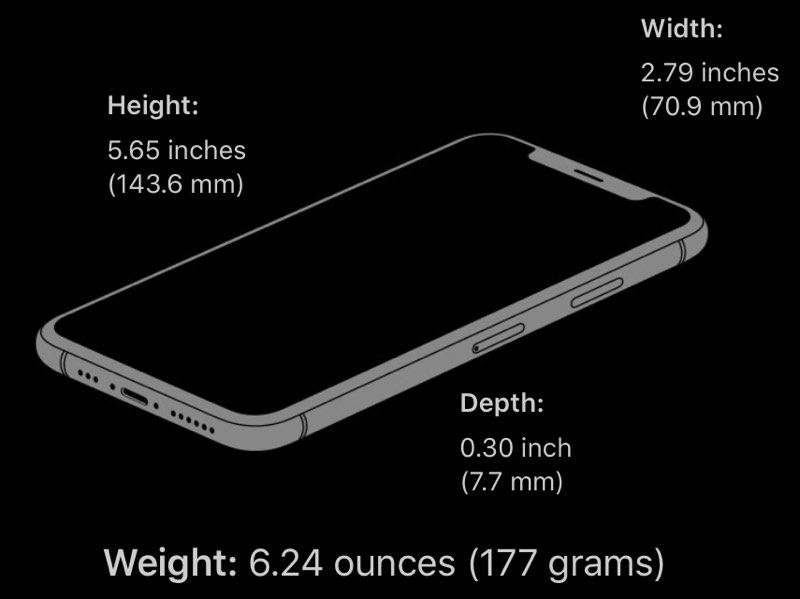 Apple's new 6.5-inch iPhone XS Max measures in at 157.5mm tall by 77.4mm wide, and it is 7.7mm thick. It weighs 208 grams, which means it's not too much heavier than the iPhone XS.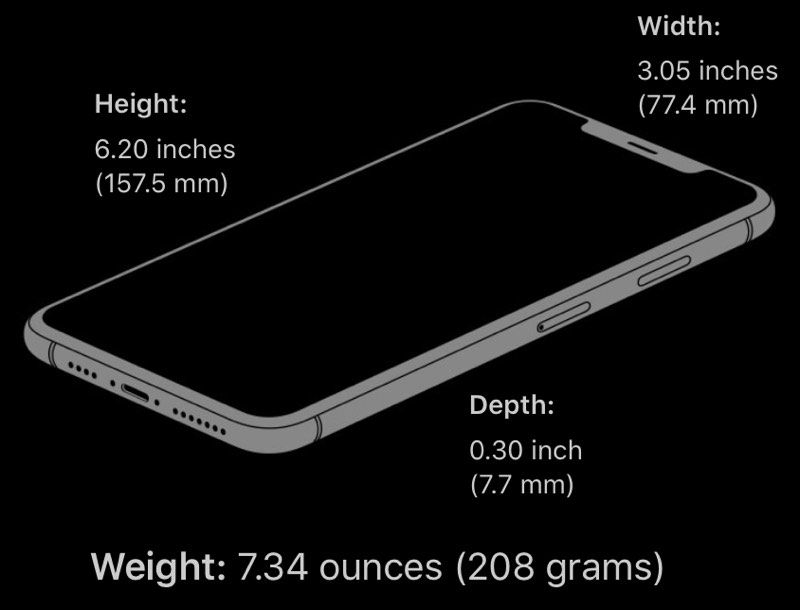 Glass is highly fragile and the iPhone X was prone to breakage, but Apple says the iPhone XS and iPhone XS Max are using a more durable scratch resistant glass, which is likely the Gorilla Glass 6 material announced earlier this year.
The iPhone XS is similar in size to the iPhone X, but some cases designed for the iPhone X might not fit the iPhone XS properly because the camera bump on the iPhone XS is slightly taller and wider. Most cases should fit okay, but some may not work.
COLOR OPTIONS
Apple is offering the iPhone XS and XS Max in Silver, Space Gray, and Gold, with the latter color being new this year. The iPhone X was only sold in Silver and Space Gray because it took time for Apple to perfect the gold shade.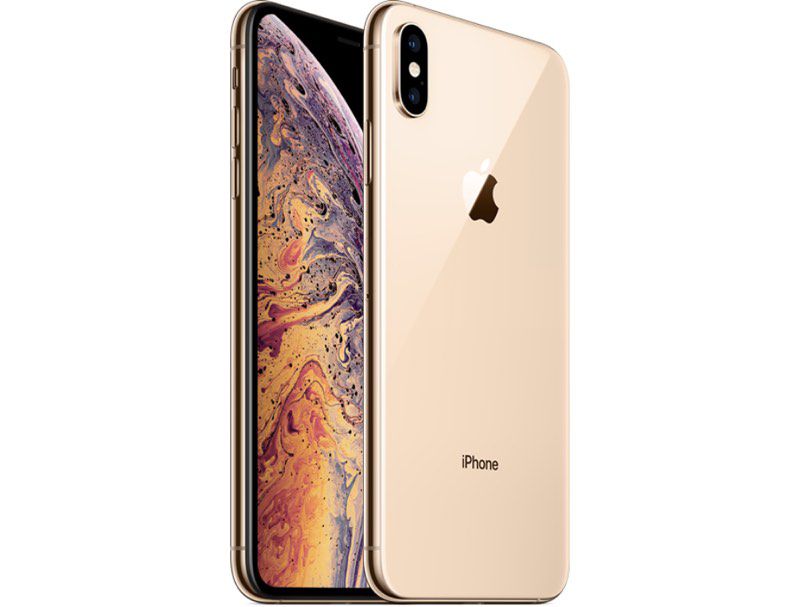 According to Apple, its Gold and Space Gray shades use an "advanced physical vapor deposition process" on the stainless steel bands for rich colors and a reflectivity level that matches the glass body of the device.
WATER AND DUST RESISTANCE
Apple's upgraded iPhone XS models feature improved water resistance, with the two devices now offering an IP68 rating, up from the IP67 rating of the iPhone X.
The IP68 rating means the iPhone XS and XS Max can withstand water up to two meters (6.6 feet) deep for approximately 30 minutes. In the IP68 number, the 6 refers to dust resistance while the 8 represents water resistance.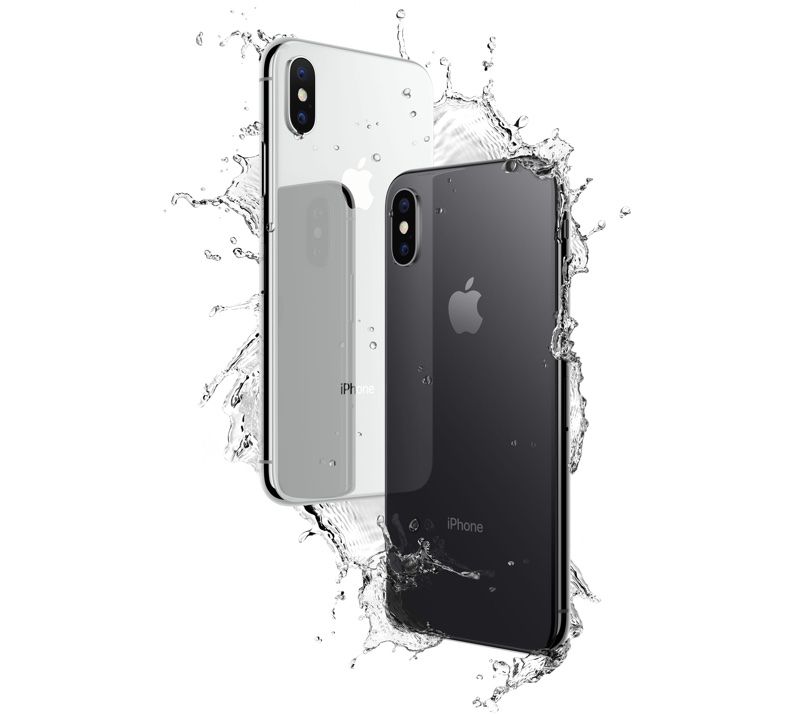 IP6x is the highest dust resistance rating, so the iPhone XS and iPhone XS Max are fully protected from dust and dirt, with no change to dust resistance. The two devices are able to hold up to splashes, rain, and accidental water exposure, and successfully passed a dunk test in five feet of liquid for 30 minutes.
Apple does not cover any kind of water damage to iOS devices, so while the iPhone XS models are more resistant to water, it's best to use caution when exposing them to liquids and it should be avoided whenever possible.
RED COLOR OPTION
Rumors suggest Apple will release red iPhone XS and XS Max models in China in February, which will accompany the iPhone XR. The devices will not be branded PRODUCT(RED) in the country, and will instead be called China Red. Red is a popular color in China, and it could draw in new XS and XS Max customers.
Display
Apple has made no changes to the display of the iPhone XS and iPhone XS Max, with the exception of introducing a larger version in the new 6.5-inch device.
The 2018 iPhone models feature the same "Super Retina" OLED HDR display that was introduced in the iPhone X, with support for Dolby Vision, HDR10, and wide color gamut for unparalleled color accuracy. The Super Retina display features vivid, true-to-life colors, deeper blacks, and a 1,000,000 to 1 contrast ratio.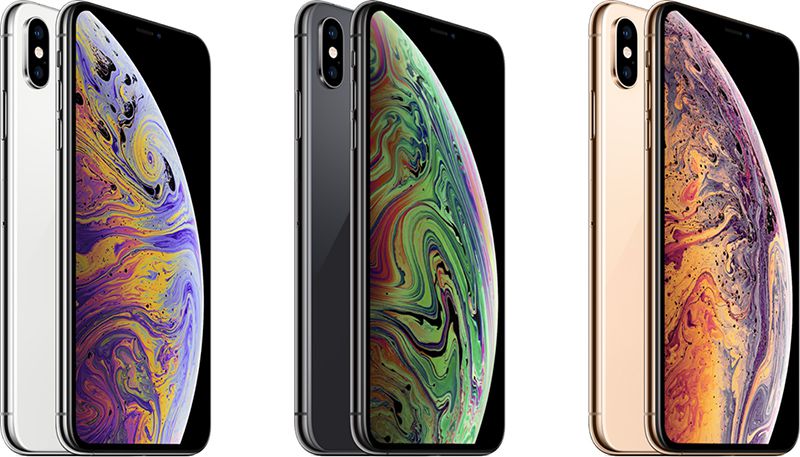 Apple's multi-touch Super Retina display offers noticeable upgrades over traditional LCD displays, but there is no difference between the iPhone X and the iPhone XS or iPhone XS Max. Maximum brightness continues to be 625 cd/m2, and features like True Tone and 3D Touch are supported.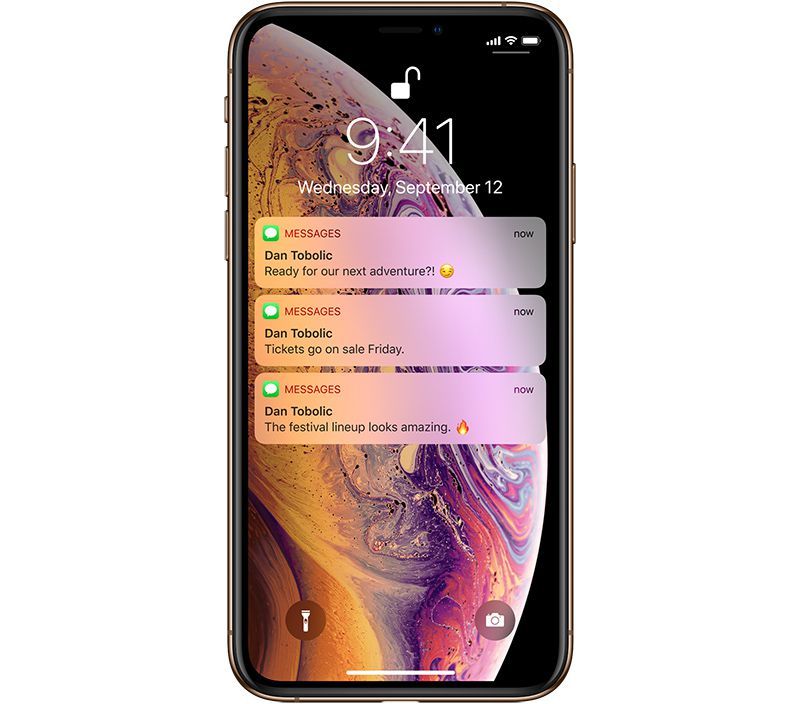 True Tone uses the iPhone's ambient light sensor to adjust the white balance of the display to match the ambient lighting in a room, cutting down on eyestrain and making for a more paper-like reading experience.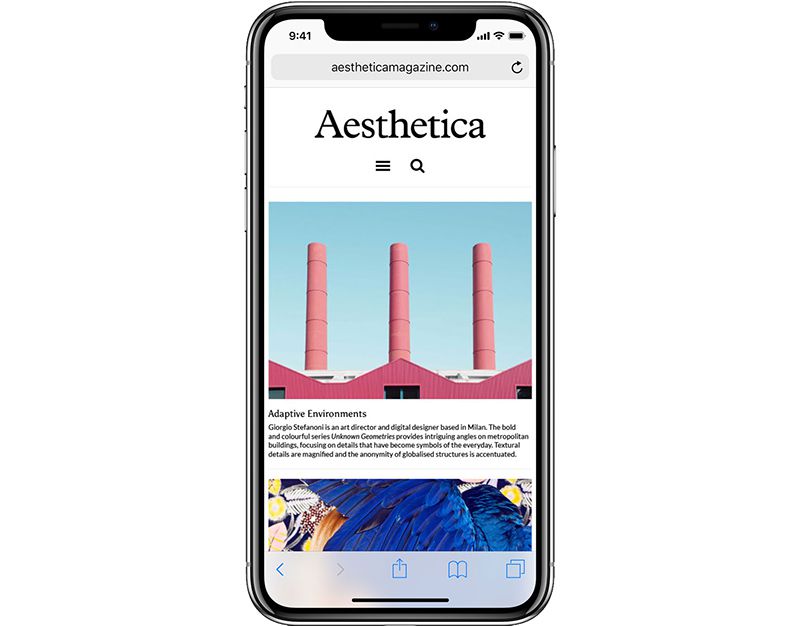 The iPhone XS, like the iPhone X, features a 2436 x 1125 resolution with 458 pixels per inch, while the iPhone XS Max features a 2688 x 1242 resolution, also with 458 pixels per inch.
According to DisplayMate, a site known for testing smartphone displays, the iPhone XS Max has the best smartphone display ever with a peak full-screen brightness up to 660 nits and a screen reflectance of 4.7 percent, close to the lowest ever measured for a smartphone. Combined, these factors result in excellent contrast ratings in high ambient light.
3D TOUCH AND TAPTIC ENGINE
Apple's iPhone XS models continue to feature a Taptic Engine and support for 3D Touch gestures. 3D Touch is available throughout the iOS 12 operating system and is often used to display additional information through a force press gesture.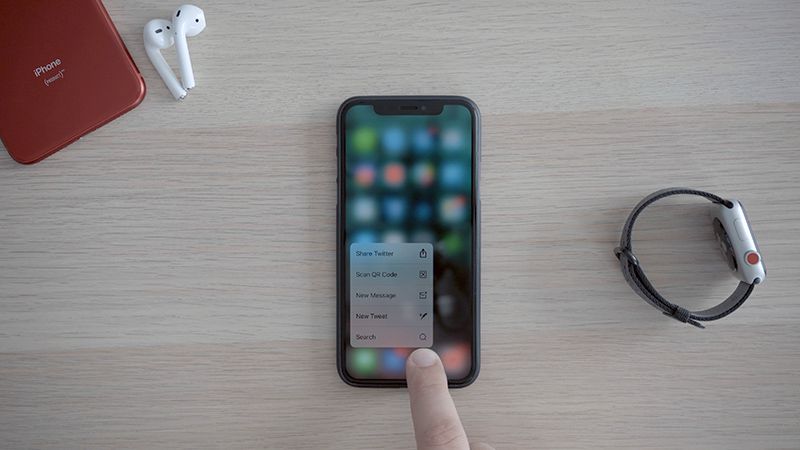 The Taptic Engine offers tactile feedback in the form of haptic vibrations when users interact with the iPhone's display.
A12 Bionic Processor
The iPhone XS models are equipped with a new 7-nanometer A12 Bionic chip that's faster and more efficient than the A11 in the previous-generation iPhone X.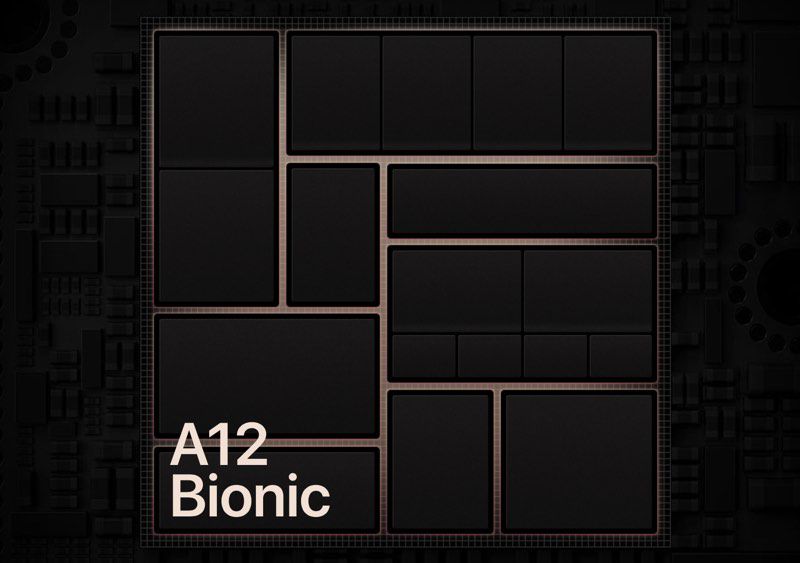 There are two high-performance cores in the A12 that are up to 15 percent faster than the A11 Bionic and four efficiency cores that use up to 50 percent less power. The A12, combined with a bigger battery, enables much longer battery life for the iPhone XS and XS Max.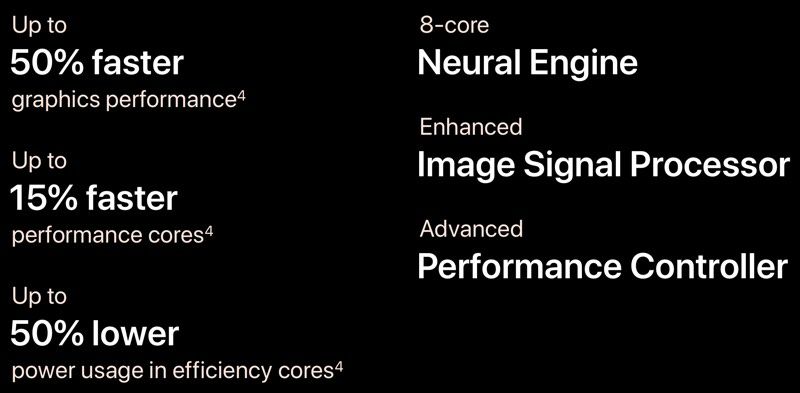 As with the A11, the A12 can harness all six of its cores at once when a boost in power is needed, and a new performance controller dynamically divides work across the cores for the best performance and battery life.
Apple's A12 Bionic includes a 4-core GPU that offers up to 50 percent faster graphics performance than the A11 chip.
NEURAL ENGINE
The A11 Bionic introduced the first Neural Engine, and the A12-chip has a next-generation 8-core version that uses real-time machine learning to power features across the operating system, improving photo taking, gaming, augmented reality, and more.
According to Apple, the Neural Engine is able to perform five trillion operations per second, allowing more to be done in real time. It's what powers the machine learning features in the iPhone XS models, like photo search, Face ID, and augmented reality experiences.
For the first time, Apple has also opened up the Neural Engine to the Core ML platform, which means developers can take advantage of the real-time machine learning features in their apps. With the A12 Bionic, Core ML runs up to nine times faster than on the A11 Bionic.
The A12 Bionic brings faster detection of AR surfaces for the rear camera, better AR experiences for the front-facing camera, immersive 3D gaming experiences, and faster Face ID.
RAM
iPhone XS and iPhone XS Max include 4GB RAM, up from 3GB in the iPhone X.
Face ID and TrueDepth Camera System
Face ID, introduced in 2017 with the iPhone X, is the biometric authentication system that's used in the iPhone XS and XS Max, both of which feature a notch that houses the TrueDepth camera system that enables Face ID.
Face ID is just like Touch ID, except it uses a facial scan instead of a fingerprint, and Face ID in iPhone XS and XS Max is identical to Face ID in the iPhone X with the exception of speed improvements.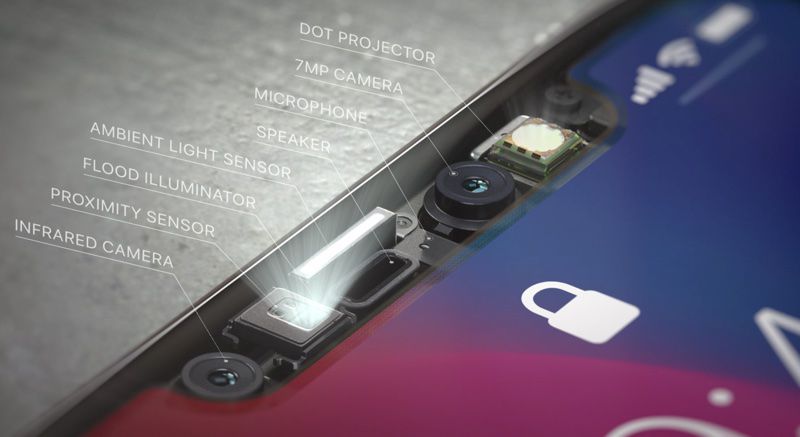 With the new A12 Bionic chip and Neural Engine improvements, Face ID is able to detect your face and unlock your device faster than before.
Face ID is used across the iOS operating system for tasks like unlocking your iPhone, allowing access to third-party passcode-protected apps, confirming purchases in iTunes and the App Store, and authenticating Apple Pay payments.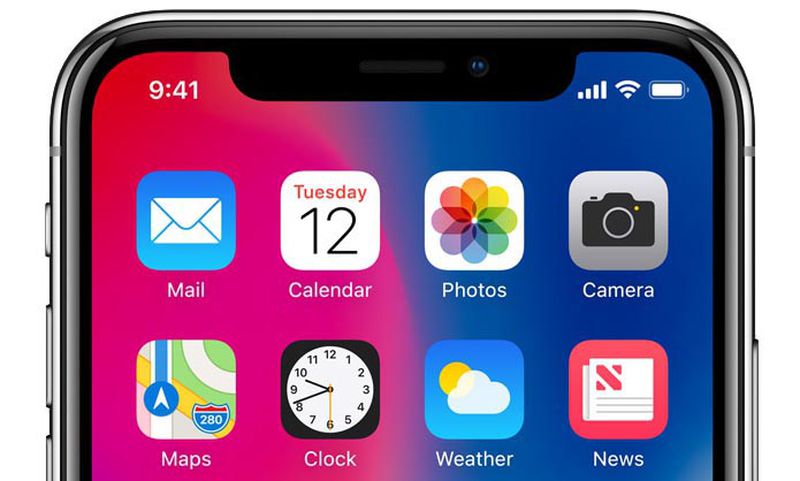 Face ID works through a set of sensors and cameras built into the front of the iPhone XS and iPhone XS, called the TrueDepth Camera system. To create a facial scan, a Dot Projector projects more than 30,000 invisible infrared dots onto your face, which are then read by an infrared camera.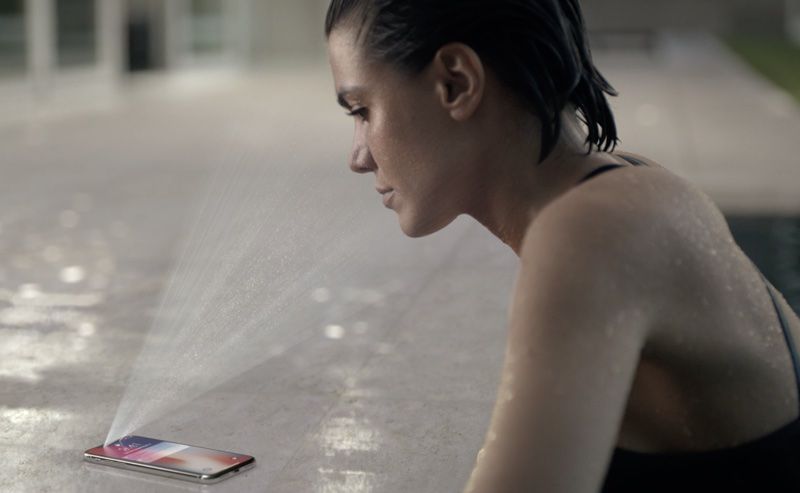 This depth map of your face is then relayed to the A12 Bionic processor where it is transformed into a mathematical model that the iPhone uses to make sure it's you attempting to access your iPhone.
Face ID uses infrared, so it works in low light and in the dark, with a built-in Flood Illuminator making sure there's always adequate light to take a facial scan. Face ID works with hats, beards, glasses, sunglasses, scarves, makeup and all other accessories and items that might partially obscure a face, but it does need to see your eyes, nose, and mouth to work.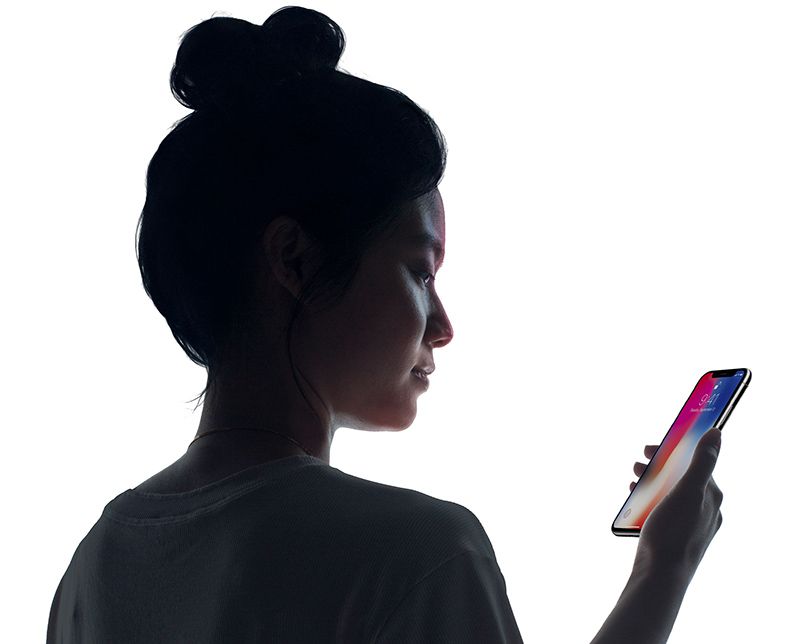 The A12 Bionic chip with built-in Neural Engine means that Face ID can adjust to minor facial changes over time, so if you grow your hair longer or grow a beard, Face ID adjusts and continue to unlock your iPhone. In iOS 12, there is an option to add an alternate appearance if your face changes drastically during the day due to sunglasses, scarves, or other accessories.
FACE ID SECURITY AND PRIVACY
Face ID uses a detailed 3D facial scan that's unable to be fooled by a photo, mask, or other facial imitation. An "Attention Aware" security feature allows Face ID to unlock your device only when you look in the direction of the iPhone XS with your eyes open, so it won't work when your eyes are closed, when you're sleeping, when you're unconscious, or when you're looking away from your phone.
Attention aware is optional and there is an accessibility feature to turn it off for those who are unable to focus on the iPhone's screen, but most people will want to leave it turned on for the added layer of security.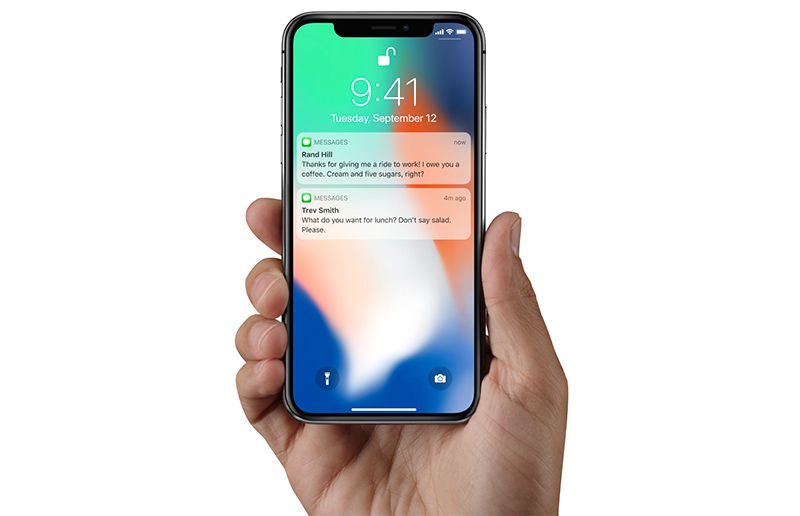 With the "attention aware" feature, the iPhone XS knows when you're looking at it. Face ID displays notifications and messages on the Lock screen when you look at the iPhone XS, it keeps the screen lit, and it automatically lowers the volume of an alarm or ringer when it knows your attention is on the iPhone XS's display.
If a thief demands your iPhone, Face ID can be disabled quickly and discretely by pressing on the side button and the volume button at the same time. Do this before handing your phone over, and a thief won't be able to scan your face. Face ID also turns off after two failed facial recognition attempts and a passcode needs to be entered for it to be turned back on.
Face ID is encrypted and stored in the Secure Enclave on the iPhone XS. Apple can't access your Face ID data, nor can anyone who gets hold of your phone. Authentication happens entirely on your device, with no Face ID data ever stored in the cloud or uploaded to Apple. Third-party developers do not have access to the facial map that Face ID uses to unlock a device, but the TrueDepth camera can be used to scan a user's face for the purpose of creating more realistic augmented reality apps.
With Face ID, there's a 1 in 1,000,000 chance that someone else's face can fool Face ID, but the error rate increases to 1 in 1 in 500,000 with an alternate appearance registered in iOS 12. Face ID has been fooled by identical twins, children, and a carefully crafted mask, but it's still secure enough that the average person does not need to worry about their iPhone being unlocked by someone else.
TRUEDEPTH CAMERA SPECS
The TrueDepth Camera, in addition to powering Face ID with the infrared additions, is also a standard 7-megapixel front-facing camera that can be used for selfies.

The front-facing camera in the iPhone XS and XS Max supports several new features, including Smart HDR for portraits that capture more detail in shadows and highlights and a new Depth Control feature that lets you adjust the amount of blur in a front-facing Portrait Mode image after it's captured.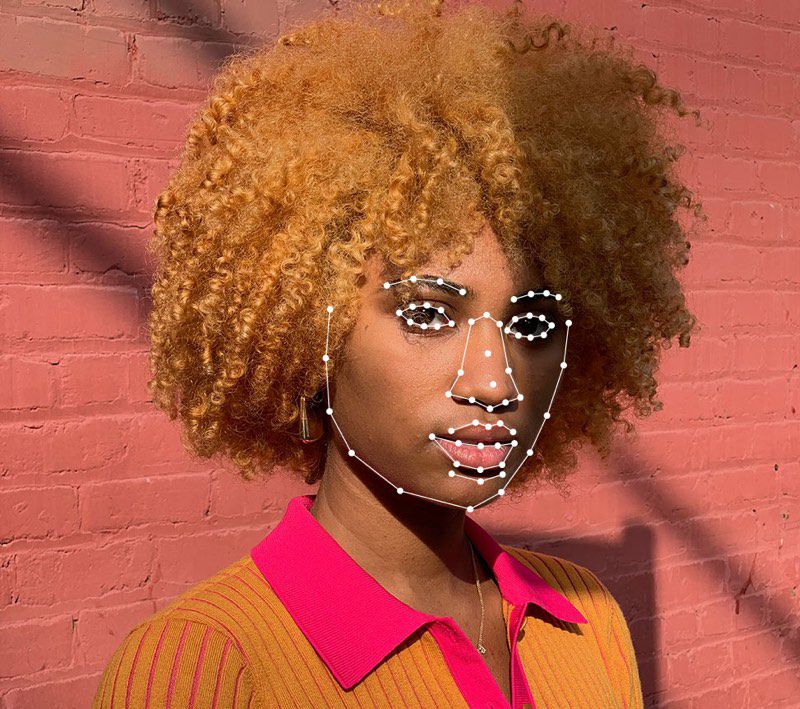 Portrait Mode and Depth Control use facial detection to allow you to adjust the background blur of an image
As with the iPhone X, wide color and Portrait Lighting features are available so you can adjust the lighting in your photos. There is, however, improved bokeh for better DSLR-style blurring in your images.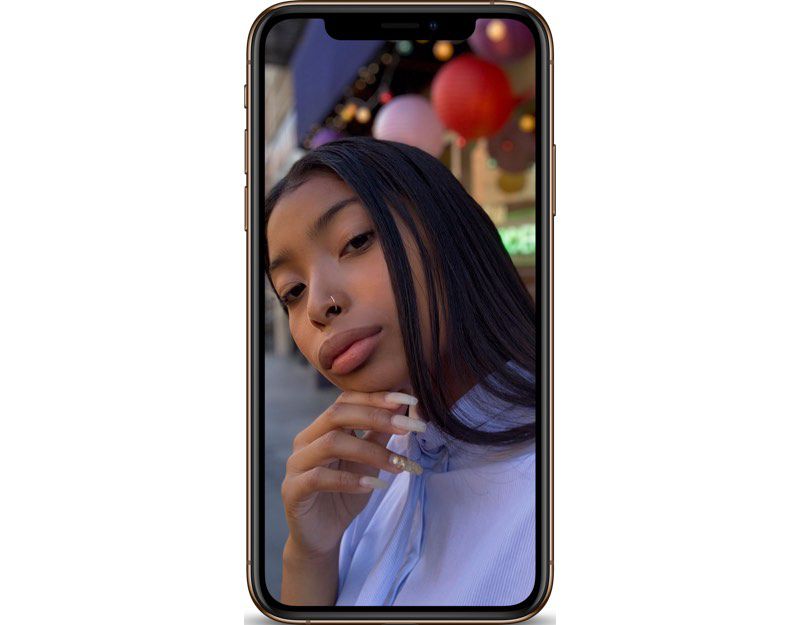 The TrueDepth camera can be used to capture 1080p HD video at 30 or 60 frames per second.
ANIMOJI AND MEMOJI
The TrueDepth Camera System enables two features called "Animoji" and "Memoji," which are animated, 3D emoji characters that you control with your face. Animoji are emoji-style animals, while Memoji, introduced in iOS 12, are customizable, personalized avatars that you can create.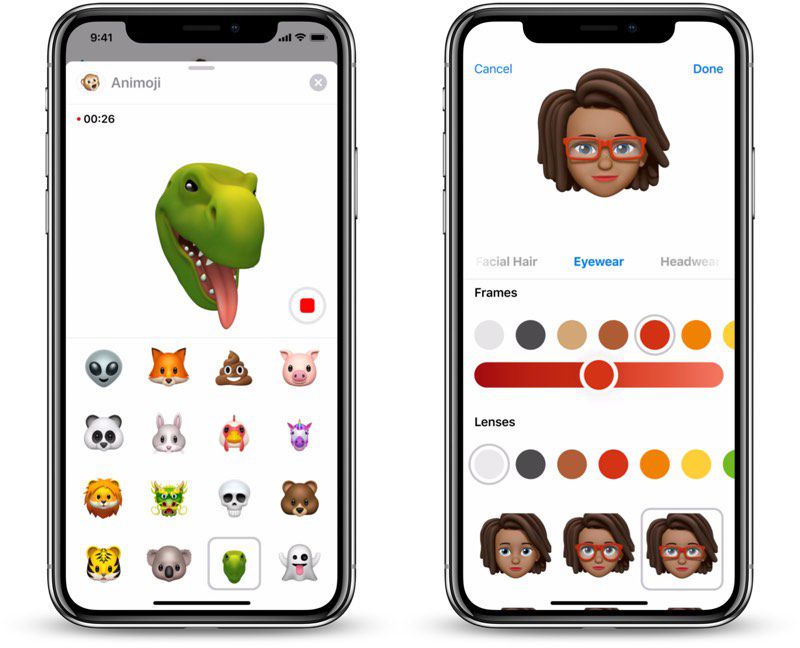 To enable Animoji and Memoji, the TrueDepth camera analyzes more than 50 muscle movements in different areas of the face, detecting movement of the eyebrows, cheeks, chin, eyes, jaw, lips, eyes, and mouth.
All of your facial movements are translated to the Animoji/Memoji characters, letting them reflect your expression and emotion. Animoji and Memoji can be shared with friends and used in the Messages and FaceTime apps.
There are more than a dozen different Animoji to choose from, modeled after existing emoji characters: monkey, robot, cat, dog, alien, fox, poop, pig, panda, rabbit, chicken, unicorn, lion, dragon, skull, bear, tiger, koala, t-rex, and ghost. There are an unlimited number of Memoji that can be created to look like you and other people.
The iPhone XS and iPhone XS Max use the same two-lens camera setup as the iPhone X, with an f/1.8 12-megapixel wide-angle lens (26mm equivalent focal length) and an f/2.4 12-megapixel telephoto lens (56mm equivalent focal length) that enables 2x optical zoom and 10x zoom when optical and digital zoom are combined.
Both of the lenses feature optical image stabilization and wide color support, but Apple has made several upgrades that improve photo quality in the iPhone XS models compared to the iPhone X.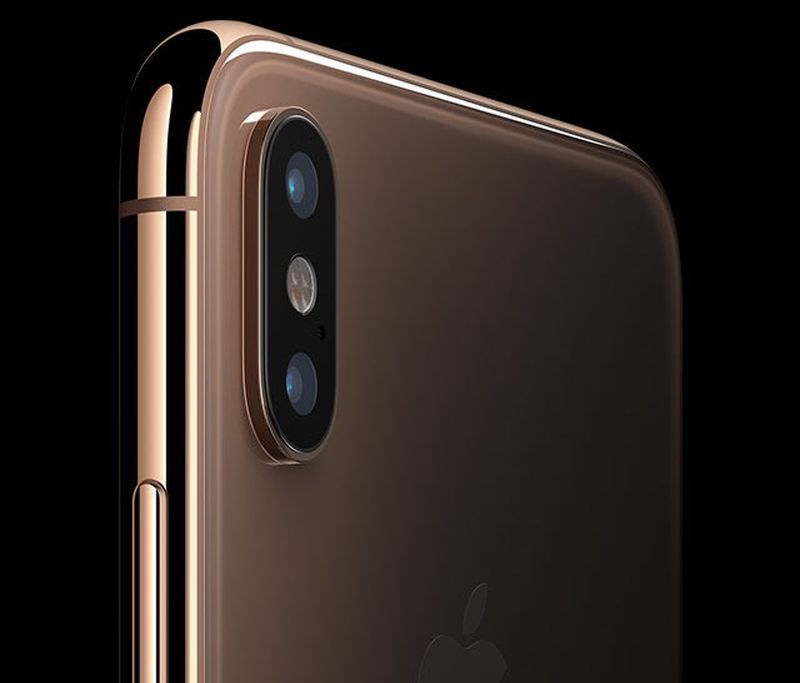 An improved image sensor that's twice as fast and 32 percent larger than the sensor in the iPhone X features larger, deeper pixels for better performance, especially in conditions where the light is suboptimal. It also provides better image fidelity, greater color accuracy, and less noise in low-light shots.
There's a new image signal processor in the iPhone XS that powers a new depth engine, which allows the rear camera to offer more detail in Portrait Mode and enables Smart HDR. With the enhanced ISP, more data can be pulled from the camera sensors, leading to better dynamic range, improved motion freezing, and better noise reduction in low light.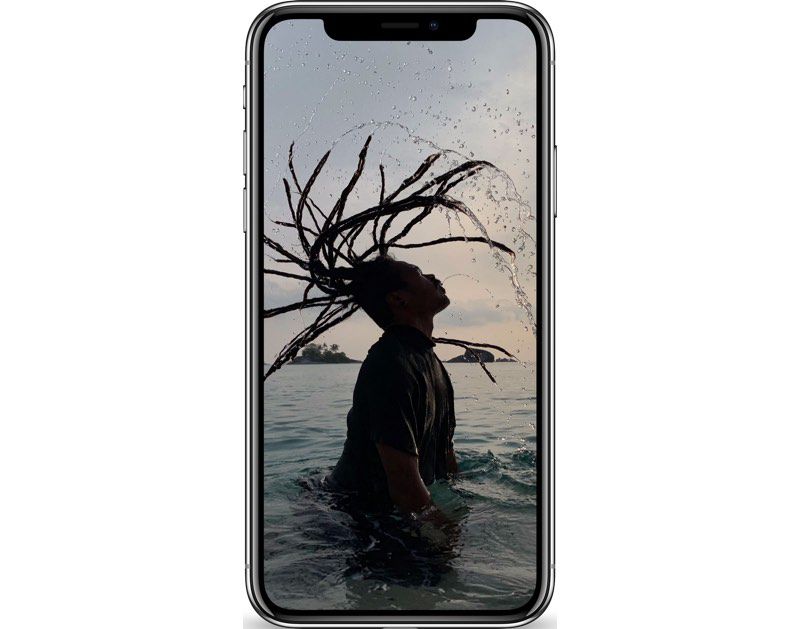 Smart HDR, enabled through secondary frames, a faster sensor, and the A12 chip, introduces improved dynamic range in photos, bringing out more detail in the highlights and shadows of your images, while more advanced bokeh improves the background blurring that you see in Portrait Mode for images that are closer to what you get with a DSLR.
A new Depth Control feature lets you change the amount of blur in a photo, so you can choose the exact right blurring using a built-in slider for each of your Portrait images. Depth Control is available when editing a photo, and as of iOS 12.1, real-time Depth Control can be used when composing a feature. To get to Depth Control, tap on the "F" icon at the top of the screen and then drag the slider to adjust the amount of background blur in the image.
Portrait Lighting, which lets you adjust the lighting of your image to mimic what you might get in a studio, can also be used either when composing an image or when editing an already-captured photo.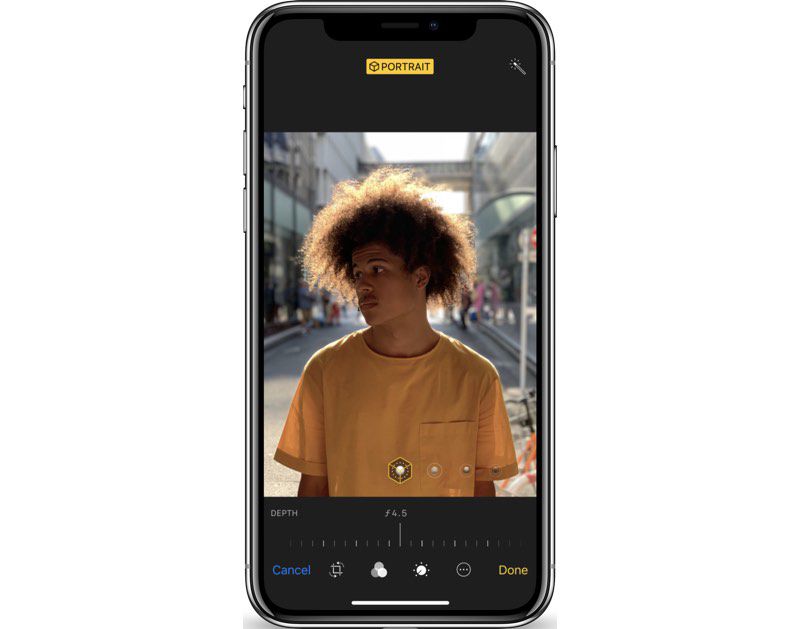 Portrait Lighting uses sophisticated algorithms to calculate how facial features interact with light, using the data to create unique lighting effects like Natural Light, Studio Light (lights up your face), Contour Light (adds dramatic shadows), Stage Light (spotlights your face against a dark background), and Stage Light Mono (Stage Light, but in black and white).
The two new iPhones are using the same quad-LED True Tone flash, but Apple has improved the feature this year.
VIDEO CAPABILITIES
The iPhone XS and XS Max can record 4K video at 24, 30, or 60 frames per second, or 1080p HD video at 30 or 60 frames per second.
Compared to the iPhone X, the new models offer extended dynamic range for video up to 30 fps thanks to the new image signal processor and the Smart HDR features. Stereo recording is also supported for the first time for better sound in your videos.
Battery Life
The iPhone XS has a 2,658mAh battery, while the iPhone XS Max has a 3,174mAh battery, the largest Apple has ever put in an iPhone.
The battery in the iPhone XS lasts for 30 minutes longer than the iPhone X, while the battery in the larger iPhone XS Max lasts for 1.5 hours longer than the iPhone X.
You'll get up to 20 hours of talk time, up to 12 hours of internet use, 14 hours of video playback, and 60 hours of audio playback with the iPhone XS.
The iPhone XS Max offers up to 25 hours of talk time, up to 13 hours of internet use, up to 15 hours of video playback, and up to 65 hours of audio playback.
FAST CHARGING
iPhone XS and XS Max are fast-charge capable, which means the devices can be charged to 50 percent battery life in just 30 minutes. Fast charging requires a USB-C power adapter that exceeds 18 watts, which includes 29/30W adapters from Apple (priced at $49). Third-party 18W+ USB-C adapters also work, but the Lightning to USB-C cables must be purchased from Apple for $19.
WIRELESS CHARGING
Support for wireless charging was first introduced in Apple's 2017 iPhone lineup, and the iPhone XS models continue to offer glass bodies and built-in wireless charging coils to support wireless charging functionality.
Apple uses the Qi wireless charging standard that's also available in many Android phones, which means the new iPhones can charge wirelessly with any Qi-certified inductive charger.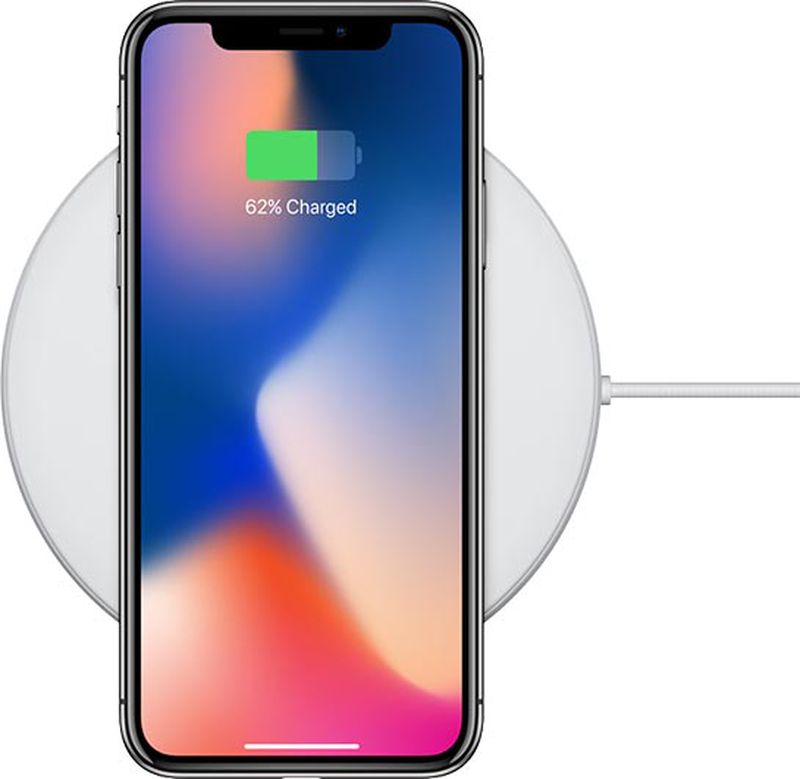 According to Apple, iPhone the iPhone XS charges "even faster" than the iPhone X. The faster charging is enabled through a new copper wireless charging coil that facilitates slightly faster charging because it doesn't heat up quite as much.
iPhone XS and XS Max work with 7.5W and 5W wireless charging accessories. Multiple companies have now developed wireless charging options designed specifically for Apple's iPhones.
7.5W charging is faster than 5W charging, but the difference is not hugely noticeable. Wireless charging is also generally inferior to wired charging, which is almost always faster. We tested multiple wired and wireless charging methods and while 7.5W charging is faster than 5W wired charging, the best way to charge an iPhone is using a 12W iPad power adapter or an 18W+ option, which enables fast charging capabilities.
Connectivity
GIGABIT LTE
iPhone XS and iPhone XS Max are equipped with support for Gigabit-class LTE with support for 4x4 MIMO. Gigabit LTE offers theoretical maximum transfer speeds of 1Gb/s, but actual speeds depend on factors like network connectivity.
4x4 MIMO (which stands for Multiple Input, Multiple Output) improves network efficiency alongside carrier aggregation for faster, stronger LTE signal.
Gigabit LTE also uses Licensed Assisted Access (LAA) to improve network capacity in crowded areas by leveraging both licensed and unlicensed spectrum.

The iPhone XS and iPhone XS Max support more than 25 LTE bands, including T-Mobile's band 71, which takes advantage of 600MHz spectrum for improved penetration in cities and improved coverage in rural areas.
DUAL-SIM SUPPORT
iPhone XS and iPhone XS Max models sold around the world feature dual-SIM support, which allows two phone numbers to be used at one time. Dual-SIM functionality is enabled through the inclusion of one physical nano-SIM slot and an eSIM, a feature that was first introduced in the iPad.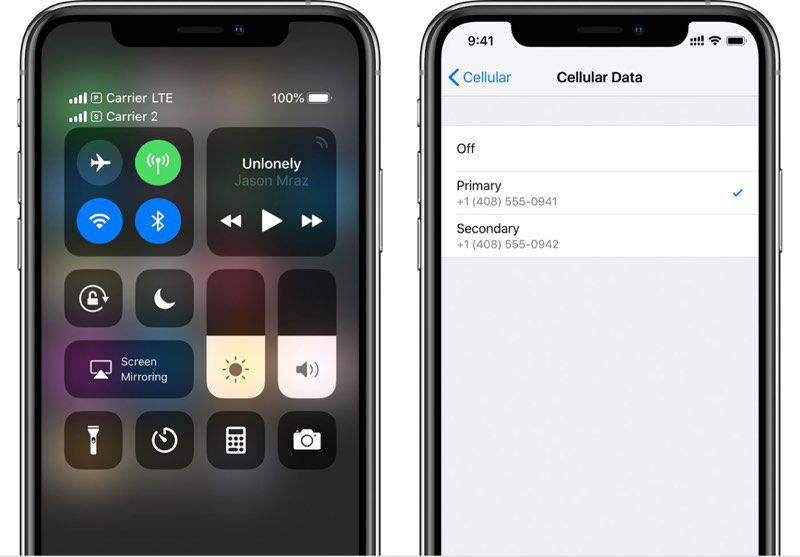 Dual-SIM functionality is enabled through the inclusion of one physical nano-SIM slot and an eSIM, a feature that was first introduced in the iPad. eSIM support was enabled with the iOS 12.1 update, making dual-SIM functionality available through the existing physical SIM and the new eSIM. Carriers need to implement support for eSIM functionality for the feature to work, and in the United States, Verizon and AT&T offer eSIM support as of December 2018.
The eSIM feature is available in many countries around the world, and Apple has a full list of carriers that support eSIM on its website.
Dual-SIMs work with select carriers in Austria, Canada, Croatia, Czech Republic, Germany, Hungary, India, Spain, the UK, and the United States.
In China, where eSIMs are not allowed, iPhone XR devices feature two physical SIM card slots. Models with two SIM slots are limited to China and won't be sold elsewhere.
BLUETOOTH AND WI-FI
iPhone XS and XS Max support the Bluetooth 5.0 standard. Bluetooth 5.0 offers longer range, faster speeds, larger broadcast message capacity, and better interoperability with other wireless technologies.
Compared to Bluetooth 4.2, Bluetooth 5 offers four times the range, two times the speed, and eight times the broadcast message capacity.
802.11ac Wi-Fi with 2x2 MIMO is supported, with support for connection speeds that can reach a theoretical maximum of 866Mb/s.
GPS AND NFC
Support for GPS, GLONASS, Galileo, and QZSS location services is included in the iPhone XS and XS Max.
NFC with reader mode is included, and for the first time, the iPhone XS and XS Max include a background tag feature that allows them to scan NFC tags without the need to open an app first.
WARRANTY INFORMATION The Warranty is covered by the Seller of the item and not the manufacturer of the item. It can be claimed only in MY and please ship your product directly to the Seller to claim warranty. Terms & Conditions Apply : WhatsApp 011-3999 3214 (Imported Set) Are NOT By Apple Centre WRTY We Provide One Year WRTY Under By Local Supplier Claim WRTY Must Pos Back To Seller Or Walk In To Shop MOST IMPORTANT : 12months Warranty (Firmware & Hardware) 3months Warranty (Battery,Charger & Earphone) 1month Warranty (LCD,Touch Screen & Fingerprint) Broken&Crack No Cover REMINDER***Apple & iClound ID , Water & Drop Damage , Over Charging , USB Port , Software & Jailbreak Device , Phone Lock And Supply Warranty Sticker Void Are Not In Warranty*** What's in the box: New Full Set Accessories Come With Original Sealed Box

Last Updated @ 19/1/2022 4:21:01 PM