Item Specification
Model / SKU
: H81 PRO BTC
Product Description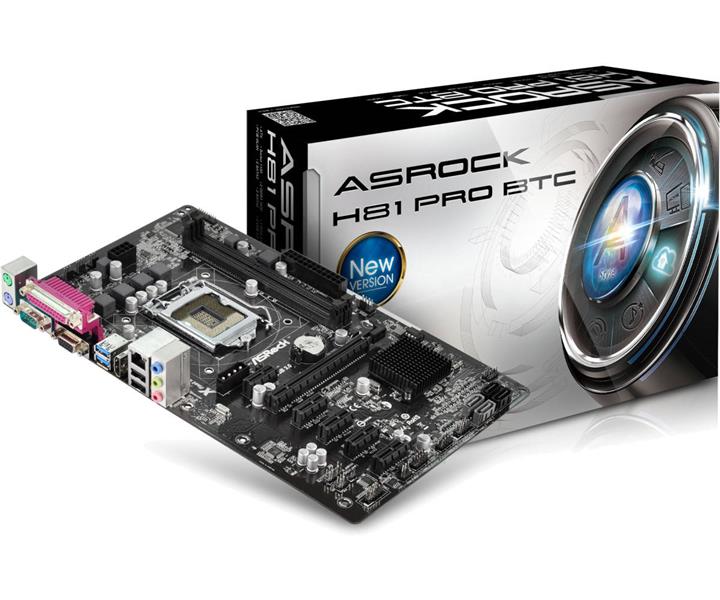 H81 Pro BTC
Your Bitcoin mining machine. Join the gold rush now!
Supports New 4th and 4th Generation Intel® Core™ i7/i5/i3/Xeon®/Pentium®/Celeron® Processors (Socket 1150)
100% All Solid Capacitor design
Supports Dual Channel DDR3 1600
1 x PCIe 2.0 x16, 5 x PCIe 2.0 x1
Graphics Output Options : D-Sub, HDMI
Realtek Gigabit LAN
5.1 CH HD Audio (Realtek ALC662 Audio Codec)
2 x SATA3, 2 x SATA2, 2 x USB 3.0, 6 x USB 2.0 (4 Front, 2 Rear)
Supports A-Tuning, XFast LAN, XFast RAM, Easy Driver Installer, FAN-Tastic Tuning, USB Key
This model may not be sold worldwide. Please contact your local dealer for the availability of this model in your region.
Product Specifications
 General
A-Style
- ASRock Cloud
CPU
- Supports New 4th and 4th Generation Intel® Core™ i7/i5/i3/Xeon®/Pentium®/Celeron® Processors (Socket 1150)
- Digi Power design
- 4 Power Phase design
- Supports Intel® Turbo Boost 2.0 Technology
Chipset
- Intel® H81
Memory
- Dual Channel DDR3/DD3L Memory Technology
- 2 x DDR3/DD3L DIMM Slots
- Supports DDR3/DD3L 1600/1333/1066 non-ECC, un-buffered memory
- Max. capacity of system memory: 16GB*
- Supports Intel® Extreme Memory Profile (XMP) 1.3 / 1.2



*Due to the operating system limitation, the actual memory size may be less than 4GB for the reservation for system usage under Windows® 32-bit OS. For Windows® 64-bit OS with 64-bit CPU, there is no such limitation.

BIOS
- 32Mb AMI UEFI Legal BIOS with multilingual GUI support
- ACPI 1.1 Compliant wake up events
- SMBIOS 2.3.1 support
- CPU, DRAM, PCH 1.05V Voltage multi-adjustment
 Audio, Video and Networking
Graphics
- Supports Intel® HD Graphics Built-in Visuals : Intel® Quick Sync Video with AVC, MVC (S3D) and MPEG-2 Full HW Encode1, Intel® InTru™ 3D, Intel® Clear Video HD Technology, Intel® Insider™, Intel®HD Graphics 4400/4600
- Pixel Shader 5.0, DirectX 11.1
- Max. shared memory 512MB*
- Dual Graphics Output: Support HDMI and D-Sub ports by independent display controllers
- Supports HDMI Technology with max. resolution up to 1920x1200 @ 60Hz
- Supports D-Sub with max. resolution up to 1920x1200 @ 60Hz
- Supports Auto Lip Sync, Deep Color (12bpc), xvYCC and HBR (High Bit Rate Audio) with HDMI Port (Compliant HDMI monitor is required)
- Supports HDCP with HDMI Port
- Supports Full HD 1080p Blu-ray (BD) playback with HDMI Port



*The size of maximum shared memory may vary from different operating systems.

**Intel® HD Graphics Built-in Visuals and the VGA outputs can be supported only with processors which are GPU integrated.

***Due to chipset limitation, the Blu-ray playback of Intel® HD Graphics is only supported under Windows® 8 / 8 64-bit / 7 / 7 64-bit / Vista™ / Vista™ 64-bit.

****Intel® InTru™ 3D is only supported under Windows® 8 / 8 64-bit / 7 / 7 64-bit.

Audio
- 5.1 CH HD Audio (Realtek ALC662 Audio Codec)
LAN
- PCIE x1 Gigabit LAN 10/100/1000 Mb/s
- Realtek RTL8111GR
- Supports Realtek RealWoW! Technology
- Supports Wake-On-LAN
- Supports LAN Cable Detection
- Supports Energy Efficient Ethernet 802.3az
- Supports PXE
 Expansion / Connectivity
Slots
- 1 x PCI Express 2.0 x16 Slot (PCIE2: x16 mode)
- 5 x PCI Express 2.0 x1 Slots
Storage
- 2 x SATA3 6.0 Gb/s Connectors, support NCQ, AHCI and Hot Plug
- 2 x SATA2 3.0 Gb/s Connectors, support NCQ, AHCI and Hot Plug
Connector
- 1 x IR Header
- 1 x COM Port Header
- 1 x Power LED Header
- 1 x TPM Header
- 2 x CPU Fan Connectors (1 x 4-pin, 1 x 3-pin)
- 2 x Chassis Fan Connectors (1 x 4-pin, 1 x 3-pin)
- 1 x Power Fan Connector (3-pin)
- 1 x 24 pin ATX Power Connector
- 1 x 8 pin 12V Power Connector
- 2 x SLI/XFire Power Connectors
- 1 x Front Panel Audio Connector
- 1 x SPDIF Out connector
- 2 x USB 2.0 Headers (Support 4 USB 2.0 ports)
Rear Panel I/O
- 1 x PS/2 Mouse Port
- 1 x PS/2 Keyboard Port
- 1 x Serial Port: COM1
- 1 x Parallel Port (ECP/EPP support)
- 1 x D-Sub Port
- 1 x HDMI Port
- 2 x USB 2.0 Ports
- 2 x USB 3.0 Ports
- 1 x RJ-45 LAN Port with LED (ACT/LINK LED and SPEED LED)
- HD Audio Jack: Line in / Front Speaker / Microphone
 Other Features / Miscellaneous
Unique Feature
- ASRock APP Shop
- ASRock A-Tuning
- ASRock Instant Flash
- ASRock APP Charger
- ASRock XFast LAN
- ASRock XFast RAM
- ASRock Crashless BIOS
- ASRock OMG (Online Management Guard)
- ASRock Internet Flash
- ASRock UEFI Tech Service
- ASRock Dehumidifier
- ASRock Easy Driver Installer
- ASRock Interactive UEFI
- ASRock Fast Boot
- ASRock Restart to UEFI
- ASRock USB Key
- ASRock FAN-Tastic Tuning
- Hybrid Booster:
- ASRock U-COP
- Boot Failure Guard (B.F.G.)
- Good Night LED
Support CD
- Drivers, Utilities, AntiVirus Software (Trial Version), Google Chrome Browser and Toolbar, Start8 (30 days trial)
Accessories
- Quick Installation Guide, Support CD, I/O Shield
- 2 x SATA Data Cables
Hardware Monitor
- CPU/Chassis temperature sensing
- CPU/Chassis/Power Fan Tachometer
- CPU Quiet Fan (Auto adjust chassis fan speed by CPU temperature)
- CPU/Chassis Fan multi-speed control
- Voltage monitoring: +12V, +5V, +3.3V, CPU Vcore
Form Factor
- ATX Form Factor
- All Solid Capacitor design
OS
- Microsoft® Windows® 10 64-bit / 8.1 32-bit / 8.1 64-bit / 8 32-bit / 8 64-bit / 7 32-bit / 7 64-bit
Certifications
- FCC, CE, WHQL
- ErP/EuP ready (ErP/EuP ready power supply is required)
Features
A. Gold "Bitcoin". Silver "Litecoin"
Bitcoin, also known as BTC or ฿ is a peer-to-peer payment system and digital currency introduced as open source software in 2009 by pseudonymous developer Satoshi Nakamoto. It is cryptocurrency, so-called because it uses cryptography to control the creation and transfer of money.
Litecoin on the other hand, is usually referred to as LTC or Ł. It is another kind of peer-to-peer cryptocurrency inspired by and technically nearly identical to Bitcoin, intended by its developers to improve upon Bitcoin, offering several key differences.
B. How do I get bitcoins/litecoins?
There are mainly two ways to acquire these digital currencies. The active way is by "Mining", in which participants verify and record payments in exchange for transaction fees and newly minted coins by calculations done by their own computers. Meaning that the key to how much you earn vastly depends on how powerful and stable your mining machine is. Or, you could passively use the old fashioned buy and sell method.
Before mining for coins, first you need a "wallet" to get started, they're available at blockchain.info, and there are even versions for smart phones. Then you may buy and sell at Bitstamp or other sites. Lately, bitcoin exchange rates have sky rocketed, and mining has become an arms race literally – your mining hardware determines how much you are going to dig up!
ASRock's BTC motherboards are equipped with six PCI expansion slots, so that miners may install up to six graphics cards to mine simultaneously. Maximize your chances of getting bitcoins now!
Besides adequate PCI expansion slots, ASRock's BTC motherboards also have two extra 4-pin power connectors for offering more power for your graphics cards. Never underestimate these two small power connectors that distinct ASRock's BTC motherboards from other fake mining motherboards! They provide stable voltages and greatly reduce the risks of burning your motherboard or graphics cards.
Warning
Please MUST install TWO PSU's 4-pin power cables to your MB's TWO 4-pin power connectors
. Plug 
the 4-pin power connector closest to the PSU
 (1) 
to the 4-pin power connector closer to the PCIe slots
 (A). Then plug 
the 4-pin power connector which is second closest to the PSU
 (2) to 
the other 4-pin power connector
 (B).
If your PSU only provides 
ONE
, then please MUST install it to 
the 4-pin power connector closer to the PCIe slots
.
Important
: Make sure both the connected 4-pin and 24-pin power connectors are on the same PSU; otherwise, the motherboard may be damaged.
Orbweb ME
Your Personal Cloud, Easy and Always Connects
ASRock Cloud* technology makes your mobile devices connect to your PC seamlessly and supports multi devices for accessing File Explorer cloud service simultaneously! We offer a one-year subscription to Orbweb.ME Professional version, a personal cloud service which is $49.99 per year. It allows you to get connected with your PC's files, music, photos, and video clips remotely with tablets anytime, anywhere. Plus an additional one-month upgrade to Orbweb.ME Ultimate package with Remote Desktop function.
[
How to install promotion code
]
Personal Cloud for Everyone
Cloud service should be simple and personal. Don't take time to upload the files to the public cloud again. Stop spending money on setting up another NAS device you don't know. Orbweb ME's file browser is your solution to zero adaption, managing your folders and files in the cloud. Accessing and exchanging files instantly among all of your PC and storages. All your folders and files are sitting just where you know they are.
Media Library and Streaming
Orbweb Personal's media library takes care of your media content. Organize all your photos, videos and music across your PCs and online storages. Diverse, intuitive and smart sorting help finding desired movies in few clicks. Progressive streaming lets you enjoy your music collection almost no download time. Web browser based and mobile app portal keep you connected in any device any time.
Access File Explorer From Multiple Devices
Orbweb ME allows you to access your own personal File Explorer from multiple devices, brining your tablets, laptops and PC together. Forgot an important file in your computer at home which you need for the next meeting? Another hard day hiding in the office bathroom, missing your massive collection of funny videos and music clips? You can get it all by connecting your tablets or laptops to access File Explorer and immerse into the paradise in few seconds.
Remote Desktop Anywhere
Laying in the bedroom or sitting in the office, tablet in your hands just becomes smarter. Pick up any work sheet left in office or start any application from you home PC. Orbweb ME's remote desktop not only mobilized your PC but also empower your tablet. No matter the device, No matter the location, Orbweb ME always keeps your PC by you. 
* Remote Desktop comes with the Ultimate package which is only free for the first month.
Wake On WAN
The latest technology that WOWs you with the ability to wake up your PC remotely over the internet. Turn your PC on/off only when you need to. Keep your PC healthy and save energy at the same time.
* Apply on certain motherboards with wake on wan support
* Orbweb ME is provided by Kloudian Systems Inc. Restriction may apply and the offer is subject to change, termination or discontinuation by Kloudian Systems Inc. without prior notice. Please visit the website for further details : 
http://www.asrock.com/feature/cloud/index.html
High Density Glass Fabric PCB
What you've never understood about your computer is that it is scared to death of water, H2O, humidity or whatever you'd like to name it. And even though you do not see the water, actually there may be lots of excessive moist in the air killing your motherboard silently and slowly. No, your motherboard doesn't melt when in contact with water like the wicked witch of the west, but it dies of short circuit. Luckily, ASRock has a new High Density Glass Fabric PCB design that reduces the gaps between the PCB layers to protect the motherboard against electrical shorts caused by humidity.
4 Power Phase Design
Compared to other competitors' 3 Power Phase design on the motherboards, ASRock adds a finishing touch by implementing 4 Power Phase design and sturdy components for delivering smoother power to the CPU, thus enhancing the motherboard's performance and stability at lower temperatures.
All Solid Capacitor Design
ASRock is determined to use high quality materials to build the best motherboards, that's why all the capacitors on this motherboard are built with 100% solid capacitors. These solid capacitors bring long lasting durability and ultra stable performance.
Digi Power
More Precise, More Efficient
Unlike traditional motherboards that use analog power, this motherboard uses a next generation digital PWM (Pulse-Width Modulation) design, which provides CPU Vcore voltage more efficiently and smoothly, so that the stability and lifespan of the motherboard is greatly enhanced.
ASRock APP Shop
ASRock APP Shop is designed for your convenience. We provide various apps and support software for users to download. You can easily optimize your system and keep your motherboard up to date with ASRock APP Shop.
A-Tuning
A-Tuning is ASRock's multi purpose software suite with a new interface, more new features and improved utilities, including EZ OC, Auto Tuning, XFast 555, OC Tweaker, System Browser, Live Update, Tech Service and a whole lot more!
XFast RAM
ASRock XFast RAM fully utilizes the memory space that cannot be used under Windows
®
 32-bit operating systems. It shortens the loading time of previously visited websites, making web surfing faster than ever. And it also boosts the speed of Adobe Photoshop 5 times faster. Another advantage of ASRock XFast RAM is that it reduces the frequency of accessing your SSDs or HDDs in order to extend their lifespan.
XFast LAN
When Internet Explorer loads very slowly for no clear reason, it's usually due to inefficient management. ASRock is rolling out super efficient web management in the motherboard industry. XFast LAN is a convenient tool that controls internet related applications easily and efficiently. Creating a perfect Internet environment, all you need is a smart manager. ASRock XFast LAN allows you to enjoy more speed, easier multitasking, enhanced multimedia experience, and more – all without weighing you down.
FAN-Tastic Tuning
Configure different fan speeds for respective temperatures using the graph. The fans will automatically shift to the next speed level when the assigned temperature is met.
USB Key
In a world where time is money, why waste precious time everyday typing usernames to log in to Windows? Why should we even bother memorizing those foot long passwords? Nobody has time for that! Just plug in the USB Key and let your computer log in to windows automatically!
UEFI Tech Service
Contact ASRock Tech Service by sending a support request from the UEFI setup utility if you are having trouble with your personal computer. Users may try to choose the category of the issue they have encountered, describe the problem in detail, and then attach an optional picture or log file for our technical support team.
OMG
Limit and control your children's time spent on the internet. ASRock OMG (Online Management Guard) technology allows you to establish an internet curfew or restrict internet access at specified times. Administrators are able to schedule the starting and ending hours of internet access granted to other users.
Dehumidifier
Dampness kills most electronics, so it's a better idea to keep your personal computer dry. Now users may prevent motherboard damages due to dampness by enabling Dehumidifier. When it is enabled, the computer will power on automatically to dehumidify the system after entering S4/S5 state.
Easy Driver Installer
For users that don't have an optical disk drive to install the drivers from our support CD, Easy Driver Installer is a handy tool in the UEFI that installs the LAN driver to your system via an USB storage device, then downloads and installs the other required drivers automatically through the internet. Completely no CD or optical disk drive required!
Fast Boot
With ASRock's exclusive Fast Boot technology, it takes less than 1.5 seconds* to logon to Windows
®
 8 from a cold boot. No more waiting! The speedy boot will completely change your user experience and behavior.
*The boot time may vary with a different configuration.
Restart to UEFI
Fast Boot is so fast that it is impossible for users to enter the UEFI setup utility during POST. Therefore, ASRock Restart to UEFI technology allows users to easily enter the UEFI setup utility automatically when turning on the PC next time. It is designed for those who constantly need to enter the UEFI setup utility.
HDMI™ (High-Definition Multimedia Interface)
This motherboard supports HDMI™ (High-Definition Multimedia Interface) which is an interface standard for transferring uncompressed video data and delivering multi-channel audio through a single cable. Both video and audio data signals transferred through the HDMI™ interface are digital without being converted into analog, therefore it delivers the richest pictures and the most realistic sounds.
Buy with confidence
| | | | |
| --- | --- | --- | --- |
| Buyer | Item ID | Date | Ratings |
| kh**** | 193186889 | 11/7/2017 3:13:00 PM | Superfast Shipment , cant belive . Received goods with good condition !!!!! |
| AB**** | 197508220 | 11/3/2017 7:46:00 PM | - |
| af**** | 161333837 | 10/30/2017 6:10:00 PM | Item safely arrive |
| af**** | 197094428 | 10/30/2017 6:09:00 PM | Awesome |
| af**** | 197336804 | 10/30/2017 6:08:00 PM | Great |
| kh**** | 193186889 | 10/27/2017 2:52:00 PM | fast delivery ! respond fast ! good seller |
| kh**** | 193186889 | 10/10/2017 12:24:00 PM | Received goods in good condition !!! |
| Ho**** | 173266182 | 10/6/2017 4:00:00 PM | Item received in good condition and safe packaging. |
Questions & Comments


















---
We have partnered with a number of reputable courier companies for the detinasions we service . These include Airpak Express , Poslaju and Pos Malaysia
We shall endeavour to deliver your order within 1- 3 working days upon successful payment confirmation unless otherwise specifiy. You should be able to receive your order within 3-10 business days (excluding Saturday and Sunday) after shipment date, depending on the shipping courier you have chosen.
TECHVIEW is committed to ensure that your orders are delivered to you safely and on time. Therefore only the authorized receiver shall be permitted to accept the delivery. Please make sure that the authorized receiver is present to make the authorized signature. TECHVIEW reserve the rights not to release the delivery in the absence of the authorized receiver.
TECHVIEW is making every effort to deliver your order within the time stated. However, due to certain unforeseen circumstances, slight delay in deliveries might occur, TECHVIEW will not be liable for any loss caused to you by late or delayed delivery.
In the event if your package is lost by the shipping courier and your package has not been insured, we will only replace the lost products with the amount that is declared on the invoice according to your request.

You are required to make a report to us on damaged item(s) in your package within 24 hours after you have received the package. We will not entertain any request if more than 24 hours after you have received the package.

Orders will be charged packing and post based on the weight of the order. Packing and post costs will be added to your order total. Please note that due to varying size and weight of our products, and different postage rate to each country, the postage and packing costs will be calculated on an individual basis. Once your package has been shipped out, we shall not be held responsible/liable if any of the products are missing or damaged during shipping. TECHVIEW recommends that you insure your packages and declare the full value of the shipment so that you are completely protected if the shipment is lost or damaged in shipping. Please check your delivery address carefully as we will not be responsible for delivery to an incorrect address. The customer shall be responsible for the cost to resend a package that is returned because of an incorrect address.
The shipping cost that you paid does not includes tax and duties or any other extra charges impose by your local custom
If you have instructed us to create a lower value invoice for you and in the event that the parcel or package is lost during shipment, Fedex, DHL, UPS or any shipping agents shall only compensate on the lower invoice value for your order that you instructed us to put.
We reserve the right to put whatever amount of this order value in the shipping invoice if there is no request to change the order value or even if you have state an order value for us.
We do not entertain request for shipping packages in multiple parcels.
When you access this site, you acknowledge that you have read and agree to the terms described below. If you do not agree to the terms discussed here, you should exit the site and refrain from placing any order. These terms of use are a legal agreement between us and describe the terms and conditions applicable to your use of our website and the services we offer including the sale of products to consumers. You must read, agree with and accept all of the terms and conditions contained in this agreement and our Privacy Policy. This agreement includes those terms and conditions expressly set out below and those incorporated by reference. We strongly recommend that you also access and read any other information contained on other pages or websites referred to in this agreement, as they may contain further terms and conditions that apply to you.
It is your responsibility to make sure that your order contains acceptable and approved items for import into the country of destination/delivery. The buyers solely accept the full risk of any package (or part thereof) being detained by customs for whatever reason and acknowledge and agree that they will not hold TECHVIEW liable for such packages, for whatever reason being unable to be delivered to their destination.
You shall not carry out any act or omission or procure any act or omission which would: (a) disrupt, impair or interfere with, alter or modify this website or its software; (b) act in a way that affects or reflects negatively on us or anyone else; (c) collect or attempt to collect any information from others including, without limitation, personally identifiable information, without such party's prior consent; (d) engage in any activities in such a manner as to expose TECHVIEW or any third party to liability or adversely affecting the name, reputation or business of us or any such third party; (e) commit a crime or in the course of committing a crime or for an unlawful purpose to do any act that may damage the network or systems or cause the quality of TECHVIEW to be impaired; (f) violating or attempting to violate the security of the website; (g) Cause any illegal, offensive, defamatory material to be placed on or associated with this website; (g) b in breach of any copyright, trade mark, privacy, confidence, or any other third party right; (h) cause any inconvenience to TECHVIEW, its employees, servants, agents, software and other suppliers or any other third party (including, without limitation, creating or procuring software viruses, chain letters, unsolicited communications and 'spam'). NOTE: Violations of system or network security may result in civil or criminal liability.

TECHVIEW may make changes to any products offered at TECHVIEW , or to the applicable prices for any such products, at any time, without notice. The information provided at TECHVIEW with respect to products may be out of date and TECHVIEW makes no commitment to update the information provided at TECHVIEW with respect to such products.

Please check our Terms of Use periodically for changes as we reserve the right to change the terms and conditions of sale at anytime.
Every effort has been made to reflect product colours as accurately as possible. However, due to differences in monitors, we are unable to guarantee that the colour you will see on your monitor will accurately reflect the true colour of the product. All drawings, photos, descriptive matter, specifications and advertising issued on this website are issued or published for the sole purpose of giving an approximate idea of the products described in them. They will not form part of the contract with you and no warranty or guarantee shall be expressed or implied in the contract with you in this regard.
THIS SITE IS PROVIDED BY TECHVIEW ON AN "AS IS" AND "AS AVAILABLE" BASIS. TECHVIEW MAKES NO REPRESENTATIONS OR WARRANTIES OF ANY KIND, EXPRESS OR IMPLIED, AS TO THE OPERATION OF THE SITE OR THE INFORMATION, CONTENT, MATERIALS, OR PRODUCTS INCLUDED ON THIS SITE. TO THE FULL EXTENT PERMISSIBLE BY APPLICABLE LAW, TECHVIEW DISCLAIMS ALL WARRANTIES, EXPRESS OR IMPLIED, INCLUDING, BUT NOT LIMITED TO, IMPLIED WARRANTIES OF MERCHANTABILITY AND FITNESS FOR A PARTICULAR PURPOSE. WITHOUT LIMITING THE FOREGOING, TECHVIEW DISCLAIMS ANY AND ALL WARRANTIES, EXPRESS OR IMPLIED, FOR ANY MERCHANDISE OFFERED ON THIS SITE. YOU ACKNOWLEDGE, BY YOUR USE OF THE TECHVIEW WEB SITE, THAT YOUR USE OF THE SITE IS AT YOUR SOLE RISK. THIS DISCLAIMER DOES NOT APPLY TO ANY PRODUCT WARRANTY OFFERED BY THE MANUFACTURER OF THE PRODUCT. THIS DISCLAIMER CONSTITUTES AN ESSENTIAL PART OF THIS AGREEMENT.
TECHVIEW offers free "1 to 1 replacement" on all products items for the first 7 days upon receiving of goods (on manufacturer defects only).

Product(s) sold through TECHVIEW are serviced and supported by their manufacturers in accordance with any terms and conditions packaged with the products. We will not accept return of product(s) that are not compatible with your system configuration or damaged during shipment to and from or misused by customer / shipping carrier or hold by custom.

If you need to return product(s) back to us for warranty, please contact us at techview88@gmail.com . Please ship back the product(s) to the original packaging with any accessories as advised . Failure to do so may invalidate the warranty.

If the returned item(s) is not faulty after checking, a minimum amount (RM20.00) of administration fee will be charged you would need to bear for the return shipping cost.

For international sales order, the customer needs to bear the return courier charges and any other cost incurred.
Questions & Answers
Do you have any questions to ask merchant about this product
Ask Seller
| | | |
| --- | --- | --- |
| 5 star | | 0 |
| 4 star | | 0 |
| 3 star | | 0 |
| 2 star | | 0 |
| 1 star | | 0 |
Share your thoughts with others
Write a review
Only buyers who purchased the product may leave a review