Item Specification
Model / SKU
: Z270 SUPER/A/ASRK
Product Description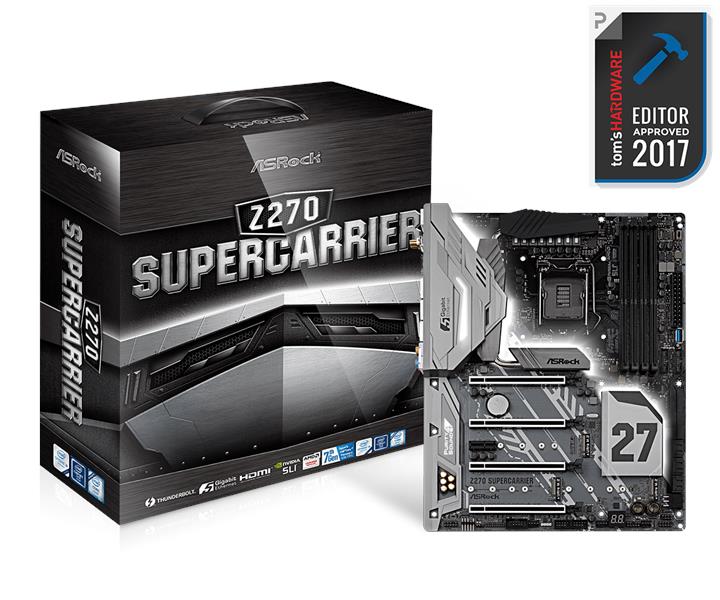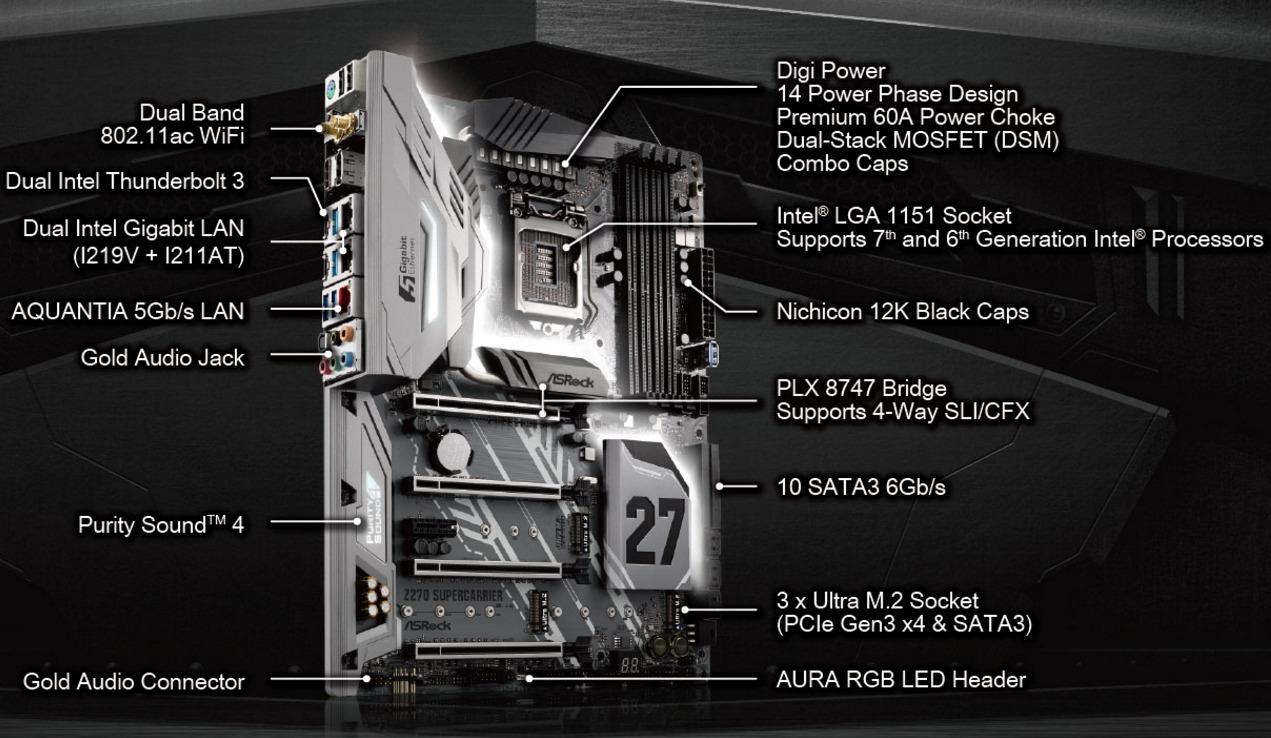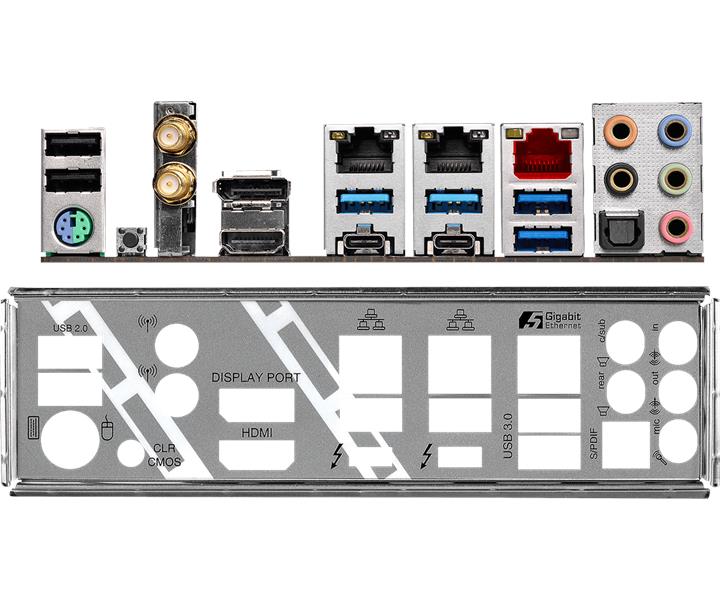 ASRock Super Alloy

Supports 7

th

and 6

th

Generation Intel

®

Core™ i7/i5/i3/Pentium

®

/Celeron

®

Processors (Socket 1151)

Supports DDR4 3733+(OC)

4 PCIe 3.0 x16, 1 PCIe 3.0 x1

NVIDIA

®

4-Way SLI™, AMD 4-Way CrossFireX™
Graphics Output Options: HDMI, DisplayPort, 2 Intel

®

Thunderbolt™ 3 Type-C

7.1 CH HD Audio (Realtek ALC1220 Audio Codec), Supports Purity Sound™ 4 & DTS Connect

10 SATA3, 2 SATA Express, 3 Ultra M.2 (PCIe Gen3 x4 & SATA3)

2 USB Type-C (Intel

®

Thunderbolt™ 3), 9 USB 3.0 (4 Front, 4 Rear, 1 Vertical)
AQUANTIA

®

5 Gigabit LAN, Dual Intel

®

Gigabit LAN
Intel

®

802.11ac WiFi

ASRock AURA RGB LED
ASRock Super Alloy


- XXL Aluminum Alloy Heatsink
- Premium 60A Power Choke
- Premium Memory Alloy Choke (Reduces 70% core loss compared to iron powder choke)
- Dual-Stack MOSFET (DSM)
- Combo Caps (Nichicon 12K Black Caps)
- Nichicon 12K Black Caps (100% Japan made high quality conductive polymer capacitors)
- I/O Armor
- Matte Black PCB
- High Density Glass Fabric PCB
AQUANTIA

®

5G LAN
Intel

®

802.11ac WiFi


ASRock Steel Slots




ASRock Ultra M.2 (PCIe Gen3 x4 & SATA3)




ASRock Ultra USB Power




ASRock Full Spike Protection




ASRock Live Update & APP Shop

- Supports 7

th

and 6

th

Generation Intel

®

Core™ i7/i5/i3/Pentium

®

/Celeron

®

Processors (Socket 1151)
- Digi Power design
- 14 Power Phase design
- Supports Intel

®

Turbo Boost 2.0 Technology
- Supports Intel

®

K-Series unlocked CPUs
- Supports ASRock BCLK Full-range Overclocking
- Supports ASRock Hyper BCLK Engine II

- Dual Channel DDR4 Memory Technology
- 4 x DDR4 DIMM Slots
- Supports DDR4 3733+(OC)*/3600(OC)/3200(OC)/2933(OC)/2800(OC)/2400**/2133 non-ECC, un-buffered memory
- Supports ECC UDIMM memory modules (operate in non-ECC mode)
- Max. capacity of system memory: 64GB***
- Supports Intel

®

Extreme Memory Profile (XMP) 2.0
- 15μ Gold Contact in DIMM Slots

*Please refer to Memory Support List on ASRock's website for more information.

**7th Gen Intel

®

CPU supports DDR4 up to 2400; 6

th

Gen Intel

®

CPU supports DDR4 up to 2133.

***Due to the operating system limitation, the actual memory size may be less than 4GB for the reservation for system usage under Windows

®

32-bit OS. For Windows

®

64-bit OS with 64-bit CPU, there is no such limitation.

- 2 x 128Mb AMI UEFI Legal BIOS with multilingual GUI support (1 x Main BIOS and 1 x Backup BIOS)
- Supports Secure Backup UEFI Technology
- ACPI 6.0 Compliant wake up events
- SMBIOS 2.7 Support
- CPU, GT_CPU, DRAM, VPPM, PCH 1.0V, VCCIO, VCCST, VCCSA, VCCPLL Voltage Multi-adjustment

- Supports Intel

®

HD Graphics Built-in Visuals : Intel

®

Quick Sync Video with AVC, MVC (S3D) and MPEG-2 Full HW Encode1, Intel

®

InTru™ 3D, Intel

®

Clear Video HD Technology, Intel

®

Insider™, Intel

®

HD Graphics*
- Gen9 LP, DX11.3, DX12
- HWA Encode/Decode: VP8, HEVC 8b, VP9, HEVC 10b (For 7

th

Gen Intel

®

CPU)
- HWA Encode/Decode: VP8, HEVC 8b; GPU/SWEncode/Decode: VP9, HEVC 10b (For 6

th

Gen Intel

®

CPU)
- Max. shared memory 1024MB**
- Four graphics output options: HDMI, DisplayPort 1.2 and 2 x Intel

®

Thunderbolt™ 3
- Supports Triple Monitor***
- Supports HDMI with max. resolution up to 4K x 2K (4096x2160) @ 24Hz / (3840x2160) @ 30Hz
- Supports DisplayPort 1.2 with max. resolution up to 4K x 2K (4096x2304) @ 60Hz
- Supports Intel

®

Thunderbolt™ 3 with max. resolution up to 4K x 2K (4096x2304) @ 60Hz
- Supports Auto Lip Sync, Deep Color (12bpc), xvYCC and HBR (High Bit Rate Audio) with HDMI Port (Compliant HDMI monitor is required)
- Supports HDCP with HDMI, DisplayPort 1.2 and Intel

®

Thunderbolt™ 3
- Supports Full HD 1080p Blu-ray (BD) playback with HDMI, DisplayPort 1.2 and Intel

®

Thunderbolt™ 3

*Intel

®

HD Graphics Built-in Visuals and the VGA outputs can be supported only with processors which are GPU integrated.

**The size of maximum shared memory may vary from different operating systems.

***Supports up to 3 displays simultaneously

****Due to chipset limitation, the Blu-ray playback of Intel

®

HD Graphics is only supported under Windows

®

8 / 8 64-bit / 7 / 7 64-bit.
Intel

®

InTru™ 3D is only supported under Windows

®

8 / 8 64-bit / 7 / 7 64-bit.

- 7.1 CH HD Audio with Content Protection (Realtek ALC1220 Audio Codec)
- Premium Blu-ray Audio support
- Supports Surge Protection (ASRock Full Spike Protection)
- Supports Purity Sound™ 4


- Nichicon Fine Gold Series Audio Caps


- 120dB SNR DAC with Differential Amplifier
- TI

®

NE5532 Premium Headset Amplifier for Front Panel Audio Connector (Supports up to 600 Ohm headsets)


- Pure Power-In




- Direct Drive Technology




- PCB isolate shielding


- Impedance Sensing on Front Out port
- Individual PCB Layers for R/L Audio Channel
- AURA RGB LED
- Gold Audio Jacks
- 15μ Gold Audio Connector
- Supports DTS Connect

1 x 5 Gigabit LAN 100/1000/2500/5000 Mb/s (AQUANTIA

®

AQC108):
- Supports Wake-On-LAN
- Supports Lightning/ESD Protection (ASRock Full Spike Protection)
- Supports PXE
2 x Gigabit LAN 10/100/1000 Mb/s (1 x Intel

®

I219V, 1 x Intel

®

I211AT):
- Supports Wake-On-LAN
- Supports Lightning/ESD Protection (ASRock Full Spike Protection)
- Supports Dual LAN with Teaming*
- Supports Energy Efficient Ethernet 802.3az
- Supports PXE

*Not supported under Windows

®

10

- Intel

®

802.11ac WiFi Module (Free Bundle)
- Supports IEEE 802.11a/b/g/n/ac
- Supports Dual-Band (2.4/5 GHz)
- Supports high speed wireless connections up to 433Mbps
- Supports Bluetooth 4.0 / 3.0 + High speed class II

- 4 x PCI Express 3.0 x16 Slots (PCIE1/PCIE2/PCIE4/PCIE5: single at x16 (PCIE1); dual at x16 (PCIE1) / x16 (PCIE4); triple at x8 (PCIE1) / x8 (PCIE2) / x16 (PCIE4); quad at x8 (PCIE1) / x8 (PCIE2) / x8 (PCIE4) / x8 (PCIE5))*
- 1 x embedded PLX PEX 8747*
- 1 x PCI Express 3.0 x1 Slot (Flexible PCIe)
- Supports AMD Quad CrossFireX™, 4-Way CrossFireX™, 3-Way CrossFireX™ and CrossFireX™
- Supports NVIDIA

®

Quad SLI™, 4-Way SLI™, 3-Way SLI™ and SLI™
- 1 x Vertical M.2 Socket (Key E) with the bundled WiFi-802.11ac module (on the rear I/O)
- 15μ Gold Contact in VGA PCIe Slots (PCIE1 and PCIE4)

*Supports NVMe SSD as boot disks

- 6 x SATA3 6.0 Gb/s Connectors, support RAID (RAID 0, RAID 1, RAID 5, RAID 10, Intel

®

Rapid Storage Technology 15 and Intel

®

Smart Response Technology), NCQ, AHCI and Hot Plug*
- 4 x SATA3 6.0 Gb/s Connectors by ASMedia ASM1061, support NCQ, AHCI and Hot Plug
- 2 x SATA Express 10 Gb/s Connectors**
- 3 x Ultra M.2 Sockets, support M Key type 2230/2242/2260/2280 M.2 SATA3 6.0 Gb/s module and M.2 PCI Express module up to Gen3 x4 (32 Gb/s)***

**If M2_1 is occupied by a SATA-type M.2 device, SATA3_0 will be disabled.
M2_2, SATA3_4 and SATA3_5 share lanes. If either one of them is in use, the others will be disabled.
If M2_3 is occupied by a SATA-type M.2 device, SATA3_3 will be disabled.

**Support to be announced

***Supports Intel

®

Optane™ Technology
Supports NVMe SSD as boot disks
Supports ASRock U.2 Kit

- 1 x COM Port Header
- 1 x TPM Header
- 1 x Power LED and Speaker Header
- 1 x AURA RGB LED Header*
- 1 x CPU Fan Connector (4-pin)**
- 1 x CPU Optional/Water Pump Fan Connector (4-pin)***
- 3 x Chassis Optional/Water Pump Fan Connectors (4-pin)****
- 1 x 24 pin ATX Power Connector (Hi-Density Power Connector)
- 1 x 8 pin 12V Power Connector (Hi-Density Power Connector)
- 1 x 6 pin 12V Power Connector (Hi-Density Power Connector)
- 1 x Front Panel Audio Connector (15μ Gold Audio Connector)*****
- 1 x Right Angle Front Panel Audio Connector*****
- 2 x USB 2.0 Headers (Support 4 USB 2.0 ports) (Intel

®

Z270) (Supports ESD Protection (ASRock Full Spike Protection))
- 2 x USB 3.0 Headers (Support 4 USB 3.0 ports) (ASMedia ASM1074 hub) (Supports ESD Protection (ASRock Full Spike Protection))
- 1 x Vertical Type A USB 3.0 (Intel

®

Z270)
- 1 x Dr. Debug with LED
- 1 x Power Switch with LED
- 1 x Reset Switch with LED
- 1 x XMP Switch

*Supports up to 12V/3A, 36W LED Strip.

**The CPU Fan Connector supports the CPU fan of maximum 1A (12W) fan power.

***The CPU Optional/Water Pump Fan supports the water cooler fan of maximum 1.5A (18W) fan power.

****The Chassis Optional/Water Pump Fan supports the water cooler fan of maximum 1.5A (18W) fan power.

*****Connect the audio device to either one of the audio connectors.

- 2 x Antenna Ports
- 1 x PS/2 Mouse/Keyboard Port
- 1 x HDMI Port
- 1 x DisplayPort 1.2
- 2 x Intel

®

Thunderbolt™ 3 (Compatible with USB 3.1 and USB-C Display)*
- 1 x Optical SPDIF Out Port
- 2 x USB 2.0 Ports (Supports ESD Protection (ASRock Full Spike Protection))
- 4 x USB 3.0 Ports (Supports ESD Protection (ASRock Full Spike Protection))**
- 3 x RJ-45 LAN Ports with LED (ACT/LINK LED and SPEED LED)
- 1 x Clear CMOS Switch
- HD Audio Jacks: Rear Speaker / Central / Bass / Line in / Front Speaker / Microphone (Gold Audio Jacks)

*Supports USB PD 2.0 up to 12V@3A (36W) charging
Hot Plug is supported on Windows

®

10 only

**Ultra USB Power is supported on USB3_34 ports.
ACPI wake-up function is not supported on USB3_34 ports.

Software


- ASRock A-Tuning
- ASRock AURA RGB LED
- ASRock APP Charger
- ASRock XFast LAN*


UEFI


- ASRock EZ Mode
- ASRock Full HD UEFI
- ASRock My Favorites in UEFI
- ASRock Instant Flash
- ASRock Internet Flash
- ASRock Crashless BIOS
- ASRock UEFI System Browser
- ASRock UEFI Tech Service
- ASRock Easy RAID Installer

*These utilities can be downloaded from ASRock Live Update & APP Shop.

- Drivers, Utilities, AntiVirus Software (Trial Version), Google Chrome Browser and Toolbar

- Quick Installation Guide, Support CD, I/O Shield
- 4 x SATA Data Cables
- 1 x ASRock Flexible SLI™ Bridge Connector Cable
- 1 x ASRock 3-Way SLI™ Bridge Card
- 1 x ASRock 4-Way SLI-S111 Bridge Card
- 1 x ASRock SLI_HB_Bridge_3S Card
- 2 x ASRock WiFi 2.4/5 GHz Antennas
- 3 x Screws for M.2 Sockets

- Temperature Sensing: CPU, CPU Optional/Water Pump, Chassis Optional/Water Pump Fans
- Fan Tachometer: CPU, CPU Optional/Water Pump, Chassis Optional/Water Pump Fans
- Quiet Fan (Auto adjust chassis fan speed by CPU temperature): CPU, CPU Optional/Water Pump, Chassis Optional/Water Pump Fans
- Fan Multi-Speed Control: CPU, CPU Optional/Water Pump, Chassis Optional/Water Pump Fans
- Voltage monitoring: +12V, +5V, +3.3V, CPU Vcore, DRAM, VPPM, PCH 1.0V, VCCSA, VCCST

- ATX Form Factor: 12.0-in x 9.6-in, 30.5 cm x 24.4 cm
- 2oz Copper

- Microsoft

®

Windows

®

10 64-bit (For 7

th

Gen Intel

®

CPU)
- Microsoft

®

Windows

®

10 64-bit / 8.1 64-bit / 7 64-bit (For 6

th

Gen Intel

®

CPU)*

*To install Windows

®

7 OS, a modified installation disk with xHCI drivers packed into the ISO file is required. Please check our User Manual for more detailed instructions.
For the updated Windows

®

10 driver, please visit ASRock's website for details.

- FCC, CE, WHQL
- ErP/EuP ready (ErP/EuP ready power supply is required)
RGB LED
Build your own colorful lighting system! RGB LED and header allows users to connect LED strip and create their unique PC style easily. The ASRock RGB LED utility can be downloaded directly or from an all-in-one utility ASRock Live Update & APP Shop!
Supports 4-Way SLI with NVIDIA

®

Quadro

®

& GTX VGA Cards
4-Way SLI & CrossFireX Supported by PLX PEX 8747 Bridge
Via the onboard PLX PEX 8747 bridge chip, this flagship motherboard is able to support 4-Way SLI or 4-Way CrossFireX effortlessly. Not only support GeForce GTX multi-GPU, it is also fully compatible with NVIDIA

®

Quadro

®

professional desktop workstation graphics solutions 4-Way SLI.
*Please refer to NVIDIA

®

website for the 4-Way SLI supported graphics card list.
PCI-E STEEL SLOTS
The advanced PCI-E Steel Slots packed with solid cover that prevent any signal interference with graphics cards. It also ensures the heavy graphics cards to be well-installed in the PCI-E slots safely.
AQUANTIA

®

5Gb/s BASE-T Ethernet
The new 5Gb/s network standard was specifically designed to satisfy the users who are seeking for immediate performance improvements but can't afford more expensive 10Gb/s networking products. Based on AQUANTIA's AQtion™ client controller, this motherboard offers blazingly fast 5-gigabit/sec transfer speeds over 100m of Cat5e/Cat6 cables, which is 5X faster than standard gigabit LAN.
Dual Band 802.11ac WiFi
No one has time for weak WiFi signals and sluggish internet! That's why this motherboard comes with a 802.11ac WiFi (2.4G / 5G WiFi) module which supports wireless networks and Bluetooth v4.0.
Triple Ultra M.2
Triple of the world's fastest PCIe Gen3 x4 Ultra M.2 slots that deliver up to 32Gb/s transfer speed, it also supports SATA3 6Gb/s M.2 modules.
*Performance result may vary with a different configuration.
Intel

®

Thunderbolt™ 3 & USB 3.1 Type-C 40Gb/s
Experience the world's fastest connectivity with ASRock's Intel

®

Thunderbolt™ ready motherboards. The Daisy-chain feature allows users to connect up to 6 Thunderbolt™ devices with a single wire. The highly desirable reversible USB 3.1 Type-C interface delivers breathtaking 40 Gb/s data transfer speeds and also supports USB PD 2.0 charging up to 12V@3A (36W).
Purity Sound 4
It's time to enjoy the most purified audio performance with ultra high definition. Purity Sound4 is a combination of several hardware, software audio solutions. 7.1 CH HD audio with the latest Realtek ALC1220 audio codec, individual PCB layers for R/L audio channel, 120dB SNR DAC and other technologies to deliver the crispest sound effects.
120dB SNR DAC
RGB LED
Gold Audio connector
TI

®

NE5532 Premium Headset Amplifier
Individual PCB Layers for R/L Audio Channel
Impedance Sensing on Front Out port
PCB Isolate Shielding
Pure Power-In
Nichicon Fine Gold Series Audio Caps
Gold Audio Jacks
Intel

®

Optane™ Memory Ready
Supports Intel

®

Optane™ memory technology and Intel

®

Optane™ storage technology that redefines a new standard of high performance and responsiveness.
XXL Aluminum Alloy Heatsink
Extra large aluminum alloy heat sinks that effectively take away heat from the MOSFET and chipset so that your whole system may perform more stable.
Premium 60A Power Choke
Compared to traditional chokes, ASRock's premium 60A power chokes effectively make the saturation current up to three times better, thus providing enhanced and improved Vcore voltage to the motherboard.
Premium Memory Alloy Choke
Specifically designed for memory power delivery, these new alloy chokes feature a highly magnetic and heat resistant design, thus delivering more stable and reliable power to the motherboard and memory modules.
Dual-Stack MOSFET (DSM)
Dual-Stack MOSFET (DSM) is another innovative MOSFETs design by ASRock. The silicon die area is increased by stacking two dies into one MOSFET. The larger the die area, the lower Rds(on). Compared to traditional discrete MOSFET, DSM with larger die area provides extreme lower Rds(on) 1.2 mΩ, so the power supply for the CPU Vcore is more efficient.
Combo Caps
A combination of 820uF and 100uF capacitors. Together these capacitors provide clearer, efficient and more responsive CPU Vcore power, and overclockers may achieve higher scores.
Nichicon 12K Black Caps
A combination of 820uF and 100uF capacitors. Together these capacitors provide clearer, efficient and more responsive CPU Vcore power, and overclockers may achieve higher scores.
I/O Armor
A new designed protective cover for all of the crucial parts near the motherboard's rear I/O, so that they won't easily be damaged by static electricity.
Matte Black PCB
A new mysterious matte black and copper color scheme to match the prestigious components on ASRock's high-end motherboards.
High Density Glass Fabric PCB
High Density Glass Fabric PCB design that reduces the gaps between the PCB layers to protect the motherboard against electrical shorts caused by humidity.
Digi Power
Unlike traditional motherboards that use analog power, this motherboard uses a next generation digital PWM (Pulse-Width Modulation) design, which provides CPU Vcore voltage more efficiently and smoothly, so that the stability and lifespan of the motherboard is greatly enhanced.
A-Tuning
A-Tuning is ASRock's multi purpose software suite with a new interface, more new features and improved utilities.
Live Update & APP Shop
ASRock Live Update & APP Shop is designed for your convenience. We provide various apps and support software for users to download. You can also easily optimize your system and keep your motherboard up to date with ASRock Live Update & APP Shop.
Buy with confidence
| | | | |
| --- | --- | --- | --- |
| Buyer | Item ID | Date | Ratings |
| an**** | 200597698 | 3/17/2018 4:09:00 PM | Item arrived safely...well & nice packaging..will buy agains, thanks.. |
| am**** | 195347397 | 3/15/2018 7:54:00 PM | - |
| ad**** | 197595335 | 3/15/2018 12:48:00 AM | - |
| iz**** | 200220426 | 3/15/2018 12:25:00 AM | - |
| Mo**** | 194857298 | 3/13/2018 7:38:00 PM | - |
| Mo**** | 195533484 | 3/13/2018 7:38:00 PM | - |
| Mo**** | 196689599 | 3/13/2018 7:38:00 PM | - |
| Mo**** | 194647579 | 3/13/2018 7:38:00 PM | - |




















---
Please Go Through @ Read This Carefully; It Contains Very Important Information About Your Rights And Obligations, As Well As Limitations And Exclusions That May Apply To You Behalf Of This Purchase.

*Goods Sold / Paid / Delivered Are Not Refundable, Returnable And Exchangeable. All Items Sold Carried 1 Year In-House Warranty. Extended Warranty By Manufacturer Or Distributor After The First Year, Processing And Delivery Charges Will Be Imposed. Cancellation Fee (20%) Will Be Imposed On Orders Which Customer Require Refund Under The Condition Of Last Minutes Cancellation
*Deposit For Advance / Pre Order Is Not Refundable. Transportation / Courier Of Goods / Orders And All Cost Will Be Borne By Purchaser.
*Buyer / Purchaser Bear The Risk For Postage / Courier Orders. Mishandling, Damaged Or Missing Parcels / Orders Are To Be Claimed With Respective Courier Company According To Their Term And Condition (Insurance Is Optional For Item Value More Than RM500 For Extra Liability Coverage)

*Please Keep Any Purchase Receipt For Warranty Purposes. Dotatech IT Enterprise Holds To The Right To Reject Any Claim Without The Presence Of Purchase Receipt.

*Warranty On All Products Sold Is Considered Null And Void Under Any One Of The Following Conditions:

1) Warranty Claim Do Not Come With Original Proof Of Purchase/Receipt.
2) Warranty Seal/Sticker Is Tear, Broken Or Tempered.
3) Misuse, Mishandling, Natural Disaster Or Unauthorized Disassembly.
4) Burn Mark Or Any Physical Defect/Damage Caused By End User Or During Deliver / Postage / Courier.
5) Modification, Personal Repair Or Excessive Over Clocking Resulting Malfunction.
*Please Check Carefully When You Send In Defective Part(s) For RMA/Warranty. If We Checked The Product Are Issue-Free, Handling and Service Charges Incur Starting From RM35.
**DoTaTech is not liable for any loss or corruption of data of your confidential, proprietary or personal information. You are advise to back up all your data before bring in the hardware/system for repair.

**All system that send in for services are at YOUR OWN RISK.

**DotaTech will not charge any charges to customer for the any hardware service/inspection within the one (1) year warranty period excluding courier charges for outstation buyer. Charges shall applied to the customer after one (1) year period and hardware that not purchase from Dotatech including handling and delivery fees.

**All defective products that need one to one exchange within 7 days from the date of purchase are depends on stock availability and condition of the particular items.
**Please Check Carefully When You Send In Defective Part(s) For RMA/Warranty. If We Checked The Product Are Issue-Free, Handling and Service Charges Incur Starting From RM35


DotaTech reserves the right to revise, amend or modify this terms of conditions at any time and any manner without prior notice and shall not responsible for any unlicensed software that comes with hardware/system.

Hardware/System after repair that have not claimed within the sixty (60) days after being notified, it will consider your system abandoned . We may dispose of your system without any prior notice to you .
Questions & Answers
Do you have any questions to ask merchant about this product
Ask Seller
| | | |
| --- | --- | --- |
| 5 star | | 0 |
| 4 star | | 0 |
| 3 star | | 0 |
| 2 star | | 0 |
| 1 star | | 0 |
Share your thoughts with others
Write a review
Only buyers who purchased the product may leave a review