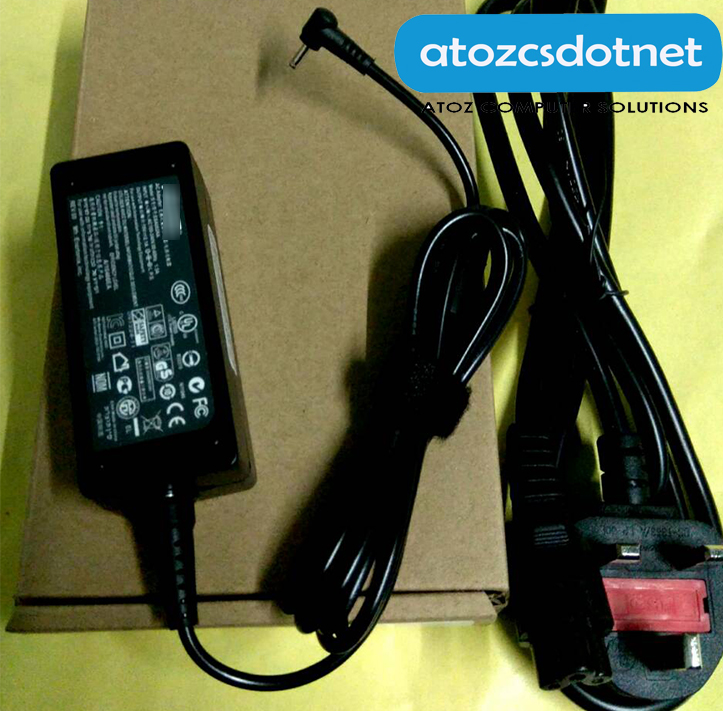 *Pictures for illustration purpose, Item label may difference
Description:
Watt: 40W
Output Voltage:19V
Current:2.1A
Connector Size:2.5*0.7mm
AC Pin: 3PIN
Condition: Brand New Replacement Adapter (compatible to replace Original Adapters)
Package Include: 1x adapter, Free power cord
Warranty: 3 months Power Adapter, 1 Week Power Cord
Compatible AC Adapter:
19V 2.1A Compatible For
AC Power Adapter LAptop Charger 19V 2.1A 40W 2.5mm*0.7mm
AC Power Adapter LAptop Charger 19V 1.58A 40W 2.5mm*0.7mm
Helpful Hint:
Note: To find the right adapter for your laptop, is to check the sticker at the bottom of the laptop or the Original Adapter (not the replacement one) which state the amount of DC Voltage and Current output recommended for the laptop.
PLEASE READ BEFORE ORDER :)
Shipping everyday except public holiday and Saturday first week.
Cut off time 2pm, ship same day. 2 -4pm peak time and slow response, order still process if no pending order to prepare.
some model of laptop keyboard we need extra time to check for quality. the preparation might be between 24 hour depending on order.
! Beware of cheap quality battery, dead at 0%, unable to charge,??????‍????‍??????
! Beware of cheap keyboard, unstable key, hard to press, unresponsive keys lead to slow typing experience
! Beware of cheap adapter which caused interference, electro static on metal parts of your laptop cause small electric shock, feels too hot and lead to unease feeling doing your job.
!Beware of cheap power cord that burn within a month
!Beware of cheap powercord that cause adapter malfunctioning.
@ Our batteries 100% did NOT die at 0%, able to recharge ?????‍??????
@ Our oem keyboards100% quality assurance, our qc team is very sharp in detecting unnoticeable defect in oem keyboard and all fixed, tested before shipping,????‍????‍????‍??
@ Our adapters 100% less to zero interference to lcd and mouse (lcd vibrating ,mouse pointer shaking etc)
Welcome, cheap quality if it doesn't function as intended is just a toys.