Item Specification
Product Description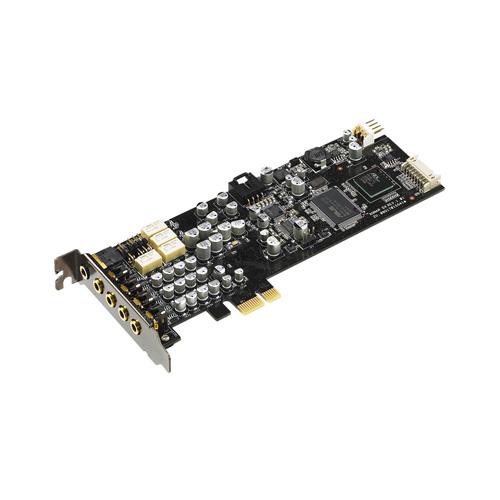 Xonar DX
Dolby Home Theater Technologies & Richest Gaming Audio Effects for best PC audio upgrade
- Powered by complete Dolby Home Theater technologies
- Supports latest DS3D GX 2.0 for gaming on Vista & XP
- VocalFX voice processing technologies to make gaming and online chat more lively and attractive
- Delivers ~35 times cleaner audio quality (116dB SNR) than most motherboard audio (85dB SNR)
Add To Compare List
Print
| | |
| --- | --- |
| | Dolby Home Theater Technologies & Richest Gaming Audio |
|   | Effects for best PC audio upgrade |
Complete Dolby Home Theater technologies
Inheriting from D2 and D2X, Xonar DX also provides complete valuable Dolby Home Theater technologies for games and all home entertainments:
Dolby Digital Live:
Real-time 5.1 Dolby Digital surround sound encoders

Dolby Pro-Logic IIx:
Converts stereo or 5.1 sounds to seamless 7.1 surround soundfield

Dolby Headphone:
Delivers a realistic and spacious 2-to-5.1 surround or 3D positional soundfield over any set of stereo headphones

Dolby Virtual Speaker:
Simulates a highly realistic 5.1-speaker surround sound listening environment from as few as two speakers.
Supports latest DS3D GX 2.0 for gaming on Vista & XP
DS3D GX 2.0 not only revives EAX and DirectSound effects in games on Windows Vista as GX 1.0, but also incorporates Dolby Home Theater Technologies (Dolby Virtual Speaker, Dolby Headphone, Dolby Digital Live, Dolby PrologicIIX) to provide best gaming audio experience.
Innovative VocalFX makes gaming and online chat more lively and attractive
VocalFX is an innovative voice processing technology to let your voice get into the realistic game landscape (VoiceEX) or to emulate the background scenes in online chat (ChatEX). It also allows you to change your voice pitch to disguise who you are (Magic Voice). These features dramatically increase the fun for voice communication on PC.
Delivers about 35 times cleaner audio quality (116dB SNR) than most motherboard audio (85dB SNR)
The noise on Xonar DX audio card is only 1/35 (2.8%) of the noise level from most motherboard onboard audio. In addition, Xonar DX also produces as little as 1/32 (-105dB) of the total harmonics distortion from motherboard audio does (-75dB).
Package Contents

XonarTM DX 7.1 Channel PCI Express Audio Card

Driver CD (including Portable Music ProcessorTM Lite and RMAA V6.0.6 utilities)

S/PDIF TOSLINK optical adaptors *1

Quick Start Guide
System Requirements

One PCI Express 1.0 (or higher) compatible slot for the audio card

One available 4-pin power cable from PC's power supply unit

Microsoft® Windows® Vista(32/64bit)/XP(32/64bit)/MCE2005

Intel® Pentium®4 1.4GHz or AMD Athlon 1400 CPU or faster CPU

>256 MB DRAM system memory

>60 MB available HDD space for driver installation package

CD-ROM drive (or DVD-ROM drive) for software installation

High-quality headphones, powered analog speakers, or a Dolby Digital or DTS decoder, to enjoy the ultra-high fidelity sounds of the card
Specifications
Audio Performance
Output Signal-to-Noise Ratio (A-Weighted):
116dB for front-out, 112dB for other channels dB
Input Signal-to-Noise Ratio (A-Weighted):
112 dB
Output THD+N at 1kHz:
0.00056% (-105dB) for Front-out
Input THD+N at 1kHz:
0.0004% (-108dB) for Line-in
Frequency Response (-3dB, 24-bit/96kHz input):
<10Hz to 48KHz
Output/Input Full-Scale Voltage
2 Vrms (5.65 Vp-p)
Main Chipset
Audio Processor:
ASUS AV100 High-Definition Sound Processor (Max. 192KHz/24bit)
24-bit D-A Converter of Digital Sources:
Cirrus-Logic CS4398*1 for Front-Out (120dB SNR, Max. 192kHz/24bit), Cirrus-Logic CS4362A*1 for other 6 channels (114dB SNR, Max. 192kHz/24bit
24-bit A-D Converter for Analog Inputs:
Cirrus-Logic CS5361* 1 (114dB SNR, Max. 192kHz/24bit)
I/O Ports
Analog Output Jack:
44.1K/48K/96K/192KHz @ 16/24bit, Dolby Digital, DTS
Analog Input Jack:
3.50mm mini jack *1 (Shared by Line-In/Mic-In)
Other line-level analog input (for CD-IN/TV Tuner):
Supports 44.1K/48K/96K/192KHz @16/24bit with very low latency
Digital S/PDIF Output:
High-bandwidth TOS-Link optical transmitter (shared with Line-In/Mic-In jack) supports 192KHz/24bit
 
Driver Features
Operation System:
Windows 7/Vista/XP/MCE2005
Dolby® Technologies:
Dolby® Digital Live
Dolby Digital Live encodes any audio signal on PC in real-time to Dolby Digital (AC3) 5.1 surround sounds to your home theater environment through one single S/PDIF connection

Dolby® Headphone
Dolby Headphone technology allows users to listen to music, watch movies, or play games with the dramatic 5.1-channel surround or realistic 3D spacious effects through any set of stereo headphones.

Dolby® Virtual Speaker
Dolby Virtual Speaker technology simulates a highly realistic 5.1-speaker surround sound listening environment from as few as two speakers.

Dolby® Pro-Logic IIx
Dolby Pro-Logic II is the well-known technology to process any native stereo or 5.1-channel audio into a 6.1- or 7.1- channel output, creating a seamless, natural surround soundfield.
Smart Volume Normalizer™:
Smart Volume Normalizer™
Normalizes the volume of all audio sources into a constant level and also enhances your 3D sound listening range and advantages in gaming

Xear 3D™ Virtual Speaker Shifter:
Virtual 7.1 speaker positioning

Magic Voice™:
Xonar D1 provides VocalFX, the latest vocal effect technologies for gaming and VoIP, including: -VoiceEX: produces vivid environmental reverberation for your voice in EAX games -ChatEX: emulates different background environment effects when you chat online -Magic Voice: changes your voice pitch to different types (Monster/Cartoon…) for disguising your real voice or just for fun in online chatting
Karaoke Functions:
Music Key-Shifting and Microphone Echo effects like professional Karaoke machine
FlexBass™:
Professional Bass Management/Enhancement system
3D Sound Engines/APIs:
Vista: DirectSound3D® GX 2.5, DirectSound® HW, DirectSound SW, A3D®1.0, OpenAL generic modes, 128 3D sounds processing capability

XP: DirectSound2.5 SW, A3D®1.0, OpenAL generic modes, 128 3D sounds processing capability

DS3D GX2.5:
DS3D GX 2.5 gaming sound effects and DirectSound 3D hardware enhanced functions on Windows Vista. (DirectX/DirectSound 3D compatible)
Bundled Software Utility
RightMark Audio Analyzer 6.0.6:
Easy but powerful software intended for testing the quality of audio equipments
Accessories
1 x S/PDIF optical adaptors
1 x Low-profile Bracket
Size (Width x Height)
68.9 x 167.64mm
 
Model
Date
Subject And Comments
Media
Area
Xonar DX
2010/10
Editors Choice

Very good fine tuning and nativeness of the sounds.

More
Hartware.de
GERMANY
Xonar DX
2010/05
Premium Grade

It definiatly has the best music reproduction of any cards in this sub-£100 group.

Custom PC
UNITED KINGDOM
Xonar DX
2010/04
Modders-Inc Editor's Choice Award

Music this is where a discrete sound card just blows away any onboard audio. Gaming I must say that I was very impressed with the results. Let's jump right to the point of the big question that we all want to know. .. is it worth the cash you will spend on it? … do you value high quality audio without static, buzzing, or hissing with clear sound at a good price that is absolutely an step up from the onboard audio that you get with your motherboard? Then I guess you answered your own question.

More
Modders-Inc.com
UNITED STATES
Xonar DX
2010/04
Excellence Award

Although the Xonar DX has been around for a while, it's held its place as one of the best sound cards for £50 or so. With excellent continued driver support and a decent price, this little PCI-E card sets the standard that the rest of the budget sound card market has to meet, and does so with great style.

More
Bit Tech
UNITED KINGDOM
Xonar DX
2011/03
CD Action Recommends

excellent sound quality; good price; extended driver; TOSLINK output; PCI-e bus

CD ACTION
POLAND
Buy with confidence
| | | | |
| --- | --- | --- | --- |
| Buyer | Item ID | Date | Ratings |
| tc**** | 204069647 | 5/25/2018 4:10:00 PM | Good packaging and fast delivery. Will definitely deal again. |
| Re**** | 194647574 | 5/25/2018 3:03:00 PM | Awesome seller. Definitely will buy again from this seller. Thank you. |
| ko**** | 199271475 | 5/24/2018 7:09:00 AM | FAST AND FURIOUS My item come fast and on time like it should be, good packaging and easy to track.. good job.. |
| ha**** | 202824181 | 5/22/2018 2:04:00 PM | - |
| sy**** | 195821600 | 5/22/2018 1:08:00 PM | Good packaging [dual box] and good Customer Service. Will definitely deal again. |
| Ja**** | 194857298 | 5/21/2018 8:50:00 PM | - |
| li**** | 204132155 | 5/19/2018 11:23:00 AM | - |
| si**** | 197512971 | 5/17/2018 1:54:00 PM | Prompt response and delivery. |




















---
Please Go Through @ Read This Carefully; It Contains Very Important Information About Your Rights And Obligations, As Well As Limitations And Exclusions That May Apply To You Behalf Of This Purchase.

*Goods Sold / Paid / Delivered Are Not Refundable, Returnable And Exchangeable. All Items Sold Carried 1 Year In-House Warranty. Extended Warranty By Manufacturer Or Distributor After The First Year, Processing And Delivery Charges Will Be Imposed. Cancellation Fee (20%) Will Be Imposed On Orders Which Customer Require Refund Under The Condition Of Last Minutes Cancellation
*Deposit For Advance / Pre Order Is Not Refundable. Transportation / Courier Of Goods / Orders And All Cost Will Be Borne By Purchaser. For Self Collect Order, Shipping Fee Is Non-Refundable
*Buyer / Purchaser Bear The Risk For Postage / Courier Orders. Mishandling, Damaged Or Missing Parcels / Orders Are To Be Claimed With Respective Courier Company According To Their Term And Condition (Insurance Is Optional For Item Value More Than RM500 For Extra Liability Coverage)

*Please Keep Any Purchase Receipt For Warranty Purposes. Dotatech IT Enterprise Holds To The Right To Reject Any Claim Without The Presence Of Purchase Receipt. Please Request Our Official Tax Invoice In Case You Didn't Receive Them Within 7-Working Days Of Purchase FOC. In Case You Lost Or Misplaced The Invoice After That, Penalty RM15 Will Be Imposed To Reissue The Document

*Warranty On All Products Sold Is Considered Null And Void Under Any One Of The Following Conditions:

1) Warranty Claim Do Not Come With Original Proof Of Purchase/Receipt.
2) Warranty Seal/Sticker Is Tear, Broken Or Tempered.
3) Misuse, Mishandling, Natural Disaster Or Unauthorized Disassembly.
4) Burn Mark Or Any Physical Defect/Damage Caused By End User Or During Deliver / Postage / Courier.
5) Modification, Personal Repair Or Excessive Over Clocking Resulting Malfunction.
*Please Check Carefully When You Send In Defective Part(s) For RMA/Warranty. If We Checked The Product Are Issue-Free, Handling and Service Charges Incur Starting From RM35.
**DoTaTech is not liable for any loss or corruption of data of your confidential, proprietary or personal information. You are advise to back up all your data before bring in the hardware/system for repair.

**All system that send in for services are at YOUR OWN RISK.

**DotaTech will not charge any charges to customer for the any hardware service/inspection within the one (1) year warranty period excluding courier charges for outstation buyer. Charges shall applied to the customer after one (1) year period and hardware that not purchase from Dotatech including handling and delivery fees.

**All defective products that need one to one exchange within 7 days from the date of purchase are depends on stock availability and condition of the particular items.
**Please Check Carefully When You Send In Defective Part(s) For RMA/Warranty. If We Checked The Product Are Issue-Free, Handling and Service Charges Incur Starting From RM35


DotaTech reserves the right to revise, amend or modify this terms of conditions at any time and any manner without prior notice and shall not responsible for any unlicensed software that comes with hardware/system.

Hardware/System after repair that have not claimed within the sixty (60) days after being notified, it will consider your system abandoned . We may dispose of your system without any prior notice to you .
Questions & Answers
Do you have any questions to ask merchant about this product
Ask Seller
| | | |
| --- | --- | --- |
| 5 star | | 0 |
| 4 star | | 0 |
| 3 star | | 0 |
| 2 star | | 0 |
| 1 star | | 0 |
Share your thoughts with others
Write a review
Only buyers who purchased the product may leave a review