Product Description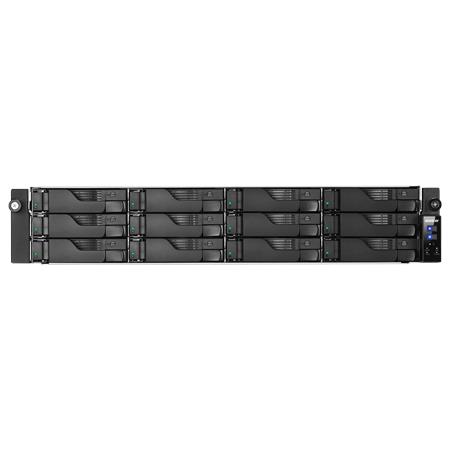 AS7012RD 
An enterprise class storage solution
The AS7012RD / AS7012RDX is a high performance network storage solution that 
effectively simplifies data management, is optimized for virtual environments and offers 
bulletproof protection for critical digital assets.
-Complete iSCSI and NFS support. VMware, Citrix and Hyper-V ready
-Windows ACL support combined with Windows AD infrastructure enhances management efficiency for business applications
-Support for RAID 0, 1, 5, 6, 10 and hard drive hot swapping
-10GbE Ethernet card and memory expansion slots allow for further expansion as the need arises
-New disk tray locks ensure that hard disks will not be accidentally ejected during operation
-SMB 2.0 support increases Windows networking performance by 30%-50%
Advanced File Permissions Management - Windows ACL
For IT professionals, file permissions configuration is a very important topic, especially in enterprise environments. Because the native Linux 
system file permission mechanisms are different than those in Windows, in the past, IT professionals had to create a separate set of permissions 
for files stored on NAS servers. This also limited the number of permission configuration options that were available to them.
In order to help IT professionals simply their work, ASUSTOR has comprehensively integrated Windows ACL into ADM. Windows ACL provides a 
set of 13 different permissions settings, allowing administrators to configure permissions for individual files and folders that can be applied to 
different groups and users. Windows ACL permissions can be configured from within ADM's File Explorer or Microsoft Windows Explorer allowing 
administrators to easily manage permissions using familiar methods.
Meeting the Expansion Needs of Tomorrow, Today
The scale of a business's Internet usage will shift in the wake of its expansion and development. A server that is providing stable service to 100 people today may not be able to handle the needs of tomorrow when the number of employees or applications expands, forcing the business to purchase additional equipment.

ASUSTOR's 70 Series devices help businesses meet the expansion needs of tomorrow, today. All devices in the series come equipped with 10GbE network card expansion slots12. Should a business decide to upgrade to an ultra-high-speed backbone network, the 70 Series devices will be able to seamlessly take advantage of this without being limited by the built-in gigabit Ethernet ports.

Furthermore, when more and more people start to access the NAS or when the number of installed applications increases, the amount of installed memory will be one of the limiting factors affecting the overall performance of the NAS. The AS7012RD and AS7012RDX both come with 2GB of built-in memory which can further be expanded to a maximum of 16GB2. Equipped with such flexible expansion features, ASUSTOR's 70Series NAS devices are the optimal choice for any growing business.

1. The AS7004T does not include a 10GbE network card expansion slot.
2. For a full list of compatible 10GbE network cards and memory, please visit: http://shop.asustor.com/
A Surge in Data Transfer Performance
ADM 2.3 supports SMB 2.0 which reduces the burden of network traffic on the NAS while simultaneously providing greater data transfer 
capacity.In the ASUSTOR testing environment, SMB 2.0 was found to increase Windows networking performance by 30%-50%*. SMB 2.0 also 
significantly increases the number of concurrent Windows client connections and simultaneously open files, making ADM 2.3 even more suitable for large-scale Microsoft network environments.
Optimized Cooling Design
When there is a high load on the NAS, the CPU will begin to heat up, affecting the stability of the system. A common way of dealing with this is to lower the CPU frequency which will then cause the temperature to decrease. However, this will also lower the overall performance of the system. 

ASUSTOR's 70 Series devices utilize fans with wide speed ranges combined with a smart speed control mechanism that allows the CPU to maintain a controlled operating temperature even under high loads. Under most circumstances the fans will operate at a low speed, conserving energy. When the system load and temperature increases, the fans will automatically increase their speed to cool the CPU without it having to lower its frequency. This allows the NAS to maintain stability and high performance even under high loads.
Enterprise Backup
The AS7012RD  features comprehensive backup solutions. The built-in redundant power supply and 4 Gigabit Ethernet ports effectively increase reliability, data integrity and execution speeds. The Ethernet ports and power supply all feature failover capabilities (when one fails, the other can continue to operate) in order to ensure for continuous data availability.
Create a Stable, Reliable and High Quality Surveillance System
The powerful 70 Series devices provide you with stress free reliability when installing a surveillance system in your home or office environment. Installing the Surveillance Center App from App Central instantly turns your NAS into 24/7, high definition surveillance system. Surveillance Center provides comprehensive cross-platform support, allowing both Windows and Mac users to use familiar web browsers to access their surveillance feeds. Furthermore, ASUSTOR also offers the free AiSecure mobile app that gives users access to all their surveillance feeds while on the go. AiSecure also provides the ability to receive instant push notifications from Surveillance Center, allowing users to keep up with the latest developments. No matter if you need to protect individual assets, loved ones or your business, the powerful 70 Series devices are your optimal choice when creating a comprehensive surveillance system. 
Specifications
Hardware & Packaging
Hardware Specifications
CPU: 
AS7012RD: Intel® Core i3 3.5GHz Dual-Core Processor
AS7012RDX: Intel® Xeon E3 3.4GHz Quad-Core Processor
AES-NI hardware encryption engine integrated
Hardware transcoding engine supported format: H.264 (AVC), MPEG-4 Part 2, MPEG-2, VC-1
Memory: 
AS7012RD: 4GB UDIMM DDR3 (Expandable. Max 32GB)
AS7012RDX: 4GB ECC UDIMM DDR3 (Expandable. Max 32GB) Installation Guide
HDD: 2.5" / 3.5" SATA II/ III or SSD x 12¹ Compatibility
Maximum Internal Raw Capacity: 96 TB  (8 TB HDD X 12, Capacity may vary by RAID types)
Supports Hot Swappable Drives
Expansion: USB 3.0 x 4, eSATA x 2, 2 x for optional expansion 10-GbE / SAS card
Network: Gigabit Ethernet x 4
PCIe Expansion Slots: for optional 10GbE card and SAS card
Output: HDMI 1.4a x 1
System Fan: 60mm x 3
Input Power Voltage: 100V to 240V AC
Certification: FCC, CE, VCCI, BSMI, C-TICK
Operation
Power Consumption: 
AS7012RD:
122 W (Operation)
54.8 W (Disk Hibernation)
4.09 W (Sleep Mode)²
AS7012RDX:
123 W (Operation)
55.6 W (Disk Hibernation)4.13 W (Sleep Mode)² ²
Noise Level: N/A
Operation Temperature: 5°C~35°C (40°F~95°F)
Humidity: 5% to 95% RH
ASUSTOR Hightlight
System Migration
Cloud Connect
Dr.ASUSTOR
2-way Backup
Task Monitor
Eco-Friendly Design
System Automatically Enters Sleep Mode (Schedule S3)
Auto-Standby for Both Internal and External Disks
Auto Fan Control
LED Night Mode
Power Schedule: On, Off, Restart, and Sleep
Size and Weight
Software & Features
Operating System
ADM 2.5 Onwards
Supports Online Firmware Updates
Supported OS
Windows XP, Vista, 7, 8, Server 2003, Server 2008, Server 2012
Mac OS X 10.6 Onwards
UNIX, Linux, and BSD
Supported Languages
Deutsch, English, Français, Italiano, Nederlands,Русский, 日本語, 한글, 简体中文, 繁體中文, Česká,Polski, Svenska, Dansk, Norsk, Suomi, Português,Türkçe, Español, Magyar
Supported Browsers
Internet Explorer 9 Onwards
FireFox
Chrome
Safari
Virtualization
VMware ready
Citrix ready
Network Protocols
CIFS / SMB, SMB 2.0, AFP, NFS, FTP (Unicode Supported), TFTP, WebDAV, Rsync, SSH, SFTP, iSCSI, HTTP, HTTPS, Proxy, SNMP, Syslog
File System
Internal Disk: EXT4
External Disk: FAT32, NTFS, EXT3, EXT4, HFS+
Storage Management
Support Multiple Volumes with Spare Disks
Volume Type: Single disk, JBOD, RAID 0, RAID 1, RAID 5, RAID 6, RAID 10
Support for Online RAID Level Migration
Support for Online RAID Capacity Expansion
MyArchive
Insert Hard Disk & Immediately Access Files
Transfer or Exchange Terabytes of Data via the Internal Hot-Swap SATA Interface
Up to 2 Bays Reserved for MyArchive Docking Purposes
iSCSI
Maximum Targets: 256
Maximum LUNs: 512
Maximum Snapshot Versions of a Single LUN: 256
Target Masking
LUN Mapping
ISO File Mounting
Supports MCS
Persistent (SCSI-3) Reservations
Customized Sign In Page
2 Different Template Choices
Customizable Title, Imageand Background
Image Import Function
Disk Management
Scheduled Bad Block Scans
Scheduled S.M.A.R.T Scans
Energy Control
Configurable Disk Hibernation and Sleep Mode Wait Time
Configurable Time Period for Sleep Mode Activation
Automatic Sleep
Network
TCP/IP (IPv4 & IPv6)
Link Aggregation: Supports 802.3ad and Six Other Modes for Load Balancing and/or Network Failover
Jumbo Frame (MTU)
VLAN
Cloud Connect
Wireless Network³
DDNS and EZ-RouterCompatibility
Supports Wake-on-LAN (WOL)
Backup Solutions
Rsync (Remote Sync) Backup
Cloud Backup
FTP Backup
External Backup
Internal Backup Using Internal High Speed SATA's 6GB Bandwidth to Back up to MyArchive/Volume
One Touch Backup
System Administration
Log Type: System Log, Connection Log, File Access Log
Real-time Online User Monitor
Real-time System Monitor
User Quota
Virtual Drive (ISO Mounting, Maximum 16)
UPS SupportCompatibility
Network Recycle Bin
Share folder-based
Maintains original directory structure and file permission
On-click restore
Supports scheduled emptying
Filtering rules

File size
File extension
Access Control
Maximum Number of Users: 16384
Maximum Number of Groups: 512
Maximum Number of Shared Folders: 512
Maximum Number of Concurrent Connections: 2048
Supports Windows Active Directory
ACL
Provides both Windows ACL and Linux ACL permission configuration methods
Can enable Windows ACL for specific shared folders
Comprehensive support for Windows' 13 types of advanced permission settings
Can view Windows ACL permission settings from within ADM
Supports local users and groups
Exclusive permission reset function allows users to quickly restore default permissions
Security
AES 256-Bit Folder Encryption
Firewall: Prevent Unauthorized Access
Alert Notifications: E-mail, SMS
Encrypted Connections: HTTPS, FTP over SSL/TLS, SSH, SFTP, Rsync over SSH
Built-in Hardware Encryption Engine: AS70/61/62/10 Series
Network Defender
Auto black list
Trusted list
Black/White list

Supports IP/IP range/geolocation
Supports USB/eSATA3 External Storage Devices
USB Wi-Fi Dongle Support
Bluetooth Dongle/Speaker Support
USB Printer Support
USB DAC/IR Receiver/Keyboard/Mouse Support
CD ROM Drive/DVD ROM Drive/Blu-Ray ROM
Featured Apps
Antivirus
Scheduled Scans
Automatic Virus Definition Updates
Quarantine Infected Files
ASUSTOR Portal(HDMI Local Output)⁶
Supports Output for 4 Channels of Megapixel IP Camera Video Feeds
Chrome Web Browser and YouTube Integration
Downloads from Chrome Automatically Saved to the NAS
Power Control Settings: Power on, Sleep, Restart and Wake via Remote
Customizable ASUSTOR Portal Desktop Wallpaper
Add Shortcuts to Favorite Websites
Increased TV Compatibility via Overscan and Resolution Settings
Max. Resolution: 1080p(HD)/2160p(4k)⁷
ADM integrated for local system management
Virtual Machines are Able to run the Following Operating Systems: Windows, Linux, Solaris, Mac OS X
Virtual Machine Import Format: OVF
Virtual Machine Export Format: OVF 0.9, OVF 1.0, OVF 2.0
Virtual Machine Snapshots
Virtual Machine HDMI Audio Output
Physical NAS Network Port can be Designated for use by Specific Virtual Machine
XBMC
Play All Media Content Stored on NAS
Video Output via HDMI
TV Shows, Movies, Apps and More
ASUSTOR Easy Selectable Shared Folder
AiRemote Mobile App for iOS & Android
Supports SBS 3D Playback (Side By Side)
Max resolution: 1080p (HD) / 2160p (4K)⁷
Download Center
Supports BT(Torrent & Magnet Link), HTTP and FTP Downloads
Torrent Search
Choose Files Before a BT Task Starts
Customizable Download Schedule
Bandwidth Control
RSS Subscription and Automatic Downloading (Broadcatching)
ASUSTOR Download Assistant for Windows & Mac
AiDownload for iOS & Android with Push Notification
Smart Download Function
DataSync for Microsoft OneDrive
Each ADM account is able to individually log into a OneDrive account
Supports file filter and bandwidth limitation
Supported backup methods:

Sync
Directly upload files to OneDrive from NAS
Directly download files from OneDrive to NAS
DropBox
Each ADM Account is Able to Individually Log in to One Dropbox Account
Supported Backup Methods:
File Explorer
Web-based File Management
ISO File Mounting
Share Links
Task Monitor
Browse Files on Local PC
Thumbnail Previews
Data Access via External Optical Drive
Supports video playback¹⁰
FTP Explorer
Directory Structure View with Drag & Drop Transfers
Task Monitor
Stopping of Transmission Task & Resumption of Connection
Encrypted Connections: Explicit over TLS, Implicit over TLS
FTP Site Manager
Bandwidth Control
Maximum Simultaneous Transfer Control
Google Drive
Each ADM Account is Able to Individually Log in to One Google Account
Supported Backup Methods:

Sync
Directly Upload Files to Google Drive from NAS
Directly Download Files from Google Drive to NAS
HiDrive
Each ADM Account is Able to Individually Log in to One HiDrive Account
Supported Backup Methods:

Directly Upload Files to HiDrive from NAS
Directly Download Files from HiDrive to NAS

Supported Protocols:

Rsync
FTP
FTPS
SFTP
Rsync + SSH
Currently only available for Windows Chrome. Installation of the VLC media player browser plug-in is required.
Supports the use of DVB-T/DTMB digital TV dongles to stream and record scheduled digital TV programs.
Only certain countries and territories support DVB-T. Please click on the following link to learn more about the regions supporting DVB-T. (Please see thecompatibility listfor more information on compatible DVB-T/DTMB digital TV dongles)
Supports multiple TV tuners. A single TV tuner can only stream or record from one channel at a time.
Playback of High-Definition Video Files
Supports External Subtitles and Multiple Audio Channels
Supports the Browsing of Photos
Recently Added, Recently Watched and Favorite Browsing Categories
Supports Browsing of Electronic Program Guides
Edit and Manage Recording Tasks
Configure Recording Tasks: Time, Length and Recording Frequency
No Need for an EPG, Just Select a Channel and Time to Begin Recording
Recording Task Log
Configurable Favorite Programs to Record
Supported video formats: avi, flv, mov, mp4, mkv, mka, ts, mpg, ra, ram, rm, rv, rmvb
Supported video codec: aac_latm, aac, ac3_fixed, ac3, dca, eac3, h.264, mlp, mp1, mp2, mp3, mpeg2video, mpeg4, treuhd, vc1, wmav2, wmv3
Supported external subtitle formats: srt, ass, ssa
Supported photo formats: jpg, jpeg, bmp, png, gif, tif
Background conversions (mp4)
A variety of conversion resolution options: 240p, 360p, 480p,720p, 1080p⁹
Smart Folder automatically adds conversion tasks
Supports smart converting
Supports scheduled conversion tasks
iTunes Server
For iTunes on Mac & Windows
Supports AirPlay
Supports iOS Remote Pairing
Supported Audio Formats: AIF⁵, M4A (AAC & Apple Loseless), M4P, M4R, MP3, WAV⁵
Supported Video Formats: M4V, MOV, MP4
Supported Playlist Formats: M3U, WPL
Mail Server
Each ADM Account can Become an Independent Email Account
Email Activity Monitor (Over 1 Week, 1/3/6 Months)
Provides SMTP, IMAP and POP3 Mail Protocols
Supports SMTP Relay and Verification
SMTP-SSL Secure Connections
Spam Filter and Black List Settings
Antivirus Scanning for Emails
Email Alias Creation and Mapping
Monitoring of Mail Queue
Mail Service Activity Log
Exclusive Email Backup Mechanism
Auto-Forwarding and Auto-Response Protocols
Photo Gallery
Supported Image Formats: JPG/JPEG, GIF, PNG, BMP, TIFF, RAW (ARW, CR2, CRW, DNS, DCR, ERF, K25, KDC, MEF, MONO, MRW, NEF, NRW, ORF, PEF, PPM, RAF, RW2, SR2, SRF)
Image Library Import
Album Access Control
Supports video playback¹⁰
Unique Pinterest Style Photo Album with 5 Photos on Cover
Supported Image Format: JPG, PNG, GIF, Raw
Up to 24channels in 720p on single live view display(4 Free Channels)
On-screen camera controls including camera PTZ, manual recordings, take snapshots,configure camera settings and open Maps
Up to 4 channels of synchronous and non-synchronous playback with audio
Intelligent video analytics including motion detection and foreign object detection
Supported Browsers: Windows Internet Explorer, Firefox, Mac Safari, Mac Firefox
Event notification supports SMS, E-mail, and mobile push notification
Automated event action rules
Role-based access control
RTSP streaming server (video and audio)
AiSecure mobile app for iOS and Android with Push notification
ONVIF™ 2.4, Profile S certified
Two different camera license packages are offered: single channel and 4 channels.
Maximum IP Cam (4 Free Licenses; Additional Licenses to be Purchased)
| | | |
| --- | --- | --- |
| Series | Maximum IP cam | Local display |
| AS7 | 49 | Yes |
| AS61/62 | 25 | Yes |
| AS50/51 | 25 | Yes |
| AS6 | 16 | Yes |
| AS31 | 16 | Yes |
| AS2TE/AS3 | 8 | Yes |
| AS2T | 8 | N/A |
| AS10 | 8 | N/A |
SoundsGood
Import Personal/Public Music Collection
Personal/Public Music Collection Permission Control
Playlist Editor
ID3 Tag Editor
Local Speaker Support: HDMI, USB, Audio Jack
Supported Audio Formats for Browser: MP3, WAV, Ogg
Supported Audio Formats for Transcoding Through Browser: AIFF, Flac
Supported Audio Formats for Local Speaker: MP3, WAV, Ogg, AIFF, Flac
ASUS DAC Support
Takeasy
Download from YouTube, Vimeo, YouKu, Tudou and More
Selectable the Video Type and Quality
Automatic Downloads with YouTube Subscriptions
Preview Downloads in Progress
Online Playback
UPnP Media Server
Supports PS3 and other Digital Media Player Capable Devices
Supports On-The-Fly Transcoding for Most RAW Images and Audio(OGG, FLAC)
Supported Image Formats: BMP, GIF, ICO, JPG, PNG, PSD, TIF, RAW Image⁴ (3FR, ARW, CR2, CRW, DCR, DNG, ERF, KDC, MEF, MOS, MRW, NEF, NRW, ORF, PEF, RAF, RAW, RW2, SR2, X3F)
Supported Audio Formats: 3GP, AAC, AC3, AIFC, AIFF, AMR, APE, AU, AWB, FLAC1, M4A, M4R, MP2, MP3, OGG Vorbis1, PCM, WAV, WMA
Supported Video Formats: 3GP, 3G2, ASF, AVI, DAT, FLV, ISO, M2T, M2V, M2TS, M4V, MKV, MPv4, MPEG1, MPEG2, MPEG4, MTS, MOV, QT, SWF, TP, TRP, TS, VOB, WMV, RMVB, VDR, MPE
VPN Client
Supported VPN Protocols: PPTP, OpenVPN
Transmission Package Monitor
PPTP Authentication: PAP, CHAP, MS CHAP, MS CHAP2
PPTP Encryption: No MPPE, MPPE (40, 128 bit), Maximum MPPE (128 bit)
OpenVPN Port Control
OpenVPN Link Compression
VPN Server
Supports PPTP and OpenVPN Protocols
View Current Connections & Ability to Disconnect Suspicious Connections
Comprehensive Connection Log
SNMP Server
Supports SNMP v1, v2c, v3 and trap
ASUSTOR NAS MIB provided
Syslog server
Supports standard syslog protocol
Graphical log monitoring by time and device
Supports TCP and UDP
Auto log archiving
User-defined email notification
Note:
¹ Hard disks not included.
² Test HDD: WD Red 3 TB HDD
³ USB Wi-Fi dongle not included.
⁴ You must first enable real time transcoding for these files in order to play them.
⁵ Metadata (e.g. title) may not be able to displayed in iTunes.
⁸ Files will be converted to mp4 format; Conversion to 1080p requires at least 1.5GB of RAM to be installed on the NAS ⁶ ASUSTOR recommends that ASUSTOR Portal be used with a TV with a resolution of 720p or higher or a monitor supporting audio output.
⁷ Currently, 2160p(4k) is only available on the 61/62/7 series.
⁸ Files will be converted to mp4 format; Conversion to 1080p requires at least 1.5GB of RAM to be installed on the NAS ¹⁰ Video playback is not supported in Chrome.

Last Updated @ 9/6/2016 2:47:33 PM
Buy with confidence
Questions & Comments


















---
We have partnered with a number of reputable courier companies for the detinasions we service . These include Airpak Express , Poslaju and Pos Malaysia
We shall endeavour to deliver your order within 1- 3 working days upon successful payment confirmation unless otherwise specifiy. You should be able to receive your order within 3-10 business days (excluding Saturday and Sunday) after shipment date, depending on the shipping courier you have chosen.
TECHVIEW is committed to ensure that your orders are delivered to you safely and on time. Therefore only the authorized receiver shall be permitted to accept the delivery. Please make sure that the authorized receiver is present to make the authorized signature. TECHVIEW reserve the rights not to release the delivery in the absence of the authorized receiver.
TECHVIEW is making every effort to deliver your order within the time stated. However, due to certain unforeseen circumstances, slight delay in deliveries might occur, TECHVIEW will not be liable for any loss caused to you by late or delayed delivery.
In the event if your package is lost by the shipping courier and your package has not been insured, we will only replace the lost products with the amount that is declared on the invoice according to your request.

You are required to make a report to us on damaged item(s) in your package within 24 hours after you have received the package. We will not entertain any request if more than 24 hours after you have received the package.

Orders will be charged packing and post based on the weight of the order. Packing and post costs will be added to your order total. Please note that due to varying size and weight of our products, and different postage rate to each country, the postage and packing costs will be calculated on an individual basis. Once your package has been shipped out, we shall not be held responsible/liable if any of the products are missing or damaged during shipping. TECHVIEW recommends that you insure your packages and declare the full value of the shipment so that you are completely protected if the shipment is lost or damaged in shipping. Please check your delivery address carefully as we will not be responsible for delivery to an incorrect address. The customer shall be responsible for the cost to resend a package that is returned because of an incorrect address.
The shipping cost that you paid does not includes tax and duties or any other extra charges impose by your local custom
If you have instructed us to create a lower value invoice for you and in the event that the parcel or package is lost during shipment, Fedex, DHL, UPS or any shipping agents shall only compensate on the lower invoice value for your order that you instructed us to put.
We reserve the right to put whatever amount of this order value in the shipping invoice if there is no request to change the order value or even if you have state an order value for us.
We do not entertain request for shipping packages in multiple parcels.
When you access this site, you acknowledge that you have read and agree to the terms described below. If you do not agree to the terms discussed here, you should exit the site and refrain from placing any order. These terms of use are a legal agreement between us and describe the terms and conditions applicable to your use of our website and the services we offer including the sale of products to consumers. You must read, agree with and accept all of the terms and conditions contained in this agreement and our Privacy Policy. This agreement includes those terms and conditions expressly set out below and those incorporated by reference. We strongly recommend that you also access and read any other information contained on other pages or websites referred to in this agreement, as they may contain further terms and conditions that apply to you.
It is your responsibility to make sure that your order contains acceptable and approved items for import into the country of destination/delivery. The buyers solely accept the full risk of any package (or part thereof) being detained by customs for whatever reason and acknowledge and agree that they will not hold TECHVIEW liable for such packages, for whatever reason being unable to be delivered to their destination.
You shall not carry out any act or omission or procure any act or omission which would: (a) disrupt, impair or interfere with, alter or modify this website or its software; (b) act in a way that affects or reflects negatively on us or anyone else; (c) collect or attempt to collect any information from others including, without limitation, personally identifiable information, without such party's prior consent; (d) engage in any activities in such a manner as to expose TECHVIEW or any third party to liability or adversely affecting the name, reputation or business of us or any such third party; (e) commit a crime or in the course of committing a crime or for an unlawful purpose to do any act that may damage the network or systems or cause the quality of TECHVIEW to be impaired; (f) violating or attempting to violate the security of the website; (g) Cause any illegal, offensive, defamatory material to be placed on or associated with this website; (g) b in breach of any copyright, trade mark, privacy, confidence, or any other third party right; (h) cause any inconvenience to TECHVIEW, its employees, servants, agents, software and other suppliers or any other third party (including, without limitation, creating or procuring software viruses, chain letters, unsolicited communications and 'spam'). NOTE: Violations of system or network security may result in civil or criminal liability.

TECHVIEW may make changes to any products offered at TECHVIEW , or to the applicable prices for any such products, at any time, without notice. The information provided at TECHVIEW with respect to products may be out of date and TECHVIEW makes no commitment to update the information provided at TECHVIEW with respect to such products.

Please check our Terms of Use periodically for changes as we reserve the right to change the terms and conditions of sale at anytime.
Every effort has been made to reflect product colours as accurately as possible. However, due to differences in monitors, we are unable to guarantee that the colour you will see on your monitor will accurately reflect the true colour of the product. All drawings, photos, descriptive matter, specifications and advertising issued on this website are issued or published for the sole purpose of giving an approximate idea of the products described in them. They will not form part of the contract with you and no warranty or guarantee shall be expressed or implied in the contract with you in this regard.
THIS SITE IS PROVIDED BY TECHVIEW ON AN "AS IS" AND "AS AVAILABLE" BASIS. TECHVIEW MAKES NO REPRESENTATIONS OR WARRANTIES OF ANY KIND, EXPRESS OR IMPLIED, AS TO THE OPERATION OF THE SITE OR THE INFORMATION, CONTENT, MATERIALS, OR PRODUCTS INCLUDED ON THIS SITE. TO THE FULL EXTENT PERMISSIBLE BY APPLICABLE LAW, TECHVIEW DISCLAIMS ALL WARRANTIES, EXPRESS OR IMPLIED, INCLUDING, BUT NOT LIMITED TO, IMPLIED WARRANTIES OF MERCHANTABILITY AND FITNESS FOR A PARTICULAR PURPOSE. WITHOUT LIMITING THE FOREGOING, TECHVIEW DISCLAIMS ANY AND ALL WARRANTIES, EXPRESS OR IMPLIED, FOR ANY MERCHANDISE OFFERED ON THIS SITE. YOU ACKNOWLEDGE, BY YOUR USE OF THE TECHVIEW WEB SITE, THAT YOUR USE OF THE SITE IS AT YOUR SOLE RISK. THIS DISCLAIMER DOES NOT APPLY TO ANY PRODUCT WARRANTY OFFERED BY THE MANUFACTURER OF THE PRODUCT. THIS DISCLAIMER CONSTITUTES AN ESSENTIAL PART OF THIS AGREEMENT.
TECHVIEW offers free "1 to 1 replacement" on all products items for the first 7 days upon receiving of goods (on manufacturer defects only).

Product(s) sold through TECHVIEW are serviced and supported by their manufacturers in accordance with any terms and conditions packaged with the products. We will not accept return of product(s) that are not compatible with your system configuration or damaged during shipment to and from or misused by customer / shipping carrier or hold by custom.

If you need to return product(s) back to us for warranty, please contact us at techview88@gmail.com . Please ship back the product(s) to the original packaging with any accessories as advised . Failure to do so may invalidate the warranty.

If the returned item(s) is not faulty after checking, a minimum amount (RM20.00) of administration fee will be charged you would need to bear for the return shipping cost.

For international sales order, the customer needs to bear the return courier charges and any other cost incurred.
Questions & Answers
Do you have any questions to ask merchant about this product
Ask Seller
| | | |
| --- | --- | --- |
| 5 star | | 0 |
| 4 star | | 0 |
| 3 star | | 0 |
| 2 star | | 0 |
| 1 star | | 0 |
Share your thoughts with others
Write a review
Only buyers who purchased the product may leave a review