D-77
(Dual ES9038Pro +1 FPGA )

Dedicated Discrete Fully Balanced DAC
DSD , DXD support from USB and I2S
32bit / 768K Dual Sabre ES9038Pro
32bit / 384K Asynchronous Transfer Amanero
Built in OCC








Audio-gd products had design and test based on the AP SYS-2722 (The top-drawer professional equipment in world)



The different between dual ES9038 Pro and single ES9038 Pro is large:
The different not only the DNR, but the dual ES9038 Pro working under mono mode, the channel crossing is improved for offer a larger and exact sound stage.




Even the ESS9028 Pro, working under mono mode, its DNR had 3DB better than one ES9038 Pro .




The FPGA is important in the D-77:
The FPGA is Programmable Array Logic.
Nowdays the FPGA had applied in a lot high end grade DACs, like the popular ROCKNA WAVEDREAM DAC.
Its inside hardware construction can through the complex software to design and arrange, and it can upgrade through the software upgrade.
While upgrade the firmware, just same as upgrade the hardware. The design is much flexibility , can improve on sound quality , addition the newest functions , and it can never become out of date.

What the FPGA duty in the D-77:
1, Separate the data feed to dual ES9038 Pro, let them working in mono mode.
2, Clock re-clock process and FIFO design for all inputs , the output data can exact synchronization with clock signal, reject jitter, improved sound for all inputs.
3, Built in high performance SPDIF interface , give up the built in low performance SPDIF interface of the ES9038 Pro, much improved on the sound quality with SPDIF inputs .

Full discrete output stages:
The signal last stage is the analog output stages, they can much effect the whole DAC sound quality.
The output stages working after ES9038 pro, they are full discrete transistors and 0.1% vishay resistors built in.
The high speed ACSS amps as the signal gain and process, they are non feedback design and working with current signal , so the dual ES9038 pro output current signal can through the ACSS amp , don't like others design want to multiple conversion the signal between current and voltage.
The output buffers are the single ended FET design .
In total the ACSS output stages are working in pure class A state, and without any negative feedback for the most pure and real like sound reproduce.
There are 4 pcs OPA built in as DC serve , so the DAC can working well without couple caps and output the most neutral sound.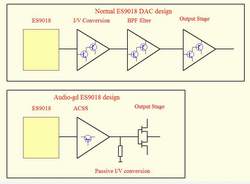 Heavy power supplies design:
There are in total 14 groups PSUs .
A total 11 groups ultra speed linear PSUs group become dual stages PSU for remove the power interrupt , give the digital circuits working under the very clean power supply .
2 groups pure class A PSUs for power supply to the analog circuits made the sound more analog.
The control and display circuits power supply by a separate PSU for avoid the interrupt between them and signal circuits.
Specifications might subject to change without prior notice for product improvement.
S/N Ratio

>120DB (XLR output)
 

THD
 
<0.0003%

Output impedance
 
4.7 ohm

Output Level
 
2.5V (RCA)
5V (XLR)
2+2MA (ACSS)
Input Sensitivity

0.5 Vp-p(75 Ohms, Coaxial)
19 dBm (Optical)
 
Frequency Response

20Hz - 20KHz (< - 0.1DB)
 

Support Operate Systems (USB)
 


Windows , OSX ,Linux, ISO
 

Support Sampling

PCM of

USB

and I2S: 44.1kHz, 48kHz, 88.2kHz, 96kHz, 176.4kHz , 192kHz, 352.8kHz,384kHz
DSD of USB and I2S: DSD64 , DSD128, DSD256
Coaxial model: 44.1kHz, 48kHz, 88.2kHz, 96kHz, 176.4kHz ,192kHz
Optical model: 44.1kHz, 48kHz, 88.2kHz, 96kHz
 
Power Requirement

Version 1: 100-130V AC 50/60 Hz
Version 2: 220-240V AC 50/60 Hz
 
Power Consumption

30W
 
Package Weight



Approximately

5.5KG
 

Dimensions
 
W240 X L360 X H80 (MM, Fully aluminium )
Accessories

AC power cord X1
USB cable X1


Last Updated @ 3/17/2019 2:35:53 PM