Item Specification
Product Description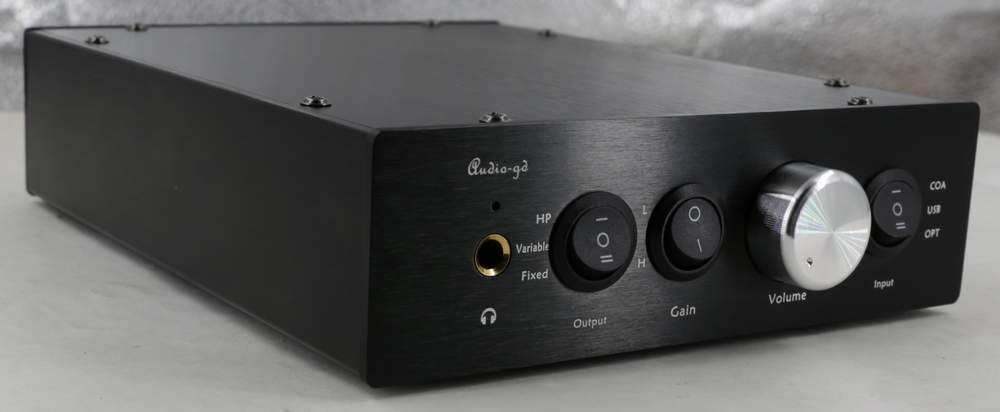 KINDLY PM FOR

LATEST STOCK AVAILABILITY

BEFORE MAKING PAYMENT
Hai Wei
** Facebook http://m.me/StarsPickerAudio
** WhatsApp https://goo.gl/GsPFak
NFB-11.28
(Since June 2017)

Discrete DAC+ Headphone amplifier / Preamplifier
DSD , DXD support from USB
32bit / 384K Sabre ES9028 Pro
32bit / 384K Asynchronous Amanero






Audio-gd products had design and test based on the AP SYS-2722 (The top-drawer professional equipment in world)



What's upgrade in the NFB-11.28?
1, Upgrade the DA chip from ES9018 to newest ES9028.
2, Upgrade to Amanero combo 384 (official price is USD97 exclude shipping cost) from the USB32, Amanero is the best compatible USB interface in world, and we are consider it is best sound interface .
3, Upgrade the digital power supplies to double stages PSUs with ultra high speed ultra low noise parts, for remove the power interrupt and made the back stage darker, better transparency .
4, The DSD and PCM switch upgrade to MCU control, remove the switch noise.
5, Digital filter settings can selectable the different sound flavors for better suite different sound headphones and user's personal taste.
6, Addition a pair jumper pins to change the parameter of analog filter for select the sound neutral or warmer.

Summarize
Fully discrete analog stages without any OPA and couple caps in the signal channels.
Non- feedback ACSS analog amplifiers .
Built with 4 pcs 20W (in total 80W) high speed Toshiba output transistors, no matter to drive the most headphones.
Total of 6 groups dedicated power circuits are used to purify the power supply.
High-End grade parts built in , ALPS 27 volume pot .
CMC pure copper RCA sockets ect.
3 channels digital input : coaxial / Optical / USB
DAC output : RCA (User can setting with either variable level as DAC with preamp combo or fixed output level as dedicated DAC )
Headphone output : 6.3MM SE
 
Please note:
The NFB-11 built in high biase current amps , for most headphones at normal listen volume it is working at class A state , so working long time will become a little warm, there is better keep it have good are follow state and don't cover other things on its top side .
The NFB-11 must install the driver for Windows USB connect. Mac OSX , Linux and SPDIF without driver install necessary .

How to set the NFB-11 DAC output as variable or fixed level ?
The NFB-11 has one group dedicated DAC output, In default its output level setting is at variable mode only .
If users only want the fixed volume mode , change the jumper as below picture . Then users can select between headphone , variable output mode (DAC + Preamp ) and fixed output mode (Decent DAC ) .
(Be care, if the NFB-11 DAC output connect to a non volume control external amp , don't turn to fixed output model , or setting to variable output model only . The headphone output always have volume control. )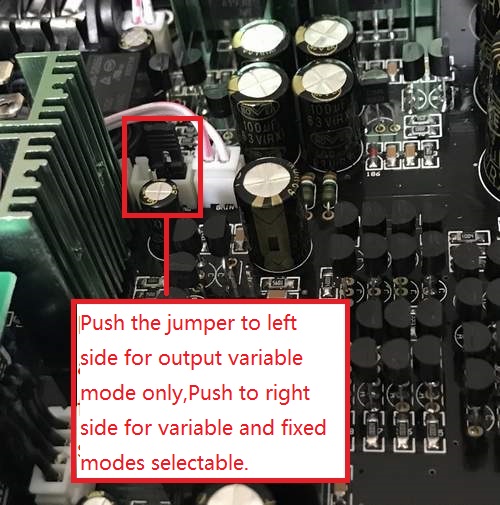 Setting the NFB-11 with warmer sound flavor ?
Push into two jumpers in the points can let the sound warmer for match the bright headphone. (Please operate while the unit power off, and pull off the power cable if you want to remove the top cover board ).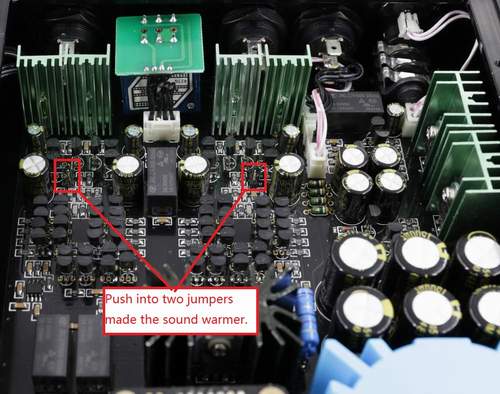 Digital filter setting:
(Change the digital filters setting can change the sound flavors)
IIR0 and IIR1:For DSD.
 
IIR0
IIR1
47K
Push Into
Push Into
50K
Pull Off
Pull Off
60K
Pull Off
Push Into
70K
Push Into
Pull Off
FIR0,FIR1,FIR2: For PCM.
 
FIR_0
FIR_1
FIR_2
Fast roll-off, Linear:
Push Into
Push Into
Push Into
Slow roll-off, Linear:
Push Into
Push Into
Pull Off
Fast roll-off, Minimum:
Push Into
Pull Off
Push Into
Slow roll-off, Minimum:
Push Into
Pull Off
Pull Off
Fast roll-off, Apodizing:
Pull Off
Push Into
Push Into
Fast roll-off, Hybrid:
Pull Off
Pull Off
Push Into
Brickwall filter:
Pull Off
Pull Off
Pull Off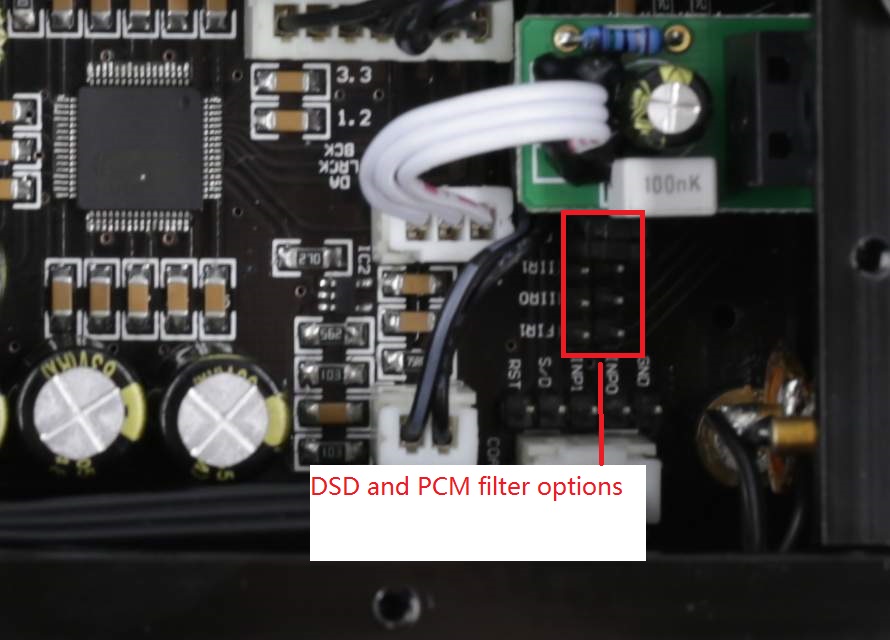 The NFB-11 Functions:

Front plate:
Output switch: Select output between headphone and DAC output ( Variable level) and DAC output ( Fixed level).
Gain switch: Select gain between low gain (+0DB) and high gain (+12DB).
Volume knob: Control the volume level of the headphone and variable DAC output.
Input switch: Select source between USB, coaxial and optical.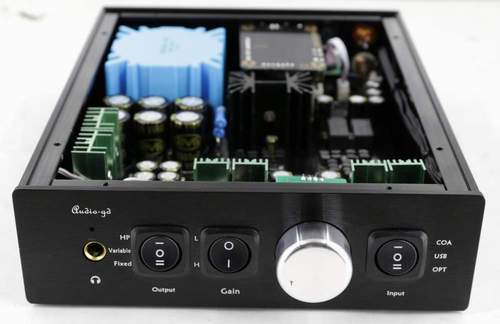 Rear:
Power socket: For power input and power ON/OFF switch.
USB socket: For USB input.
Opt socket: For optical input.
Coax socket: For coaxial input.
DAC out sockets: For dedicated DAC output. DAC output ( Variable level) and DAC output ( Fixed level).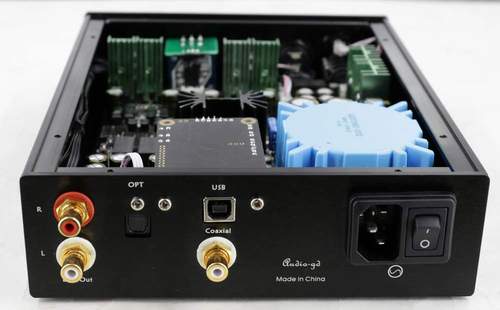 About NFB-11.28?

The NFB-11 applies the newest ESS high-end Sabre32 DA chip ES9028 which can support up to 32Bit/384KHz input .
To be achieve the best performance of ES9028 , must work in current output model, in voltage output model, there is -12DB THD+N worst .
The standard current model design usually need 3 amps (OPA) , the first amp implement I/V conversion, conversion the ES9028 output current signal to voltage signal .
The second amp is the difference amp, conversion the balance signal to single-ended signal and implement the low pass analog filter , then through volume control feed to the third amp, the headphone amp .
Every amp usually have two gain stages built in so the ES9028 signal must through total 6 gain stages arrive the output stages .
The NFB-11 applies Non-feedback ACSS design. The ES9028 feed to the ACSS circuit without any OPAs .
The ACSS circuit naturally working in current model and have design difference current input , it can process the I/V conversion, signal difference and headphone amp in current model in one ACSS amp . And this ACSS amp only have one current gain stage , the ES9028 output signal only through one stage can arrive the output stages .
The shortest signal journey can reproduce the best detail and dynamic, and almost without sound coloration , It can show the real performance of the ES9028 .
So our ACSS design is the best combo with ES9028 achieve the best performance .
Upside in the picture is the standard ES9028 headphone amp design. The bottom is the NFB-11 design .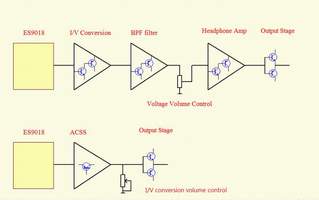 The ACSS also is a non-feedback technology made with fully discrete amplifiers. Most people know the global feedback design can offer better specs in test measurements, and non-feedback can't do well in test measurements but can offer better sound for the human's ears. Here is a conflict of the classic circuits.
But the ACSS opens a new field, it can offer a least coloration sound which is more neutral with very low distortion and high linearity. So it can retain the dynamics, detail and neutral sound but not sound bright or harsh.
The output buffers are Non-feedback. For low impedance, we applied a diamond output stage which is quite less colored than most conventional circuits. It built with 4 pcs 20W (in total 80W) high speed Toshiba transistors, no matter to drive the most headphones.
The DAC is without couple caps to avoid coloration. There are two OPAs built in as the DC serve to keep the DC offset .
The 32bit / 384K USB interface outputs a I2S signal to ES9028 .

Fully Discrete ACSS headphone amp.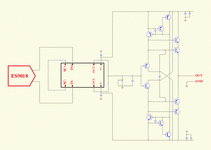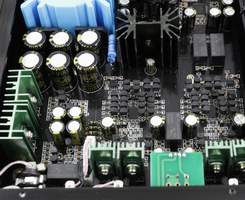 NFB-11 applies the excellent DA chip ES9028 and excellent analog output stages, but these are not the only keys of the best sound. The power supply is most important. Even applying the best DA chip and the best amp, if matched to a average power supply, the total sound may still be average or sound musical but can't be neutral and detailed. That is why it is easy to find hi-end grade gears maybe without the best chips , but with plenteous dedicated DC supply circuits.
The NFB-11 uses 6 groups of high-quality PSU with dedicated DC supply . Digital and analog voltages each have separately isolated internal power regulations.
The digital power had 4 groups high spend PSU group double stages PSUs , can avoid the interrupt from the power cause the jitter increase, offer the blacker back stage and much pure sound. In ago, double stages PSUs only applied in our USD1500+ products.
This massive power supplies design usually only applied in the USD1000+ products .
The analog power supply is more important for sound reproduce, in NFB-11, the +15V and -15V for the analog output stages are high speed Discrete PSU. They can offer pure and quick power supply for driving the headphone exactly. The high voltage power supply can drive most headphone from 15 to 600 ohms as well.
Strong power supply.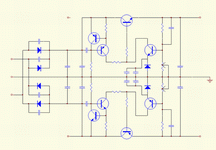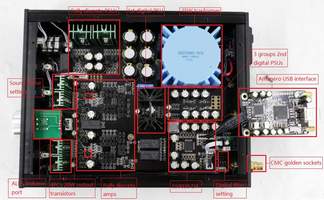 About volume in ACSS circuits:
For a headphone amp, the volume control is very important.
In ACSS, it is placed at the ACSS modules output, where the output is the current signal, not the voltage signal. The volume control is I/V conversion, and the volume depends on the current (I) conversion to the voltage (V). (Like D/A chips output I/V conversion)
As you can see, ACSS circuits have no gain, as it is a completely different circuit.
The sound quality benefits from I/V conversion volume control. Mark Levinson also knows that current volume control has great benefits, so in their Top End preamp NO.32 volume control, they use many components to change the signal to current signal (I), then through the R-2R network to control the volume, and then change back to voltage signal (V) again. But NFB-11 is simply a more complete work in terms of the current signal, and technically, it is superior to conventional technology.

ALPS 27 volume pot 1 % exact match transistors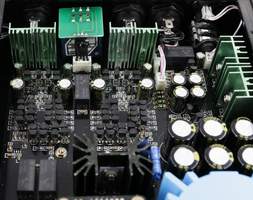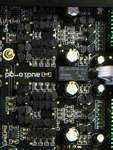 Improvement may result in changes in specifications and
design without notice.
S/N Ratio


118db
 

Output Level


Headphone output : 10V RMS
Variable output : 5V Max
Fixed output: 2.5V RMS
 

Output power
(Only for headphone.)


3500mW/25 ohm

1800mW/50 ohm

900mW/100 ohm

300mW/300 ohm

150mW/600 ohm
 

Output impedance


2 ohm / Headphone output
2 ohm / DAC output

Input Sensitivity


0.5 Vp-p(75 Ohms, Coaxial)
19 dBm (Optical)
The TV and game box may had not enough level for SPDIF inputs.
 


Support Operate Systems (USB)
 

Windows, Mac,Linux

Support Sampling
USB model: 44.1kHz, 48kHz, 88.2kHz, 96kHz, 176.4kHz , 192kHz, 352.8kHz,384kHz
Coaxial model: 44.1kHz, 48kHz, 88.2kHz, 96kHz, 176.4kHz ,192kHz
Optical model: 44.1kHz, 48kHz, 88.2kHz, 96kHz
Frequency Breadth


20Hz - 20KHz (-0.2DB)
3Hz - 350KHz (Analog part)
 

Power Requirement

1 Version 100-120V AC 50/60 Hz
2 Version 220-240V AC 50/60 Hz
 
Power Consumption

12W
 
Package Weight

2.2KG
 

Dimensions
 
W180 X L220 X H55(MM, Fully aluminium ,with feet)
Accessories

AC power cord X1
USB cable X1

Custom order options:

1, Degrade the Amanero by Xmos U208:

2, Upgrade TCXO for ES9028. 

Last Updated @ 6/25/2018 4:20:45 PM
Buy with confidence
| | | | |
| --- | --- | --- | --- |
| Buyer | Item ID | Date | Ratings |
| da**** | 194876654 | 7/12/2018 10:08:00 PM | A bit late on the rating but would like to give thumbs up for seller. Very friendly and even called me about my parcel status. Will return to buy other headphones again. TQ! |
| ck**** | 192442592 | 7/6/2018 5:46:00 AM | - |
| ck**** | 193740912 | 7/6/2018 5:46:00 AM | - |
| ck**** | 192272628 | 7/6/2018 5:46:00 AM | - |
| kh**** | 204884618 | 7/1/2018 1:03:00 PM | Earpad are really comfortable. Better compared to original M50. But I like the sound more on original earpad. Good buy. Really recommended if your earpad has worn out / smelly. |
| va**** | 199764801 | 6/30/2018 7:12:00 PM | - |
| ja**** | 197431963 | 6/29/2018 5:55:00 PM | - |
| xu**** | 200663285 | 6/26/2018 11:48:00 PM | Even though I found slightly cheaper deal from other sellers, I still prefer to deal with this particular seller because they let me test everything I want free of charge, free of pressure. |
Questions & Comments





---
Purchase via Lelong:
Please click buy now at lelong and upload the payment proof (online banking transfer screen shot/ cash deposit slip/ transfer details). Only cash payment is accepted.

If you wish to use paypal, please kindly contact us for further arrangement.

Purchase via Shop:
Please kindly visit us at Kota Damansara to purchase directly. You may check with us for the stock availability before coming over.

Credit card payment is accepted (Visa, Master, American Express, Diners Club)

Purchase via COD:
COD via courier service Ta-q-bin is available. You can either pay by cash or credit card. Charges varies on different purchase. Please contact us for further arrangement.
Ta-q-bin coverage area: Klang Valley, Cyberjaya, Putrajaya, Penang, Ipoh**, Melaka Town **,Johor Bahru, Kulai, Senai, Pekan Nanas and Pasir Gudang.
(refer enclosed Taqbin Zipcode Master at Ta-q-bin website).
All price quoted is including shipping charges and tax except those specially mentioned.
Ready stock will be sent by Pos Laju or Gdex within 24 business hours.
For non ready stock, delivery time varies from 3-5 or 7-10 days to your door step. Please kindly check with us.
We are using GLE logistic for foreign stock at the moment.
Tracking number will be given to customers after the parcel reach Malaysia. For any logistic updates, customers can check at the given courier website.
Delivery of products (Postage or Pre-order)
All customers who request to have the products being delivered by postage are required to make a full payment to us. Payment can be made by depositing to our company account, or payment via paypal.
Any additional charges incur by the payment portal (eg: paypal 3.8%) will be bear by customers.
Customers who pre-order are required to pay a deposit of 50% of the purchase price. Deposit will be forfeited due to cancellation of the order by customers.
Customers who pre-order are required to complete the payment within 7 days after the parcel arrive in Malaysia unless longer time frame is agreed before the purchase.
Customers who COD can make payment by cash or credit card when receiving products from Ta-q-bin.
100% AUTHENTICITY GUARANTEE:




We guarantee that all the items we carry are authentic and brand new. If in any doubt, please send the purchased item to that respective brand's boutique in your country to verify.
Warranty Period
All products purchased from Stars Picker Enterprise are warranted under different terms and for different warranty periods as offered by the specific manufacturer or distributor.
The warranty period begins to run as of the date when customers receive the product.


Coverage of the Warranty

The buyer is entitled to claim for warranty for damage to the product in transit, defect in workmanship of the product, delivery of a wrong item of product, or any other damage caused by reasons other than fault of the consumer, and all cost and expenses incurred for the shipment of the product will be borne by us.
The warranty does not cover damage caused by human factors, accident, misuse of the product, unauthorized alternation to or change of parts or components of the product, act of God or problems of power supply.
No warranty is offered for products which have gone beyond the period of warranty. We can arrange to send back the products for repair but any cost incur will be bear by customers.
No warranty is offered if the warranty label on the product is altered or damaged.
Questions & Answers
Do you have any questions to ask merchant about this product
Ask Seller
| | | |
| --- | --- | --- |
| 5 star | | 0 |
| 4 star | | 0 |
| 3 star | | 0 |
| 2 star | | 0 |
| 1 star | | 0 |
Share your thoughts with others
Write a review
Only buyers who purchased the product may leave a review