Item Specification
Product Description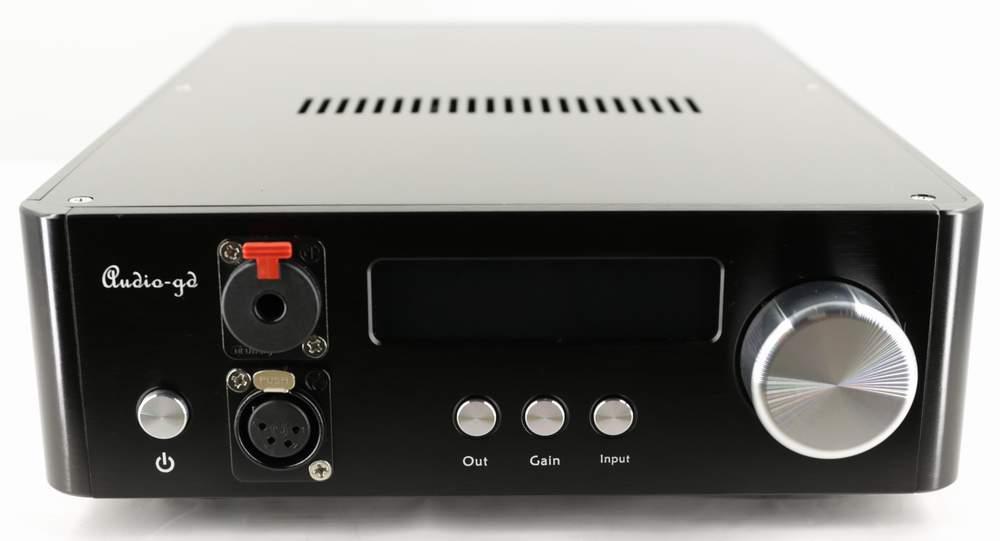 KINDLY PM FOR

LATEST STOCK AVAILABILITY

BEFORE MAKING PAYMENT
Hai Wei
** Facebook http://m.me/StarsPickerAudio
** WhatsApp https://goo.gl/GsPFak
NFB-1AMP (Release in 15th June.)

The full balanced design based on Master 9
Class A PSUs built in
Discrete Headphone amplifier / Preamplifier
Super Exponential Volume Characteristic
8000mW at 40 ohm output
OCC and hi-end parts applied
Price: USD520
Extra metal remote : USD50
(The unit had free a mini remote control but sometimes the remote had wrong control.)





Audio-gd products had design and test based on the AP SYS-2722 (The top-drawer professional equipment in world)



Different to the C-2 ( 11th Anniversary Edition ):
The C-2 is a single ended headamp and preamp (+/- 30V DC high voltage power supply ), The NFB-1AMP is balance headamp and preamp (+/-15V DC power supply ). So They had same output power specs can drive most headphone as well.
If customer like to keep your headphone with single ended connector (6.3MM), choice the C-2 get better performance than the NFB-1AMP.
If customer had the balance connector headphone or can modify the headphone with balance connector, choice the NFB-1AMP.


Summarize
Fully balanced class A design built by discrete analog stages without any OPA or coupling caps in the signal channels.
Non- feedback ACSS analog output stage.
8000mW at 40 ohm output, 16DB gain can drive the low sensitivity headphone very well.
Class A PSU's for DC supply.
Uses most Hi-end grade parts and exactly matched transistors, OCC wires.
Four-channel 100 steps digitally controlled relay-based volume control avoids channel imbalance and improves sound quality .
Supper Exponential Volume Characteristic, easy match the volume with very high headphone / speaker without change the gain mode.
5 groups input: RCA X2, XLR X2, ACSS X1
Preamp output : XLR / RCA / ACSS
Headphone amp output: 4pins XLR X1 / 6.3MM X1
Static storage mode control software for avoid disturb sound quality , the MCU output once control data and save in the perform parts ,then stop output data until users next operation.

 
Technology detail

Detail of the Current Conveyor (ACSS) Technology
Impedance matching:
There are a lot different DACs in worth, they had different design and output impedance . For avoid the sound quality effect by different DAC's output impedance, in the NFB-1AMP, it had design two pair single-ended class A FET buffers in the input . All the input signals through these FET buffers, the output impedance had become very low, even the source had high or low output impedance.
The FET buffers working on pure class A state, and it is so short signal journey , it can keep the sound quality without coloration ,dry and harsh .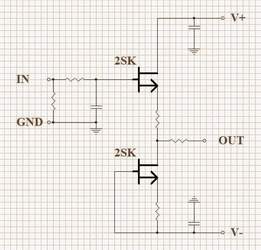 Core:
NFB-1AMP had the same ACSS design with our top grade model Master 9 . It is a pure class A design built by discrete analog stages without any OPA or coupling caps in the signal channels.
They seem complex , but in fact they are the most simple design the world has ever had , their a lot components to process the power supply. The simplest and shortest signal journey brings out the most neutral and least colored sound.

The ACSS is a non-feedback technology made with discrete amplifiers. Most people know the global feedback design can offer better specs in test measurements, and non-feedback can't do well in test measurements but can offer better sound for the human's ears. Here is a conflict of the classic circuits.
But the ACSS opens a new field, it can offer a least coloration sound which is more neutral with very low distortion and high linearity. So it can retain the dynamics, detail and neutral sound but not sound bright or harsh.
All signal gain is in current area, all transistors work in class A mode.
The NFB-1AMP has all components exactly matched before installation.
Super low THD (Test by AP SYS-2722,0DBV output level) Flat frequency response (Test by AP SYS-2722)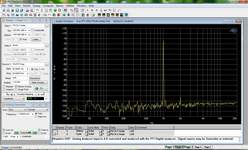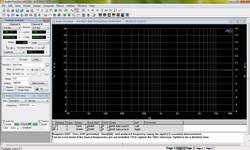 Strong class A output stages:
The NFB-1AMP had design a pare diamond difference output stages, every parts had exact matching before assemble so don't need any human adjustment .
The output stages had four pair 15W transistors ,they also working under class A state . Drive most headphones can working under pure class A state.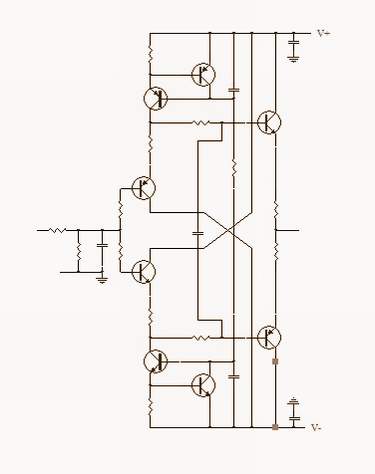 Power supply:

The class A parallel connection PSU has very high input impedance to avoid pulse through the PSU from affecting the preamp and low output impedance with very fast speed and high linear, so it is a very clean power supply.
The NFB-1AMP applies seperate linear PSUs for the display and control parts, avoid the disturbances through power line from affecting the amplifier.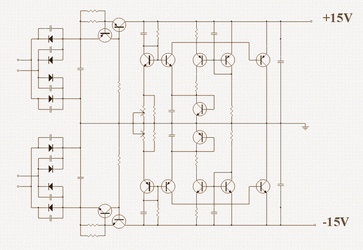 Volume control:
The volume control is also different from conventional technology. Conventional volume control technology is the volume control implement in the analog amp input stage through a volume pot to reduce the signal . The volume pots quality effect the sound quality direct , the low quality volume pot cause lost the detail and channels imbalance cause the soundstage distortion . Even the high performance volume pot still cause the detail lose. Whatever quality volume pots, must cause the S/N worst .
But in the NFB-1AMP , we applied the I/V conversion volume control , the volume control just a variable passive I/V conversion place at the ACSS amp output , where the output is the current signal, not the voltage signal. The volume control is I/V conversion, and the volume depends on the current (I) conversion to the voltage (V). (Like R-2R D/A chips output passive I/V conversion) It can keep the signal frequency band flat and not lost any detail. It can't degrade on sound quality in every volume level . After the volume , there are four groups diamond non-feedback buffer output stages offer the very low output impedance .
Mark Levinson also knows that current volume control has great benefits, so in their Top End preamp NO.32 volume control, they use many components to change the signal to current signal (I), then implement the volume control , and then change back to voltage signal (V) again.
But NFB-1AMP is simply a more complete work in terms of the current signal, and technically, it is superior to conventional technology. The less conversion bring much neutral sound .
In NFB-1AMP is applied a digital control relays based volume control. .NFB-1AMP has total four channels through changing the DALE resistors to control the volume for avoid channels imbalanced ,achieve the best performance and sound quality of the gear.
NFB-1AMP have 100 steps volume control, very smooth control for both high / low sensitivity headphone and speakers. While users change the volume, the combine relays break or close, it may had slightly switch sound on output and disappear while stop change the volume.
NFB-1AMP Supper two sets Exponential volume characteristic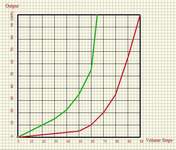 Static storage mode control software:
In most control softwares design, the MCU will continuously output data to the perform parts , the MCU had the very high speed, so the output data become high frequency impulses disturb the audio signal circuits make the sound worst . This product had applied static storage mode control software , the MCU output once control data and save in the perform parts while just power on and users operate ,then stop output data until users next operation. This design make the sound quality improve on the clear and transparency .

Shield:
The NFB-1AMP design had not compromise , it's built by full aluminum chassis, the transformer interference can't through the aluminum chassis transfer to the analog amps, and there are two shield boards for insulate the transformer and the power supplies.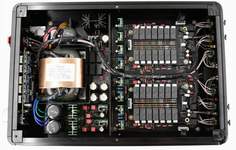 Components:
Uses all Hi-end grade components, including DALE resistors, WIMA caps, custom order NOVER (UK brand) caps.
Font plate functions introduce:

HP/PRE button :
Select the NFB-1AMP output model , display "H" mean for headphone output, display " P" mean for preamp output.

Gain button :
Select the Fast / Slow volume control characteristics.
H: Fast increase the volume , 64 steps in total (0-63).
L: Slow increase the volume ,100 steps in total (0-99).

Input button :
Select the NFB-1AMP inputs from IN 1 to IN 5.

Volume buttons :
Select the NFB-1AMP volume control .

 

Two sets Exponential Volume Characteristic


Discontinued the analog idle input short circuit function:
The unit had design the analog idle input short circuit for avoid the disturb between different sources.
This design also applied in a lot high end brand devices.
The working theory : Without the idle input short circuit ,if the input 5 and input 4 had connect two extra DACs, while users select the either input 5 and input 4 , the another input signal will fire through the circuits and mix into the using signal, even though this signal is weak but still can degrade on the sound quality.
With the idle input short circuit function : if user select either the input 5 and input 4, the another input signal will short circuit then no any signal fire through circuits , can keep the sound quality had not degrade.
Below case users want to discontinued the idle input short circuit function, pull off the 4 jumpers as mark on the photo:
1, The same extra source not only connect the unit analog input, but connect with other amps simultaneity.
2, The same extra source connect to the unit different inputs at simultaneity.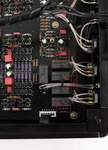 Make the NFB-1AMP have different sound flavors:
The different signal cables and power cables can change the sound flavors of the unit.
Improvement may result in changes in specifications and
design without notice.

S/N Ratio
 
>125DB (Volume minimum)

THD
 
<0.002 %


Gain
 

Gain : +16DB


Volume characteristic
 

Two sets Exponential Volume Characteristic

Headphone amp Output Power
9900MW / 25 ohm
8000MW / 40 ohm
3500MW / 100 ohm
1200MW / 300 ohm
600MW / 600 ohm
 

Preamp Output Level (Max)

10V @ RCA
20V @XLR
2.4MA @ ACSS

Output impedance

1 ohm


Input impedance
 

47K ohm @ RCA
94K ohm @ XLR
<10 ohm @ ACSS

Frequency Breadth (XLR input)

20Hz - 20KHz ( +/- 0DB )
1Hz - 220K (+0DB, -3DB)


Channels cross
 
> 120DB

Channels imbalance
 
< 0.05DB

Power Requirement

1 Version 100-120V AC 50/60 Hz
2 Version 220-240V AC 50/60 Hz

Power Consumption

30W @240V or 120V

Package Weight

Approximately 5KG


Dimensions
 
W240 X L360 X H80 (MM, Fully aluminium )

Accessories

Power cord X1

Last Updated @ 7/15/2017 3:35:58 PM
Buy with confidence
| | | | |
| --- | --- | --- | --- |
| Buyer | Item ID | Date | Ratings |
| da**** | 194876654 | 7/12/2018 10:08:00 PM | A bit late on the rating but would like to give thumbs up for seller. Very friendly and even called me about my parcel status. Will return to buy other headphones again. TQ! |
| ck**** | 192442592 | 7/6/2018 5:46:00 AM | - |
| ck**** | 193740912 | 7/6/2018 5:46:00 AM | - |
| ck**** | 192272628 | 7/6/2018 5:46:00 AM | - |
| kh**** | 204884618 | 7/1/2018 1:03:00 PM | Earpad are really comfortable. Better compared to original M50. But I like the sound more on original earpad. Good buy. Really recommended if your earpad has worn out / smelly. |
| va**** | 199764801 | 6/30/2018 7:12:00 PM | - |
| ja**** | 197431963 | 6/29/2018 5:55:00 PM | - |
| xu**** | 200663285 | 6/26/2018 11:48:00 PM | Even though I found slightly cheaper deal from other sellers, I still prefer to deal with this particular seller because they let me test everything I want free of charge, free of pressure. |
Questions & Comments





---
Purchase via Lelong:
Please click buy now at lelong and upload the payment proof (online banking transfer screen shot/ cash deposit slip/ transfer details). Only cash payment is accepted.

If you wish to use paypal, please kindly contact us for further arrangement.

Purchase via Shop:
Please kindly visit us at Kota Damansara to purchase directly. You may check with us for the stock availability before coming over.

Credit card payment is accepted (Visa, Master, American Express, Diners Club)

Purchase via COD:
COD via courier service Ta-q-bin is available. You can either pay by cash or credit card. Charges varies on different purchase. Please contact us for further arrangement.
Ta-q-bin coverage area: Klang Valley, Cyberjaya, Putrajaya, Penang, Ipoh**, Melaka Town **,Johor Bahru, Kulai, Senai, Pekan Nanas and Pasir Gudang.
(refer enclosed Taqbin Zipcode Master at Ta-q-bin website).
All price quoted is including shipping charges and tax except those specially mentioned.
Ready stock will be sent by Pos Laju or Gdex within 24 business hours.
For non ready stock, delivery time varies from 3-5 or 7-10 days to your door step. Please kindly check with us.
We are using GLE logistic for foreign stock at the moment.
Tracking number will be given to customers after the parcel reach Malaysia. For any logistic updates, customers can check at the given courier website.
Delivery of products (Postage or Pre-order)
All customers who request to have the products being delivered by postage are required to make a full payment to us. Payment can be made by depositing to our company account, or payment via paypal.
Any additional charges incur by the payment portal (eg: paypal 3.8%) will be bear by customers.
Customers who pre-order are required to pay a deposit of 50% of the purchase price. Deposit will be forfeited due to cancellation of the order by customers.
Customers who pre-order are required to complete the payment within 7 days after the parcel arrive in Malaysia unless longer time frame is agreed before the purchase.
Customers who COD can make payment by cash or credit card when receiving products from Ta-q-bin.
100% AUTHENTICITY GUARANTEE:




We guarantee that all the items we carry are authentic and brand new. If in any doubt, please send the purchased item to that respective brand's boutique in your country to verify.
Warranty Period
All products purchased from Stars Picker Enterprise are warranted under different terms and for different warranty periods as offered by the specific manufacturer or distributor.
The warranty period begins to run as of the date when customers receive the product.


Coverage of the Warranty

The buyer is entitled to claim for warranty for damage to the product in transit, defect in workmanship of the product, delivery of a wrong item of product, or any other damage caused by reasons other than fault of the consumer, and all cost and expenses incurred for the shipment of the product will be borne by us.
The warranty does not cover damage caused by human factors, accident, misuse of the product, unauthorized alternation to or change of parts or components of the product, act of God or problems of power supply.
No warranty is offered for products which have gone beyond the period of warranty. We can arrange to send back the products for repair but any cost incur will be bear by customers.
No warranty is offered if the warranty label on the product is altered or damaged.
Questions & Answers
Do you have any questions to ask merchant about this product
Ask Seller
| | | |
| --- | --- | --- |
| 5 star | | 0 |
| 4 star | | 0 |
| 3 star | | 0 |
| 2 star | | 0 |
| 1 star | | 0 |
Share your thoughts with others
Write a review
Only buyers who purchased the product may leave a review