Item Specification
Product Description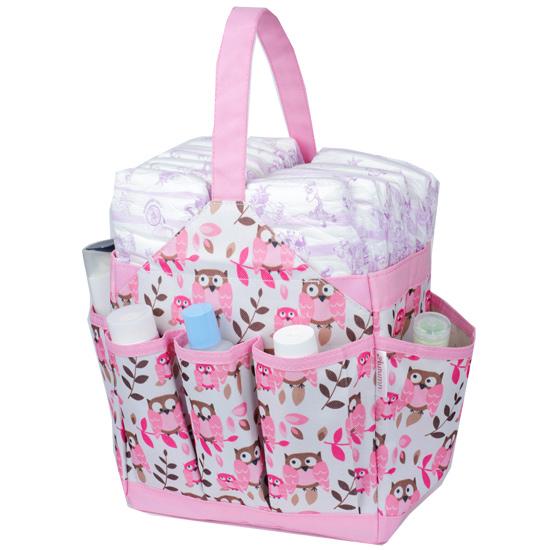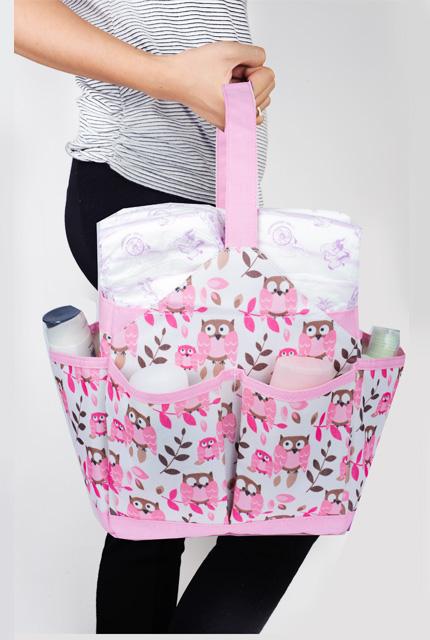 Keep all of your diaper-changing essentials in one simple, lightweight organizer with the Portable Diaper Caddy from Autumnz. The handle makes it easy to take the caddy with you wherever you go, whether its around the house or around the town. Just pick it up and go to your baby for a fast and fresh clean up!!

FEATURES:
• Keeps all diapering essentials organized and handy
• Main compartment stores up to 24 diapers
• Exterior 7 small pockets organize all your essentials like lotions, wipes, ointments and other diapering supplies
• Durable outer material with easy wipe interior, just wipe clean with a damp cloth
• Stylish designs look great in every room
• Perfect for diaper changes anytime, anywhere!
*****************************************
COD is available at selected areas in Johor state, i.e. JB, Setia Tropika, Senai, Kulai, Yong Peng, Simpang Renggam. Please PM for COD arrangement.
WhatsApp / Viber : 019-7767875
*****************************************

Last Updated @ 11/30/2015 11:07:14 AM
Questions & Comments





---
Please e-mail or text FamilyDiaperBag.com after you remitted the payment.
e-mail: enquiry@familydiaperbag.com
SMS: +6019 7767875
WhatsApp / Viber: 019-776 7875
Merchandise will normally be sent via Poslaju. It normally takes 2-3 working days for the parcel to reach the buyers in Peninsular Malaysia, or 3-5 working days for buyers in Sabah/Sarawak. Depending on the weight of parcel, it costs lesser than RM10 and RM20 for buyers from Peninsular Malaysia and Sabah/Sarawak respectively.
Welcome to the FamilyDiaperBag.com website terms and conditions for use.
These terms and conditions apply to the use of this Website and by accessing this Website and/or placing an order you agree to be bound by the terms and conditions set out below.

Definitions
"Conditions" means these terms and conditions and the Special Conditions;
"Product" means a product displayed for sale on the Website;
"Product Description" means that part of the Website where certain terms and conditions in respect of the individual Product are provided;
"Special Conditions" means the terms and conditions in the Product Description;
"Users" means the users of the Website collectively;
"Personal Information" means the details provided by you on registration;
"We/us" means FamilyDiaperBag.com;
"Website" means the website located at www.FamilyDiaperBag.com.com or any subsequent URL which may replace it;
Registration
# You warrant that: The Personal Information which you are required to provide when you register as a customer is true, accurate, current and complete in all respects; and
# You will notify us immediately of any changes to the Personal Information by contacting us by e-mail.
You agree not to impersonate any other person or entity or to use a false name or a name that you are not authorised to use.

Indemnity
You agree fully to indemnify, defend and hold us, and our officers, directors, employees, agents and suppliers, harmless immediately on demand, from and against all claims, liability, damages, losses, costs and expenses, including reasonable legal fees, arising out of any breach of the Conditions by you or any other liabilities arising out of your use of this Website, or the use by any other person accessing the Website using your shopping account and/or your Personal Information.

We reserve the right to:
# modify or withdraw, temporarily or permanently, this Website (or any part thereof) with or without notice to you and you confirm that we shall not be liable to you or any third party for any modification to or withdrawal of the Website; and/or
# change the Conditions from time to time, and your continued use of the Website (or any part thereof) following such change shall be deemed to be your acceptance of such change. It is your responsibility to check regularly to determine whether the Conditions have been changed. If you do not agree to any change to the Conditions then you must immediately stop using the Website.

We will take all reasonable care, in so far as it is in our power to do so, to keep the details of your order and payment secure, but in the absence of negligence on our part we cannot be held liable for any loss you may suffer if a third party procures unauthorised access to any data you provide when accessing or ordering from the Website.

The technical steps required to create the contract between you and us are as follows:
# You place the order for your products on the Website by pressing the confirm order button at the end of the checkout process. You will be guided through the process of placing an order by a series of simple instructions on the Website.
# We will send to you an order acknowledgement email detailing the products you have ordered. This is not an order confirmation or order acceptance from FamilyDiaperBag.com.
# As your product is shipped we will send you a despatch confirmation email.
# Order acceptance and the completion of the contract between you and us will take place on the despatch to you of the Products ordered unless we have notified you that we do not accept your order.

The contract will be concluded in English.

Non-acceptance of an order may be a result of one of the following:
# The product you ordered being unavailable from stock.
# Our inability to obtain authorisation for your payment.
# The identification of a pricing or product description error.
# You not meeting the eligibility to order criteria set out in the main Terms Conditions.

Please note that your right to return Products does NOT apply to Products which are made to your specification.

Description of products
Each Product purchased is sold subject to its Product Description which sets out additional Specific Conditions related to that Product including, without limitation, terms and conditions concerning estimated delivery dates and times and warranties.

We will take all reasonable care to ensure that all details, descriptions and prices of Products appearing on the Website are correct at the time when the relevant information was entered onto the system.
Although we aim to keep the Website as up to date as possible, the information including Product Descriptions appearing on this Website at a particular time may not always reflect the position exactly at the moment you place an order.
We cannot confirm the price of a Product until your order is accepted in accordance with our Order acceptance policy. Descriptions and prices on this web site are displayed on an invitation to treat basis only, and do not constitute a legally binding offer.

Intellectual property and right to use
You acknowledge and agree that all copyright, trademarks and all other intellectual property rights in all material or content supplied as part of the Website shall remain at all times vested in us or our licensors. You are permitted to use this material only as expressly authorised by us or our licensors.

You acknowledge and agree that the material and content contained within the Website is made available for your personal non-commercial use only and that you may (if necessary to make a Purchase) download such material and content onto only one computer hard drive for such purpose. Any other use of the material and content of the Website is strictly prohibited. You agree not to (and agree not to assist or facilitate any third party to) copy, reproduce, transmit, publish, display, distribute, commercially exploit or create derivative works of such material and content.

Compliance with laws
The Website may be used only for lawful purposes and in a lawful manner. You agree to comply with all applicable laws, statutes and regulations regarding the Website and any transactions conducted on or through the Website. Those who choose to access this site from other locations do so on their own initiative and are responsible for compliance with local laws

Limitation of liability
While we will use reasonable endeavours to verify the accuracy of any information we place on the Website, we make no warranties, whether express or implied in relation to its accuracy. The Website is provided on an "as is" and "as available" basis without any representation or endorsement made and we make no warranties of any kind, whether express or implied, in relation to the Website, or any transaction that may be conducted on or through the Website including but not limited to, implied warranties of non-infringement, compatibility, security, accuracy, conditions of completeness, or any implied warranty arising from course of dealing or usage or trade.

We make no warranty that the Website will meet your requirements or will be uninterrupted, timely or error-free, that defects will be corrected, or that the site or the server that makes it available are free of viruses or bugs or represents the full functionality, accuracy, reliability of the Website. We will not be responsible or liable to you for any loss of content or material uploaded or transmitted through the Website.

To the fullest extent permissible under applicable law, we disclaim any and all warranties of any kind, whether express or implied, in relation to the Products. This does not affect your statutory rights as a consumer, nor does it affect your Contract Cancellation Rights.

We will not be liable, in contract, tort (including, without limitation, negligence), pre-contract or other representations (other than fraudulent or negligent misrepresentations) or otherwise out of or in connection with the Conditions for:
# any economic losses (including without limitation loss of revenues, profits, contracts, business or anticipated savings); or
# any loss of goodwill or reputation; or
# any special or indirect losses suffered or incurred by that party arising out of or in connection with the provisions of any matter under the Conditions.

FamilyDiaperBag.com reserve the right to make changes to the information in this Internet site, or to the services described therein without notice. The information and material provided in this Internet site does not constitute an offer to sell or the solicitation of an offer to buy, and must not be relied upon in connection with any information decision. We do not warrant the suitability of goods for a particular purpose.
We shall have the right, at our discretion, to change, modify, add or remove terms of this agreement at any time without notice. Changes shall be effective immediately. You agree to review this agreement periodically since subsequent use by you of this site shall constitute your acceptance of any changes.
FamilyDiaperBag.com shall have the right at any time to change or discontinue any aspect of the web site, including, but not limited to, the community areas, content, hours of availability and equipment needed for access to use. Such changes, modifications, additions or deletions shall be effective immediately upon posting and any subsequent use by you after such posting shall conclusively be deemed to be acceptance by you of such changes, modifications or deletions

Disclaimer
Please make sure the e-mail address you give us is correct.
All order confirmations are sent to that e-mail address.
It is your responsibility to verify that your mailbox is in proper working order and you must assume the risk of all consequences for transmission or operational failures In using this web site, the user shall agree to indemnify us against all claims, liability, damages, losses and costs arising from any breach of these conditions by the user or the use by any person accessing the website using user's membership information..

Severance
If any part of the Conditions shall be deemed unlawful, void or for any reason unenforceable, then that provision shall be deemed to be severable from the Conditions and shall not affect the validity and enforceability of any of the remaining provisions of the Conditions.

International Orders:
Any customs or import duties levied once your parcel reaches your country will be the responsibility of the customer. We have no control over these possible charges and unfortunately cannot predict what they will be.
If charges are levied in your country and you refuse to pay them, you are responsible for the original shipping costs to you, any duties, taxes and/or customs charges that are incurred on the package, and the cost of returning the package. These costs will be subtracted from your merchandise refund and your credit card will be charged accordingly.
We accept all major credit and debit cards. All transactions are in US Dollar. We provide you with a facility to convert the prices into your currency as a guide, we suggest you check the information you receive from our currency converters with your credit card provider. All rates quoted would be at the exchange rate prevailing at that precise moment, and may not be the exact cost your credit card company will charge. Please contact your card issuer for details on any charges they may make to convert currencies

Waiver
No waiver by us shall be construed as a waiver of any proceeding or succeeding breach of any provision.

Survival
Each provision of the Conditions shall be construed as separately applying and surviving even if for any reason one or other of those provisions is held to be inapplicable or unenforceable in any circumstances.

Entire agreement
These Conditions govern our relationship with you. Any changes to these Conditions must be in writing and signed by both parties. In this way, we can avoid any problems surrounding what FamilyDiaperBag.com and you are expected to do. You confirm that, in agreeing to accept the Conditions, you have not relied on any representation save insofar as the same has expressly been made a term of these Conditions and you agree that you shall have no remedy in respect of any representation. Your Statutory Rights are not affected by these terms and conditions. Nothing in this Clause shall limit or exclude our liability in respect of any fraudulent or negligent misrepresentation whether or not such has become a term of the Conditions.

FamilyDiaperBag.com is a trading name of Dynamic Synergy Solution Enterprise.
Registered Office: No.9787, Jalan Kasawari, Bandar Putra, 81000 Kulai, Johor, Malaysia. Company number: JM0576324-X, Registered in Malaysia
We want to ensure that you are completely satisfied with your orders from FamilyDiaperBag.com. We are pleased to assist you if you ever received any inferior merchandise solely due to manufacturing (materials and/or workmanship) defect.
For product that covered under manufacturer's warranty, original terms and conditions must be adhered to. You must include an evidence of your sales purchase, contact information and your claim expectations. A restocking fee of 10% of the selling price of the ordered items will be imposed prior to authorising return.
For return of products, all shipping charges are non-refundable. FamilyDiaperBag.com cannot be responsible for return shipping charges unless we made an error on the shipping destination. We recommend that you insure any return shipments since we cannot be responsible for returned items being lost or damaged throughout the returning process.
If you received free shipping from FamilyDiaperBag.com, you will be charged for the actual shipping cost includes packaging, postage and handling from a minimum cost of $5.00 onwards. This is also applicable for the case when you received free shipping but returned only a portion of the ordered quantity that affecting your entitlement on free shipping threshold.
Please do not automatically send defective products back to FamilyDiaperBag.com as manufacturers have their very own return policy and handling methods. Please acknowledge us at enquiry@familydiaperbag.com and we shall be providing you further details on your product claim. If the merchandise is required to be returned prior to replacement, FamilyDiaperBag.com will not be bearing the shipping costs.
Questions & Answers
Do you have any questions to ask merchant about this product
Ask Seller
| | | |
| --- | --- | --- |
| 5 star | | 0 |
| 4 star | | 0 |
| 3 star | | 0 |
| 2 star | | 0 |
| 1 star | | 0 |
Share your thoughts with others
Write a review
Only buyers who purchased the product may leave a review