Avalon Organics, Thickening Shampoo,
Biotin B-Complex Therapy,  414 ml
Description
For an Energized Scalp and Thicker, Fuller Hair

Biodegradable

NSF Certified Organic Ingredients

Triticum Aestivum

pH Balanced

Hain Celestial

Certified by QAI to NSF/ANSI
Certified Organic Ingredients
Certified, Natural Hair Care With No GMOs, Synthetic Fragrances, Phthalates, Harsh
Sulfates or Parabens
Fortified with biotin, saw palmetto, wheat protein and vitamin E

Helps build body in fine, thinning hair

Stimulates scalp to encourage hair growth

Cleans hair from follicle through entire shaft

Hair feels thicker and stronger
Contains 70% Organic Content
Safe, effective, certified, natural hair care without, synthetic fragrances, phthalates,
harsh sulfates or parabens.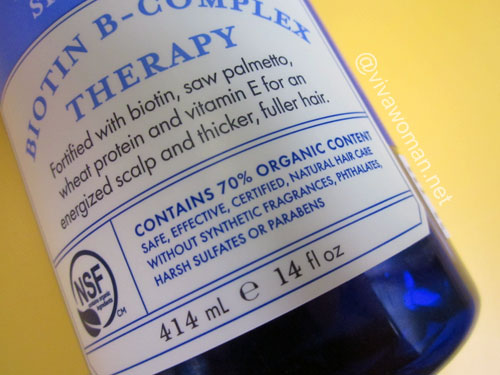 In many types of organic shampoo and conditioner, you will find ingredients such
as certified organic tea tree. This particular ingredient has been used for a lon
time to treat a variety of skin conditions, including bites, dandruff, burns, and
blisters.³ Certified organic tea tree has antiseptic elements that can aid in
controlling naturally occurring microbial levels that can result in different
forms of scalp irritation.

Another popular ingredient in many organic shampoo and conditioner products
is beta glucan. Beta glucan has immune-enhancing properties both internally and
topically. It helps to soothe inflamed cells of the scalp, which is particularly
beneficial for people who suffer from skin conditions.

True organic shampoo and conditioner products offer a wealth of benefits for
your hair and scalp that will be immediately noticeable. Organic products
gently infuse your hair follicles and skin cells with natural minerals, herbal
extracts, and oils.

When you use organic shampoos and conditioners, you're also helping your
environment by letting bio-degradable substances go down the drain and not
Avalon Organics is one of the more popular and credible organic shampoo brands
currently available on the market.

 
It is
highly recommended by professional websites

.



1) Certified by QAI to NSF/ANSI


 
Standards


• No parabens, harsh preservatives, or grapefruit seed extract




• No synthetic fragrances or colors




• pH balanced




• 100% vegetarian ingredients and no animal testing